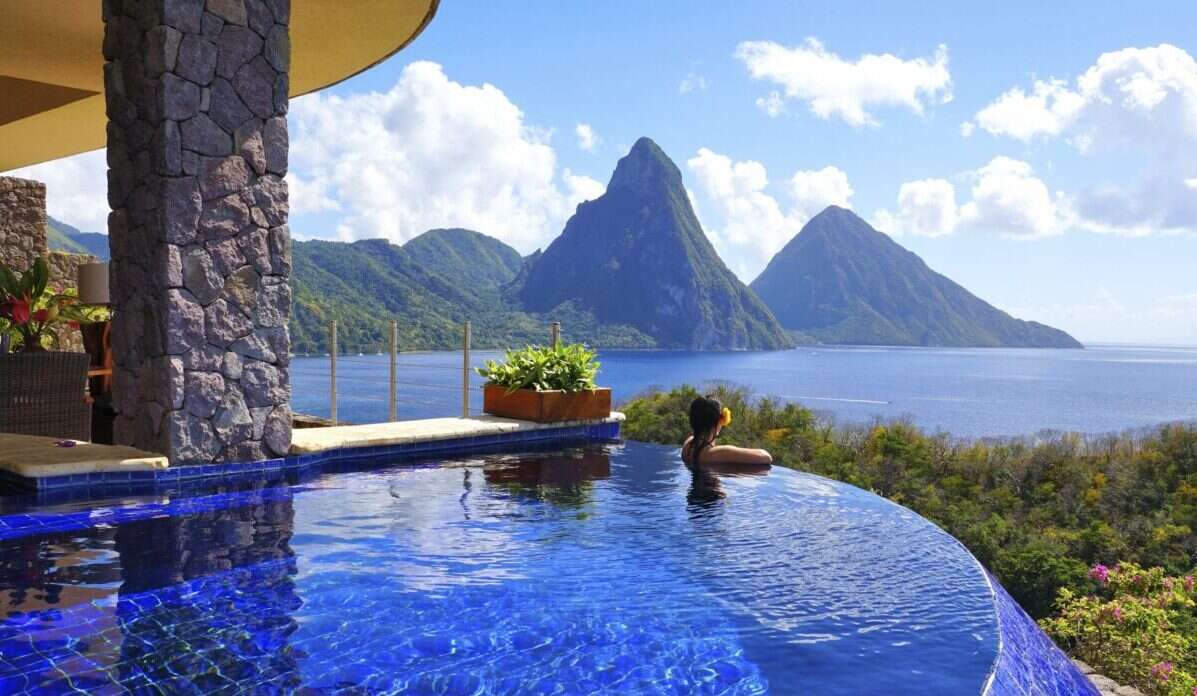 When planning a trip with that special someone in your life, it's easy to get lost amongst the hotels and resorts boasting the promise of a romantic getaway. For example, many would argue that settings such as Paris and Venice are the epitome of romance – and rightly too, considering the history, elegance and architecture of these cities.
However, there is a range of other locations and properties that should be included in round-ups of romantic destinations, which is why we have chosen to create this list of the most romantic hotel suites in the world. From private islands and golden sand beaches to rolling countryside estates and classic city retreats, we've chosen a range of hotels and settings that you are sure to fall in love with time and time again.
[See more: The Most Opulent City Suites in the World]
Royal Suite, The St. Regis Rome
Found in one of Rome's most stunning palazzos, the St. Regis Rome has been an iconic part of the city's tapestry since 1984. The hotel, which overlooks Baths of Diocletian, has recently undergone a multi-million-dollar renovation led by Pierre-Yves Rochon Inc. While the hotel is steeped in history, one of its forward-thinking offerings for guests is a courtesy car – a 1962 Fiat 600 Multipla with a new electric engine – for sightseeing across Rome.
Though the St. Regis Rome boasts 23 suites, the most lavish accommodation within the hotel is the Royal Suite, which often hosts celebrities, royalty and heads of state. Tastefully furnished and decorated with artwork and antiques, the Royal Suite is ideal for couples and newlyweds who want the perfect mix of contemporary and classical interiors. The master bedroom features a king-sized bed, there is a private wine cellar and kitchen and the marble bathroom includes a large jacuzzi.
The Aviary in the Twin Farms
No matter the kind of traveler you are or the type of trip you're hoping to have, at Twin Farms every detail has been personalized by the team to ensure guests experience ultimate luxury. Found tucked away within 300 acres of countryside in Barnard, Vermont, Twin Farms is different from the other hotels on this list in that almost everything during your stay from meals to activities is included in the rate.
There is a range of suites and ten cottages across Twin Farms, all of which have been individually designed by renowned architects and interior designers. Our cottage of choice is the Aviary. Designed by architect Peter Bohlin, the Aviary is a contemporary masterpiece set amongst seemingly endless forests. The Aviary has two levels and several of the rooms feature floor-to-ceiling windows. One of its most unique features is the stone hot tub, which has views into the forest on one side and a roaring open fire on the other.
Suite Carré d'Or in the Hotel Metropole Monte-Carlo
Originally built in 1886 on land that previously belonged to Pope Leon XIII, the Hotel Metropole Monte-Carlo has a rich, interesting history – and it has always drawn the brightest and best to its hallowed halls. A landmark for Monte Carlo, the Hotel Metropole is the epitome of grace; it's classic Belle Époque architecture blends seamlessly with timeless Mediterranean interior design and the personalized service is sure to charm any guest.
Situated on the top floor of the hotel with an expansive terrace and panoramic views of Monte Carlo, it's easy to understand why Suite Carré d'Or is one of our most romantic hotel suites in the world. At 1615 sq ft, the suite is comfortably large without being ostentatious. It has a large master bedroom and en-suite bathroom, complete with an oversized bath and dressing area. There is a large living area for lounging and private dining, with a private butler and concierge available at all times.
[See more: The 10 Best Restaurants in Monaco]
Villa Champak in the Miskawaan Luxury Beachfront Villas
On the island of Koh Samui, Thailand lies the spacious Miskawaan Luxury Beachfront Villas. As the name suggests, the retreat has a golden sand beach on its doorstep that all of the villas have direct access to. This tropical paradise curates bespoke itineraries for its guests, meaning that whether it's discovering local culture, snorkeling at Angthong National Marine Park or relaxing in your villa under the swaying coconuts, staff are on hand to ensure this is a dream vacation.
Of the nine Villas – all of which also have their own pool – our pick is Villa Champak. It can be altered to accommodate groups, turning from a three-to-four-bedroom residence to a five-bedroom. We love the bright interiors, complete with large floor-to-ceiling windows that can be opened to the elements. With an outdoor Sala, indoor living space and the beach moments away, you'll be spoiled for choice when it comes to finding a place to relax.
Galaxy Sanctuary, Jade Mountain
Blending effortlessly into the spectacular natural environment around it, Jade Mountain is an extraordinary resort perched on the side of a hill in south-western St. Lucia. Its design, crafted by architect and owner Nick Troubetzkoy, is the embodiment of organic architecture; rugged stone columns reach toward the sky and each suite can only be reached by a private footbridge.
All of the romantic hotel suites within Jade Mountain benefit from the absence of a fourth wall, allowing for uninterrupted views of the Caribbean Sea and St. Lucia's Pitons World Heritage Site. However, for the most impressive views of the Piti and Gros Piton Mountains, nothing beats the Galaxy Sanctuary. At 2,000 sq ft, the open-plan space fluidly moves from living space to bedroom with a 900-sq-ft infinity pool taking center stage in the middle of the room. While staying at Jade Mountain, it's not unusual for guests to never leave their sanctuaries – especially those newlyweds.
Flat Earth Suite, Fogo Island Inn
Settled on stilts beside the wild Atlantic Ocean, Fogo Island Inn can feel like being on the edge of the world. In reality, the distinctive property is on a small, rocky island off the coast of Newfoundland, Canada. Built with sustainability in mind, Fogo Island Inn is an award-winning luxury hotel that is also a not-for-profit; the property is happy to boast that 100% of its operating surplus is reinvested back into the community of the island.
Not only does Fogo Island Inn do good but each of the boutique hotel's 29 rooms has been designed to show off the best of the astonishing environment. For example, the Flat Earth Suite – our choice for the most romantic hotel suite – features a dual aspect, double-height wall of glass with views looking north, south and east, so you can truly experience the majestic of the Atlantic. For cozy nights in, the suite has a wood stove and a snug bedroom with a king-sized bed.
Royal Villa, Chablé Yucatán
If romance to you means getting away together for some peace and serenity, look no further than Chablé Yucatán. Nestled amongst lush greenery, the rambling 740-acre estate in southern Mexico is steeped in history. With that history has come a noteworthy attitude to luxury: that it is a way of living. This can be seen throughout Chablé, from its extensive sustainability credentials to the variety of culinary experiences.
The most exclusive property within Chablé Yucatán is the appropriately named Royal Villa. Set across an impressive 10,000 sq ft, it's an idyllic place to lounge in seclusion amongst the natural backdrop of the jungle. The Royal Villa has three bedrooms (each with its own en-suite), options for indoor and outdoor dining, a large living room, a cinema room and its own wellness options, including a private gym, spa cabin and outdoor hot tub. On warmer days, take a dip in the private pool and enjoy swaying in the Villa's hammock.
[See more: Inside the Gorgeous One&Only Mandarina Residences]
John Jacob Astor Estate Villa, St. Regis Maldives Vommuli Resort
Overlooking the Indian Ocean on its own private island in the Maldives, the St. Regis Maldives Vommuli Resort is an easy choice to include in our list of the most romantic hotel suites in the world. The resort's design is inspired by marine life and the local Maldivian culture, including the iconic Whale Bar and Iridium Spa. At Vommuli, guests can experience a range of activities from water sports and diving excursions to pampering spa treatments, as well as trying each of the resort's six restaurants.
The John Jacob Astor Estate Villa is the highlight of Vommuli's 44 overwater villas. With a terrace and a private swimming pool, the Villa's outdoor lounging options are endless – and boast unparalleled views out across the ocean. Two bedrooms can be found on the main floor but the luxurious master suite is on the second floor, with its own second living room, large bathroom and private balcony. For any guest requests, personal St. Regis Butlers are on standby night and day.