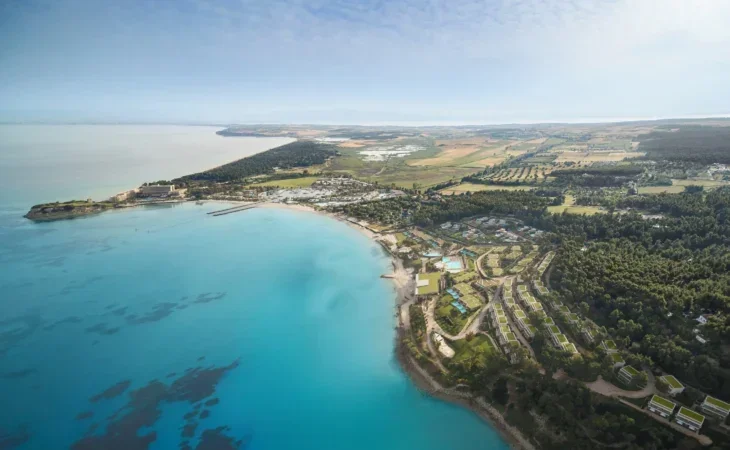 When thinking of taking a trip to Greece, it's easy to focus on exploring the country's famous groups of islands, sitting above the sparkling waters of the Aegean and Ionian Seas. However, the Greek mainland is not one to be overlooked – especially not the northern coastline, far away from the crowded streets of Athens. It's here that Greece's cultural capital and the country's second-largest city, Thessaloniki, can be found – as well as the ultra-luxurious coastal destination of Sani Resort.
It's only a quick trip down the coast from Thessaloniki to Halkidiki to reach Sani Resort. Voted the 'World's Leading Luxury Green Resort' at the World Travel Awards 2021, Sani is the perfect example of how sustainability can be reached within a large-scale resort. Despite its colossal size, Sani has run on 100% renewable energy since 2019 and has been carbon neutral since 2020.
Although its eco-credentials are to be admired, the resort does not push them upon its visiting guests. Instead, it chooses to subtly infuse sustainability into all its practices, from banning single-use plastics and using electric vehicles around the estate to promoting biodiversity and growing its own produce. Through excursions and activities, it also invites guests to visit the forests and wetlands to discover more about the natural environment around them.
[See also: Luxury Travelers Prioritizing Sustainability, Study Shows]
While many guests choose to participate in these eco-excursions, those that prefer to opt for a traditional beachside vacation are well catered for. Couples will enjoy the Michelin-starred dining, cruising on their own private yacht or taking a helicopter ride across the coast. Families at Sani Resort can enjoy time together by the pool – many of which have areas tailored to small children – or build sandcastles on the private beaches. Parents wanting some alone time will find that a breeze too, thanks to Sani's dedicated babysitters, the resort's 'Teen Zone' and the many academies open to children and young adults.
Staying at Sani Resort
One of the things that makes Sani Resort unique from other holiday destinations is the wealth of choice across activities, dining and even the various accommodation options. There are a total of five hotels across Sani Resort, from the tower-block Sani Beach at one end of the estate to the smattering of hillside villas that make up Sani Club, a hotel option that overlooks the crystalline coastline.
Our pick of hotels within Sani Resort is the luxurious Sani Asterias. Leading directly onto the beach and moments away from Sani's private marina, Sani Asterias is the most boutique of Sani's hotels, offering bespoke five-star services within elegantly designed suites and villas. There are a mere 57 suites within Sani Asterias, ranging from one-bedroom hideaways to sprawling three-bedroom villas that feature living and dining spaces as well as a private pool.
[See also: Katikies: Authentic Greek Luxury in Santorini and Mykonos]
Alternatively, there are two other hotels worth seeking out during a stay at Sani Resort: Sani Dunes and Porto Sani. While Sani Dunes is situated directly on the beachfront, Porto Sani lies slightly further inland above the Marina. Both options have their plus points: Porto Sani's location provides easy access to the sports facilities, while visitors to Sani Dunes can enjoy a quick stroll down to a private stretch of beach.
All of Sani Resort's hotels have been designed individually, with changing color palettes and furnishing styles to match the atmosphere of the accommodation. Whether this is the laid-back style of Sani Dunes, the family-orientated excitement of Porto Sani or the sophisticated relaxation found in Sani Asterias, there is something for everyone.
Dining at Sani Resort
Something the Greeks have known since ancient times is that food is one of life's greatest pleasures – and where better to experience the richest flavors and freshest produce than Greece itself? In this regard, Sani Resort is a foodie haven: the incredible destination boasts an astounding 27 restaurants and 13 bars across the estate.
Though these restaurants are open for the Sani Resort's full season, the best time for culinary aficionados to visit is during Sani's annual food festival, Sani Gourmet. Running for a weekend at the end of May each year, Sani Gourmet is a celebration of haute gastronomy. Prominent chefs from across the globe take over restaurants within the resort, creating menus that showcase their signature style and cuisine.
[See also: The Chefs with the Most Michelin Starred Restaurants]
As Sani Gourmet was commemorating its 15-year anniversary this year, the 2022 iteration of the festival was slightly different. Instead of international chefs, this year Sani Gourmet highlighted the best and brightest on the Greek culinary scene. Guests were welcomed to book dinner at any of the restaurants hosting the festival, where they were treated to a culinary experience inspired by the visiting chef's signature dishes.
Though Sani Gourmet only runs once a year, the rest of Sani Resort's season has ample cuisine options to choose from, including private in-suite dining and picnics on the beach. Sani Asterias features two restaurants, Water and Over Water, the latter of which is run by chef Stéphanie Le Quellec, of the two-Michelin starred La Scène in Paris.
For tastes reminiscent of Matsuhisa and Nobu, head to Katsu, the Marina's home of sushi and sashimi. Fresh, traditional Greek fare can be found at Ouzerie, a small taverna overlooking the sea, or for farm-to-fork dining try the Pines restaurant, found at Club Sani.
Exploring Sani Resort
Though many would try, you would be hard-pressed to find another beachside hotel that could match the scope of things to do at Sani Resort. Whether you are looking for wine tasting along the coast, private yacht cruises or tours of the surrounding historical sites, wishing to spend hours lounging on the beach or relaxing in one of Sani's many spas, the resort is sure to have something to suit all tastes.
What's more, the destination is scattered across 1000 acres of private nature reserve, encompassing forests and wetlands as well as the beautiful Aegean Sea. As a result, Sani Resort can offer a plethora of nature-based activities that promote biodiversity and sustainability, as well as the more obvious water-based excursions and fitness options.
First up are the options for families and children, with many options being adapted to include all age groups. Sani Resort boasts its own Bear Grylls Survival Academy, where families and teens can learn survival skills such as navigating, signaling for help and building shelters. Meanwhile, young tennis enthusiasts should be sure to visit the Rafa Nadal Tennis Center to learn training methods used by Rafa himself.
[See also: The Best Luxury Wildlife Vacations in the World]
Children and young guests can also take part in Sani's Treetop Adventure, a high ropes course through the forest with challenging obstacles and thrilling ziplines. For more educational nature-based fun, visit the bee-friendly garden to learn about these fascinating insects and their life cycles or take a trip into the protected wetlands with an eco-guide to spot various bird species and find out about Sani's work to protect them.
The plethora of activities is not limited to the land either. Across Sani Resort's many Blue Flag beaches there are areas dedicated to water sports ranging from paddleboarding, windsurfing and ocean kayaking to water-skiing and wakeboarding. Families can also enjoy snorkeling in the shallows, while those looking for an immersive underwater experience can try their hand at scuba diving with the Resort's Scuba Diving Academy.