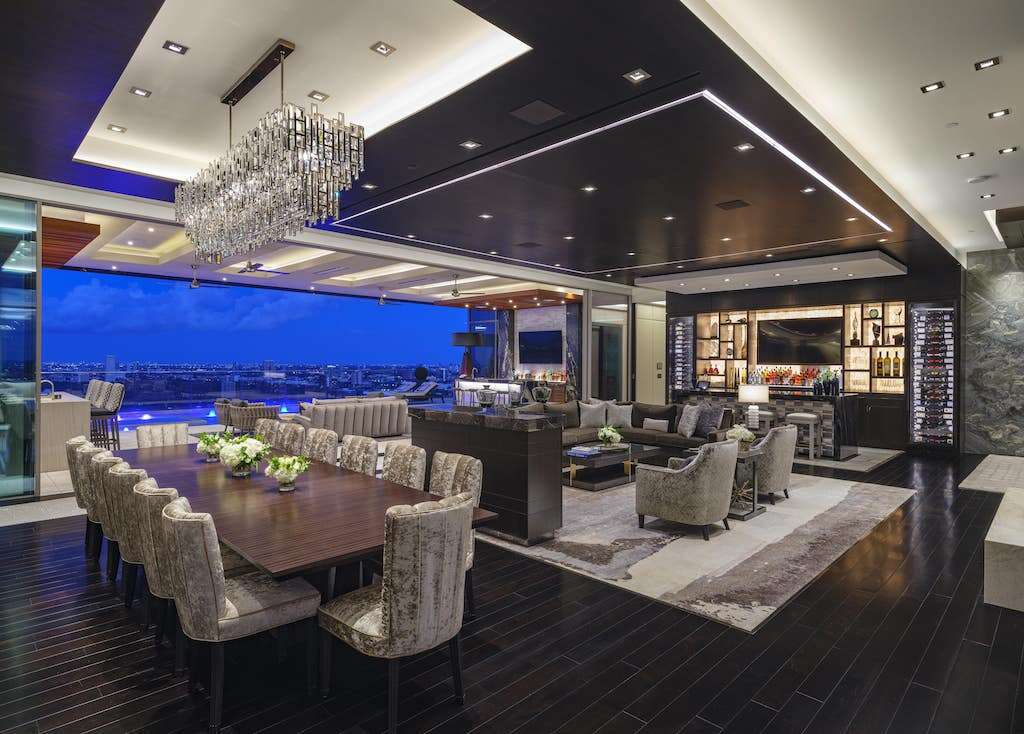 Brilliant, brash and braggadocios-heavy, Texas operates on its own size meter. Though it might seem a cliche, this southern state (about the same circumference as France) seems larger than life. Whether it's a towering hairdo, a massive museum art collection, a colossal diamond ring, an oilman's wallet or the eye-popping Penthouse Suite at billionaire Tilman Fertitta's The Post Oak Hotel at Uptown Houston, things really are bigger in Texas. 
Built as a showpiece, a peerless party venue, and the sumptuous social living room for Houston's elite and hotel guests, The Post Oak shot into cult status from the day it opened in 2018. With a plethora of restaurants, bars, shops and luxury car showrooms (Rolls-Royce, Bentley and Bugatti) on-site, it remains the only Forbes Five-Star hotel and spa in Texas. 
Though vast in its physical space, The Post Oak nevertheless vaunts an intimate air with just 270 rooms, suites and residences, each of them spanning at least 500 sq ft. Glamorously kitted out, each offers 50-inch double-sided televisions (plus a smaller one in the marble bathrooms for viewing in the oversized tub), trailblazing technology, and 500-count Egyptian cotton sheets among other pampering attributes. Choose the concierge floor for VIP treatment, fine wines, canapes, desserts and light meals just steps from your room.
Stay
A two-story palace that crowns the upper portion of the 38-story hotel, the new, mind-bogglingly grand suite has plenty of room for your friends and family. Celebrities and sports stars clamor for the chance to check in and take up residence in this 22,000-sq-ft fantasy villa, one of the world's most expensive guest rooms at $125,000 a night. Mansion-like, with five bedrooms, the suite has panoramic windows with arresting 360-degree views of H-Town. 
Bedecked with part of the personal trove collected by reality TV star, Houston Rockets owner and globally renowned restaurateur, Fertitta, the suite's various rooms feature museum-quality artwork (Robert Motherwell,  Brian Portman, Rick Lowe, Holly Hunt), custom furniture and the most futuristic technology on the market. 
Exemplifying Houston's hugeness, the suite's numbers don't lie: 23 custom chandeliers, 28 televisions, 108 precious slabs of marble, 12 custom carpets and 17 original masterworks to name a few. State-of-the-art everything, from a Helman Chang hand-ebonized table to Miele appliances, Sub Zero refrigeration units and Hoshizaki ice makers in the fully equipped kitchen combine to set a contemporary mood, while the Penthouse at large steals breath with its ample design features.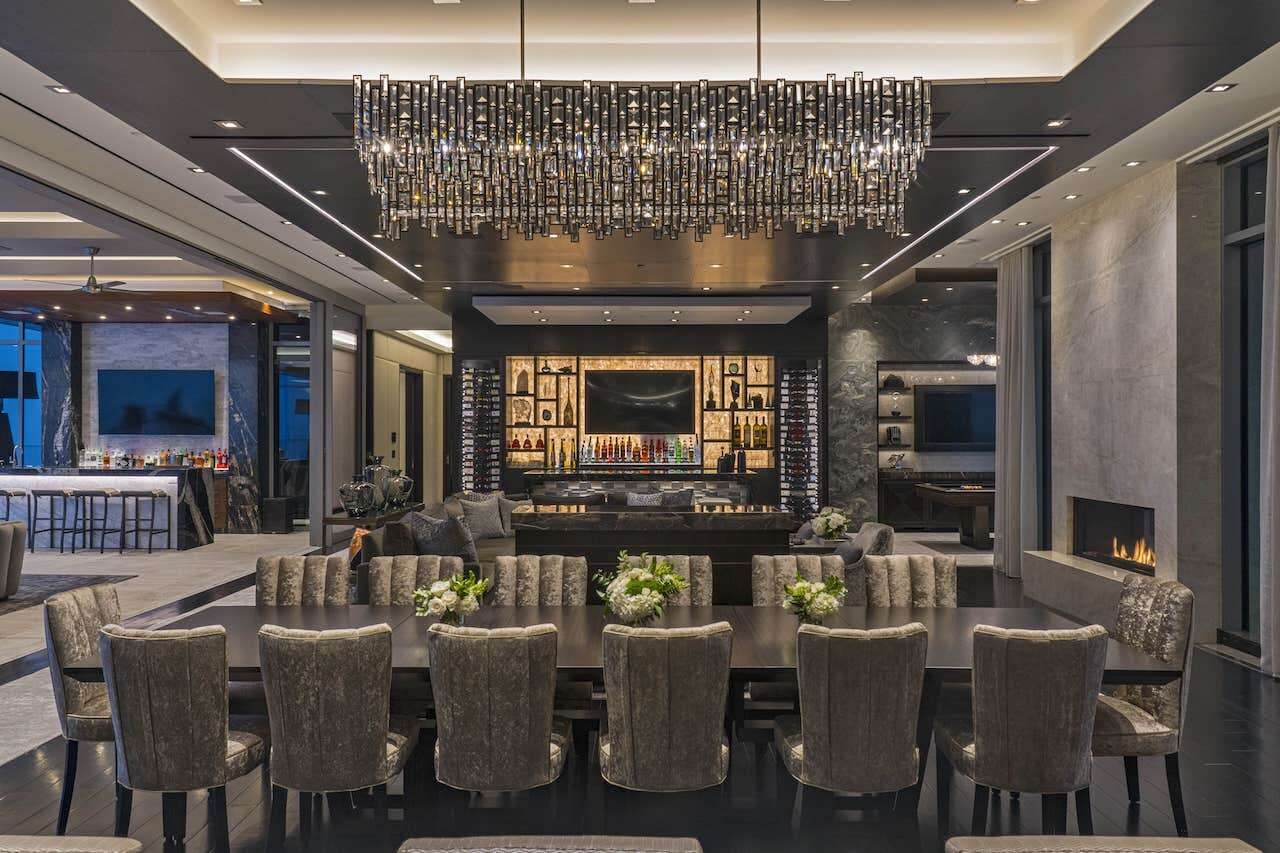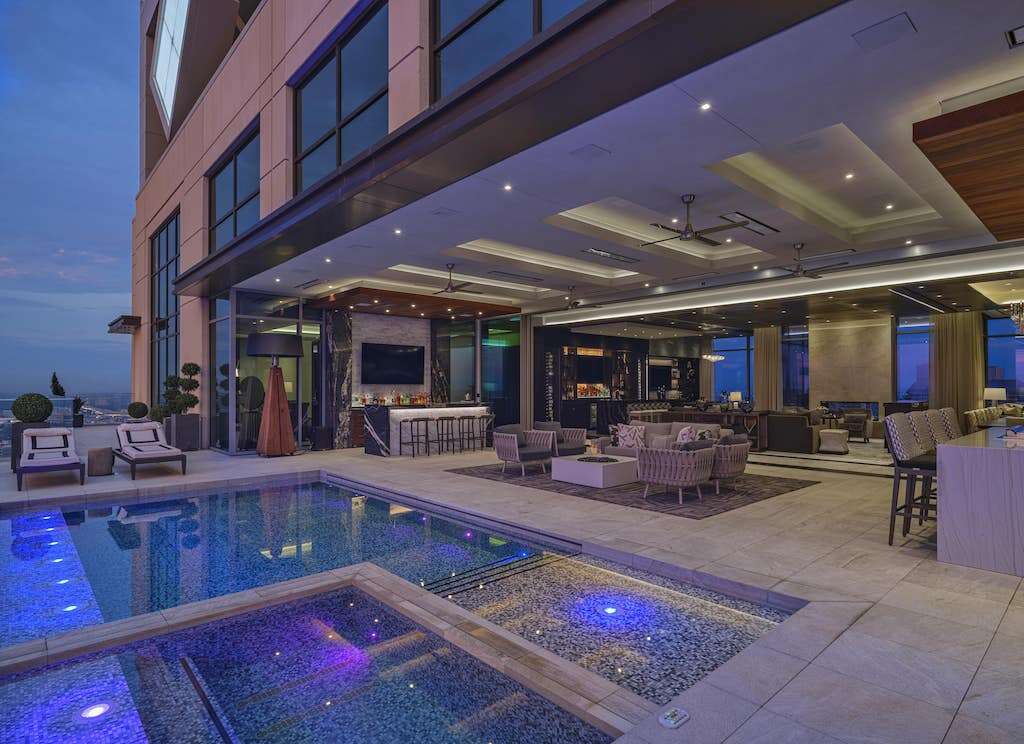 Consider elements such as the his-and-hers master closet with room for more than 150 pairs of shoes between two sides. Or be intrigued to know that the entire second floor is a veritable playground—a first-in-class entertainment center that includes a movie theater, interactive putting green, fitness gym and a half basketball court. 
Enjoy a massage salon in the Imperial Master Suite, which also brandishes design flourishes such as silk fabric wall coverings, Calacatta Pearl marble flooring, Michael Alexander velvet chairs and a personal deck. Outside, a 3,000-sq-ft terrace, replete with a gargantuan infinity pool, two hot tubs and specialties like a Teppanyaki corner serves as a welcoming place to confabulate.
Dine
Nine restaurants pepper The Post Oak. Bloom & Bee, a Barbie-pink, be-flowered cafe, is ideal for afternoon tea or champagne. Mastro's Steakhouse with its raw bar and myriad cuts of meat, and Stella's Wine bar with its exceptional global vintages and snack food are some personal favorites.
True oenophiles will delight in The Cellar, (the Post Oak's wine vault), which houses more than 30,000 bottles representing over 20 wine-producing countries. Two master sommeliers curate the collection and are able to guide guests' preferences. 
Relax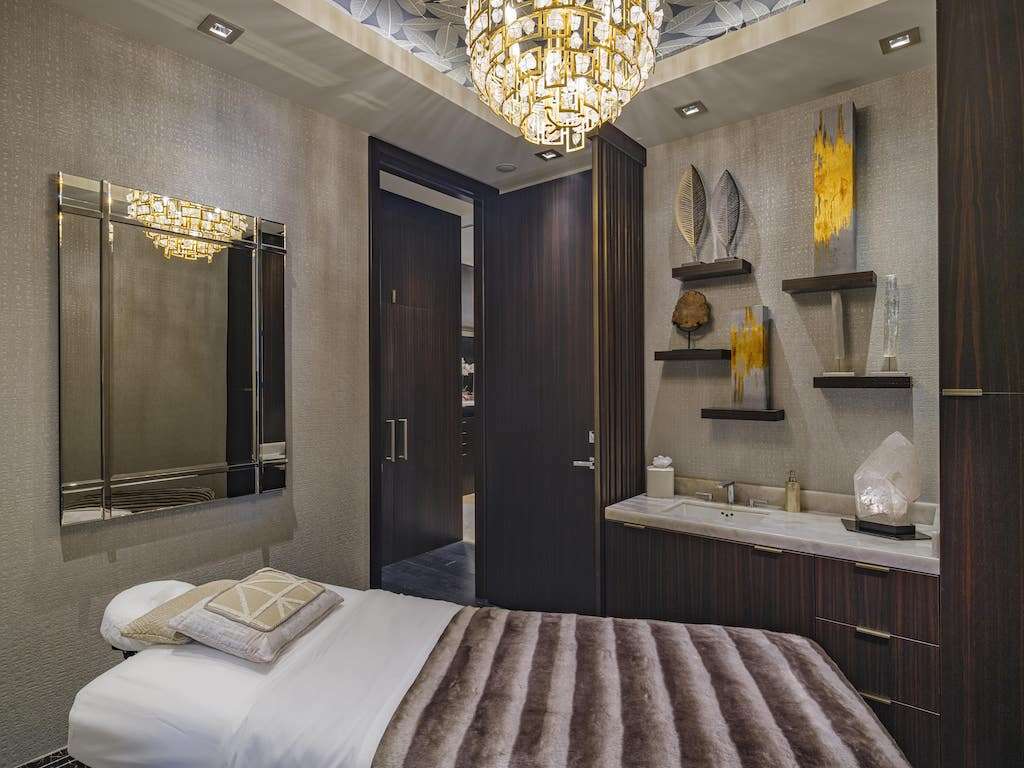 As befits a hotel created in part to be a second home for a sports team, as well as all visiting glitterati,  The Post Oak has a cutting-edge 24-hour fitness center. It excels with top-of-the-line equipment, including Peloton bikes and Technogym's most advanced cardio and strength training accouterments. Its outdoor terrace grants options for pop-up wellness events, yoga classes and more. 
Situated a floor below, the elegant spa provides a tranquil haven. Amongst 20,000 sq ft on the fifth floor, it evokes an ethereal, womb-like vibe, meant to relax guests before they've even indulged in a massage or facial. 
Go with your partner to partake in the couples' suite, a hedonistic sanctum with an en-suite bathtub and thermal shower in the couples' suite. Skincare buffs will appreciate The Spa's use of top drawer, results-driven brands such as anti-aging products by Swiss skincare maven Jacqueline Piotaz.
Design
From the outside, guests might expect minimalism inside. But within, a riot of regal glamour and panache awaits. The Post Oak sweeps guests into a glamorous world far from Houston's urban landscape. The lavish lobby amazes with its three-story custom chandelier, a sweep of Swarovski crystals inspired by the Dubai Opera House. Captivating artwork from Fertitta's own collection – such as paintings by Frank Stella – enliven the walls. On the mezzanine,  custom fabric panels with abstract images of falling leaves pay homage to the hotel's name.
Penthouse Suite from $125,000 a night with a two-night minimum stay. Contact Nadia Bnafkir, director of corporate and luxury travel, Nadia.bnafkir@thepostoak.com, +1 346 227 5005, thepostoakhotel.com