Industry-bending collaborations are no rarity in the world of luxury, and something the bespoke team at Rolls-Royce is no stranger to either. Today, however, the British carmaker reveals its most exclusive collaboration yet: Phantom Syntopia, a completely one-off release created in partnership with Dutch fashion designer, Iris van Herpen.
First revealed to a select few amidst a nightclub-worthy light display at Rolls-Royce Motor Cars headquarters in Goodwood, England, Syntopia enters the marque's history books as its most custom Phantom yet. The fully bespoke project took four years to bring to life, with the mysterious new owner simply revealed to be a "luxury connoisseur."
The client's brief was simple: They wanted a genre-defying car that expressed their love for high fashion. Rolls-Royce Bespoke Collective is more than familiar with such a request – the Phantom Oribe, made in collaboration with Hermès, instantly comes to mind – but for this project, the team needed to look to a more unusual, more hypnotic source of inspiration. Van Herpen proved the perfect choice.
[See also: Rolls-Royce Unveils Stunning Pearl-inspired Boat Tail]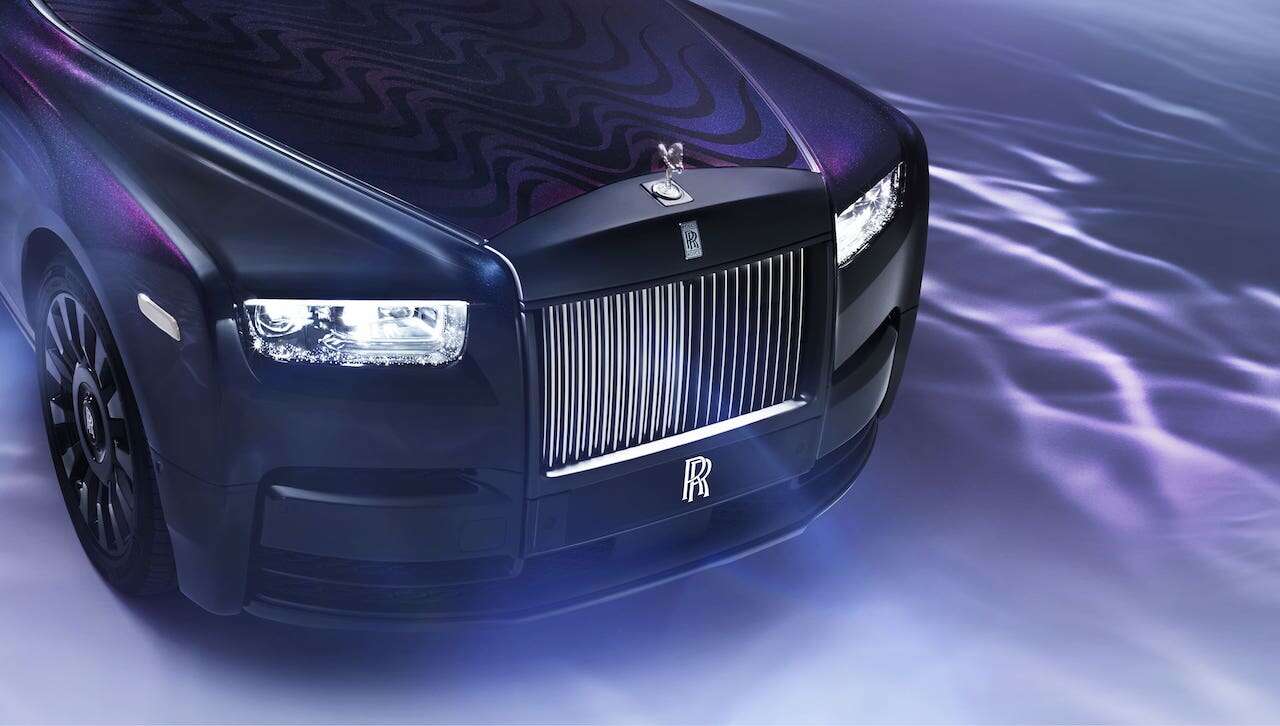 Syntopia takes its cues from Iris van Herpen's 2018 'Ludi Nature' collection, which drew wide acclaim for its masterful 3D illusions and the apparent fluid motion of solid materials. Like the Haute Couture collection, the car's design follows the principles of biomimicry – in which nature inspires art – with its flowing 'Weaving Water' theme.
Taking van Herpen's ethereal designs and applying them to something as robust and domineering as the 19.6-ft Phantom Extended is no mean feat but in testament to its problem-solving prowess and the multi-disciplinary nature of van Herpen's designs, the Rolls-Royce Bespoke division achieved it and then some.
"I was very curious to see if I could really push the boundaries that I had in my mind, and bring in the Haute Couture element," van Herpen says. "During the process, I discovered that Rolls-Royce really wanted to push the boundaries and gave me the freedom to do that."
[See also: Rolls-Royce Unveils Its First Fully Electric Car]
At first glance, the car's exterior appears midnight black. Linger a moment longer, however, and that initial impression quickly proves false. Much like van Herpen's Haute Couture creations, the color is fluid, flowing from one shade to another as the car glides by. From one angle it might appear purple, another blue, and in some lights even gold.
"We wanted it to be so you'd see something new every time you entered the car, from the colors on the outside to the delicate details inside," van Herpen explains.
To create this one-off paint, aptly named Liquid Noir, the team overlaid its darkest shade of solid black with a mirror-like pigment, selected especially for its unique chameleon-esque color-shifting abilities. For its unique shimmery finish, over 3,000 hours of testing was put into developing a brand-new technique for applying pigment to the clearcoat.
[See also: Beyond Electric: Big Car Brands Get Creative with Green Goals]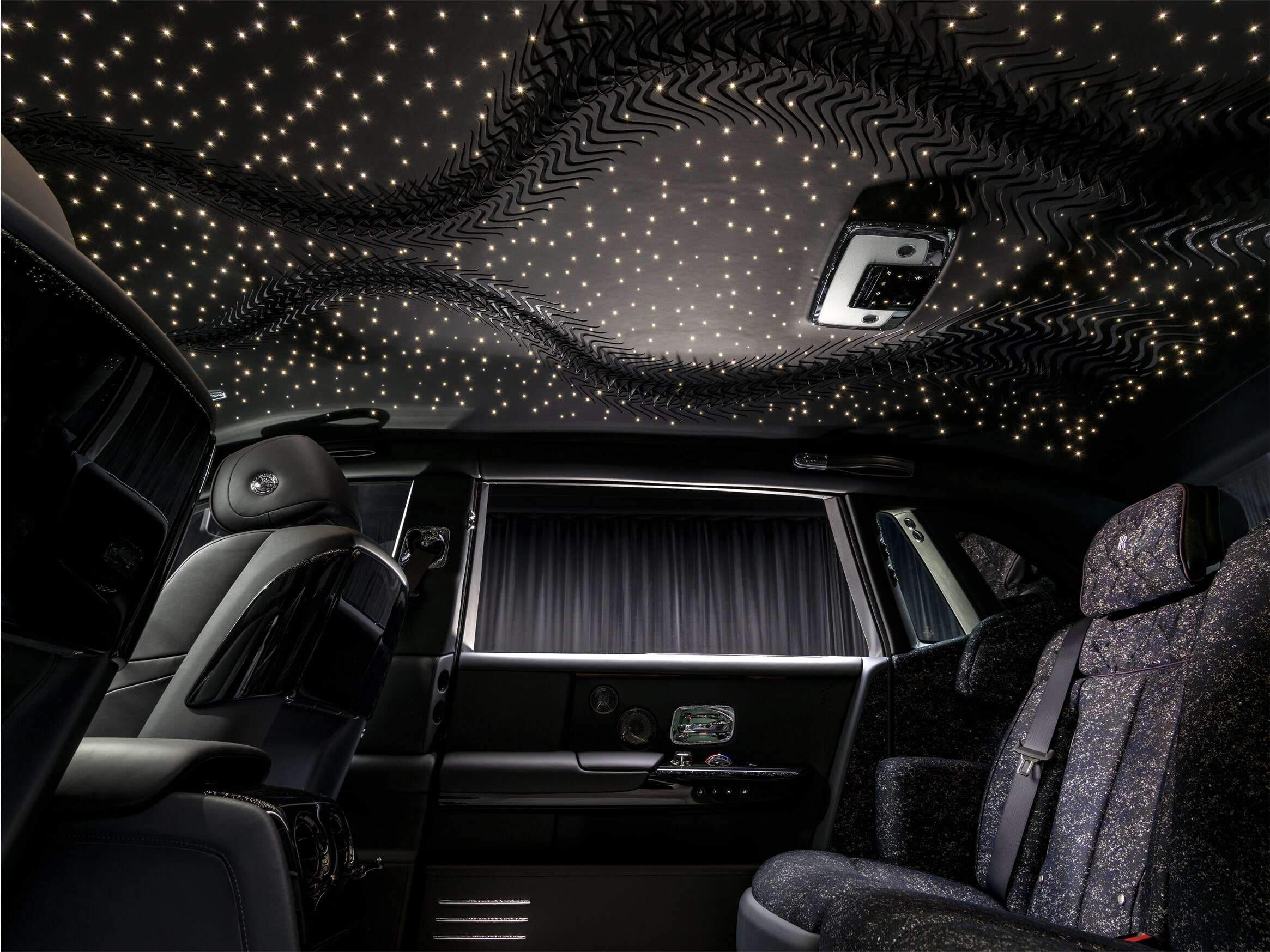 The real piece de resistance, however, is reserved solely for those lucky enough to travel inside the car, not those enviously on looking from outside. The iconic Rolls-Royce Headliner has been completely reimagined and, weaved alongside the usual constellation of LED stars, is a 3D installation of van Herpen's signature Weaving Water motif.
Unlike in the standard Phantom model, Syntopia's Headliner was crafted from a single sheet of flawless leather, with precise cuts into the fabric revealing a silver liquid-metal material underneath. Completing this one-of-a-kind ceiling – which was Rolls-Royce's most technically challenging yet – are no less than 162 glass organza 'petals', each meticulously applied by hand.
Truly showcasing the extent of the collaborative project, some pieces were crafted by hand in the Rolls-Royce manufacturing facility and others in van Herpen's Amsterdam atelier, before seamlessly coming together inside the car. This majestic Headliner alone took 700 hours of painstaking work.
[See also: The Luxury Cars Putting Wellness First]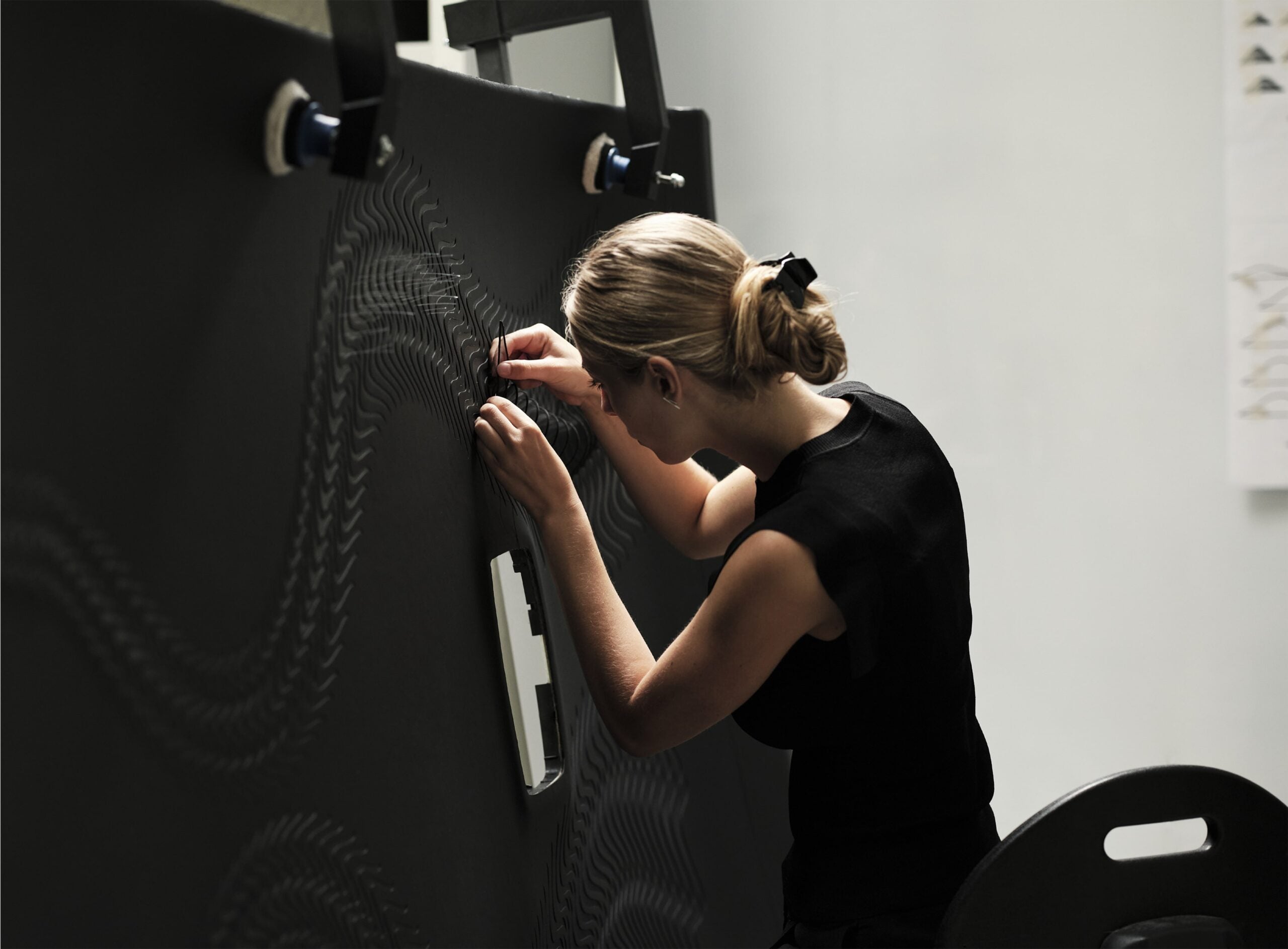 In another Rolls-Royce first, the new Phantom Syntopia also features its own bespoke scent, effectively turning the driving experience into a full sensory overhaul. In homage to the client's (undisclosed) home, the core of the scent is cedarwood which is gently reinforced with iris, leather, rose and lemon. This signature scent is subtly deployed via a specially developed mechanism in the headrests. 
While much of the Phantom Syntopia is otherworldly in its design, the seats are pure comfort and express Rolls-Royce's continued pursuit to push the boundaries of textiles. Harking back to an era of chauffeur-only (although it is accepted that the new owner will be passenger more often than driver) the front seats are trimmed in sturdy leather, while the rear are in a glittering silk blend. 
The result of months of experimentation with material by the upholstery team, this bespoke silk blend is designed to recall the image of light reflecting on water at night; the effect is mesmerizing. The carpeting is suitably luxe too, with a thick, impossibly soft pile chosen in soft gray to gently contrast the darker elements of the design.
[See also: The Best Luxury Cars of the Year]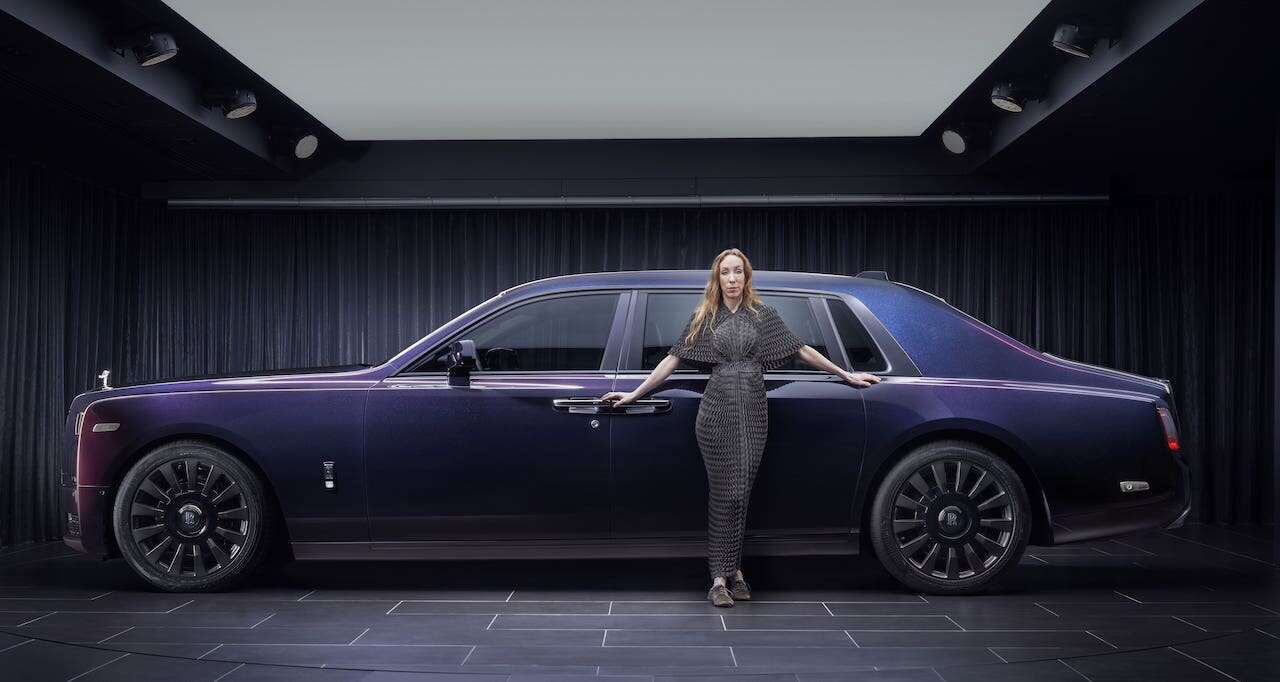 And what does van Herpen think of the finished result? "I'd drive it!" she says. "There's a delicacy and a three-dimensionality to it that I really hoped I could bring in. I think when you are inside the car, the way the light reflections bring life into the car really makes it a full experience. It has a sense of life and an organic-ness that I always try to bring into my work."
Stunning as the car is, however, an Haute Couture commission would not be complete without a piece of wearable art to accompany it. The final piece in the Rolls-Royce x Iris van Herpen Syntopia collaboration will be a custom-made, completely one-off garment designed to not only mirror but also continue the artistry seen in the car. Like the Headliner, the garment will embody the Weaving Water theme through the careful application of delicate glass organza petals and a distinct laser-cut pattern.
[See also: An Icon Reborn: Rolls-Royce Unveils Phantom Series II]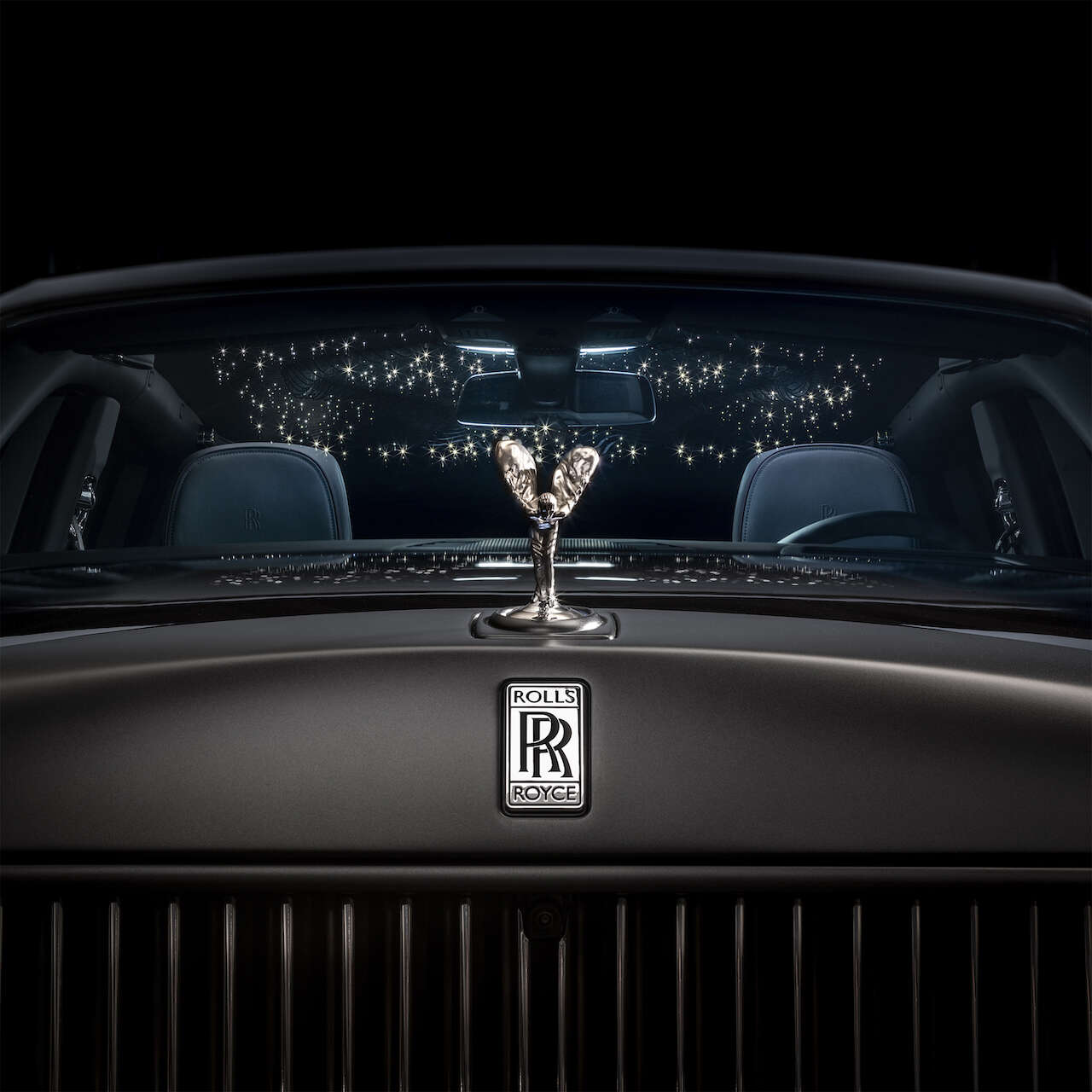 "Building on two decades of joint undertakings with the world's most celebrated design houses, artists, horologists and jewelers, Phantom Syntopia secures Phantom's standing as the ultimate blank canvas for Bespoke personalization," adds Rolls-Royce Motor Cars CEO, Torsten Müller-Ötvös.
"In collaborating with internationally renowned designer and Haute Couturiere Iris van Herpen, we once again redraw the boundaries of innovation, craftsmanship and Bespoke possibility, not just for a motor car but across the wider luxury sector."
Although for now Phantom Syntopia enjoys its well-deserved spot in the limelight, from May it will take its place in the client's private collection, with Rolls-Royce having pre-agreed that it will never be replicated. On to the next one for the Bespoke Collection team.