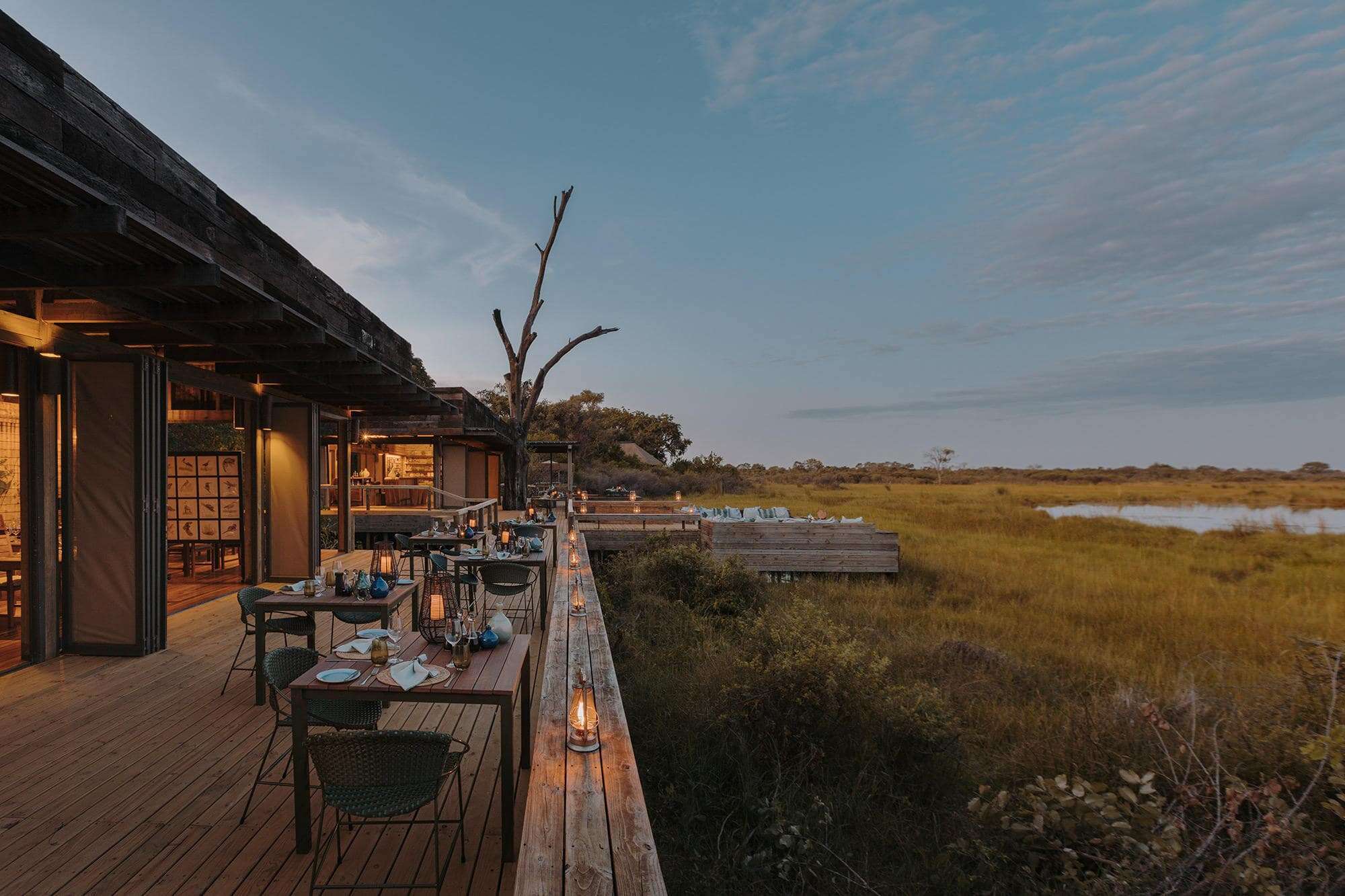 After a complete renovation of both the interior and exterior, Wilderness Safaris is preparing to reopen its Vumbura Plains camp, which sits in the heart of Botswana's Okavango Delta Reserve.
As part of the refurb, Vumbura Plains has been kitted with 14 new guest suites, each with elegantly appointed sleeping quarters, indoor and outdoor showers, and an outdoor decked living area, complete with a private plunge pool.
In line with Wilderness Safari's core ethos of delivering purpose-driven safari experiences, the 148,230-acre Vumbura Plains Private Wilderness Area, which surrounds the camp, is leased from five nearby villages as part of the Okavango Community Trust. This partnership ensures that local communities benefit directly from safari tourism in the area, and have a direct impact on the experiences on offer.
[See also: The Most Immersive Safari Suites in the World]
In celebration of this ongoing initiative, Vumbura Plains' redesign has been focused on showcasing the unique design details and local craftsmanship traditions of the area. Carried out by Cate Simpson of Reflecting Africa, the new-look design has been carefully imagined to create an authentic Okavango experience, with local craftspeople brought on board to help create the finished product.
"We are delighted to have completed this extensive refurbishment of one of our flagship camps – in excellent time, despite the trials of the pandemic," says Wilderness Safaris MD, Kim Nixon. "Vumbura epitomizes the serene beauty and year-round wildlife diversity of this iconic Delta destination, and I have no doubt that the rejuvenated camp will continue to delight guests and deliver life-changing journeys in this remarkable wilderness area."
To coincide with the revealing of the refreshed camp, Vumbura's culinary team has also created an all-new menu that is more closely aligned with local fare. The menu is centered around seasonal ingredients procured from nearby farmers, with the aim of both limiting food airmiles and generating a new source of revenue in the neighboring area.
[See also: Marriott to Open First Safari Lodge in Africa]
While the camp might be boasting a new look, the wildlife spotting opportunities at Vumbura Plains remain as amazing as ever, with guests invited to enjoy day and night safari experiences both on land and in the water, with helicopter rides and hot-air balloon journeys also on offer. The Okavango Delta is one of the most wildlife-rich regions in the world, with painted dogs, cheetahs, elephants and lions all calling the reserve home.
Vumbura's refurb follows the recent re-design of its sister properties, DumaTau and Little DumaTau, which were both re-opened last year. Like Vumbura, these two luxury safari camps were carefully designed to celebrate and showcase their surrounding landscapes.
[See also: Exclusive African Safari Camps Championing Sustainability]