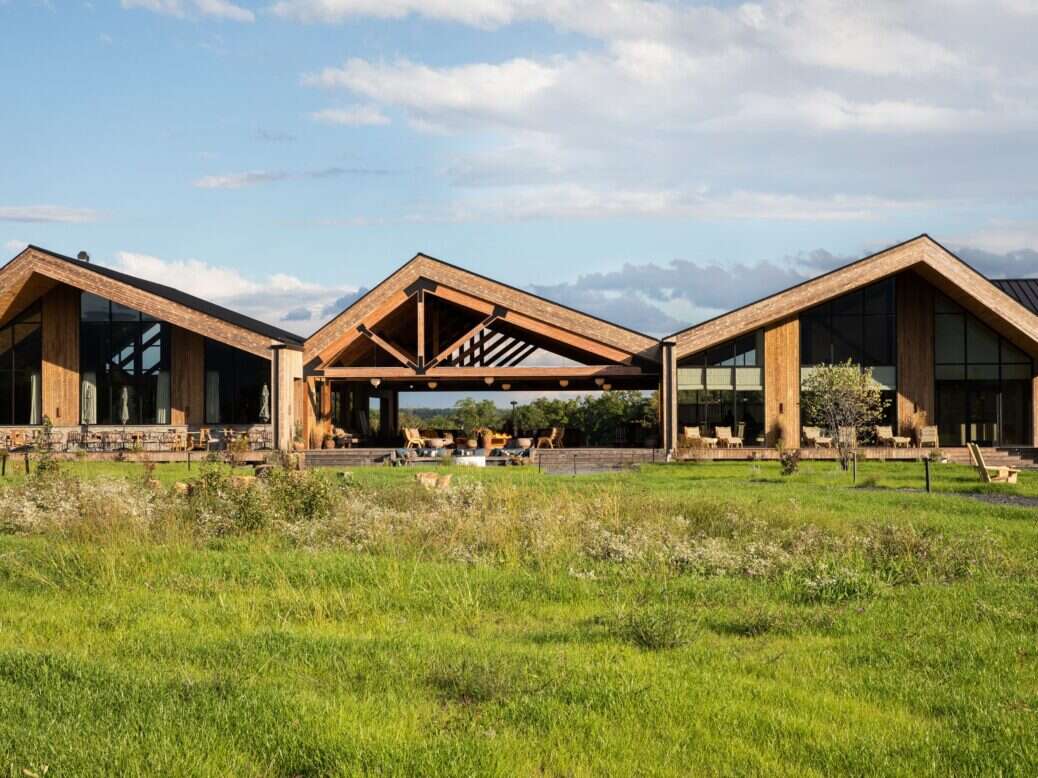 The past few years have truly polarized our individual travel goals. For some, the easing of Covid-19 restrictions led to a great return to the bright lights and enviable bustle of densely packed cities. Others, however, relished the back-to-nature travel opportunities, preferring quieter, more considered vacations. Hoping to lure the latter is the newly opened Wildflower Farms, Auberge Resorts Collection.
Nestled away on an expansive 140-acre estate, the resort first began welcoming guests last month and proudly takes the title of being Hudson Valley's first ultra-luxury retreat. Guests can expect an impressive host of amenities, from a destination restaurant and signature spa to bountiful activities and experiences, as well as a carefully finished collection of stylish accommodations.
Artfully combining all the considerate touches one would expect of Auberge with a focus on celebrating the natural world, all of which is neatly entwined with a steadfast commitment to eco-consciousness, Wildflower Farms prides itself on offering what it describes as 'unscripted luxury.'
"We are honored to introduce Auberge Resorts Collection's first property in the legendary Hudson Valley," said Craig Reid, president and chief executive officer, Auberge Resorts Collection. "Harnessing the power of nature in its simplest form, Wildflower Farms offers solace, sanctuary and joyful opportunities to reconnect with nature just a 90-minute drive from New York City. We are thrilled to welcome guests to this awe-inspiring destination."
[See also: The Best Thanksgiving Getaways for 2022]
Stay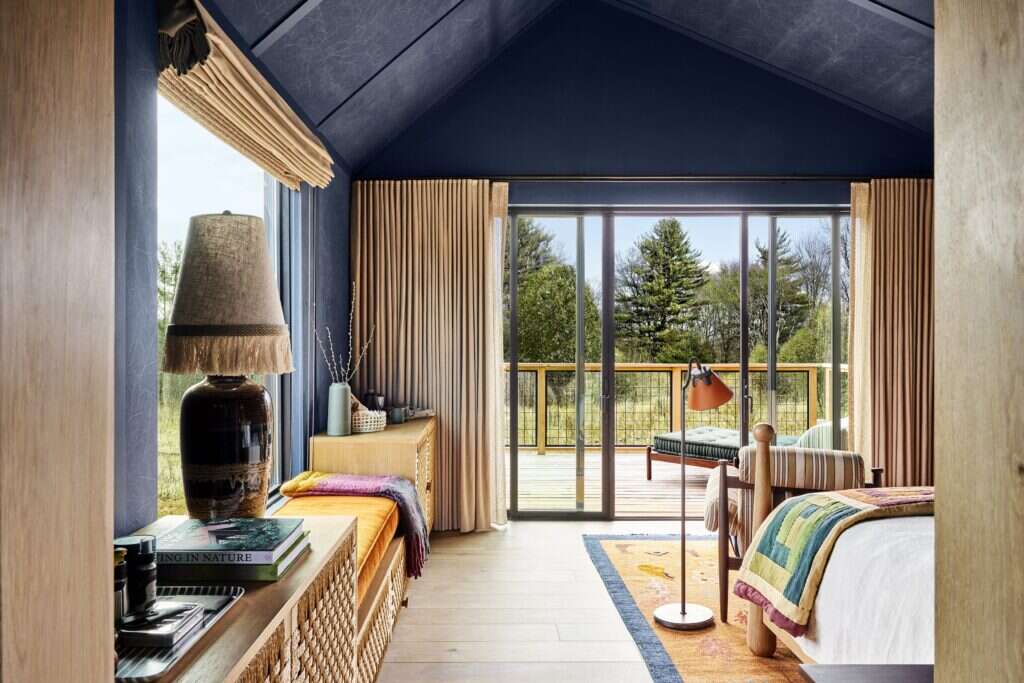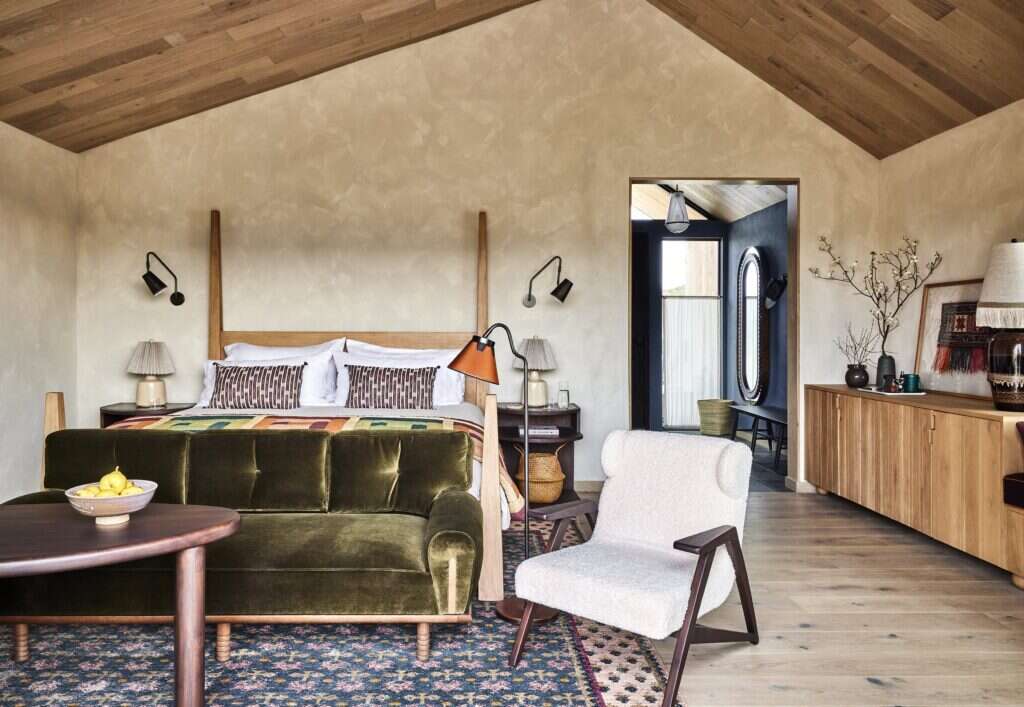 A total of 65 private cottages and cabins are dotted around the Wildflower Farms estate, inviting guests to call the resort a home away from home. Imagined by architects Electric Bowery and interior specialists Ward and Gray, the décor is undeniably cozy, but in the most chic of ways. Earthy natural tones sit perfectly next to more luxe touches like sumptuous velvet couches, with lovely details such as roaring fires and deep soaking tubs promising the height of relaxation.
Of course, while the interiors are beautiful, the accommodations are, at their heart, a celebration of the land in which they sit. Enormous floor-to-ceiling windows frame the expansive Hudson Valley views beyond, while private outdoor terraces invite guests to make the most of the natural world. The beauty of this part of the country is that every season reveals a new sight to behold. In summer, blooming wildflowers dominate the landscape; in fall, the vibrant auburn hues take center stage.
There are also five Ridge Suites nestled into the picturesque meadows. Kitted out in the same rich, earthy style as the cabins and cottages, each suite boasts plentiful indoor space complete with a separate lounge area, as well as private outdoor terraces with an inviting cedar hot tub.
Dine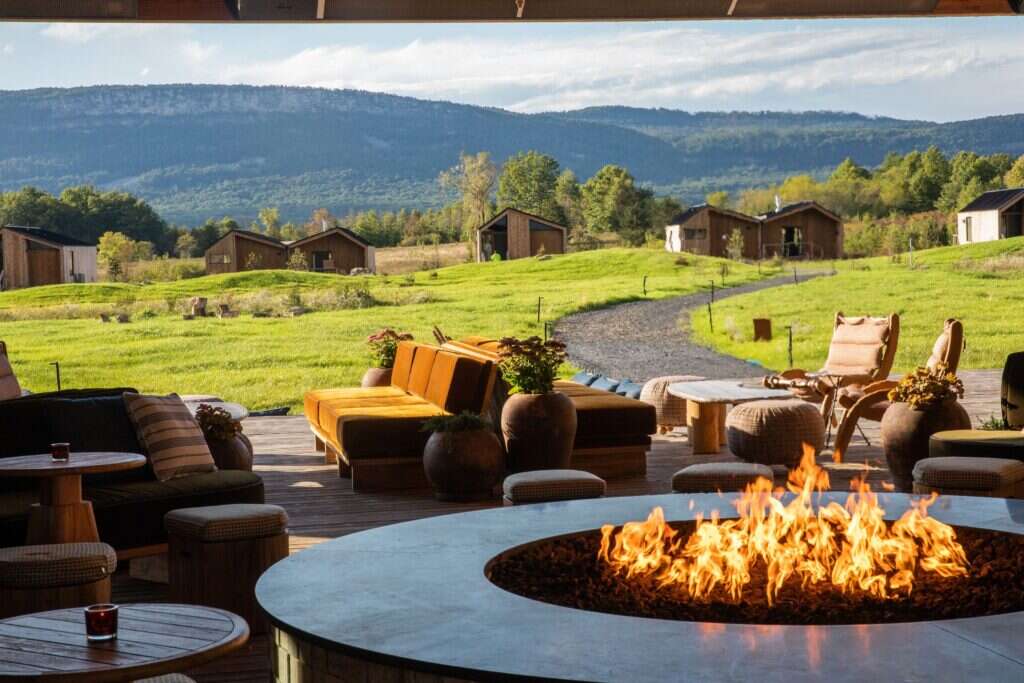 As should always be the case with a hotel with the word 'farm' in its name, Wildflower Farms is putting huge emphasis on serving local, seasonal ingredients in homage to New England's wider 'back-to-the-land' ethos. Meats will be pasture-raised, while fruit veg will either come directly from the on-site farm, or from local purveyors who share the resort's principles. It's an admirable endeavor indeed.
Aiming to establish itself as a destination restaurant, Clay will be serving New-American style fare, with a focus on hearty, nutrient-rich and – of course – local ingredients. The menu will be a clever fusion between elevated gastronomy and warming comfort food, accompanied by solid wine list of both established favorites and newer vintners.
Elsewhere in the resort's main building is The Great Porch. The informal lounge-style space will be open all day, serving everything from a morning coffee to a fireside nightcap, with its open-air front framing wondrous views of the Shawangunk Ridge beyond. From May through September, guests can also poolside bites and beverages at Dew Bar, Wildflower Farms' outdoor eatery, which will welcome guest chefs throughout the summer season.
[See also: Natural Paradise: Inside the Eco-Luxe Habitas Tulum]
Relax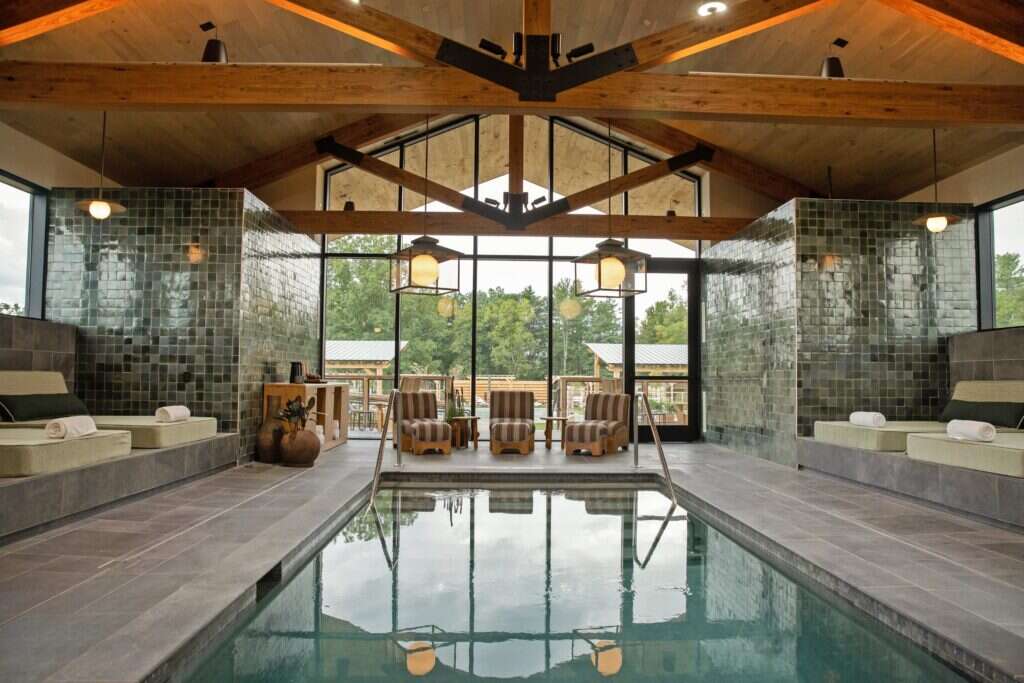 The hotel's nature-first ethos has found its way into its wellness offering too. The signature Thistle, an Auberge Spa draws inspiration from nature's seasonal cycles to craft personalized treatments and remedies.
The extensive treatment menu features a bounty of all-natural products, as well as a selection of immersive outdoor experiences that 'focus on gently re-wilding the human spirit.' In an age of next-gen beauty and fitness treatments, Wildflower Farms' commitment to going back to nature remains refreshing.
Spanning an impressive 9,000-sq-ft, the spa features six private treatment rooms, two outdoor hot tubs in the heart of the meadow and an indoor salt-water swimming pool, as well as a dry sauna and herbal steam room. For those who prefer a more active approach to well-being, there's also an expansive outdoor fitness center and movement studio offering daily classes.
[See also: The Best Trend-setting Spas to Visit this Year]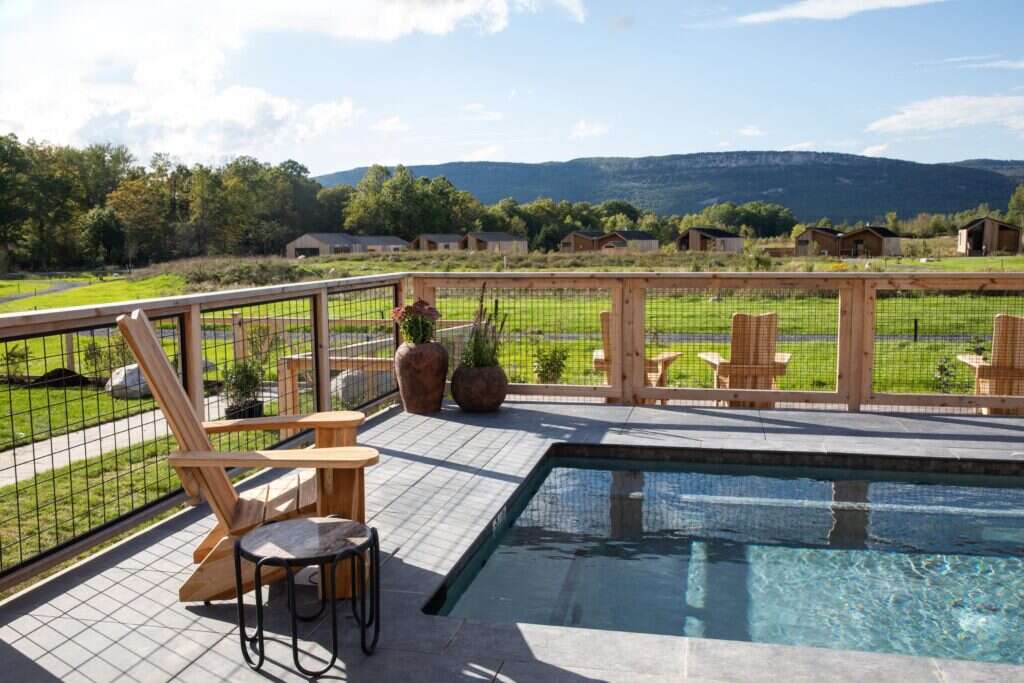 Explore
Thanks to Wildflower Farms' unrivaled location, the experiences and adventure on offer are too extensive to list. The resort itself boasts three miles of on-site hiking, trail running and electric dirt biking, as well a host of creative activities such as baking classes, wreathmaking and pottery courses.
For those wanting to learn more about regenerative food sourcing and production, there's also a chance to visit the onsite farm for a hands-on foraging experience.
Guests can also travel further afield into the neighboring Mohonk Preserve, which is renowned for its world-class rock-climbing, snowshoeing and ice-climbing,  or venture out into the wider Hudson Valley, home to a multitude of orchards, distilleries, state parks and antique markets. Guided tours, group excursions or private experiences can be arranged to virtually any of the nearby attractions by the team's helpful concierge.
[See also: Luxury Hotel Collections Championing Responsible Travel]