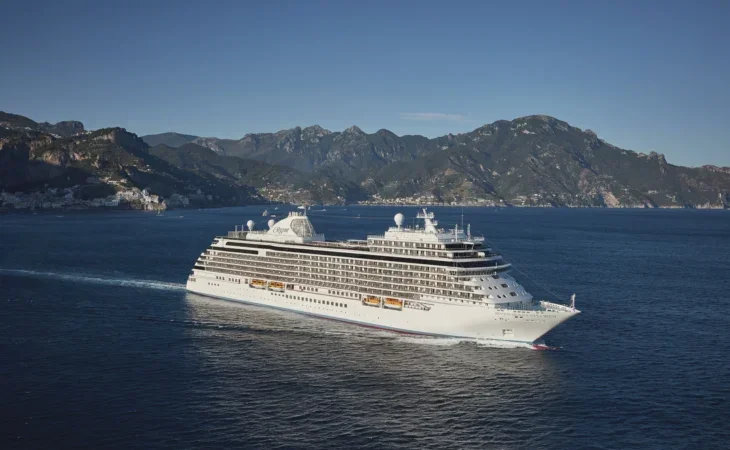 Luxury cruise line Regent Seven Seas has launched four brand-new Grand Voyages setting sail in 2024-2025. Ranging from nine to almost twelve weeks, the itineraries reflect the growing appetite for longer – and more adventurous – vacations post-pandemic.
The crème de la crème of the new collection is without a doubt the Grand Arctic Adventure. Setting sail on June 4 2024 from New York on board the Seven Seas Mariner, guests will be taken on an 83-night trip of a lifetime to Barcelona, stopping off to explore the untamed wilderness of Greenland and Iceland's majestic volcanoes along the way.
After crossing the North Sea via the Faroe Islands to Denmark, guests will cruise the British Isles staying overnight in Antwerp, Berlin, Oslo and Stockholm. The jam-packed itinerary also gives guests the chance to experience the dramatic Norwegian fjords before relaxing on the sunny shores of France and Portugal, and finally docking in Barcelona.
[See also: Regent Seven Seas Launches Longest World Cruise Ever]
The Grand Asia Exploration is also well worth considering for intrepid travelers. Departing October 18 2024 onboard the Seven Seas Explorer, the 63-night voyage will take guests on an unforgettable journey from Tokyo to Sydney, stopping to explore Japan's breathtaking ports en route before cruising Australia's east coast.
For those eager to further explore this far-flung corner of the world, the Grand Spice Route Quest will be departing on board the Seven Seas Voyager from Auckland on March 25 2025. During the 70-night trip, guests will be given an incredible opportunity to fully immerse themselves in a variety of cultures, experiencing the best of Australia's east coast before crossing the Timor Sea to Indonesia and staying overnight in Bali, Singapore, Ho Chi Minh and Bangkok.
Perhaps most exciting of all, however, is the final leg of the itinerary where guests will be given the chance to explore Sri Lanka's legendary temples, sample India's incredible food scene and marvel at the treasures of Luxor in Egypt.
Finally, the Grand European Sojourn is a 79-night roundtrip from Lisbon, departing June 28 2024, that will take guests on a beautiful voyage of the British Isles and the Mediterranean, staying overnight in France, Belgium, the Netherlands, Spain, Turkey and Israel.
"We are delighted to fully unveil our incredible Legendary Journeys Voyage Collection for 2024-25," said Jason Montague, president and chief executive officer at Regent Seven Seas Cruises.
"Our guests are eager to travel around the world and create memories all while enjoying the exquisite luxuries that are the hallmark of the Regent experience. We are confident that these four inspiring Grand Voyages will be incredibly popular."
Ensuring everything is taken care of, the Grand Voyages package includes a complimentary pre-cruise stay and dinner in a hotel, door-to-door luggage handling and an exclusive shoreside experience. Onboard, guests will be treated to spacious suites complete with balconies, unlimited valet laundry and culinary delights from a range of gourmet eateries and al fresco dining venues.
Reservations for Regent Seven Seas Grand Voyages open July 20 2022. Prices start at $45,999 per guest for the Grand Asia Exploration.
[See also: Onboard the Spectacular Regent Seven Seas Splendor]