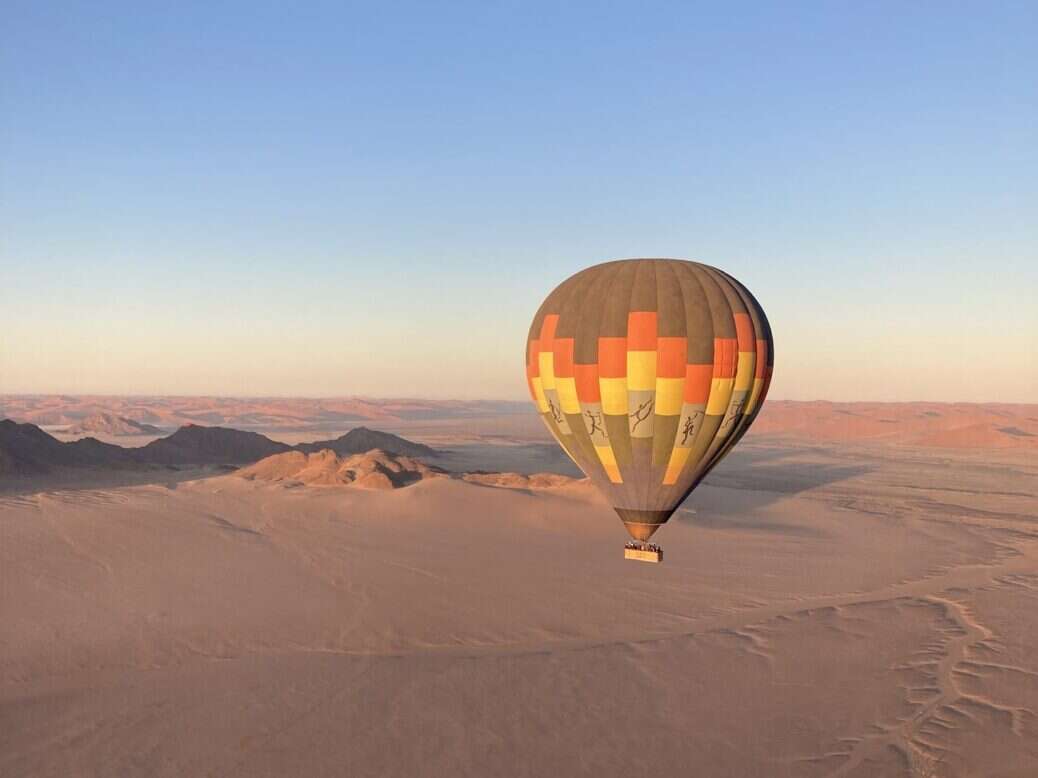 There are few things worth waking up at 4am for, but cruising thousands of feet above the Namib desert in a hot air balloon is certainly one of them. If you're staying at andBeyond Sossusvlei Desert Lodge, a Beyond Green property, start the day with a cup of coffee delivered direct to your suite via a neat hatch, before trundling through the wilderness in the pre-dawn dark to Namib Sky Balloon Safaris.
Arriving at the launch site, a Game of Thrones-esque roar of flames lights up the dark sky, illuminating the team as they inflate the larger-than-life balloons. It's only as the enormous hot air balloon begins its ascent into the sky that the sun breaks the horizon, casting a celestial glow across the Sossusvlei dunes.
[See also: The Most Anticipated Hotel Openings of 2023]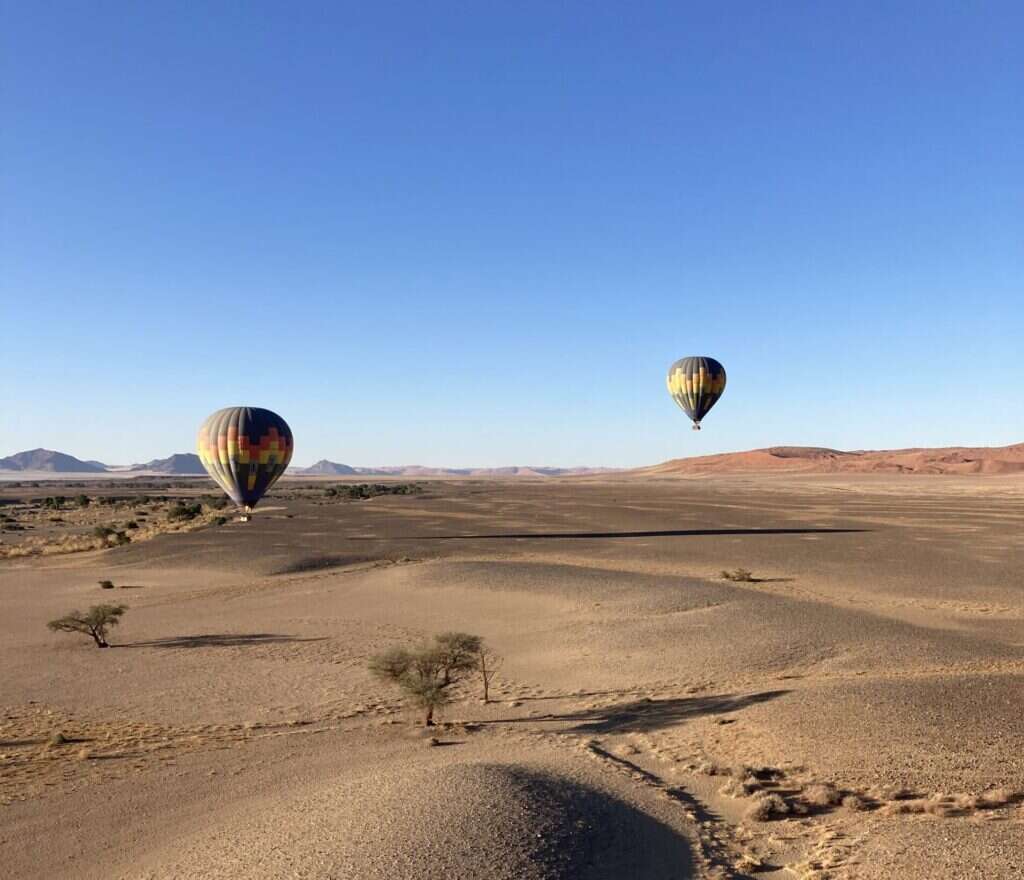 Once up in the air, it is the wind and the wind alone that dictates where you go; your pilot can take charge of the altitude but the direction you head in is in nature's hands.
Bar the occasional 'swoooosh' of fire, the journey is unbelievably peaceful as the balloon gently weaves its way through the air. Below, there are otherworldly views of Namibia's resilient wildlife, veins of dried-up riverbeds and the swooping crimson dunes of the Sossusvlei corridor to gaze upon.
[See also: The Future of Beyond Green with CEO Lindsey Ueberroth]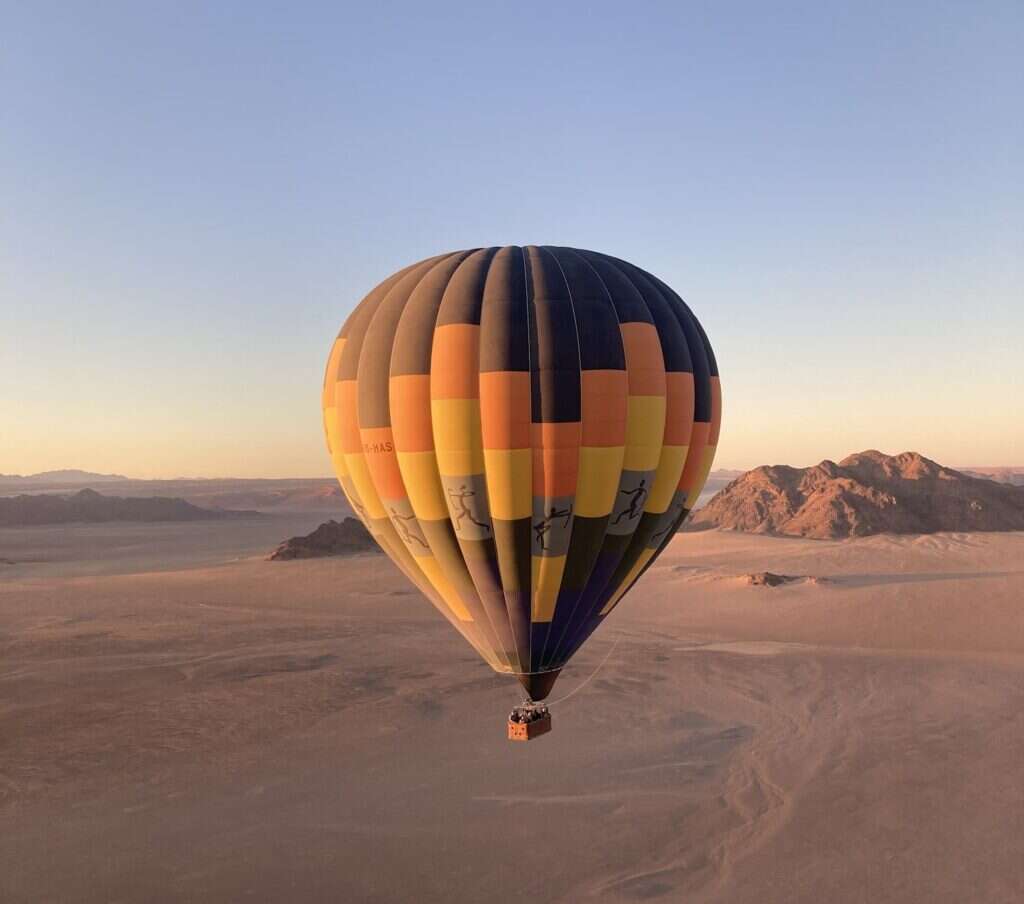 After an hour or so of drifting, a final thrill might be on the cards if your pilot thinks a 'sports landing' (when the basket hits the ground with a controlled sideways tip) is the best route. Otherwise, it's a graceful touchdown before indulging in an extravagant breakfast in the heart of the desert.
The lavish spread includes homemade cakes, locally made jams and spreads, and a gorgeous array of meats — don't miss the cured zebra (yes, really). You might be in the middle of nowhere but not a single luxury is bypassed: Expect pristine white tablecloths, dramatic champagne sabrage and free-flowing bubbly to end the morning of a lifetime.
Namib Sky Hot Air Balloon Safari from $494 per person. Contact info@namibsky.com, +264 636 83188, balloon-safaris.com, beyondgreen.com