In his 1958 travelogue Meeting With Japan, Fosco Maraini wrote: "The things that matter in Kyoto are tucked away in little valleys, in green alcoves between the folds of the hills. Its beauties do not present themselves, but have to be sought out." It's a city whose past and present collide and unravel into a dazzling display that's a marvel to seek out and behold; Kyoto's glittering golden temples and vermilion-painted pillars and palaces have long contributed to its reputation as one of Japan's most desirable luxury destinations.
For more than a century from 794 to 1869, Kyoto — which means 'capital city' — served as the epicenter of Japan's spiritual, cultural and political universe. You can spend weeks exploring the city's thousand-plus temples, Zen gardens, Shinto shrines and 17 Unesco World Heritage Sites and still only scratch the surface of the birthplace of Japan's geisha culture.
[See also: The Best Luxury Ryokan Across Japan]
If you're eager to capture a unique glimpse into Kyoto's rich cultural heritage, a wave of luxury hotels have been popping up in and around the city, and while they've been quick to master the art of Omotenashi — a uniquely Japanese concept of hospitality — they're also offering guests a chance to experience some of Kyoto's most time-honored traditions and philosophies.
Beauty is in the eye of the beholder and, while there's no shortage of enriching ways to discover the many wonders of this imperial city, from the ancient cobblestone corridors and lantern-lit alleyways of Gion, to the verdant valleys and rolling hills of Higashiyama, if you're willing to dig deeper, you'll be delighted by what you might find.
[See also: Bulgari Hotel Tokyo: Tranquility in the World's Busiest City]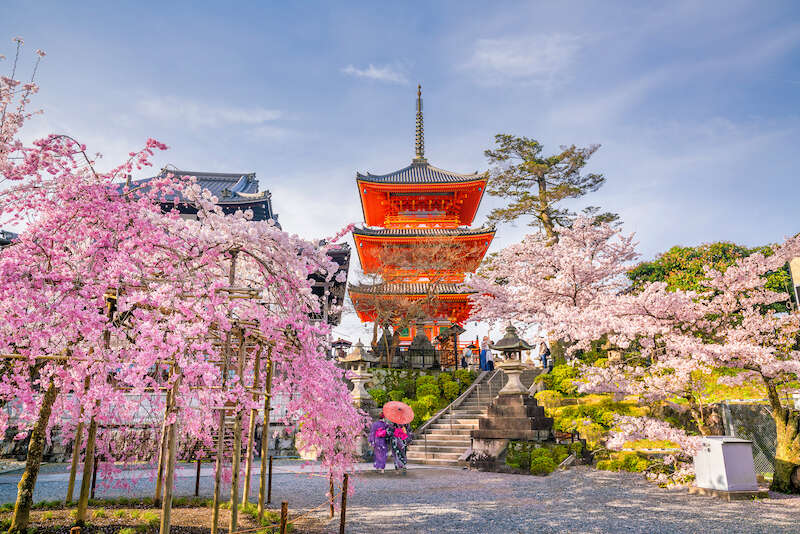 Luxury Kyoto Cuisine
From cozy izakayas (Japanese-style pub) serving up obanzai-ryori (homestyle cooking) to multi-course Kyo-kaiseki meals at Michelin-rated restaurants, Kyoto's food scene celebrates the seasonality of local ingredients, and has perfected the art of dining out perhaps better than any other city in Japan. Eating here is an experience that is best savored, but knowing where to go and booking well in advance are key to ensuring a successful visit.
Just off the philosopher's path in Kyoto's Higashiyama District, chef-owner Yoshihiro Imai turned his love of locally sourced ingredients and fire-roasted pizza into five- and seven-course tasting menus at perennially popular Monk. Reservations at this charming 14-seat spot fill up quickly, so be sure to book well in advance.
A charming izakaya serving Italian-Japanese fusion, Fudo is a love letter to the bounty of seasonally inspired dishes found around Kyoto. Each beautiful portion bursts with umami; grab a seat at the counter, where the vibe is about embracing and connecting over good food and good company. This is a great place to sip local sake or enjoy a bold glass of Italian wine and provides a memorable experience that feels more like a cozy evening at a close friend's house.
[See also: Regent Seven Seas Launches Longest World Cruise Ever]
For a special evening, Kyoto Kitcho Arashiyama has three Michelin stars and offers a variety of courses that include assorted appetizers, soup, sashimi — grilled and slow-cooked and beautifully presented. Kitcho also has a sister restaurant in the heart of Gion called Hana-Kitcho, which is a modern kaiseki spot serving fare in private rooms, some of which overlook a moss-covered garden.
Pull up a seat at the counter and indulge in some traditional kaiseki at Sen, where owner and chef Takeshi Sugisawa's changing menu of elevated Japanese cuisine is served with a modern twist. The restaurant has a Michelin star under its modern-meets-minimalist belt. For the adventurous diners out there, the seasonally rotating menu may include a few surprises such as black bear meat sourced from Japan's northern prefecture.
Where to stay in Kyoto
Hotel The Mitsui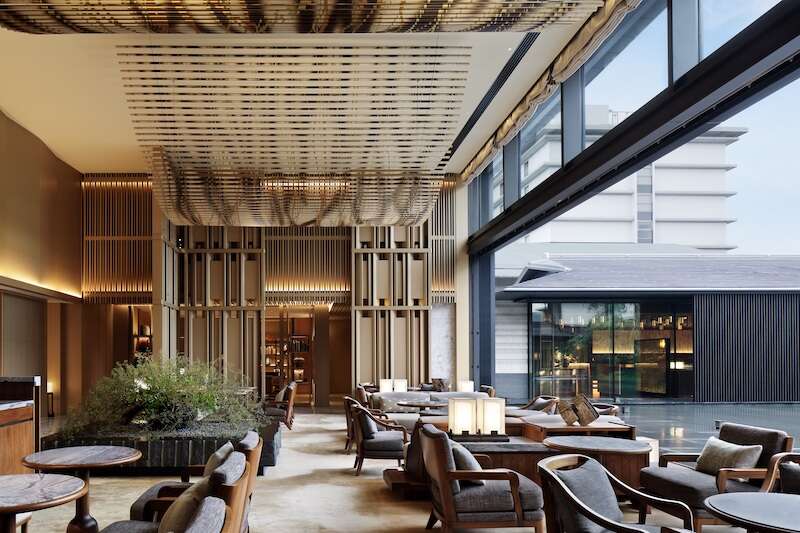 Once you make your way past the 18th-century Kajiimiya Gate into the world of Hotel The Mitsui, you'll immediately be transported to a bygone era. An elegant blend of tradition and modernity, this 161-suite ryokan-style hotel has all the Western bells and whistles you could hope for, along with an exceedingly gracious kimono-clad staff and easily the most sumptuous underground natural thermal spring onsen and spa in town.
Set directly across the street from Nijo-jo Castle, the focal point of this Marriott Luxury Collection Hotel is the tranquil Japanese garden complete with running streams and seasonal blooms. Don't miss a chance to book one of the two private onsen suites, and for a truly unique experience, the hotel has teamed up with Kyoto-based kimono house Hosoo Salon and now offers guests a behind-the-scenes tour and a custom kimono fitting.
Suites from $1,380 per night. Contact reservations.kyoto@hotelthemitsui.com, +81 754 683 100, hotelthemitsui.com
Roku Kyoto, LXR Hotels & Resorts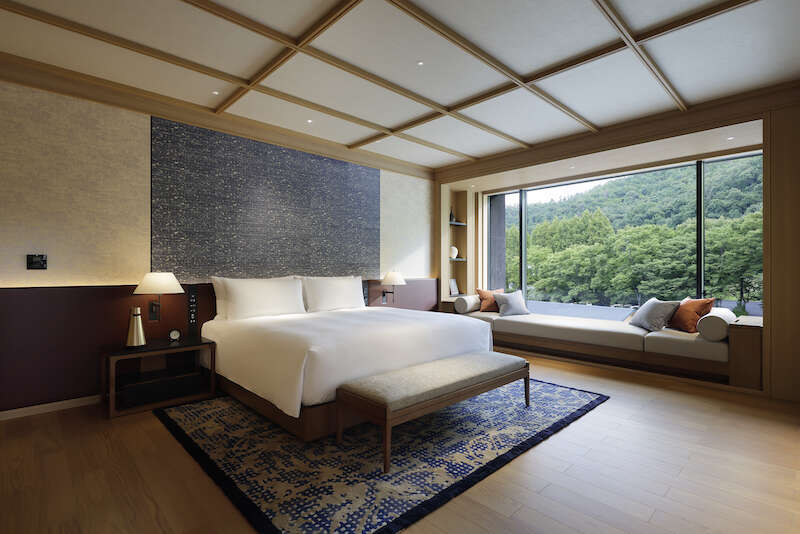 Set along the Tenjin River in the foothills of the Takagamine Mountains, Roku Kyoto opened in 2021 and is an idyllic place for travelers looking to embrace the natural beauty that abounds here. Take a stroll through traditional Japanese gardens and tea houses before enjoying a soak in the on-site thermal lap pool.
There are 114 guest rooms and suites complete with floor-to-ceiling windows offering breathtaking views over the mountains, along with deep soaking tubs and rain showers; opt for a suite on the ground floor with its own private onsen for something truly special. It is within easy walking distance to the Kinkaku-ji 'Golden Pavilion,' but it might be hard to tear yourself away from this beautiful resort — the hotel has curated a mix of experiences from learning the Japanese art of kintsugi with a master at a nearby studio, to traditional papermaking and ceramic workshops and so much more.
Suites from $1,900 per night. Contact info@rokukyoto.com, +81 753 200 111, hilton.com
[See also: House of Suntory Marks 100th Birthday with New Releases]
Sowaka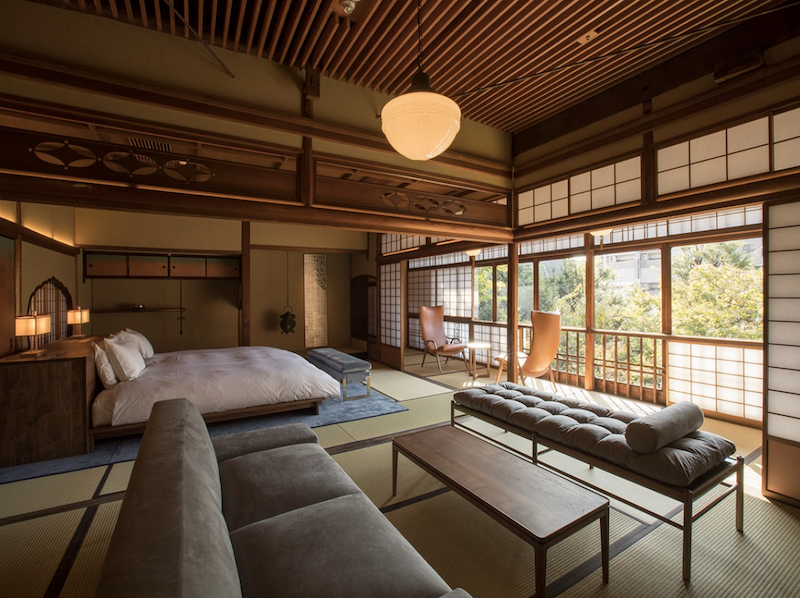 Nestled along a bustling street in the heart of Gion, Sowaka is the ideal jumping-off point for first-time visitors and anyone looking to soak up the energy and culture in one of Kyoto's fabled geisha districts. Ancient shrines and temples lie just on the other side of this unassuming 100-year-old property's doorstep, which was given new life when it reopened in 2019 as a boutique luxury ryokan built in the 'sukiya-zukuri' style (a type of residential architecture inspired by tea house aesthetics).
No two rooms are the same in this absolutely stunning 23-key luxury boutique spread across the main building and an annex. Book the maisonette with a traditional tea ceremony room or a room with a private garden. On the ground floor, Sowaka's signature Japanese fine dining concept, La Bombance, is the sister restaurant of the popular Michelin-starred counterpart in Tokyo and is not to be missed.
Suites from $1,355 per night. Contact reservation@sowaka.com, +81 755 415 323, sowaka.com
Four Seasons Hotel Kyoto
In the Higashiyama District, make your way past the bamboo forest and along the pathway where an 800-year-old pond garden at the heart of the Four Seasons Hotel Kyoto awaits. This romantic sanctuary has a mix of 180 guest rooms, suites and residences, and while you could easily spend all day enjoying the sights and sounds on display at the Sukiya-style tea house, the hotel's on-site experience coordinator is always on hand to curate customized activities and itineraries for guests, from learning Japanese calligraphy to a private rickshaw temple tour. It's home to two signature restaurants including a modern brasserie and an Edo-style sushi restaurant, plus a two-story spa — book the soothing bath experience.
Suites from $2,200 per night. Contact reservations. kyo@fourseasons.com, +81 755 418 288, fourseasons.com
[See also: Aman to Debut Janu Hotel in Tokyo this Fall]
Insider tips: Where to go in Kyoto
Rise and shine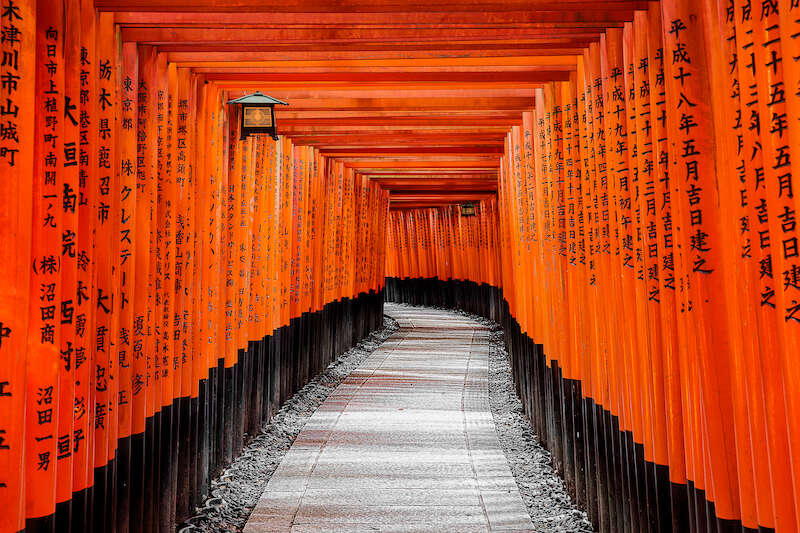 While Kyoto was Japan's capital from the 8th to the 19th century, the city has long been considered the cultural capital of the country. Today, Kyoto is home to 17 Unesco World Heritage sites that include a mix of Shinto shrines, castles, ancient temples and pagodas. Start your day at sunrise with a hike through the torii gates at Fushimi-Inari-Taisha Shrine — one of Kyoto's most popular sites that's best enjoyed without the crowds.
From there make your way to the Arashivama area on the western outskirts of Kyoto, where the Bamboo Forest and Arashivama Monkey Park (monkeypark.jp) are both popular spots to take a leisurely stroll. Consider a walk along the Philosopher's Path or spend the afternoon in Gion where narrow streets and traditional wooden houses all converge as geishas and maikos (geishas in waiting) click-clack their way around in wooden sandals called getas.
When to go to Kyoto
Early spring (mid-March to mid-April) marks one of the most magical (and busiest) times of year in Kyoto, as sakura seekers eager to catch a glimpse of the ephemeral cherry blossom trees are in full effect.
Come July, the streets are packed with revelers for the annual Gion Matsuri festival, a monthlong celebration that sees parades and street parties in one of the largest and most popular festivals in Japan. In August, the hills of Kyoto are ablaze in honor of the annual Gozan Okuribi (known as Daimonii) ritual honoring the dead. The Kurama Fire Festival on October 22 every year in the mountains encircling the city is a spectacle to behold.
[See also: Knightsbridge Circle Launches Exclusive Round the World Trip
Get out of town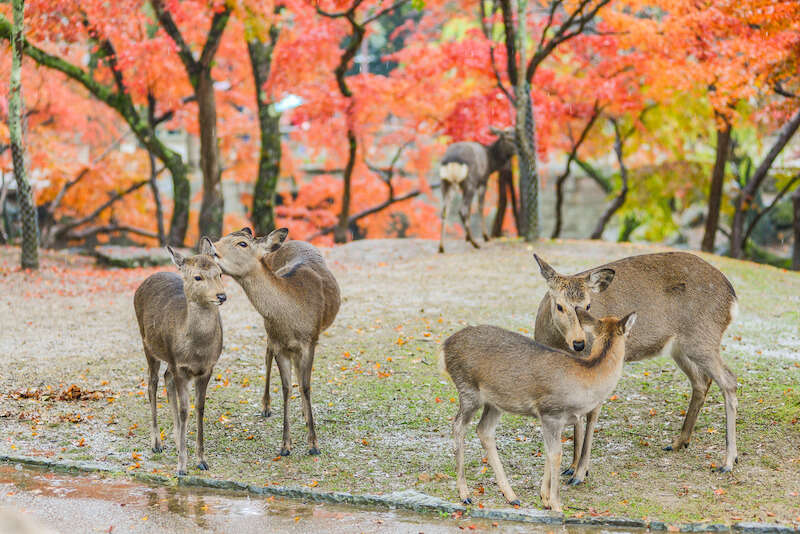 Just 45 minutes on the Kintetsu line from Kyoto Station, Nara is an easy day trip from Kyoto that is a must-do. Make your way towards Nara Park, where you'll encounter over 1,000 free-roaming (and very tourist-friendly) deer. Buy some tasty senbei crackers from one of the local purveyors and marvel as the deer politely bow for a treat. Don't be surprised if one or two deer get a little ornery in the way of a gentle nudge if you don't oblige with treats.
It's also home to one of the oldest and largest wooden temples in the world at Tōdai-ji temple complex, as well as one of Japan's most ancient roads along the Yamanobe-no-michi trail. Amble past sacred shrines, stop by 200-year-old sake brewery Harushika for a tasting, and slurp up hot or cold soba noodles at Soba-dokoro Kitahara. Be sure to call in to Nakatanidou mochi shop for a sweet snack that's perfect to take on the train ride back to Kyoto.
If you do one thing…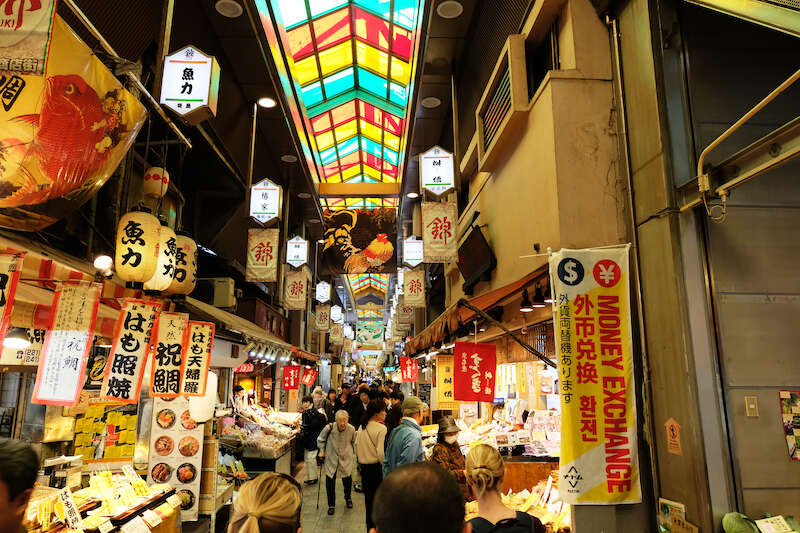 Spend a leisurely morning snacking your way through Nishiki Market (kyoto-nishiki.or.jp) where hundreds of stalls sell everything from sea urchin and snow crab on a stick to sea snail soup and green tea ice cream. If you're a chef, or just looking for a one-of-a-kind souvenir, don't leave without stopping by Aritsugu, which has been in operation since 1560 and is home to a wide array of Japanese knives that are sharpened and engraved upon purchase. Just don't forget to pack it in your checked luggage before heading home!