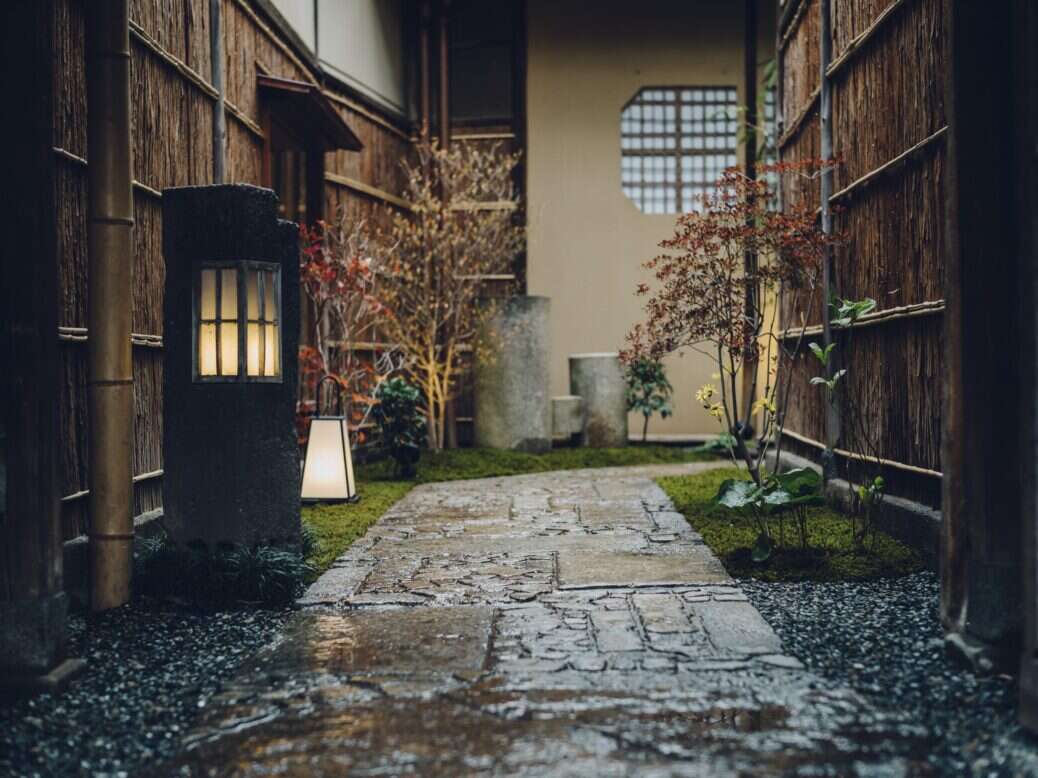 If you're planning a trip to Japan, it is widely acknowledged that a stay at a ryokan – a traditional Japanese-style inn – should be on your bucket list of things to do. Dating back to the eighth century, these were historically reserved for travelers who needed a place to rest and eat. Nowadays, ryokan are a mainstay of Japanese hospitality and a must for those seeking an authentic Japanese experience, with some offering ultra-luxurious suites and extra facilities for ultimate comfort.
For those who are not so well acquainted with Japanese culture, a ryokan may not sound all that different from a regular hotel. However, there are several features that set these apart, including Japanese-style rooms with tatami flooring and futons to sleep on, the provision of multiple small kaiseki dishes, access to communal bathing areas, and most importantly, impeccable service (this has its own name, omotenashi, meaning 'to look after guests wholeheartedly'). Ryokan tend to be situated in scenic rural locations or resort towns, making them the ideal spot for quiet respite or exploring Japan's hidden gems.
Many high-end places have preserved the traditional features of ryokan whilst upscaling their facilities for contemporary needs and VIP guests. For example, some of the most exclusive suites feature private hot baths, state-of-the-art spa facilities, and fine dining options at in-house restaurants.
Here are our top picks for some of the most relaxing and sumptuous inns all around Japan for the trip of a lifetime.
[See also: The Best Restaurants in Tokyo]
SOWAKA, Kyoto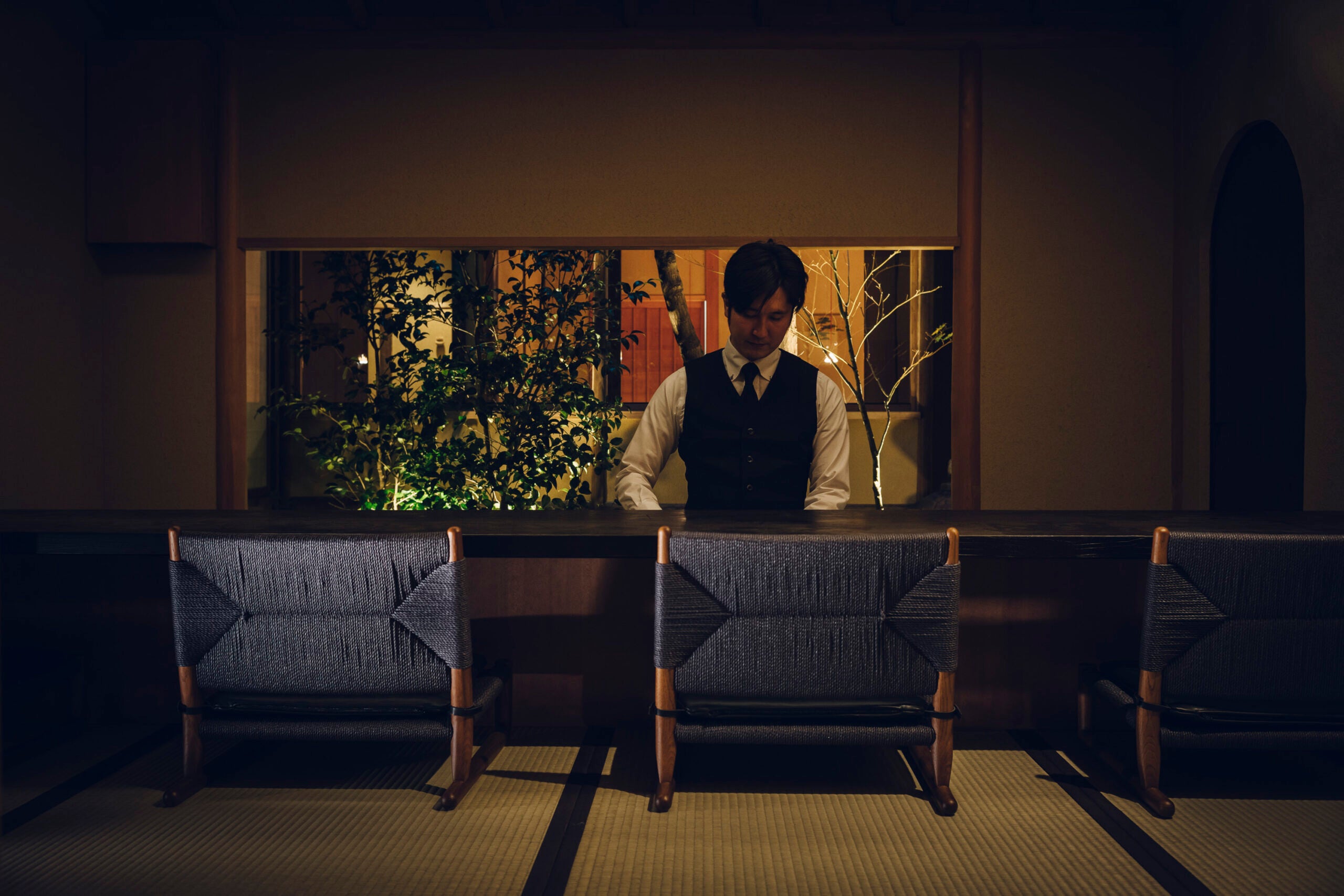 When you think of traditional Japan, it is likely that the images which come to mind are of the temples and wooden buildings of Kyoto. Sowaka is an embodiment of this classic imagery, where you can fully immerse yourself in the former capital's history and culture. The ryokan may appear unassuming from the outside, but it houses elegant rooms that represent the refinement of Japan's architecture. Of these, the 108 Garden View Suite truly stands out – located in a renovated century-old building acting as the hotel's main quarter, the suite showcases the designers' exquisite attention to detail in every aspect.
La Bombance is Sowaka's beating heart – overseen by an award-winning team of chefs, no two meals are the same here. Various seasonal dishes are presented in multicourse meals, after which you can lounge in the ryokan's intimate bar or on the rooftop garden for a panoramic view of Kyoto's Gion district.
Sowaka's location is ideal for visiting at any time of the year, whether you want to take part in the world-famous Gion Festival in July or photograph cherry blossoms in the spring. The ryokan's attentive staff can arrange a whole host of activities – such as kimono-dressing classes and trips to temples – for a well-rounded experience of the ancient city.
[See Also: Tasting Notes: The Rediscovered Shirakawa 1958 Japanese Whisky]
Nishimuraya Honkan, Kinosaki Onsen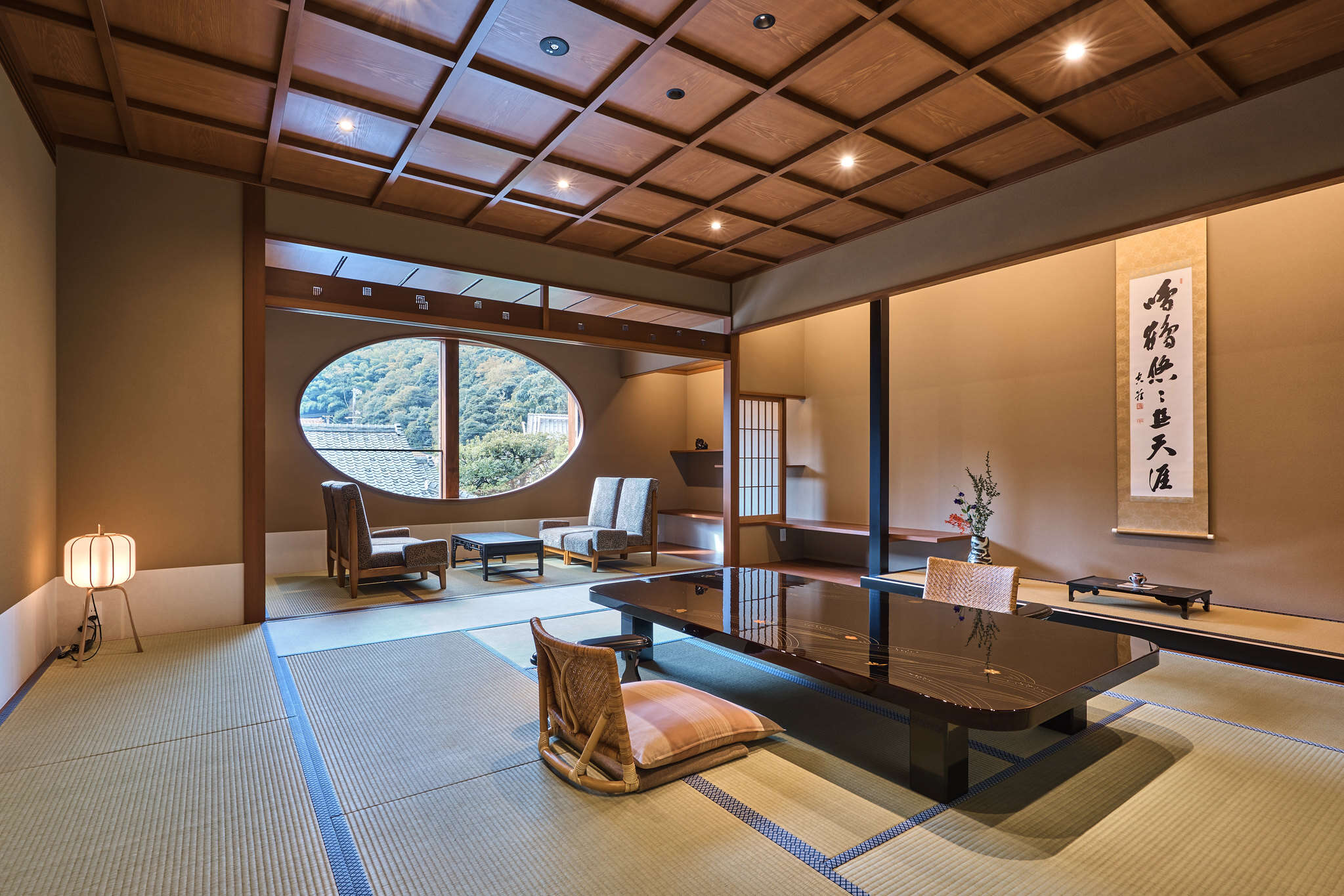 Often touted as the best spot for hot springs in the country, Kinosaki Onsen is not one to miss if you want to experience Japan's miraculous waters. If you're looking to spend a night (or more) here, Nishimuraya Honkan is our top choice; backed by 160 years of history and a prestigious reputation.
Every room in the ryokan exudes elegance courtesy of harmonious decorative touches and wooden terraces, with our favorite being the Honjin Suite. Featuring a guest room, dining room and sleeping room, you can also choose whether to sleep the traditional way on a futon or on a mattress bed. Other highlights of this suite are its sleek outdoor bath and relaxing garden views.
At Nishimuraya Honkan, the dining options will not disappoint either: each season brings a different menu based on the finest ingredients available. Guests staying here also have free access to all the public hot springs in Kinosaki as well as off-site private spa and relaxation facilities, but if you'd rather remain in this sanctuary, you can soak in a wide selection of baths on the hotel's grounds – including private onsen spas in the forest, which look heavenly.
HOSHINOYA Tokyo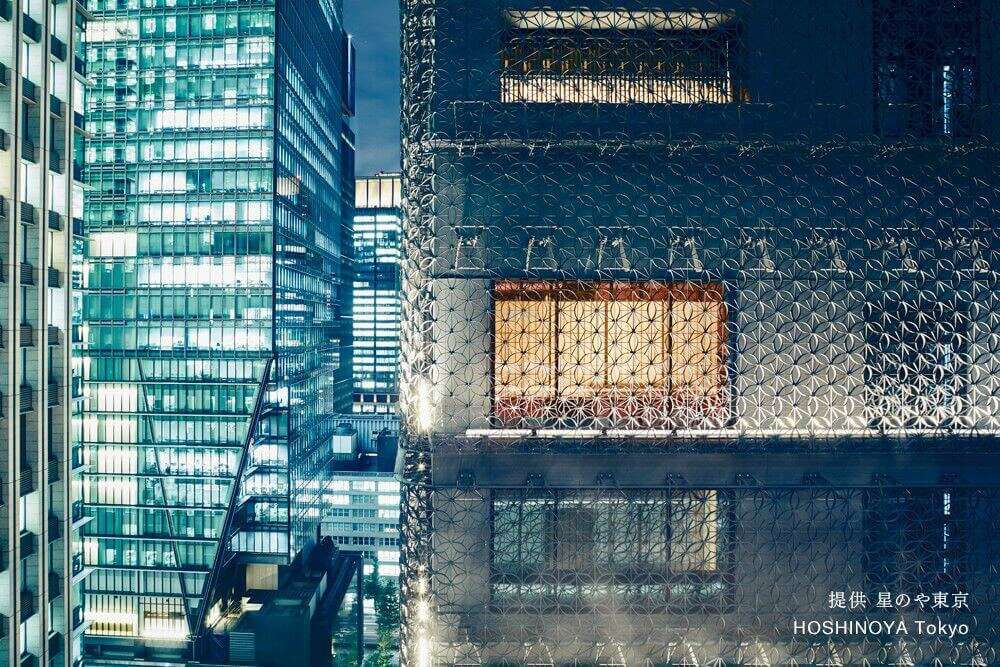 Whilst Tokyo may not seem like the typical location for a traditional inn, this multi-storied ryokan from the luxury group Hoshinoya is no less genuine than any of the others on this list. 
Each floor acts as a 'ryokan within a ryokan', and guest rooms are connected to a communal space known as the ochanoma, complete with refreshments. We recommend the spacious Kiku, a tastefully decorated triple executive suite full of charm. Each detail, from the soft kimonos to the aroma of bamboo and sandalwood from the furniture, will make you feel as if you're miles away from the bustle of the metropolis below.
Throughout your stay, you can enjoy the head chef's signature Nippon Cuisine, in which local ingredients are prepared using French techniques. And because no ryokan is complete without access to a hot spring, Hoshinoya Tokyo also has several outdoor and indoor bathing spaces. Other services include spa treatments and traditional activities which will take you through Tokyo's impressive history.
Beniya Mukayu, Kaga
If you haven't been convinced by the idea of staying in a ryokan in the capital, Beniya Mukayu in the remote town of Yamashiro might be the one for you.
This nook is made up of just 16 rooms in a serene and secluded environment, making for a perfect escape from reality. Each of these is characterized by a distinct Japanese aesthetic, but for absolute luxury and intimacy, our top recommendation has to be the Byakuroku Suite. Here you can kick back and indulge in the beauty of nature thanks to a personal wooden terrace and outdoor hot spring bath.
The mountain on which this ryokan is perched is regarded as a sacred place with restorative powers, and given the range of amenities on offer (including a spa and private gardens), you can definitely expect to feel renewed. Beniya Mukayu's fine dining options top everything off: these are as nutritious and exquisite as Japanese cuisine gets.
Sekitei, Hatsukaichi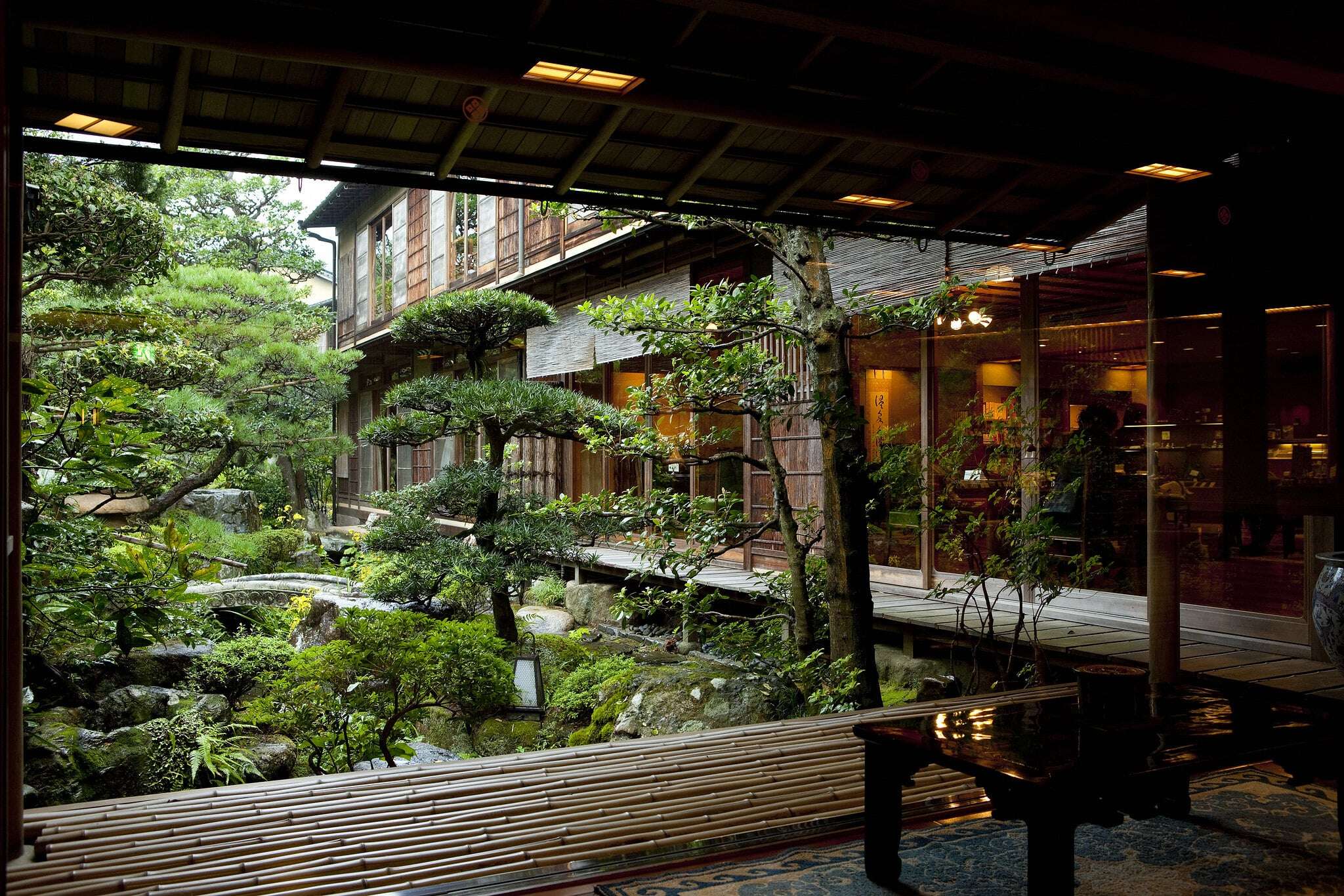 Nestled on the slope of a hill in a spa town in Hiroshima prefecture, each room at Sekitei has access to stunning views of the surrounding gardens, a standout of this ryokan. We recommend booking the expansive Taikan room, which is perfect for bigger groups and boasts second-to-none panoramic views.
Sekitei's kitchen staff source the finest ingredients for their dishes, and should you want a finer dining experience, you can opt for upgraded meal plans featuring premium ingredients such as abalone or Wagyu beef.
Elsewhere, you can lounge in the library or salon overlooking the gardens. Scattered throughout the grounds of this ryokan are a number of secret nooks and spaces waiting to be discovered – after your stroll, soak in one of the resort's many hot baths.
Zaborin, Hanazono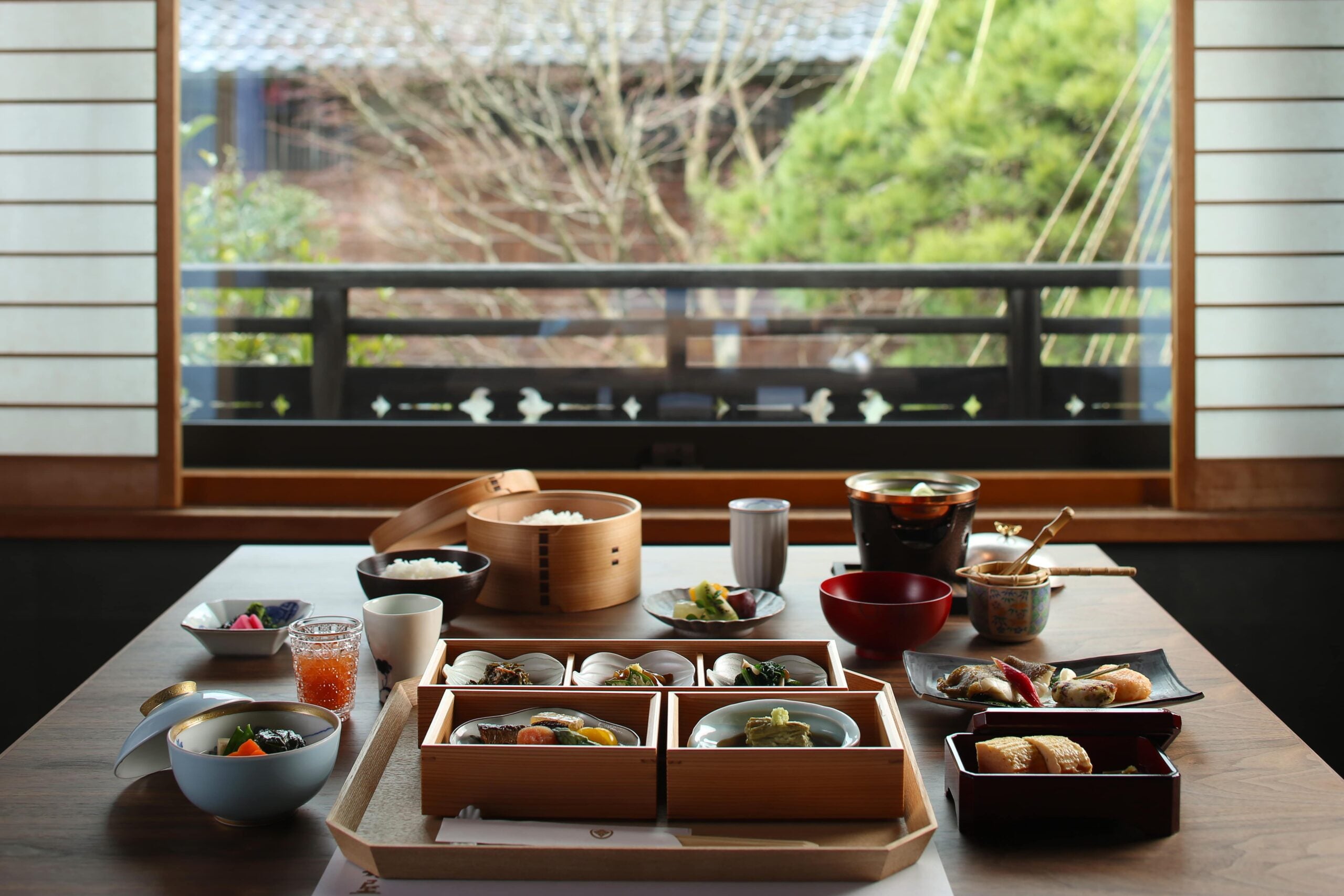 Tucked away within the Hanazono forest on Japan's northernmost main island, Zaborin is the epitome of seclusion. Blending the traditional essence of ryokan with present-day sophistication, this ryokan showcases the highest standard of Japanese hospitality.
Zaborin is an amalgamation of individual villas with unique designs and vistas. The resort takes pride in its onsen quality, and each villa includes outdoor and indoor hot baths filled with volcanic spring water to submerge yourself in while you take in the energy of your surroundings in utmost privacy. Though you can opt for a room with Western sleeping arrangements, for the full Japanese experience, we suggest going for a washitsu-style room. These feature tatami flooring and thick, luxurious futons for an elevated version of the traditional sleeping arrangement.
Exceptional food is central to the Zaborin experience, so you can expect dishes that are nourishing for both your body and soul with the chef's northern take on kaiseki cuisine.
Gōra Kadan, Hakone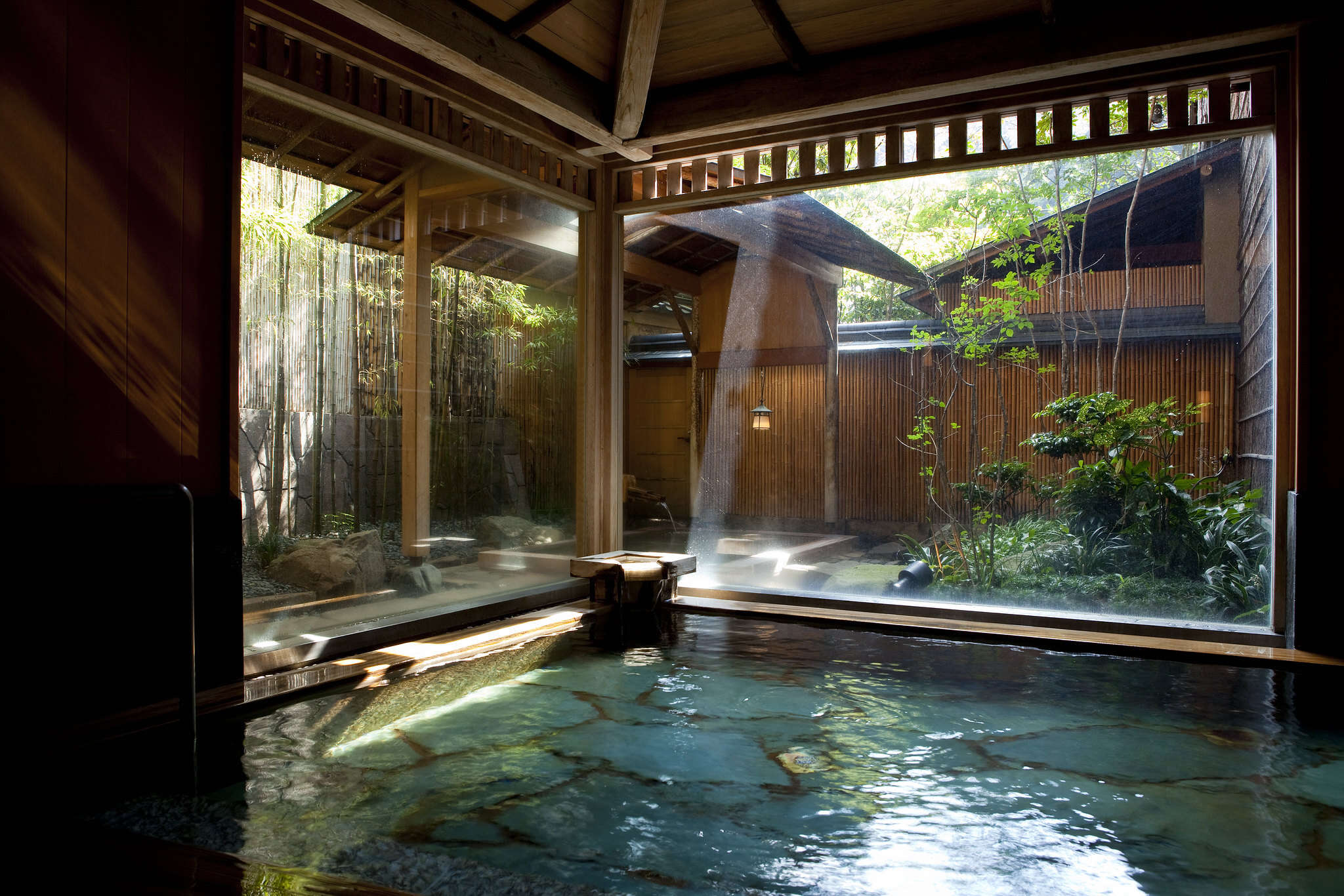 Next, we head to Hakone, one of the most popular resort towns in Japan and only a short journey away from the capital should you wish to spend a few days in peace. Nestled among the mountains, this town is famed for its many museums, mineral-rich hot springs (onsen) and ryokan – but Gōra Kadan is one that stands out. The estate which it was built from was once a favorite summer retreat of the imperial family, a testament to the level of service you will receive here. 
The inn provides a variety of facilities such as a spa, golf course and in-room shiatsu massages. Enjoy the freshest seasonal ingredients in freshly-prepared dishes served at Restaurant Kaiseki Kadan or in your own room. As for accommodation, our favorite has to be the sleek Kakou annex suite, designed according to Japanese aesthetics and complete with a steam sauna and outdoor stone bath, perfect for taking in the hotel's breathtaking natural surroundings.
FUFU Nara
No trip to Japan is complete without visiting Nara, a city full of historical treasures, which is why our list has to include FUFU Nara from the eponymous luxury resort group. Within the walls of this sophisticated ryokan lie an array of facilities from a spa and medicinal bath, to teppanyaki dinners by manicured gardens at Tekisui restaurant.
For next-level indulgence, you should book one of the signature FUFU Luxury Premium Suites. These maintain the spirit of ryokan but are infused with a modern sense of luxury, appearing somewhat unorthodox. Each suite comes with outdoor and indoor baths filled with water from a local hot spring renowned for its healing properties.
Explore the rich cultural heritage of Nara with the hotel's bespoke activity packages which will take you on immersive visits to notable landmarks as well as lesser-known gems.
[See Also: Aman to Debut Janu Hotel in Tokyo this Fall]