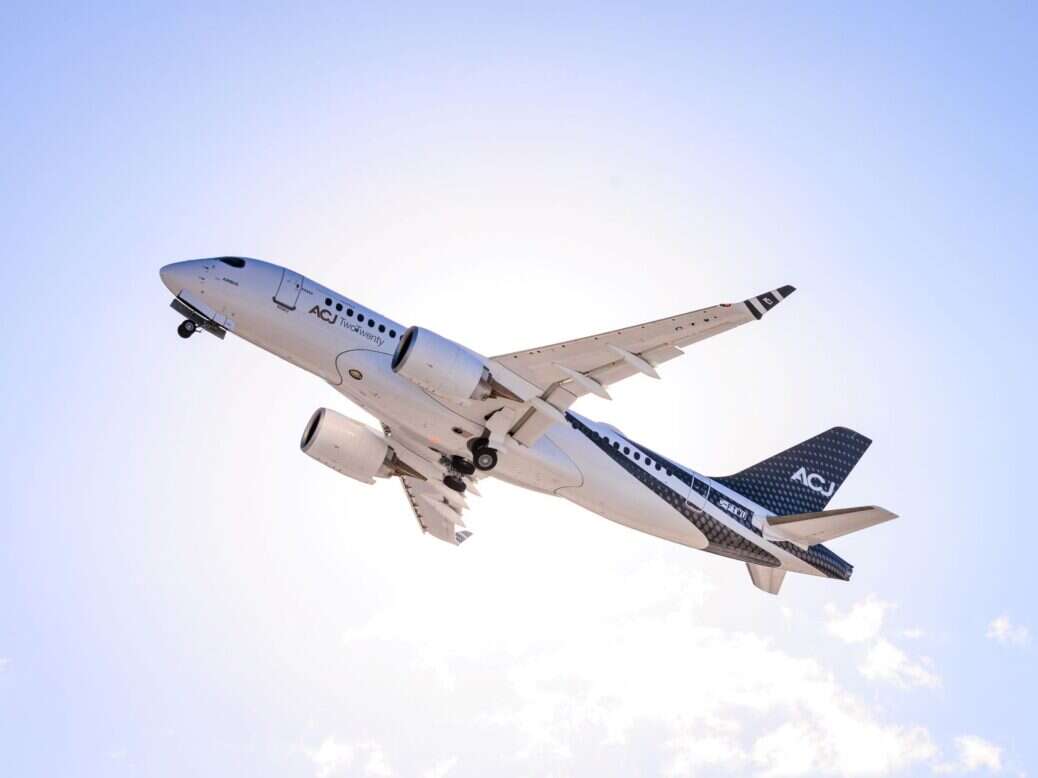 If you want to fly farther, faster, in bigger, more lavish private jets, your time has come. Leading manufacturers Gulfstream and Bombardier continue their battle to offer the longest nonstop flights, while HondaJet is dreaming up a light jet that can fly nonstop from New York to Los Angeles.
At the same time, Airbus Corporate Jets and Dassault Falcon are focusing on living space and luxury. Not to be outdone, Lufthansa Technik has unveiled custom concepts to store your motorcycles and create a private balcony that, when you are on the ground, converts your VIP airliner into a five-star hotel suite with a view.
And then there is the question of where to park your jet. We have that covered as well, so read on.
[See also: The Longest Range Private Jets]
Airbus ACJ TwoTwenty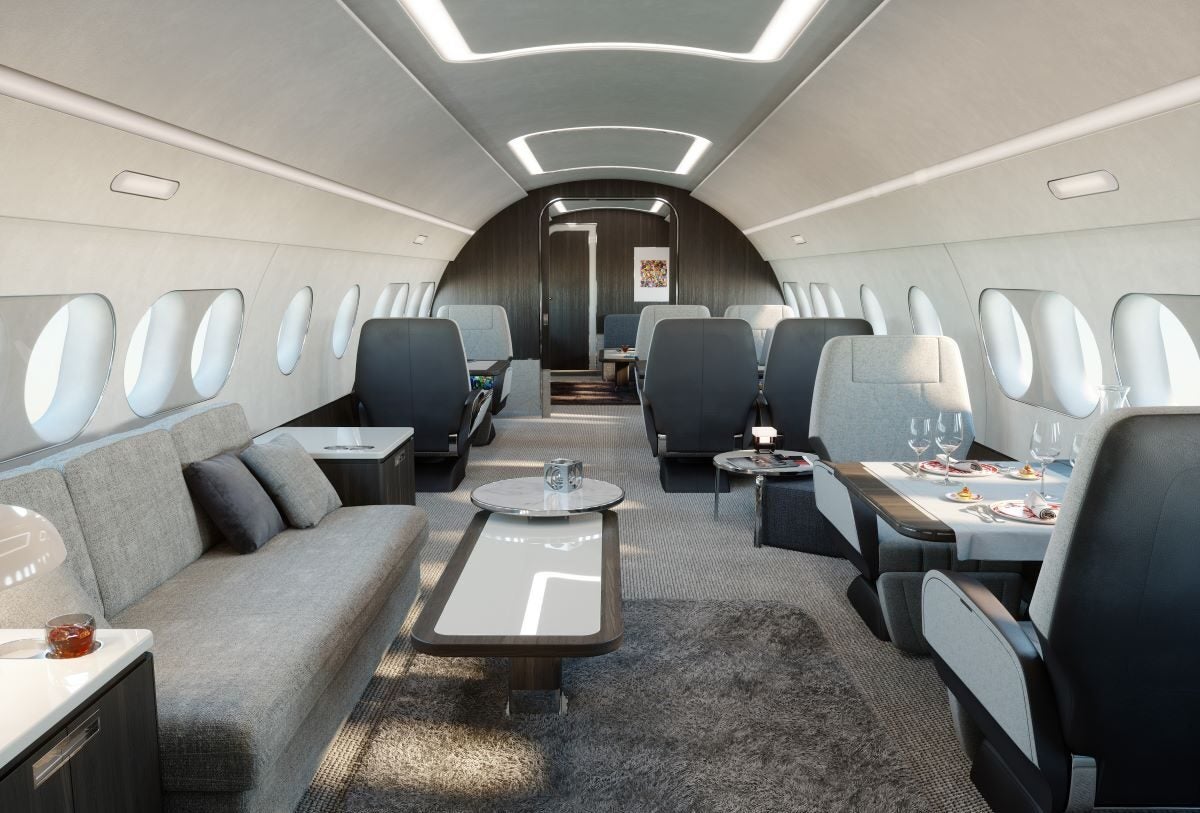 Airbus' Corporate Jet unit believes its ACJ TwoTwenty, a private jet version of the Airbus A220-100 that seats 135 passengers, is ready to fill a niche for customers who want a luxurious VIP airliner experience but don't need a record-setting range.
The TwoTwenty offers 786 sq ft of cabin space for up to 19 passengers, which Airbus says is about three times more than large cabin private jets. The cabin can be configured for up to six different zones, and cabin height is a spacious 6 ft, 6 in with a cabin width of 10 ft, 8 in, and cabin length of 78 ft, 1 in.
Key features include all seats capable of reclining into flat beds, a dining or board table seating up to eight, and space for a king-size bed in the Owner's Suite with an en-suite bathroom and a rain shower. You can also connect to colleagues and business partners via video conference on a 55-in flat-screen monitor. And, with USB sockets at each seat with inductive chargers in credenzas and cabinets, your team will never run out of power.
Corporate Jet Investor lists the new jet's pros as "space and cost. A huge cabin with more than 90 styles and layouts with an impressive range." On the con side, it notes that the ACJ TwoTwenty will fly up to 5,650 nautical miles, the equivalent of over 12 flight hours. However, that is about 1,500 nautical miles short of a Global 7500's range.
Future TwoTwenty owners may just find that designing the interior and choosing between all the options is half the fun, as ACJ's Creative Studio allows you to envision different cabin configurations in real-size virtual reality.
By the numbers

Passengers: 19
Range: 5,650 nm
Max speed: Mach 0.82/629 mph
From $80m, acj.airbus.com
Bombardier Global 8000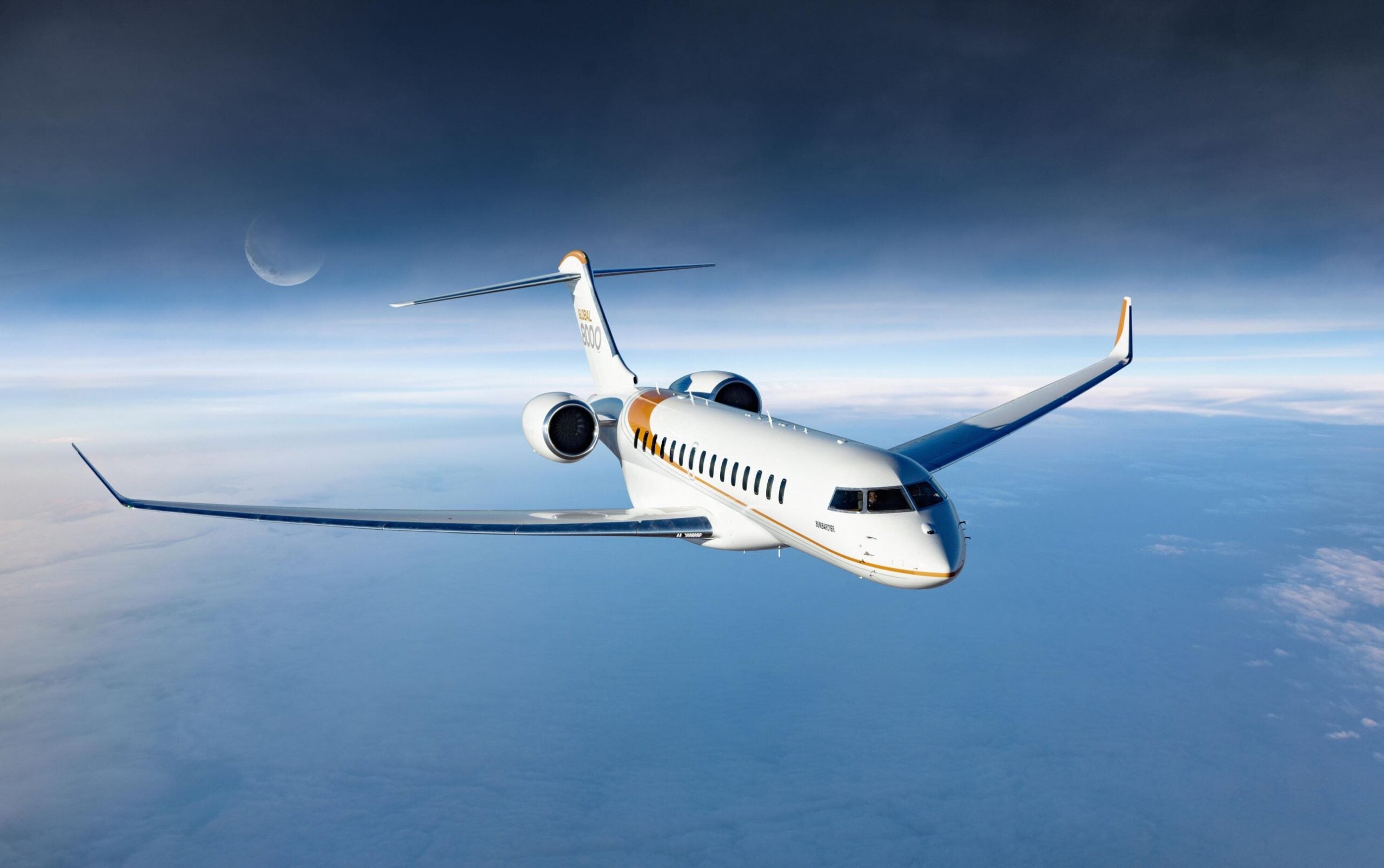 Weeks after delivering the 100th Global 7500, Bombardier unveiled the Global 8000. While the list price is just an extra $3m, coming in at $78m, the manufacturer is promising owners will "fly farther than ever before with an industry-leading 8,000 nautical mile range [compared to 7,700 nautical miles for the Global 7500] and unrivalled short-field performance in all-weather conditions."
It will also fly at Mach 0.94. Trade publication Aviation International News reports: "A development aircraft [Global 8000] flew supersonically last year, marking the first time that a civil jet has officially passed through the sound barrier since the days of the Concorde. It was also the first time any transport aircraft had achieved Mach 1 using sustainable aviation fuel."
[See also: Sustainable Skies: Jet Companies Making Positive Change]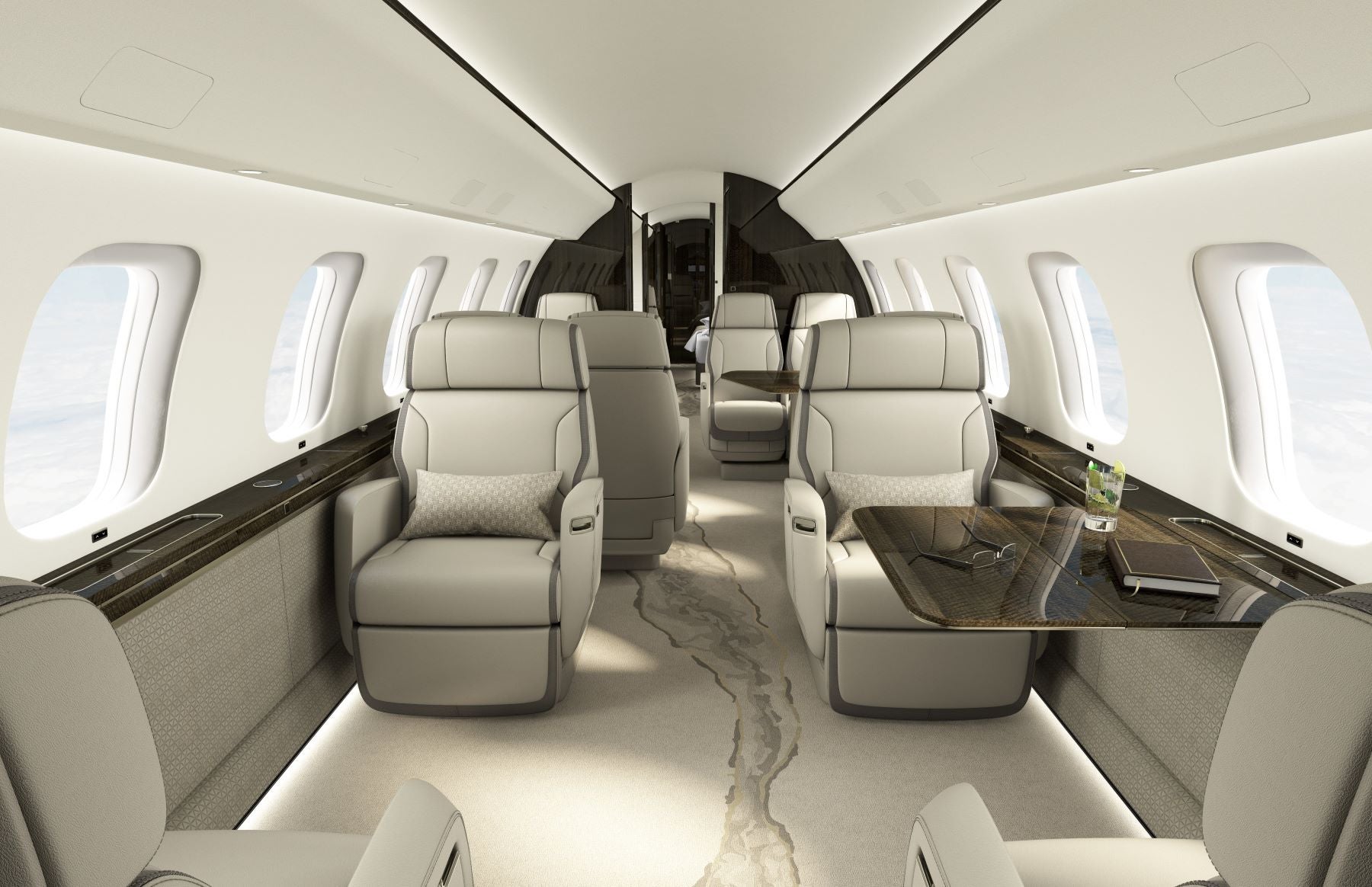 For owners, it will mean they can fly nonstop on more long sectors such as Dubai-Houston and Singapore-Los Angeles, even with less-than-optimal weather conditions.
The Global 8000 is already drawing some admirers. Ian Moore, VistaJet's chief commercial officer, said that his company, already the largest operator of Global 7500s, is eyeing the newest variant, which could come via a conversion of existing orders — or perhaps even a new order.
During the delivery ceremony for VistaJet's 10th Global 7500, and Bombardier's 100th, Bombardier CEO Eric Martel told the audience when he returned to the OEM to take the corner office in March 2020, his first trip was to visit Vista founder and chairman Thomas Flohr to rekindle the relationship. That move led to a new order for Challenger 350 super-midsize jets.
By the numbers

Passengers: 19
Range: 8,000 nm
Max speed: Mach 0.94/721 mph
From $78m, bombardier.com
Dassault Falcon 10X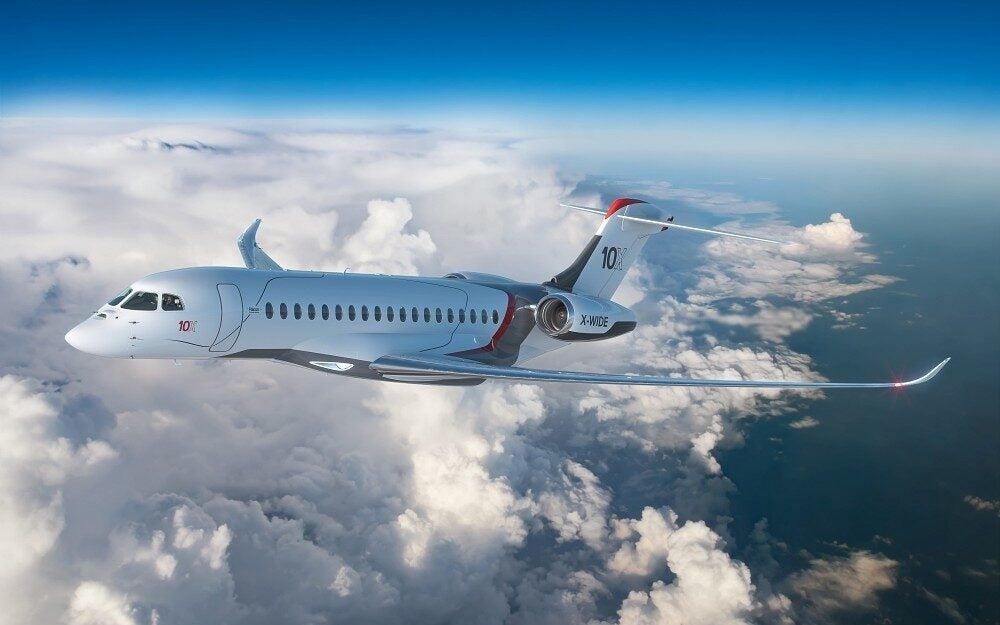 French manufacturer Dassault hopes its Falcon 10X will redefine the large-cabin, ultra-long-haul private jet segment, bridging the gap between purpose-built private jets and VIP airliners, which are aircraft converted from commercial airline usage for private flying.
Business Jet Traveler writes: "The largest Falcon built to date will challenge intercontinental rivals like the Bombardier Global 7500 and the Gulfstream G700… when it enters service in 2025."
Business Insider was even more forceful. "Dassault's new $75m private jet with the largest cabin of its class is primed to blow Gulfstream and Bombardier's flagship jets out of the water," blared its headline. The Falcon 10X will have the biggest cabin of purpose-built private jets. Its cabin will be 6-ft, 8-in high, and 9-ft, 1-in wide. Dassault claims the 10X is almost 8-in wider and 2-in taller than its closest competitors. The cabin will also be brighter.
The 10X comes with windows nearly 50% larger than the Falcon 8X. Its 38 windows will make it the "brightest cabin in business aviation," according to Dassault. In terms of speed and range, the new jet will have a top speed of Mach 0.925 and fly 7,500 nautical miles nonstop. That will allow owners to fly nonstop from New York to Shanghai or Los Angeles to Sydney.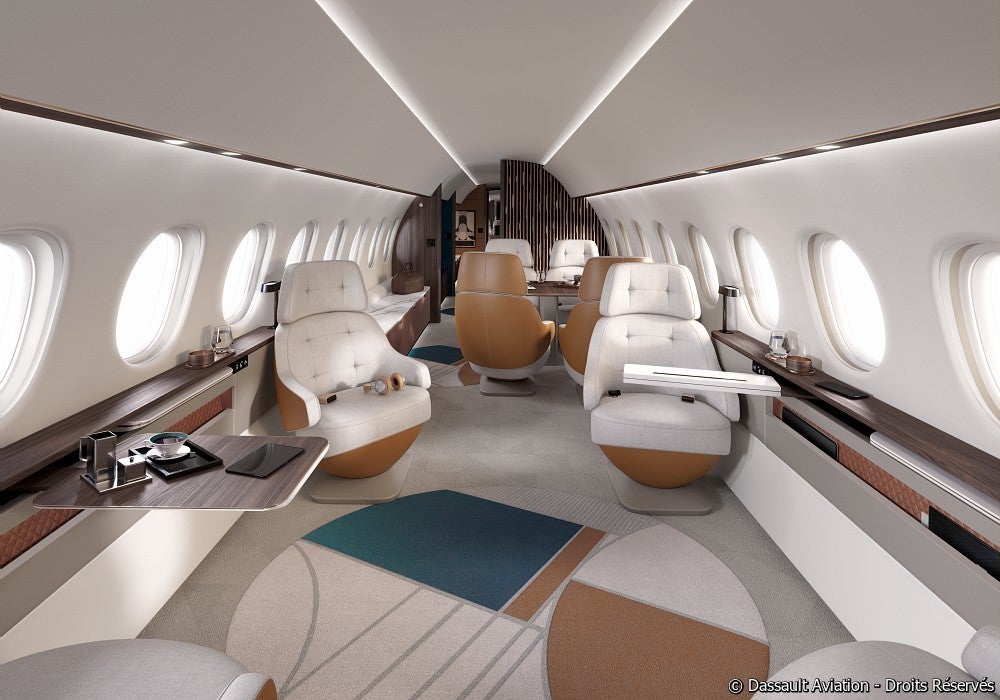 By the numbers

Passengers: 8
Range: 7,500 nm at Mach 0.85
Max speed: Mach 0.925/710 mph
From $75m, dassault-aviation.com
Gulfstream G800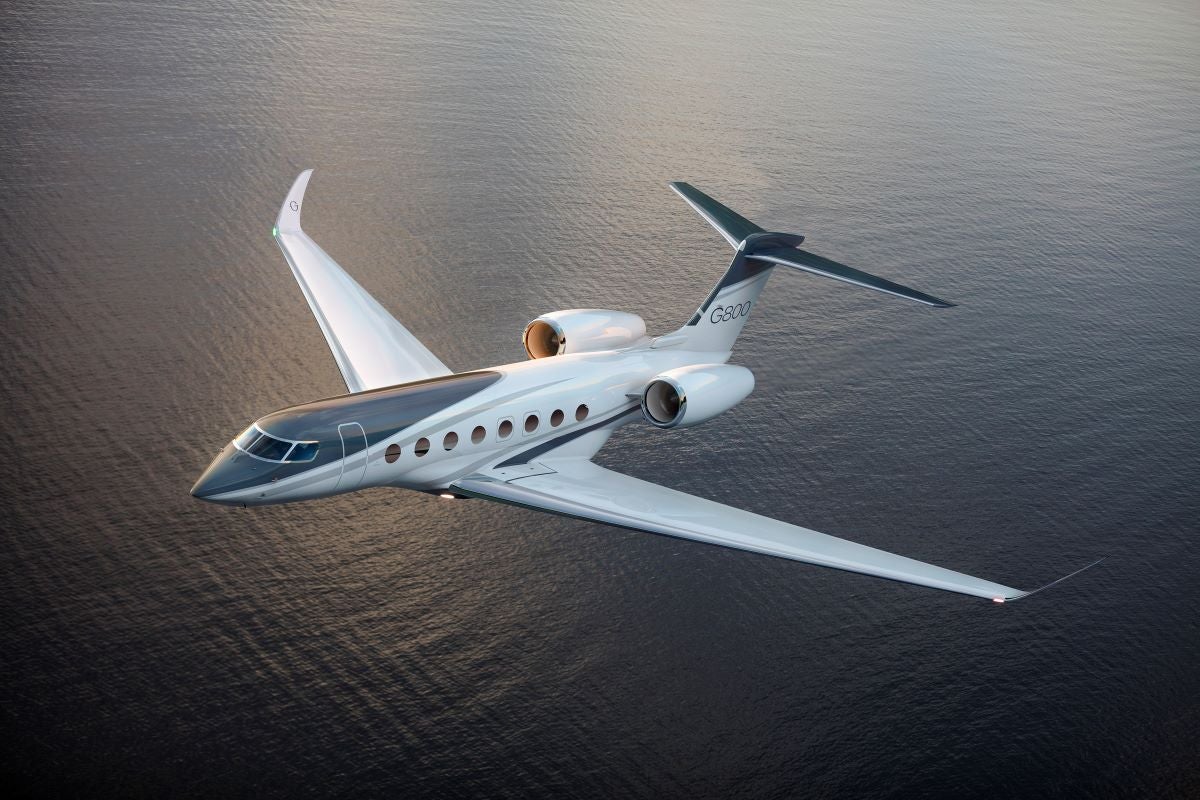 Like Bombardier, Gulfstream seeks to extend the range of nonstop flights with its G800. The Savannah, Georgia-based manufacturer boasts: "The all-new G800 is the world's longest-range business aircraft, extending your reach to more people and places around the globe in a single flight."
"When the first G800 test aircraft rolled out at our announcement last fall, we changed the game once again for our industry," said Mark Burns, president of Gulfstream, adding: "The G800 pushes the boundaries of performance even further with Gulfstream-designed aerodynamics and cabin technology, and we look forward to our customers benefiting from the longer range at higher speeds in our exceptional cabin environment."
[See also: The Biggest Private Jet Companies in the World]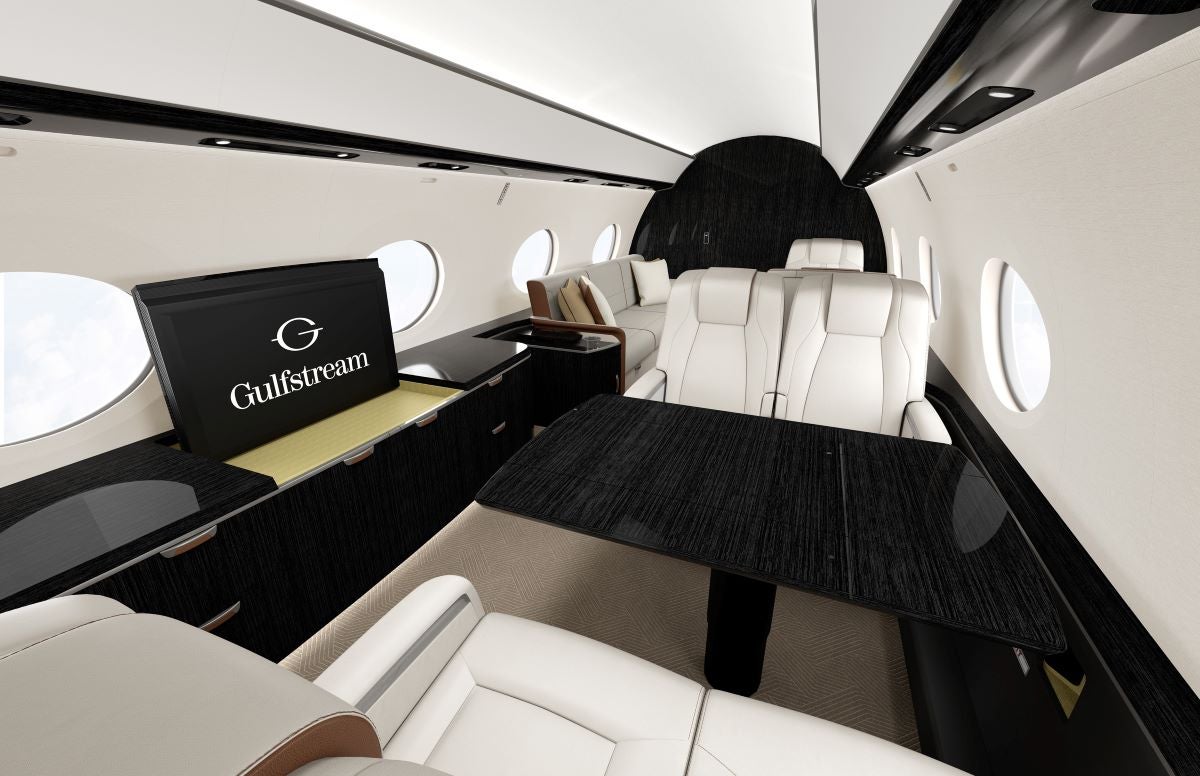 The G800 will be able to fly 8,000 nautical miles at Mach 0.85 and 7,000 nautical miles at Mach 0.90 with the combination of a Gulfstream-designed, advanced high-speed wing and new high-thrust Rolls-Royce Pearl 700 engines.
Inside, Gulfstream's newest addition features newly designed ergonomic seats with a capacity of up to 19 passengers, sleeping for up to 10 passengers, a high-definition circadian lighting system, 100% fresh, never recirculated air, and claims for the lowest cabin altitude in the industry. And when it comes to admiring the view there are, of course, the largest windows in the industry.
By the numbers
Passengers: 19
Range: 8,000 nm
Max speed: Mach 0.90/691 mph
From $72m, gulfstream.com
HondaJet 2600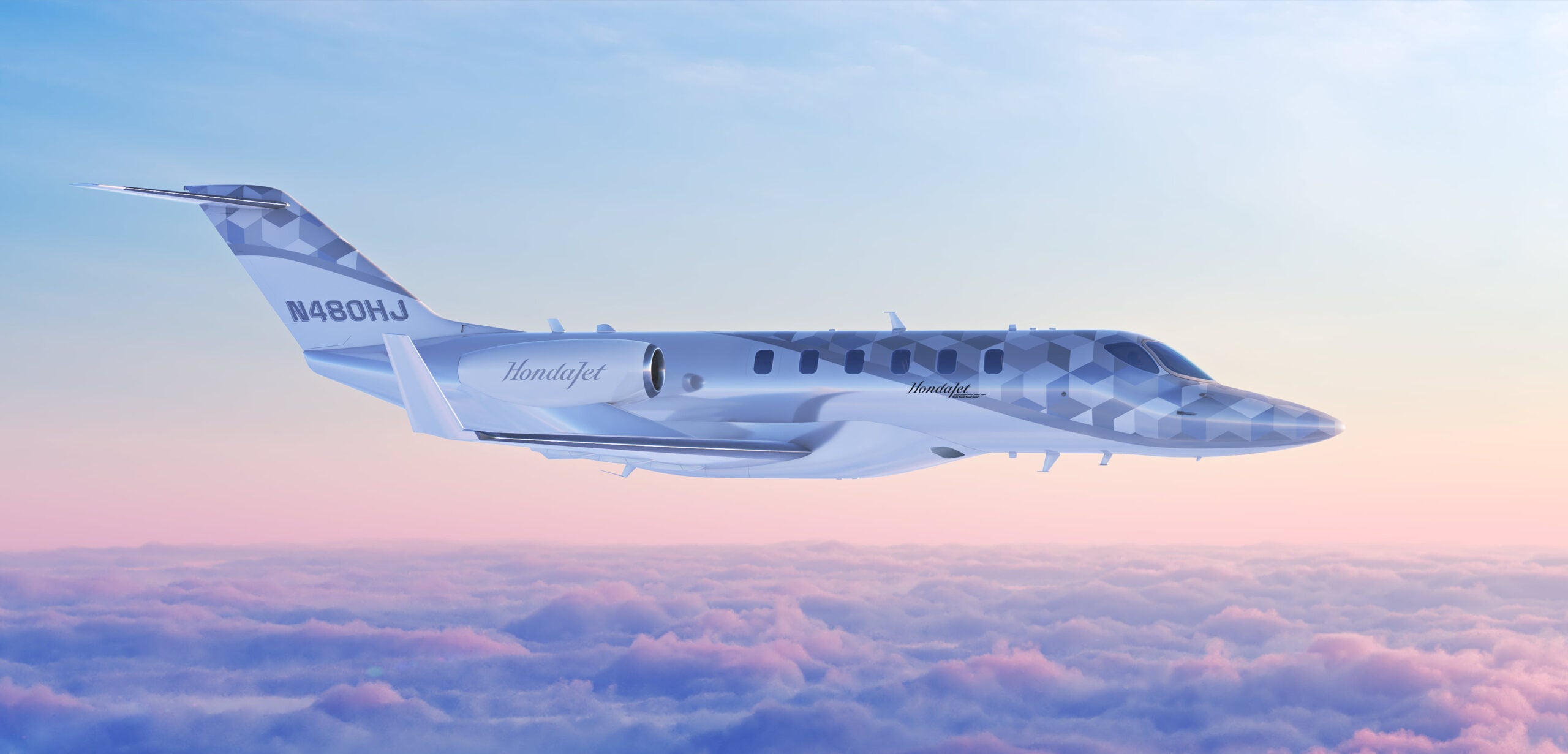 Following its very light jet, or VLJ HondaJet HA-420, Honda Motor Company, Ltd, is again looking to shake up the private aviation market. Its HondaJet 2600 is a light jet concept that will fly nonstop transcontinental flights with a cruise speed of 450 knots and a ceiling of 47,000 ft at a cabin altitude of 6,363 ft.
With cabin seating for up to eight, this HondaJet acknowledges its longer missions with seats that fully recline and can even be converted into flat beds. Whether customers decide they want to fly the 2600 to its limits remains to be seen. Its cabin height is just 5 ft, 3 in, and the cabin width is 5 ft, 1 in, providing a considerably smaller cabin experience than the typical super midsize aircraft that are used for five- and six-hour coast-to-coast flights.
However, HondaJet is undoubtedly not looking for a quick hit. Business Jet Traveler notes: "Honda plans to take its time developing the aircraft — and it can afford to. Its parent company is a Japanese colossus with $123bn in annual revenue last year alone. Moreover, Honda Aircraft has a track record that must make its parent patient: The HA-420, which began development in the late 1980s as a 'research project,' wasn't delivered to customers until 2015."
By the numbers
Passengers: 8
Range: 2,625 nm
Max speed: 450 knots/517 mph
From $10m, hondajet.com
Bombardier Challenger 3500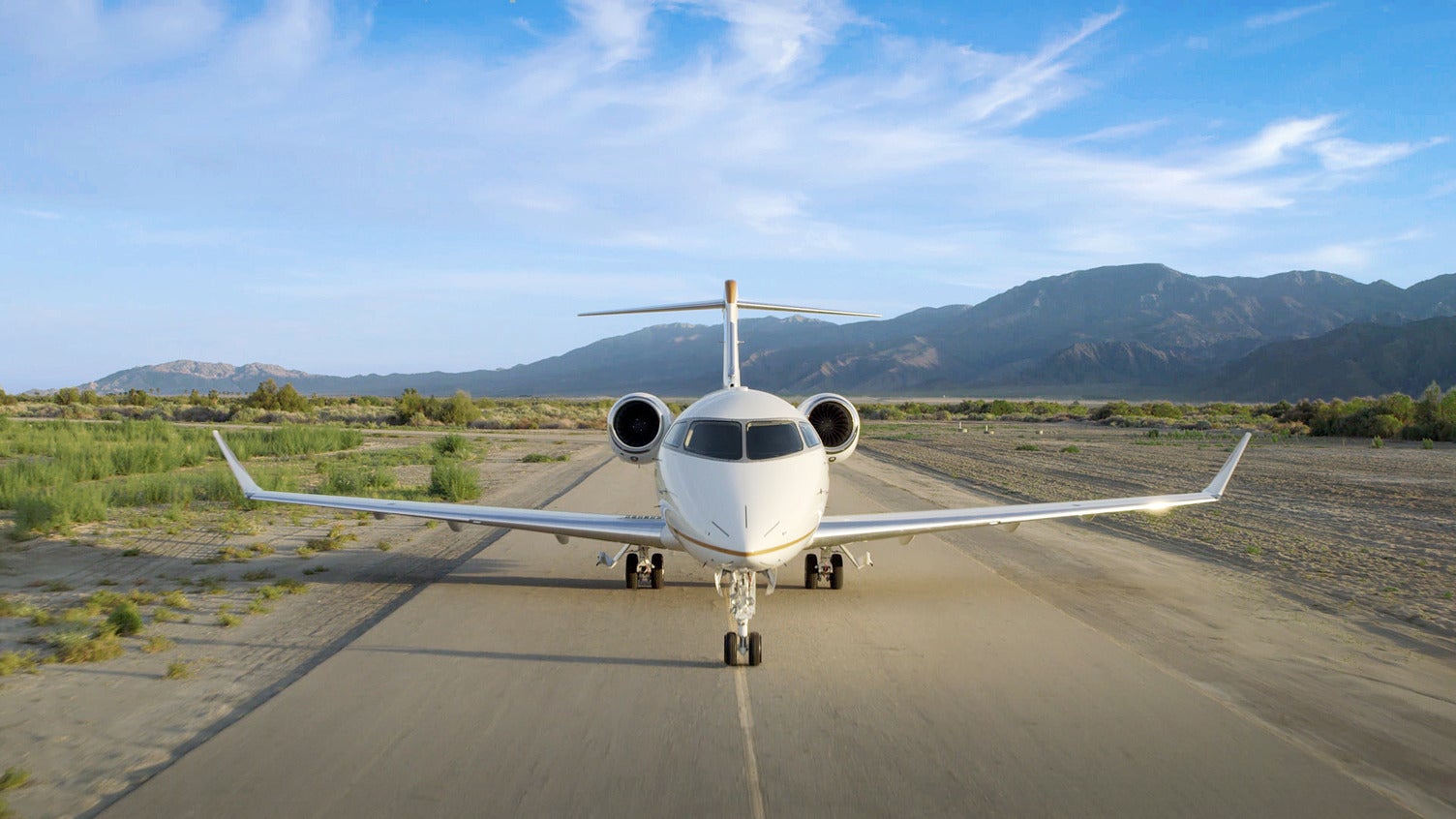 Can the Challenger 3500 maintain Bombardier's leadership position in the super-midsize private jet category against Textron, Embraer and Gulfstream? The Canadian OEM's second major update to the Challenger 300 platform, which first flew in 2001 and then became the Challenger 350 in 2013, is intended to fend off rivals who are also upgrading their offerings.
Entering service in September 2022, the Challenger 3500 offers the Nuage recliner seat, which was launched with the Global 7500 as a standard for the aeroplane. Bombardier markets the chair as "the industry's first zero-gravity seating position for reduced lower back pressure, optimized weight distribution and improved circulation for effortless comfort."
The Challenger 3500 will also reduce cabin altitude by 31% to 4,850 ft at 41,000 ft, while becoming its second business jet to receive an Environmental Product Declaration (EDP). The EDP traces the supply chain of all materials used in addition to the manufacturing, bringing sustainability to materials used in the cabin. Continuing the environmental theme, its test flights are using Sustainable Aviation Fuel. Additionally, a new eco app will help pilots reduce fuel burns via optimized flight plans.
During the summer of 2022, Bombardier won its first order for the 3500 by a European charter operator from Italy-based Air Corporate SRL. Other key operators of the Challenger 350, such as NetJets, Flexjet, VistaJet, and Airshare could also upgrade existing orders to the new 3500, say industry experts.
By the numbers
Passengers: 10
Range: 3,400 nm
Max speed: Mach 0.83/637 mph
From $27m, bombardier.com
Textron Aviation
At the opposite end of the market, with showers, balconies and nonstop flights up to 16 hours, Textron Aviation is also making news. In spring this year it unveiled enhancements and upgrades across its Beechcraft Baron, Beechcraft Bonanza and all Cessna piston aircraft.
Chris Crow, Textron's vice president of sales, says: "Customers will experience a noticeable change when they're inside each of these aircraft." The Bonanza G36 is getting a 155-lb increase to the maximum takeoff weight, giving it a maximum useful load of 1,213 lbs in its standard configuration with six seats.
Also, new production Bonanzas, along with Beechcraft Baron G58 aircraft, will offer three new interior schemes and a new cockpit layout with a standalone autopilot controller. Also included: a Garmin GI 275 electronic standby, a carbon monoxide detector integrated in the Garmin avionics system, USB ports at every seat, powered headset plugs in the cockpit and updated LED exterior lighting for improved visibility.
Cessna owners will also find a modernized cockpit. All new production Cessna high-wing piston aircraft will include the Garmin GI 275 electronic standby. The standby modernizes the cockpit panel by eliminating three analog standby instruments and providing additional flight data. The interior of Cessna high-wing piston aircraft also features refreshes with the addition of Alcantara inserts in the seats along with a backlit USB A/C port in the cockpit.
Sky Harbour Group
As OEMs are hitting record backlogs of orders for new private jets, buyers of large-cabin private jets are discovering that finding spaces to park their aircraft can be a big issue. As ultralong-haul private jets have increased in length and wingspans, hangars haven't kept up. At popular airports, there often isn't availability — hence the short repositioning flights that recently put Kylie Jenner and Drake in the bullseye of climate campaigners.
What's more, if you can even find hangar space at your local airport, shared hangars increase the chance of accidents, known as 'hangar rash,' when aircraft are being moved. Tal Keinan, the CEO of Sky Harbour Group, says with stressed supply chains, even a minor bump can sideline an airplane for weeks and months, waiting for both replacement parts and spare slots for repairs. There is also potential damage when fire suppression systems in large hangars get triggered accidentally.
Keinan's solution is to offer private jet owners their own dedicated hangars. Essentially built as row houses for your private jet, each hangar is dedicated to one tenant, fitting one to two aircraft. There is space for offices and to park your car, so it's not sitting in an unprotected lot.
There is also the privacy of driving into your hangar via a landside garage door and then boarding your jet while it's still in the hangar — a nice perk in bad weather. The dedicated hangars also mean your airplane is easily accessible for maintenance, which can be difficult in shared hangars.
Best of all, you don't have to wait to fly. Keinan says it can often take several hours to get your jet ready to fly if it is parked in the back of a crowded hangar — which, he notes, "kind of destroys the primary benefit of owning your own jet." Current locations under development include Denver, Houston, Miami, Nashville, Phoenix and Dallas, with plans for dozens more.
Lufthansa Technik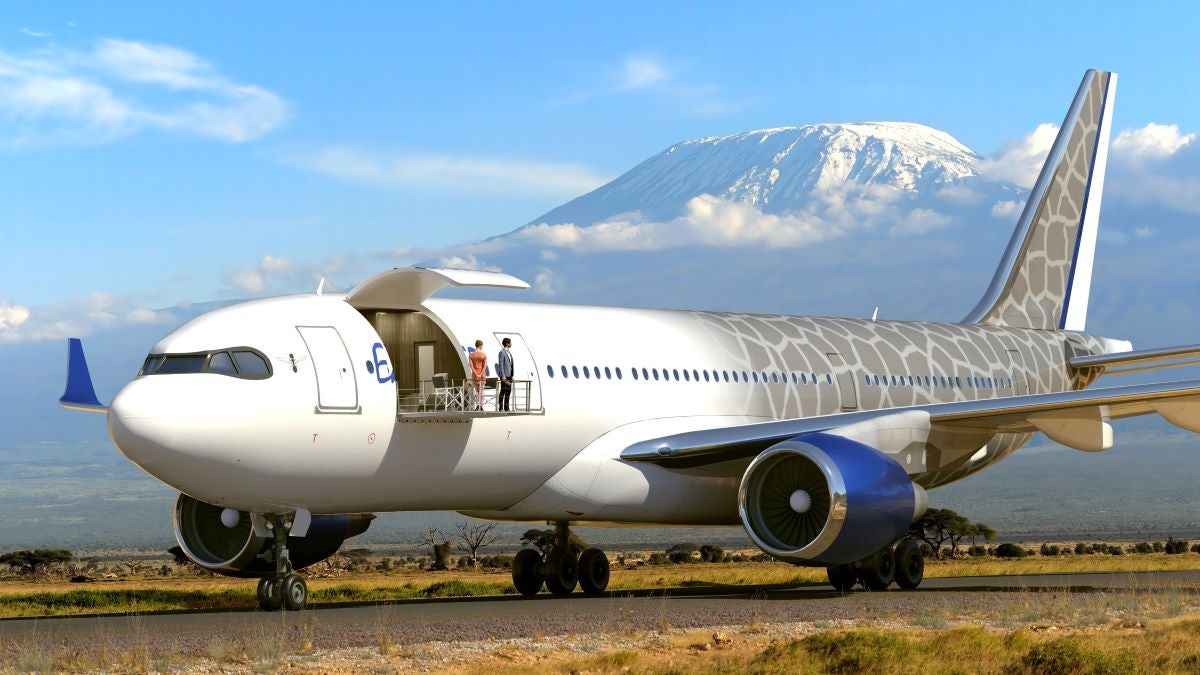 While not a new jet, Lufthansa Technik has partnered with Brabus to offer a customized, after-market Adventure Lounge concept for VIP airliners that will make your private jet a moving five-star hotel. The concept is based on bringing the superyacht experience to private aviation, where vessels double as both home and a movable base camp for elite adventures.
The Adventure Lounge replaces what would normally be excess baggage storage on the lower deck; it can already be viewed from the main deck through a glass floor. Accessed via a staircase from the passenger deck, the Adventure Lounge has space for motorcycles, allowing owners to land and head out for some off-road fun.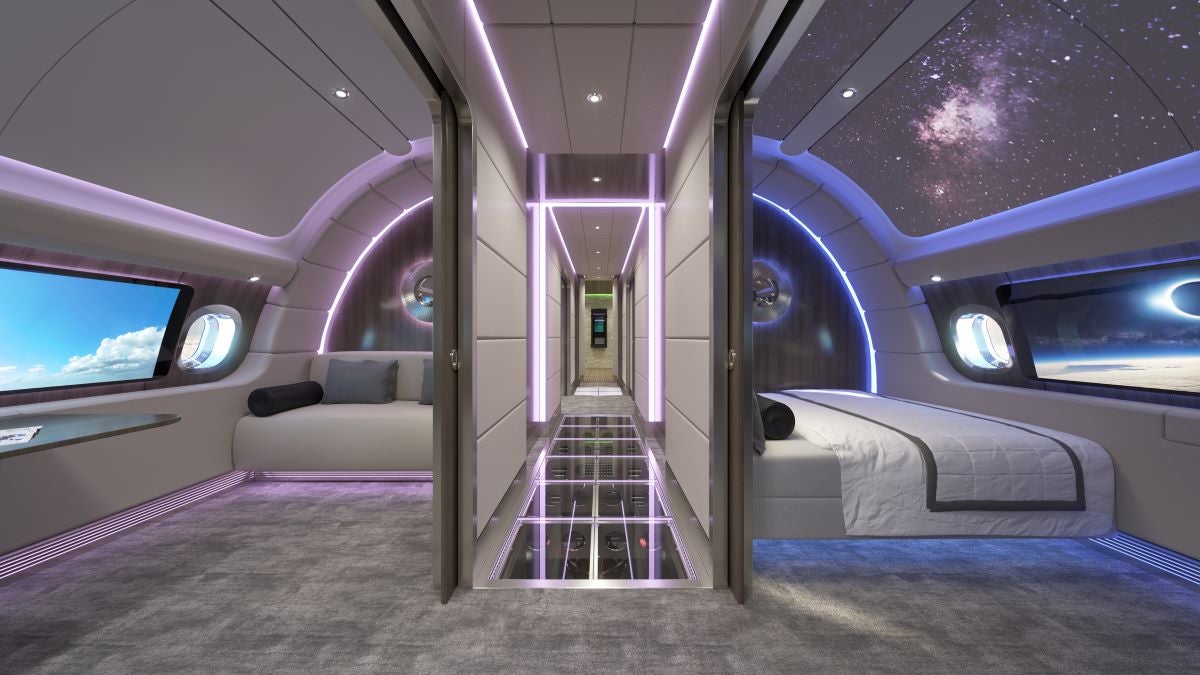 "In addition to the floor extending from the front fuselage area to form a veranda and the projection surfaces for virtual content integrated on a large scale in the cabin design, the Brabus Adventure Lounge perfectly rounds off our concept for world explorers," says Jan Grube, sales director of Lufthansa Technik's VIP & Special Mission Aircraft Services.
Of course, if you would just like to enjoy the views alfresco after you land, Lufthansa Technik is offering an Airbus A330 Freighter retrofit. As part of adapting the cargo jet to a VIP airliner, the main deck cargo door is converted so that it opens with a balcony.
[See also: The Most Exciting Private Jet Concepts]
This article appears in the 30 Nov 2022 issue of the New Statesman, Winter 2022/23