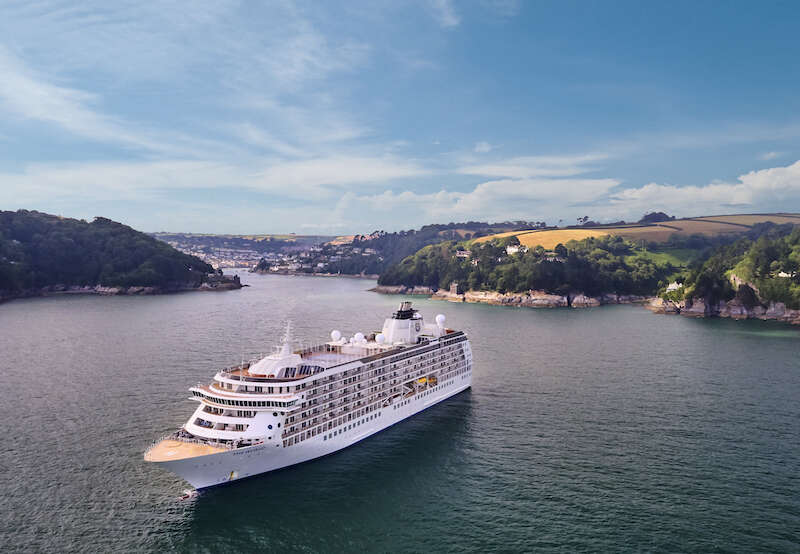 When it comes to buying a new home, for most people, location comes first. What's the neighborhood like? Is it near the ocean or the countryside? Can I get to work easily? With The World ship, however, that problem obscures into non-existence – you live everywhere.
Since launching in 2002, The World has traveled around the globe's vast oceans, calling at over 1,000 ports in 120 countries – each of which was selected by a resident committee and the Captain, and eventually decided via vote.
This summer, the ship's route took it to the UK, where it embarked on a mini tour of the south coast and Wales, before arriving in Greenwich, London. It was here that I boarded for a night. After passing through The World's strict security (passports have to be given in even if you're only visiting for the evening, and each guest must take a Covid-19 test), I was on – and first impressions remind me of a cruise ship. But, "This isn't a cruise," I was quickly corrected.
[See also: First Look Inside the Owner's Residence Onboard Explora 1]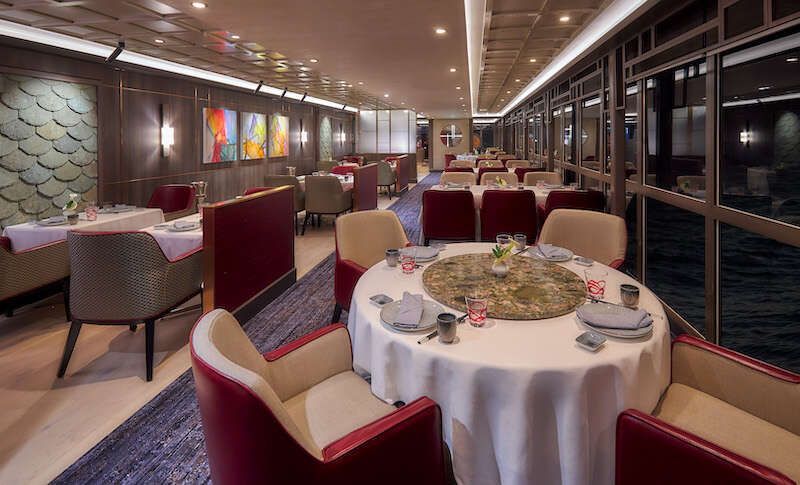 Measuring in at 196 ft with a total of 12 decks and 165 residences, The World is actually the largest privately-owned residential yacht – and yes, people really live on it. Currently, there are approximately 150 families onboard. While most assume owners are predominantly older couples with more time to spare, there are young families too, some of which opt to home school.
While residents do legally need to have a permanent land address, many spend the vast majority of their time at sea. "I sold my house to buy my apartment," one resident (who wanted to remain anonymous – discretion is of the utmost importance to residents) told me over dinner at one of The World's four restaurants. Instead, she bought a much smaller property on land, choosing to spend most months of the year on the ship.
Naturally, such novel luxury comes at a price. Residences vary from one-bedroom studios to sprawling three-bedroom apartments, and go from $2m to $15m, not including annual ownership fees, inclusive of a service fee.
[See also: Secret Atlas Founder on Creating a New Type of Cruise]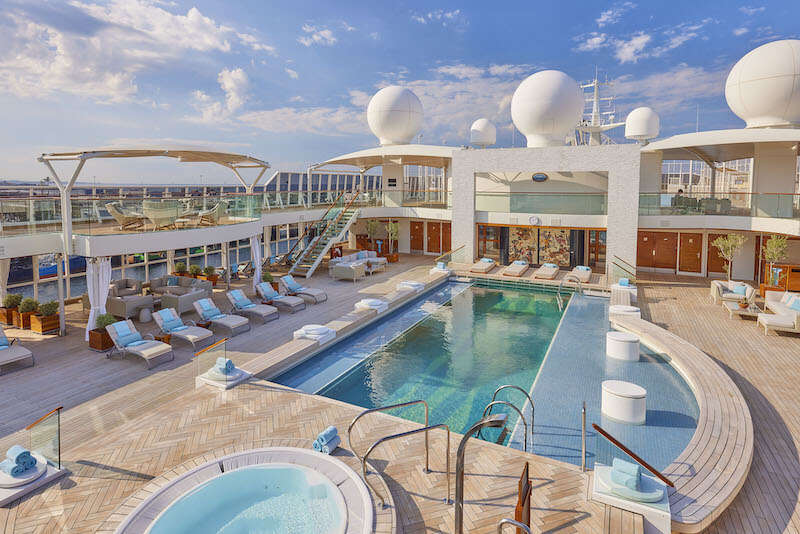 "No money exchanges hands on the ship," I'm told by multiple people I meet during my short 12-hour stint onboard. Instead, the slick cohort of staff discretely keeps tabs on each guest's expenditures – from meals and drinks to spa treatments – which becomes an annual bill.
Like any other type of home ownership, residents are free to decorate their apartments however they please. I stay in a colorful modern studio; I'm also shown a lavish three-bed apartment owned by interior designers. Each one has its own balcony.
While the idea of cruising around the world in literally the comfort of your own home might sound like the dream lifestyle for many, there are plenty of practicalities to consider. "How do you buy new clothes, or make online orders?" I ask my dinner host. 
[See also: How Millennials are Changing the Superyacht Industry]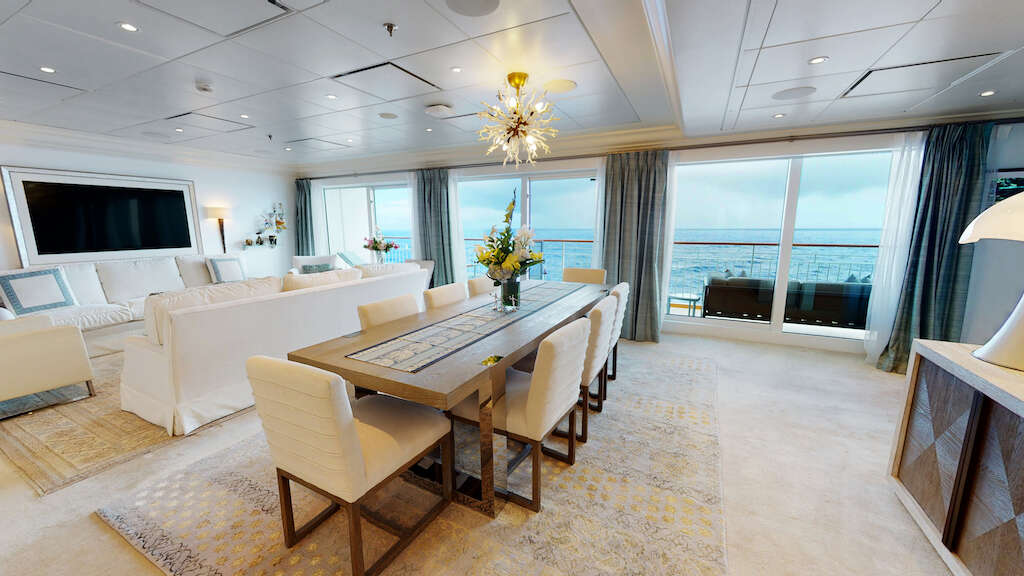 Easily, if a little more slowly than we're used to on land, it turns out. "We order to The World's offices in Fort Lauderdale, then they can ship to us, or we wait until one of the team is on board," she explains. Deliveries can take up to a month, so residents often shop where they port.
And what about seeing family and friends? This too is seamlessly catered for – those residents with larger apartments can host friends and family as they would in a normal home. If you've got a bigger group coming to stay, there's an option to rent currently vacant apartments, too. "I've got a friend who comes to stay for a month at a time!" my friendly resident tells me.
Naturally, residents have become a close-knit bunch over the years. I'm told a few owners are a little more reserved, but most embrace the unique sense of comradery that could only come with living on a boat together. 
[See also: Heesen Unveils its Biggest Ever Steel Superyacht: Sparta]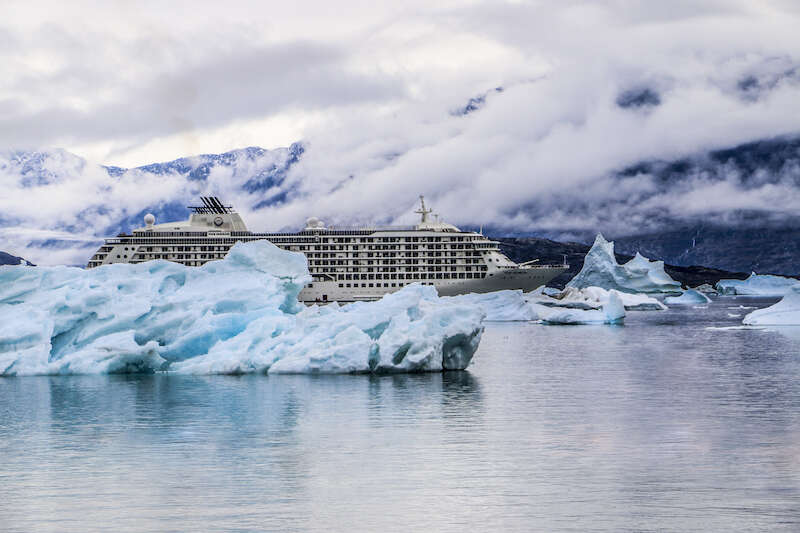 Through this community atmosphere, a number of clubs and groups have been born – my dinner companion is an active member of the book club, loves the regular karaoke sessions and even recently went on a songwriting course onboard. There's also a poker club, wine-tasting sessions, a golf club and movie nights.
When I left The World residents and crew were gearing up for one more day in London, before they departed for Antwerp on their way to more northerly shores. This fall, the ship is destined to skirt the Arctic Circle, calling at ports throughout Norway, Iceland and Greenland before reaching Canada.
By December, the ship will have traveled down the east coast of North and South America, ready for a holiday season in Antarctica. My unnamed host will be onboard for much of this. "I'm living the dream!" she says.