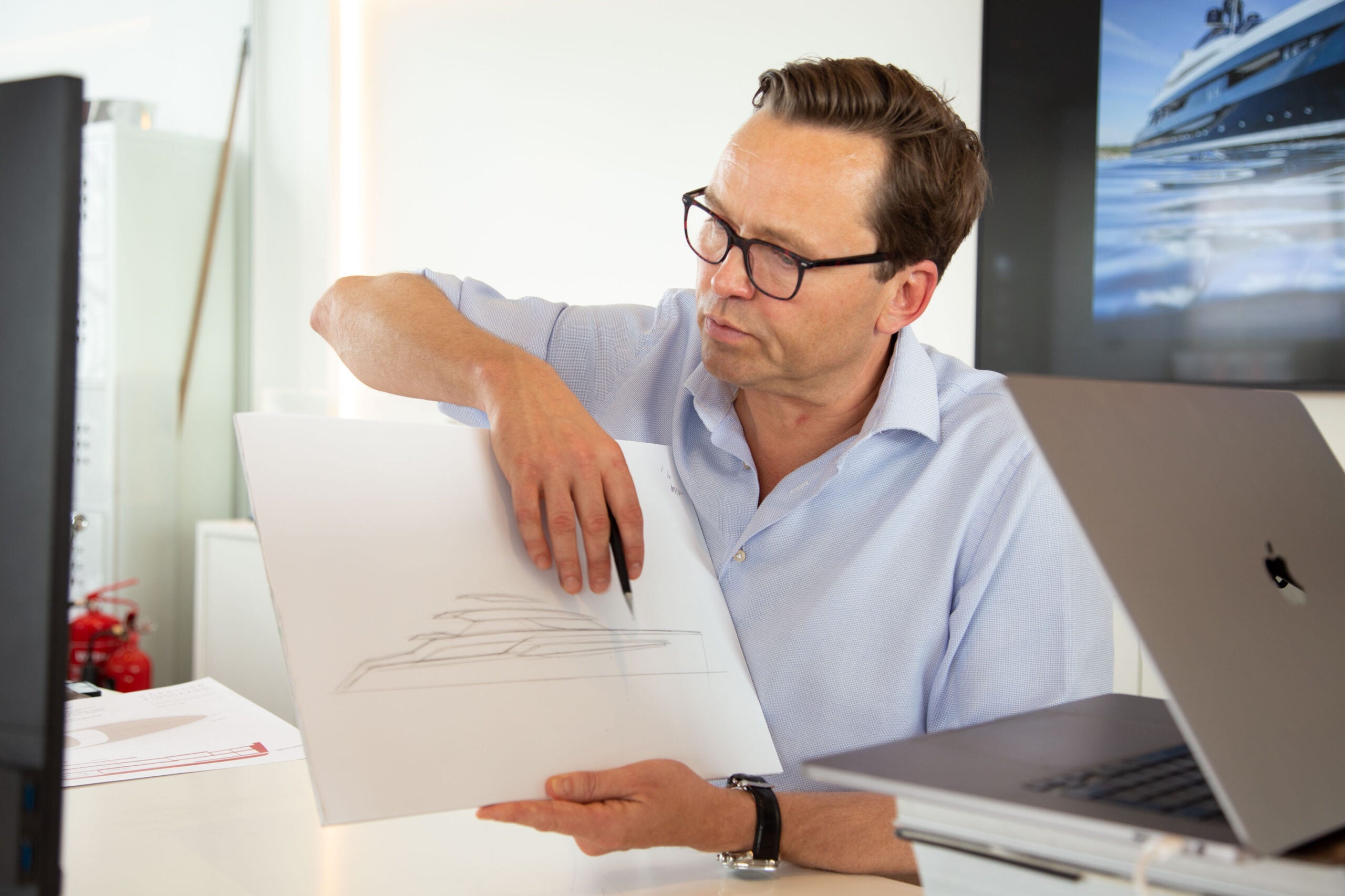 Very few people on this earth will experience life aboard a superyacht. And for the vast majority of those lucky few, a week's charter around the Mediterranean will suffice. Just a handful of superyacht enthusiasts will actually undertake the arduous and expensive task of buying and building their superyacht from scratch. If you do, you will likely consider shipbuilder Heesen and design studio Harrison Eidsgaard, both leaders in their respective fields. So when they gave us a chance to conceptualize our own Elite Traveler yacht, we couldn't resist.
Heesen, the Dutch shipyard renowned for innovative builds such as Home and Electra, would be the natural shipbuilder of choice for the world's leading responsible luxury lifestyle magazine. It has been a trailblazer in hybrid technology with the aforementioned Electra helping to drive the industry to a sustainable future. The 164-ft superyacht boasts an innovative hybrid solution that uses an ultra-efficient fast-displacement hull to reduce fuel consumption by up to 20% in eco-friendly silent mode.
While Heesen would build this hypothetical project, renowned yacht designer Peder Eidsgaard had the task of bringing it to life. Eidsgaard's portfolio includes notable yachts such as Feadship's Tango and Abeking & Rasmussen's Elandess. His design house has also impressed with its private jet interior design, most recently delivering a bespoke Gulfstream G500 in 2020.
[See also: Superyacht Somnio to Offer Luxury Apartments at Sea]
Eidsgaard asked me to fill out some basic questions ahead of our virtual call. I had to consider whether I wanted my superyacht to look more like an Aston Martin DBS or a Land Rover defender. I, difficult as always, went down the middle by requesting a yacht that looked like an Aston Martin DBX, a luxury SUV capable of both high speeds and offroad driving. Although tempted by the idea of a muscular explorer yacht, the dream vessel would find the sweet spot between that and a traditional motor yacht.
[See also: How to Design an Amazing Superyacht Interior]
I also had to consider who I would bring on the boat. Of course, my Elite Traveler colleagues would be welcome on the odd occasion, but it would first and foremost be a place for close family members. There would be no need for a grand owner's deck. The cabins would be modestly sized on the main deck to maximize communal space and leave room for some personal requests, such as a whisky bar on the lower deck.
Most importantly, the brief asked what I would be willing to sacrifice to achieve the desired eco-friendliness. The answer was anything. With Elite Traveler now a champion of responsible luxury lifestyle and superyachts renowned for their diesel-guzzling potential, having state-of-the-art hybrid technology that helped to drive hybrid technology forward was essential. However, I was warned that would come with significant costs.
Heesen's director of sales Mark Cavendish estimated that integrating a hybrid system on board could add around $2.5m to the final cost of a 164ft yacht. But when you consider the average superyacht costs around $1m per foot, it is a small price to pay for the added eco-credential. We would also reclaim that cost on reduced maintenance costs and increased fuel efficiency. That is because you can run the yacht on the two main engines alone with no generators while it is stationary, saving hundreds of hours on maintenance schedules. Then in hybrid mode, fuel consumption at low speeds would be significantly reduced.
Another thing to consider was size. Heesen has become the go-to shipyard for the 50m-60m (164ft-196ft) range but is in the process of building its biggest superyacht ever, the 262-ft Project Cosmos. The vision for the Elite Traveler eco-yacht was to be nimble, fitting in marinas that the bigger superyachts wouldn't dream of squeezing into. And, of course, more size would need more fuel, so we kept our focus towards the modest end of the spectrum.
With these snippets of information, Eidsgaard was able to create a remarkably complete sketch of the Elite Traveler yacht. He paid much attention to the desire to have a family-orientated yacht. All five cabins, including the master cabin, are located on the main deck, keeping everyone in close quarters. The cabins lead directly to the dining room and the winter garden, which can be combined to form a large space on the odd occasion that guests come on board. Then we are straight out onto the sundeck, complete with loungers and Jacuzzi. From there you can head up to the sky lounge or down to the permanently open beach club. It is within the beach club where you will find the all-important whisky bar, ideally kept under lock and key. The name, Alba, which means sunrise or dawn in Italian, is after my first daughter.
[See also: The Best Hybrid Superyachts in the World]
Much of the layout was decided before our meeting, but the external design was drawn by Eidsgaard as we spoke. His wealth of experience was plain to see. While in conversation, he sketched a stunning yacht concept that perfectly encapsulated my request to use the Aston Martin DBX as inspiration. The vessel has the sleekness of a sports yacht while retaining an unmistakable ruggedness. It is hard to imagine spending over $150m on something and deciding what it is going to look like in a matter of minutes, but it is yet harder to see how his sketch can be improved. Besides, with orders coming in thick and fast and the Heesen shipyard increasingly filled with orders, getting bogged down in minor details could set you back months, or years.