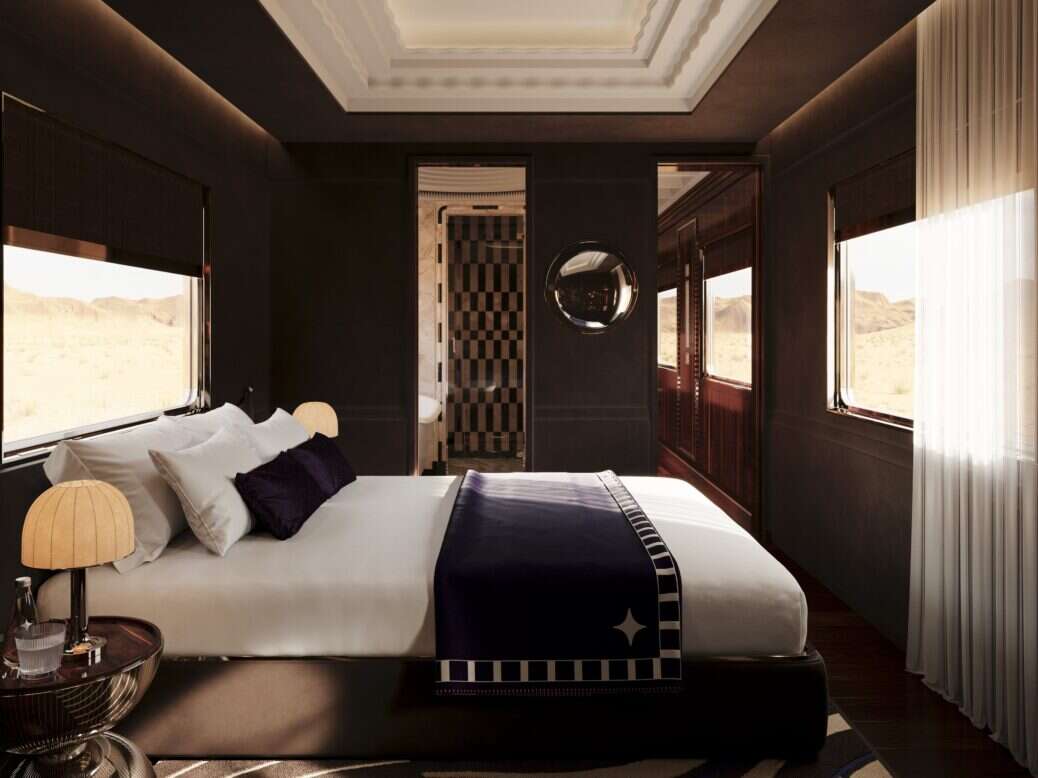 Following its fittingly grand re-introduction in Paris earlier this year, Orient Express is now headed stateside for the Design Miami fair from November 30 through December 4, where it will preview the latest chapter in its return to the market: the Presidential Suite.
Designed by French architect Maxime d'Angeac, the lavish Presidential Suite will occupy its own carriage, with a length of 69 ft and width of nine ft. A separate lounge area will boast rich rosewood paneling, ornate Lalique details and a fully functional gas fire. An inviting purple velvet sofa makes the perfect spot to watch the sweeping views soar past outside.
The adjoining bedroom is a touch more pared back, with dark furnishings, moody lighting and custom-made furniture. An en-suite bathroom sits alongside, with distinctly Art-Deco geometric tiles only adding to the glamour.
[See also: Orient Express to Open New Hotel in Venetian Palazzo]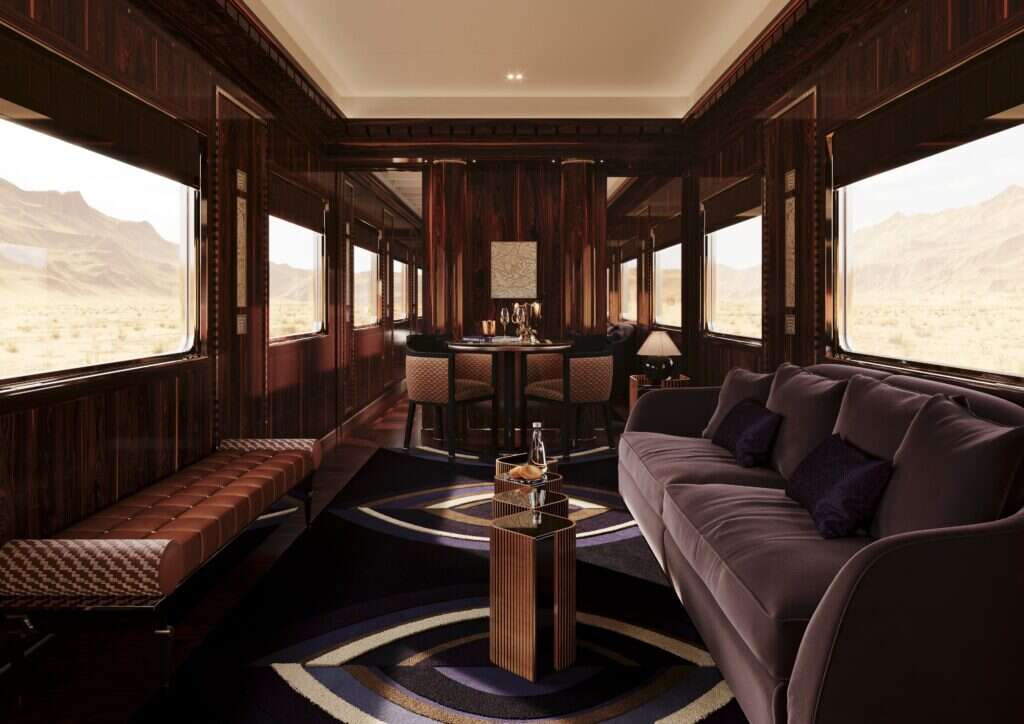 The Presidential Suite will also feature a unique "LX" luxury cabin dating from 1929, with two beds, adorned with solid mahogany and Nelson and Prou marquetry. The cabin was recovered from the original Nostalgie-Istanbul-Orient-Express and has been fully restored ready for its inclusion on the refurbished Orient Express.
"The Orient Express Presidential Suite captures the essence of the future train," said d'Angeac. "It is a work carved out of excess, inspired by the geniuses and pioneers of Art Deco, Jacques-Émile Ruhlmann and Armand-Albert Rateau, and by the importance of refinement and the absolute finesse of detail. It is a suite where travelers can experience history, extreme luxury and ultimate comfort all at once."
Set to begin welcoming travelers from 2025, the new-and-improved Orient Express train will also feature a sumptuous bar cart and a dining cart, as well as an array of other suite options.
[See also: Life Aboard the Timeless Venice Simplon-Orient-Express]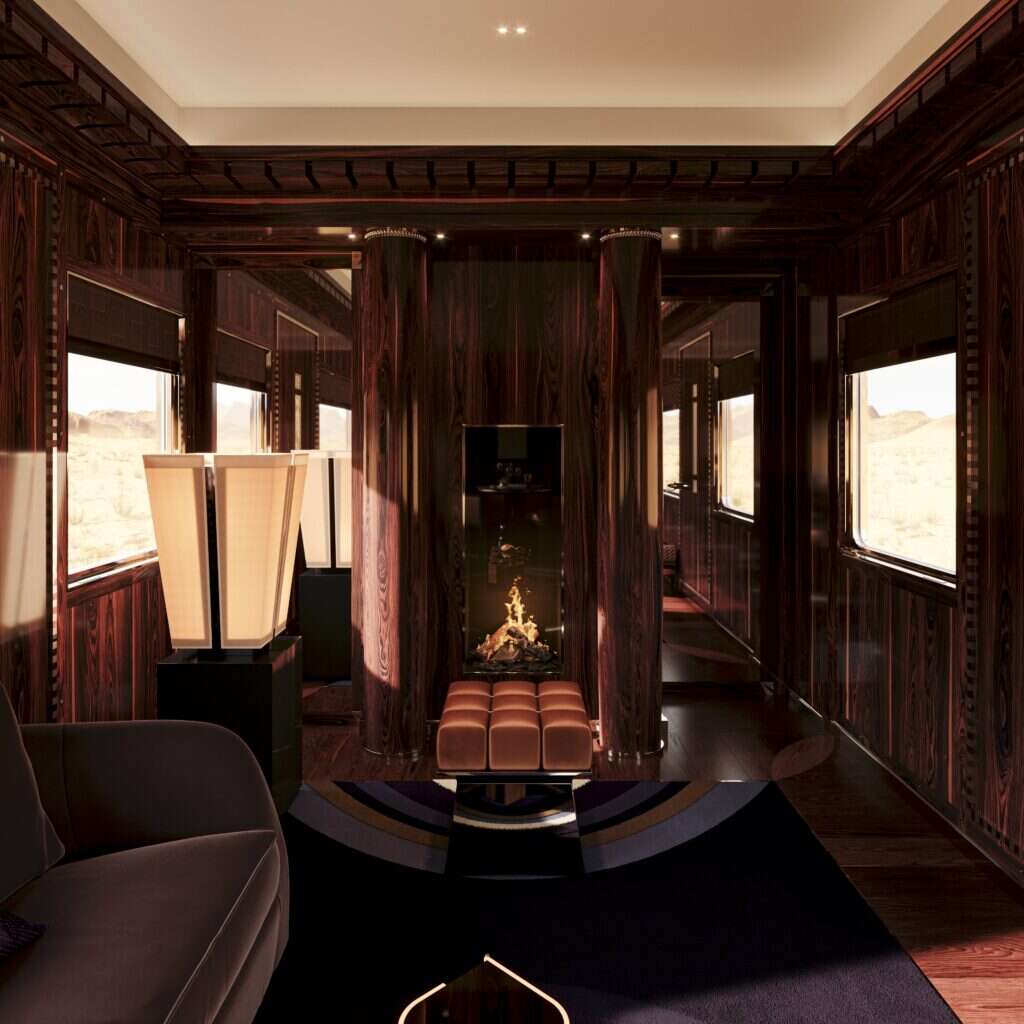 The Accor-managed train, including the Presidential Suite, will be available to view through virtual reality, with Design Miami attendees invited to an immersive VR installation and to enjoy a first-hand look at the new carriages.
"After Paris, the Orient Express legend unveils its secrets at the heart of a major international design fair: Design Miami," says Accor CEO and chairman, Sébastien Bazin.
"At the crossroads of creativity and a healthy imagination, Orient Express has found the best setting to unveil the exclusive decor of a Presidential Suite that will mark the history of train travel and continue the Orient Express legend with authenticity and unparalleled luxury."
[See also: Belmond Unveils New Suites on Venice Simplon-Orient-Express]