Just in time for the festive season, Christie's has announced its Magnificent Jewels and Jewels Online collection, the auction house's final live jewelry auction of 2023.
Jewels Online will open for bidding online from November 28 through December 8, and Magnificent Jewels itself will be a live sale in New York City's Rockefeller Center on December 6.
The collection is as wide in range as it is spectacular in depth. Leading the sale are the California Sunset Diamonds, which include a pair of vivid orange and yellow diamonds of 12.20 and 11.96 carats and will retail from $7,000,000 to $12,000,000.
[See also: Christie's Jacqueline DiSante Talks All Things High Jewelry]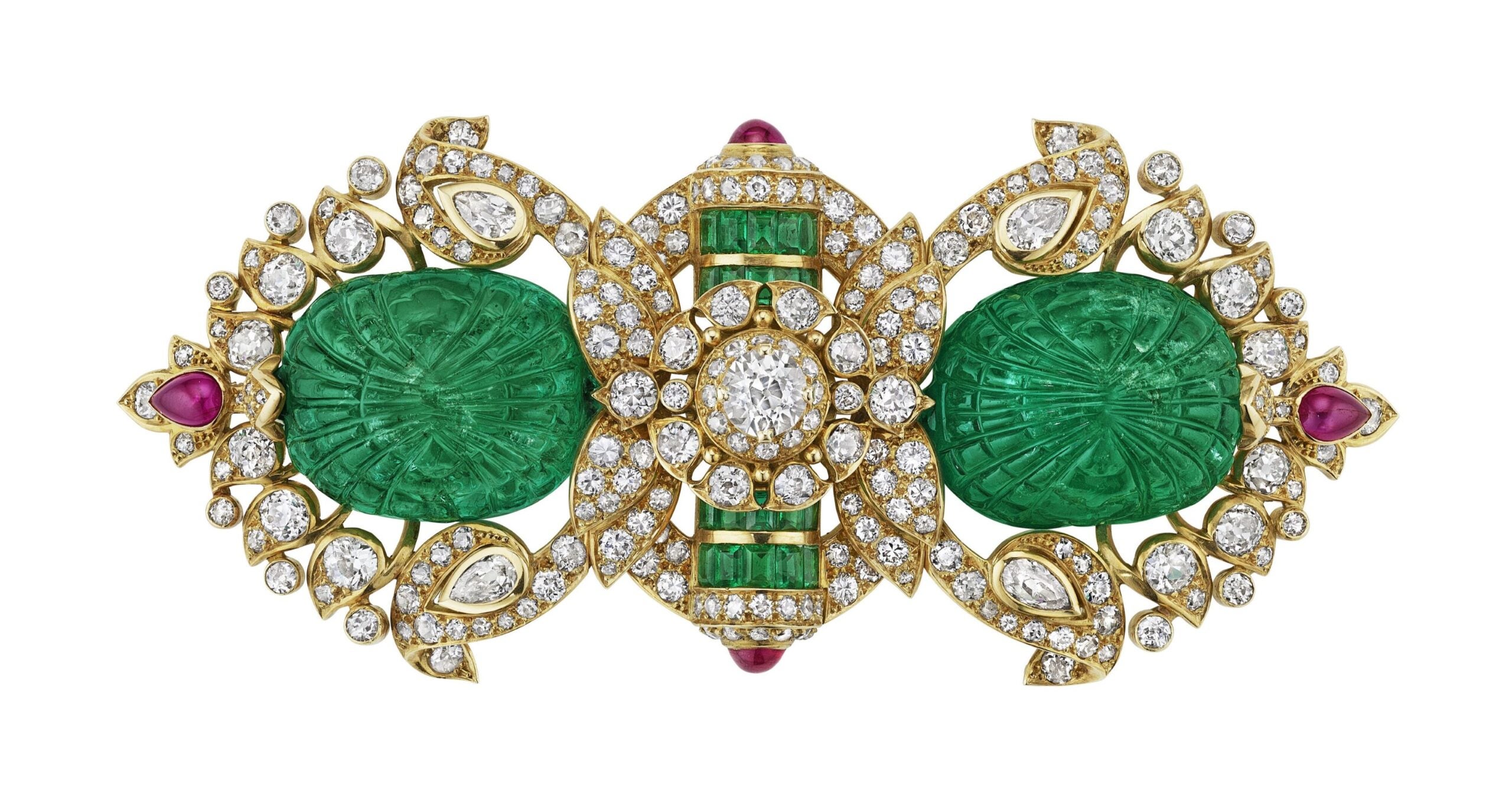 Other highlights of the Christie's Magnificent Jewels auction include a Tiffany & Co Kashmir sapphire ring of 8.91 carats, a Colombian emerald ring of 9.13 carats, and from $1m to $2m, a Burmese ruby and diamond ring of 7.31 carats.
Prospective bidders can also look forward to jewelry pieces almost a century old, such as the Chaument Art Deco Tiara, circa 1930, and up for auction from $50,000 to $70,000.  The tiara is part of the signed Collection of Margaret Thompson Biddle, an American heiress known as the Grand Dame of American high society in Paris following World War II.
Further pieces within the Margaret Thompson Biddle collection include a Cartier emerald, diamond, and ruby brooch circa 1945, up for auction from $200,000 to $300,000.
[See also: These Statement Jewelry Pieces Fly in the Face of Quiet Luxury]
Another brooch to keep an eye out for is the 'Reclining Lion' brooch by René Boivin, which is extracted from the Collection of Julian and Josephine Robertson. Going for $300,000 to $500,000, the brooch is set with variously shaped diamonds in different colored hues and features a glorious emerald mane.
Whilst the Christie's Magnificent Jewels auction is demonstrably magnificent, the auction house's Jewels Online segment is just as marvelous, with a large array of luxury jewelry houses represented including Harry Winston, Van Cleef & Arpels, Buccellati, Cartier, and more.
Highlights from the Christie's Magnificent Jewels collection will be displayed in Hong Kong from November 23 through November 27.
[See also: The World's Rarest Whiskies Head to Auction]