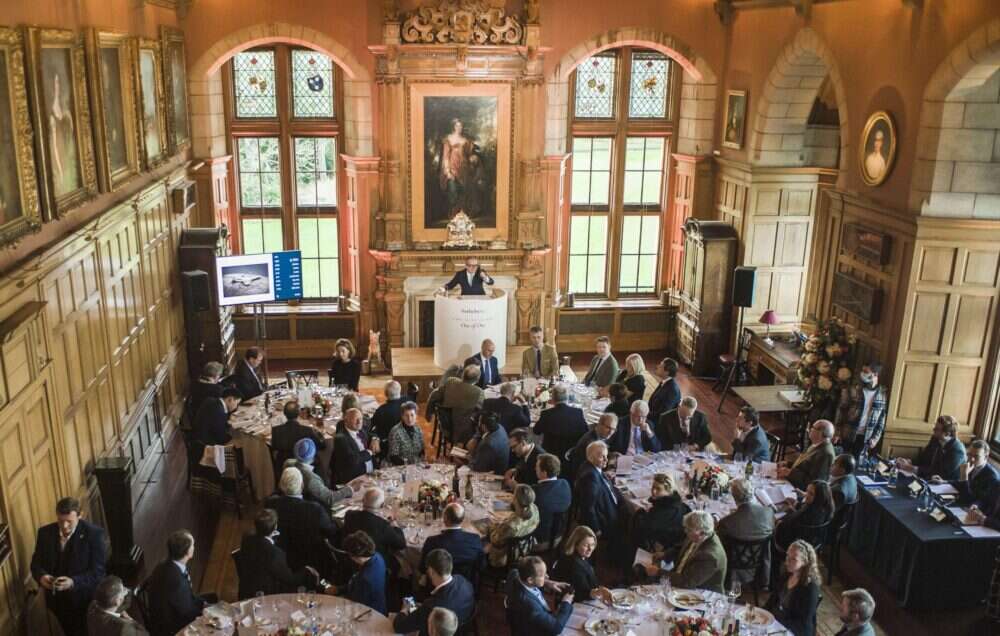 Sotheby's Auction House saw a record-breaking year in its fine wine and spirits sales in 2021, driven by high sales of Burgundy and spirits, growth in single-owner auctions, and expanding reach to new and younger buyers.
The past two years have seen heightened demand from wealthy buyers looking to invest in iconic wine and spirits. In fact, fine wine topped Knight Frank's Luxury Investment Index in 2021, following a year of already strong growth in 2020.
To meet this demand, Sotheby's hosted 53 wine and spirits auctions in 2021, 30% more than in 2020. This included new auctions in France and innovative partnerships such as Hospices de Beaune, Distiller's One of One, and Tea Treasures.
The result was that Sotheby's Wine and Spirits auction sales reached a record-breaking $132m, a 43% increase on 2020, with an average sales per auction of $2.5m.
[See also: The Most Expensive Wine Ever Sold at Auction]
One of the biggest drivers of this increase was the continued growth in sales of spirits, which fetched a total of $22m in 2021, growth of 47% from 2020.
In a London auction last June, 24 bottles of "Sun Flower" Kweichow Moutai 1974 sold for $1.4m, the highest price fetched for a single lot of Moutai outside of China. At the Distillers One of One auction, the four-bottle Glenfiddich 1950s collection sold for $1.38m.
In April, the Bowmore Archive Cabinet, a five-bottle collection of Black Bowmore whisky sold for $563,000, breaking records as the most ever paid for a collection of Bowmore whisky at auction. 
In 2021, spirits made up 16% of auction and retail sales by Sotheby's, while Burgundy continued the strong growth seen over the past decade. In 2013, Burgundy made up 26%, but over the past three years it has overtaken Bordeaux to account for 46% of sales.
Burgundy's dominance is underpinned by just a few producers. In fact, 90% of Burgundy sales by Sotheby's in 2021 came from five producers: Domaine de la Romanée-Conti, Hospices de Beaune, Henri Jayer, Leroy + d'Auvenay, and Rousseau.
Some of the most extraordinary purchases include a Methuselah (six liters) of 2000 Domaine de la Romanée-Conti Romanée Conti, which sold in Beaune for $404,600, while nine bottles of the 1990 vintage sold for $450,590 in Hong Kong.
In total, Domaine de la Romanée-Conti sales totaled $16.4m, making it by far the best selling producer at Sotheby's in 2021.

The nine-bottle sale of Domaine de la Romanée-Conti Romanée Conti is just one example of the success of Sotheby's single-owner auctions. The sector has expanded in recent years as Sotheby's continues to grow its reputation as a market leader for the sale of prestigious private wine and spirit collections.
The bottles came from the auction Wines from the Cellar of Joseph Lau Part II in Hong Kong in April, which had been estimated to make between $3-$4m, but in fact achieved $6.7m.
Since 2018, Sotheby's has fetched more in sales at single-owner auctions than multi-owner, and in 2021 they totaled $75m across 19 auctions. Even though single-owner auctions were just 36% of the total number of auctions, they accounted for 57% of the revenue.
Over the past two years, Sotheby's has seen significant growth in the proportion of buyers from Europe, the Middle East and Africa, while the proportion of Asian buyers has fallen.
The same is seen in Sotheby's spirits sales: in 2019, 82% of spirits sales were to Asian buyers, but in 2021 this fell to just 51%. Meanwhile, EMEA has gone from 11% of spirits purchases to 26%, and Americas have gone from 7% to 22%.

Despite the decline of Asian buyers, Hong Kong still dominates among Sotheby's buyers, with buyers from the country spending a collective $30m on wine and spirits in 2021, more than all of Europe put together.
And Sotheby's is still expanding its wine and spirits base. It attracted 673 new buyers in 2021, 37% of whom were aged under 40, which leaves Sotheby's feeling very optimistic for the future.
[See also: Sotheby's Marks Platinum Jubilee with Royal Exhibitions]