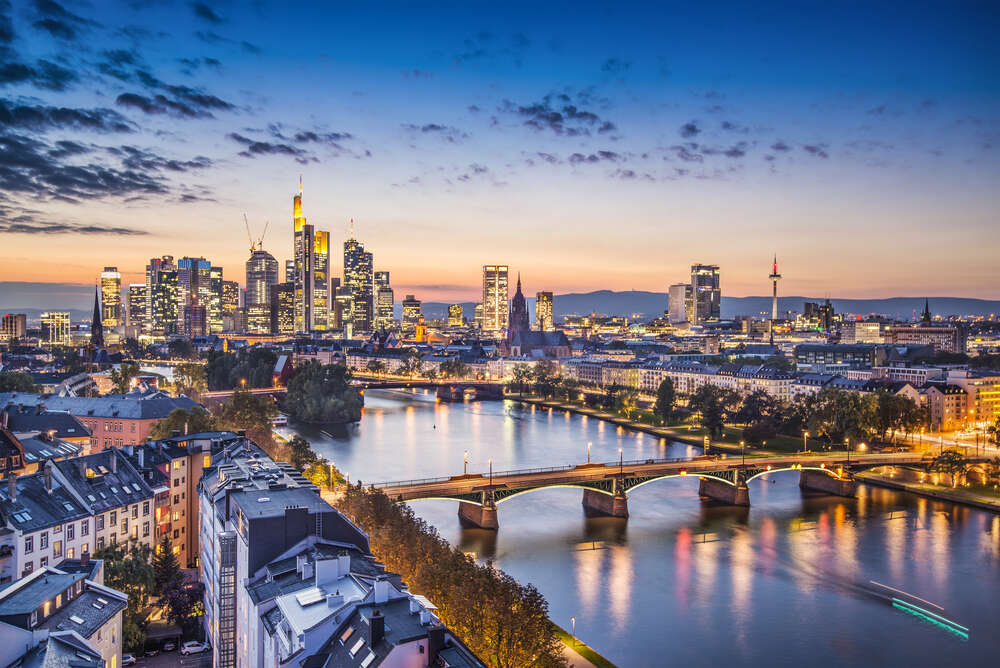 Frankfurt may be known for its eponymous sausages, schnitzels and Grüne Soße (green sauce), but scratch beneath the surface and there is so much more to discover. The financial capital of Germany is home to an array of gourmet eateries, including seven with one Michelin star, two with the coveted two-star accolade and one with the newly introduced Green Michelin star.
With so many choices, deciding where to begin can be tricky. To help, we've curated a list of the very best restaurants in Frankfurt where inventive chefs are pushing boundaries to delight diners with their culinary creations.
[See also: The 6 Best Restaurants in Berlin]
Gustav
Kicking off our list of the best restaurants in Frankfurt is Gustav. Boasting two Michelin stars and a Green Michelin star, head chef Jochim Busch impressed inspectors with his creative menu that changes with the seasons. His modern plates of food are as beautiful as they are delicious; expect an incredible array of contrasting textures on every dish. Busch has formed close relationships with a trusted network of suppliers in order to source fresh, sustainable produce and it shows.
Main Tower Restaurant & Lounge
Standing 61ft over Frankfurt, Main Tower Restaurant & Lounge is not easy to miss. This unique restaurant offers a high-level culinary experience served with a spectacular panorama of the city of Frankfurt. Officially inaugurated in January 2000, Main Tower is the fourth tallest building in Frankfurt and remains the only skyscraper still open to the general public. This 53rd floor restaurant is one of Frankfurt's most popular addresses and is ideal for a romantic dinner or tea at the weekend.
Restaurant Villa Rothschild
Need an excuse to escape from the fast pace of life in Frankfurt, try this: one of the city's best restaurants focused on healthy, sustainable cuisine at the former country residence of the Rothschilds, surrounded by a ten-hectare park and the Taunus mountain range. In the dining room of a boutique hotel with the same name, Villa Rothschild is where the concept of Grill & Health delights awaits. If visiting during the summer, be sure to book a table on the terrace where spectacular scenery makes leaving the bustle of the city even more worthwhile.
Villa Merton
Located in Diplomatenviertel, one of Frankfurt's most elegant quarters, the beautiful Villa Merton offers world class food in elegant surroundings. Since 2003 Villa Merton has continuously been awarded a Michelin star, thanks to a daring menu that renounces traditional ingredients such as olive oil and citrus fruits in favor of unique products like Japanese roses, beechnut and oil of wheatgrass. The main dining room opens on to a tree-lined terrace, which offers natural shade and a beautiful back drop while dining alfresco, and a private room is available on the first floor for those seeking further exclusivity.
[See also: The Best Fine Dining Restaurants in Amsterdam]
Heimat
Heimat opened in 2007 in a unique modern building resembling a revamped American diner, which is known in German as a Trinkhalle. This exclusive restaurant is founded on the simple principles of attentive service and a seasonal menu. The kitchen is open plan which allows diners to really grasp the care and attention that is delivered to every plate. Although the Trinkhalle makes quite a special dining room, during warmer months diners can sit on the summer terrace. Those seeking futher seclusion and romance can ask to dine in the curtained off "separee" area.
Seven Swans Frankfurt
Where it can be difficult to find a fine dining establishment that caters specifically to vegetarians in Germany, Seven Swans fills that void. The seasonal menu of organic fare pairs with an expert selection of wines for a harmonious meal that's eco-conscious. The changing menu is known to include dishes like sorrel and gryère as well as birch and homemade yogurt in the summer. Enjoy an intimate dinner in this quaint, candlelit setting.
Masa Japanese Cuisine
Last but by no means least in our roundup of the best restaurants in Frankfurt is Masa. Located in the Ostend district, this Japanese eatery is a staple of the city's vibrant food scene. Talented head Masaru Oae's sophisticated menu impressed inspectors enough to scoop a Michelin star in the 2022 guide. Effortlessly mixing traditional Japanese cookery with European influences, Oae's ever-changing omakase ('I'll leave it up to the chef') experience is certainly not one to miss. Dishes are expertly paired with a wide range of sakes.  
[See also: The Chefs with the Most Michelin Starred Restaurants]