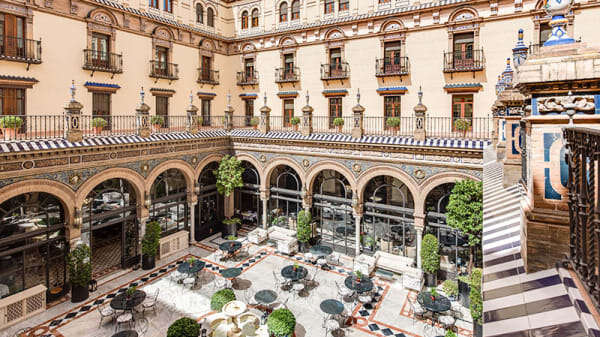 Famous for its flavorful cuisine, lively tapas bars and incredible local produce, Seville has made a name for itself with its fine dining scene. But with so much choice, separating the ordinary eateries from those that are truly special can be tricky. To help, we've scoured the city's hippest locations to choose six of the best restaurants in Seville.
[See also: The 9 Best Restaurants in Barcelona]
Abantal
Founded in 2004, the Michelin-starred restaurant Abantal bases its culinary philosophy on Andalusian cooking tradition and high quality fresh produce. Dishes are then expertly prepared by the chef and co-owner Julio Fernandez Quintero. Guests will be able to choose between the 'Gran Daily Chef Tasting Menu', with its 13 courses, and the 'Daily Chef Menu', with its 10 abantal courses. Both menus offer a wine pairing option that comes as a supplement. The dining room is contemporary in design making use of natural materials such as granite and oak. Set menus from approximately $95 per person.
Abades Triana
The restaurant Abades Triana is known for the scenic setting it provides as it takes in the historic surroundings through floor-to-ceiling windows, out on the terrace or within the VIP space of a glass Cube that's positioned over the river. The fine dining restaurant specializes in cutting-edge Andalusian cuisine, with the kitchen team led by chef Elias Del Toro creating tapas plates and tasting menus including the daily tasting menu comprising six dishes suggested by the chef. Set menus from approximately $60 per person.
El Gallinero de Sandra
Situated in the heart of Seville, El Gallinero de Sandra is tucked away in an alleyway close to the Alameda de Hércules. Founded in 2004 by chef Nacho Dargallo and Sandra Rodríguez and winner of a Michelin Bib Gourmand award, the restaurant offers traditional dishes with a modern twist. Guests can choose from a variety of tasting menus and are encouraged to try the chef's famous signature dish huevos campos estrellados or country-style fried eggs. Guests will find the restaurant to be both elegant and unpretentious with its hen-themed decor.
[See also: How the Prestigious Michelin Star System Really Works]
El Rinconcillo
For the classic Seville tapas experience, there aren't many places that can rival El Rinconcolli. Having been established in 1670, the tapas bar is the oldest in Seville, ensuring this city's tradition is celebrated to this day. Winner of a Michelin plate award, El Rinconcolli offers typical Andalusian-Mozarabic tapas plates using pork-based products from the Sierra de Huelva as well as fresh and fried fish. A variety of wines are available to accompany the food with a number of Andalusian reds featured on the menu. Guests will also be charmed by the restaurant's classic décor comprising appealing features like Seville's typical patterned wall tiles. Set menus from approximately $40.
Restaurante San Fernando
Located within Seville's palatial hotel, El Hotel Alfonso XIII, Restaurante San Fernando is an especially elegant and enchanting space to dine within. In the hotel's colonnaded Andalusian-style courtyard complete with a fountain, sweeping arches and greenery, guests can dine on modern interpretations of Spanish classics concocted by chef Brian Deegan. We suggest that guests try the sea bass with saffron potatoes, fumet, snow peas and olives, or the Iberian pork shoulder with creamy poplar mushroom rice and green asparagus. Set menus from approximately $46.
Cañabota
Last but by no means least on our list of the best restaurants in Seville is Cañabota. Situated in the bustling heart of the city, the eatery opened its doors in 2016 and was recently awarded its first Michelin star. Seafood is the star of the show here, much of which is cooked on the grill by talented chefs in front of diners in the open kitchen. Expect a fun, lively atmosphere that will keep you here late into the evening and an extensive wine list. Prices for the set menus start at approximately $90.
[See also: The Most Iconic Restaurants of the Elite Traveler Era]