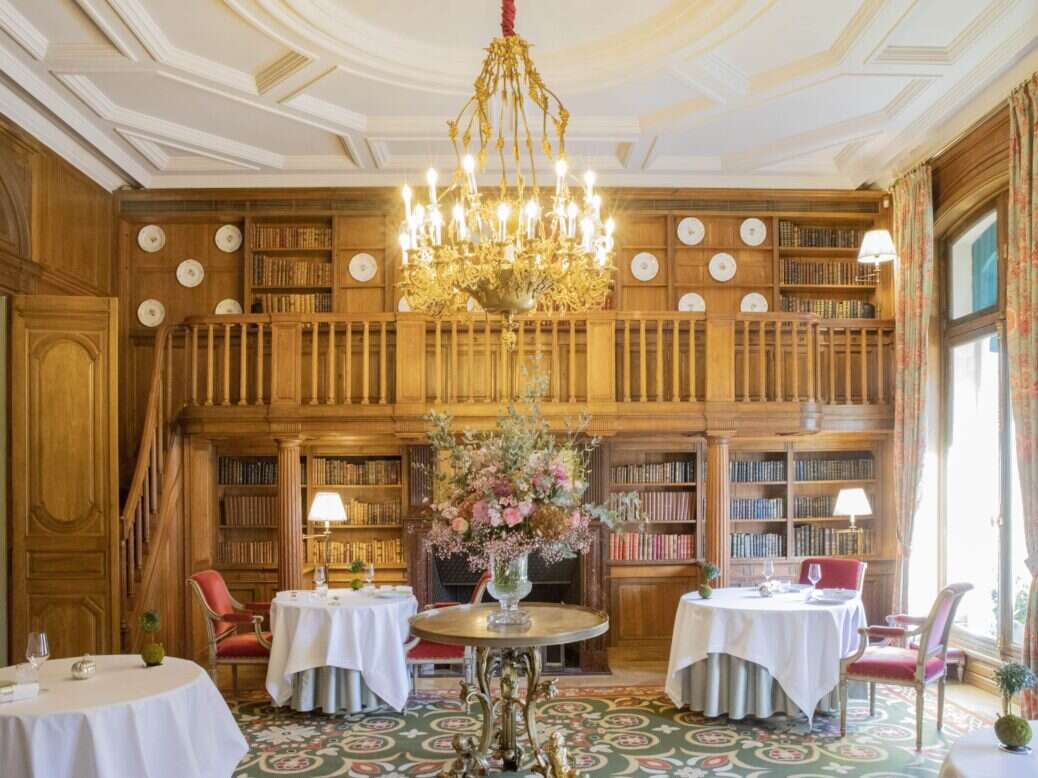 Since opening in 2015, Le Clarence has risen to great heights as part of a dynamic culinary scene that famously doesn't suffer fools gladly. Paris remains a gastronomic juggernaut. Its cobbled streets and treelined avenues mark the final stop on a pilgrimage that is a must for all food lovers.
It is the birthplace of haute cuisine, nouvelle cuisine and in fact, the restaurant itself. All this means stiff competition. Le Clarence is situated just off the Champs-Élysées—the heart of all this history—and it's not just taking part, it's adding to the legacy.
The restaurant is a part of Domain Clarence Dillon, a wine company founded by American financier Clarence Dillon in 1935 and now helmed by his great-grandson, HRH Prince Robert of Luxemburg. So, in addition to world-class food and decor that is as regal as the owners, those lucky enough to secure a reservation can also expect wine of the highest caliber.
Next to Le Clarence is La Cave du Château, an extensive fine wine shop and the home to Le Clarence's cavernous wine cellar. With over 250 winegrowers represented across 1,400 references and with a penchant for big bottles, it's a shrine to vinification.
Since 2017, Le Clarence and chef Christophe Pelé have maintained two Michelin stars. This year it ranked 28th in The World's 50 Best Restaurants, meaning one could argue it's Paris's 2nd best. High praise indeed.
[See also: La Mirande: A Timeless French Restaurant with Modern Appeal]
Chef
Chef Christophe Pelé's CV reads like a Who's Who of the Parisian restaurant scene. Ledoyen, Lasserre, Pierre Gagnaire, The Bristol and the Royal Monceau—where he was awarded his first star as a chef in 2004—to name a few.
His most recent venture before Le Clarence was La Bigarrade, unsurprisingly in Paris. At La Bigarrade, Pelé gained renown alongside Giuliano Sperandio (now head chef of his own two-star restaurant in Paris), for serving a shockingly inexpensive seven-course tasting lunch. How times have changed.
La Bigarrade closed in 2012 at the height of its success. Christophe Pelé left Paris for Asia in search of new flavors and to open up to new culinary cultures, something he would later use to cement his mark in Paris.
If condensed into a single word Pelé's style would be ingenuity. He is constantly on the hunt for new flavors, ingredients and techniques through which to cook them. This curiosity is unmissable and runs through every dish produced in his kitchen.
[See also: The Emerald Isle Welcomes Terre at Castlemartyr Resort]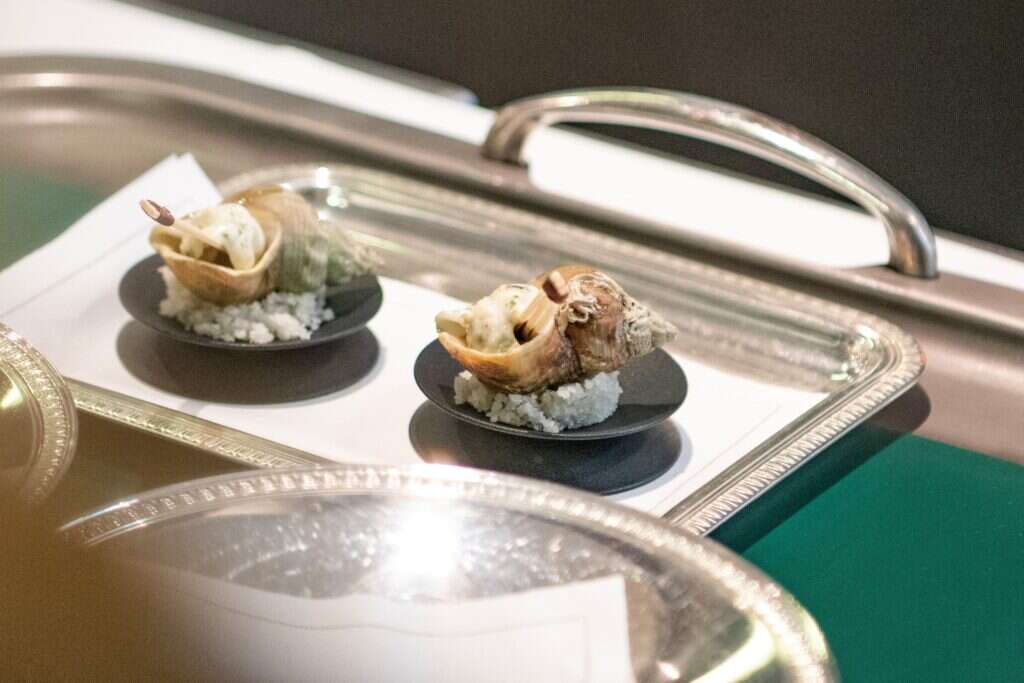 Menu
Before a visit to Le Clarence it is absolutely vital that you understand the menu. There isn't one. This is a concept Pelé took with him from La Bigarrade. The food served changes daily based on the seasons and the best possible ingredients available that morning. If today's catch does not meet Pelé's standards you will not find it being served.
Pelé's consistent curiosity means that those so inclined could dine at Le Clarence twice a day for a week and never spot the same dish. Prior to the meal diners are asked if they have dietary requirements and Pelé is able to quickly adapt his dishes to suit everyone.
Lunch diners may choose either three, four or six "Sequences," while those dining in the evening choose three, five or seven. Exactly what a "Sequence" entails is difficult to put a finger on, however, generally speaking, it is one or two main dishes accompanied by numerous satellite dishes.
[See also: Decimo: Three Years On and Still London's Coolest Restaurant]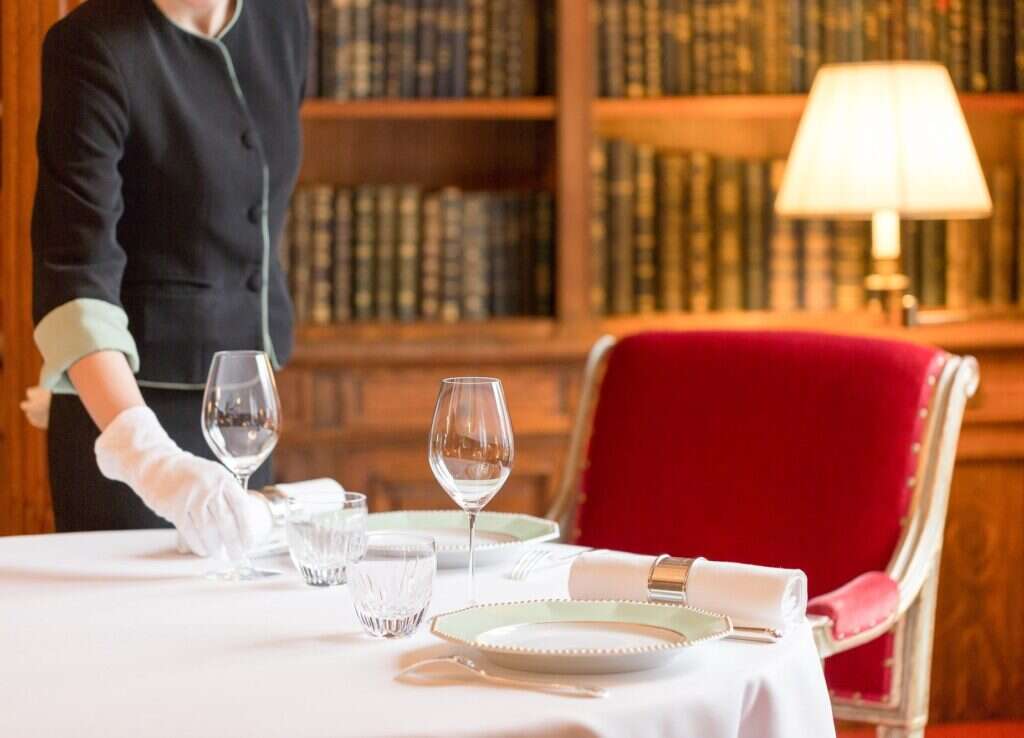 These wonderfully presented dishes come thick and fast. As soon as you finish with one delight it is quickly whisked away with military precision by the elite team of waiters and replaced by a fresh concoction. No doubt another exquisite combination of flavors that transcend culture.
To detail everything we ate in full would require its own lengthy article. We experienced the six-sequence lunch, but in total I counted 22 separate dishes, with some sequences consisting of multiple plates that complemented each other, while others were allowed to shine on their own.
Lunch began with langoustine, jalapeños juice and lamb feet, setting the tone for the culture-hopping flavor journey we were about to experience.
Particular highlights from later sequences included red mullet on the skin, bone marrow, orange condiment, tangy juice and spinach; Scallops, buffalo milk, matcha tea powder and caviar lemon; potato spaghetti, poached oyster, cosmos flower, kimchi, dashi reduction.
[See also: Angelina: A Weird but Wonderful East London Star]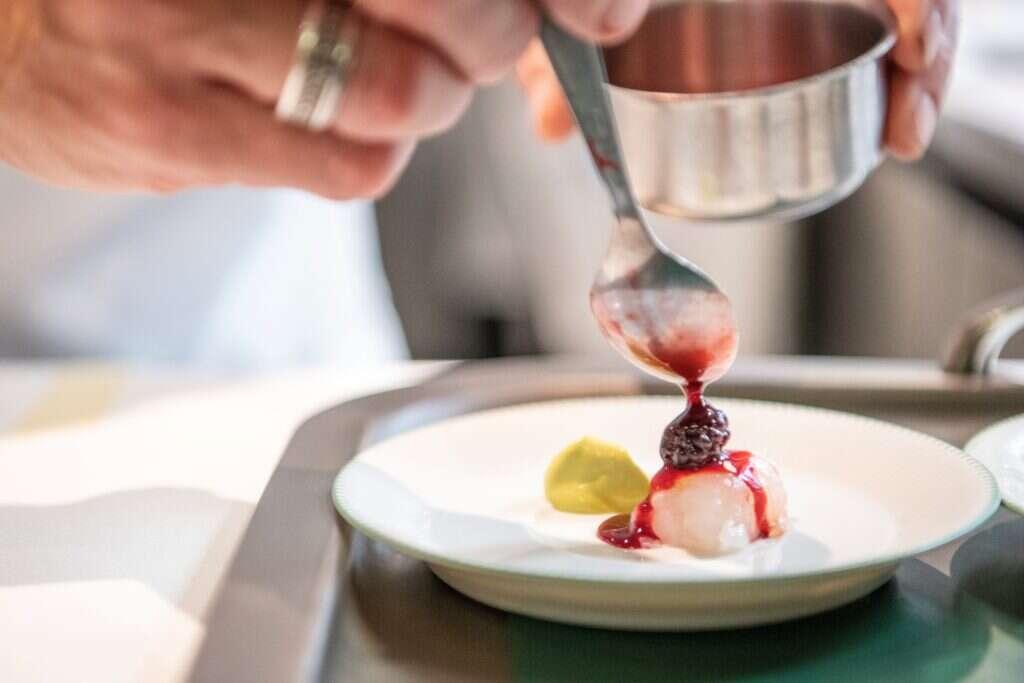 For dessert we moved upstairs to the salon and sampled lemon cream with pomegranate jelly; almond cream, daikon radish, candied carrot with tarragon pesto and countless other delicately presented morsels.
As dishes arrived, waiters diligently explained each plate understanding exactly where each ingredient has been sourced and how it has been prepared. As one particular plate arrived early on, they suggested we tried it before explaining what it was.
We quickly enjoyed what appeared to be razor clam and caviar. The clam was wonderfully fresh and the caviar burst with just the right saltiness, but there was a further ingredient we couldn't recognize. When the waiters returned, they informed us. Veal brain.
This encapsulates Le Clarence and Christophe Pelé's style: it's daring, exciting, experimental and fun. Before the meal we explained there was nothing we wouldn't try, Pelé took our word and did not disappoint.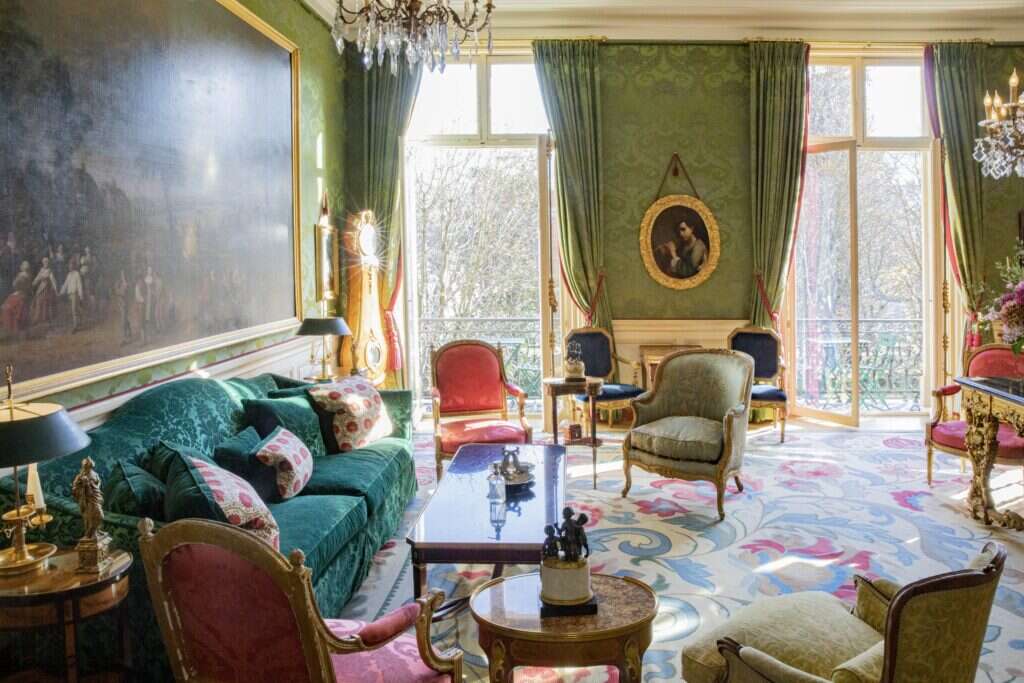 Interior
The beauty of Le Clarence lies within its contrast. The food endeavors to push the boundaries of gastronomy, while the interiors transport visitors back to the age of The Enlightenment.
Le Clarence is set inside a wonderous 19th-century private mansion on 21 Avenue Franklin D. Roosevelt. It has been fully refurbished and decorated by the finest artisans according to the instructions of HRH Prince Robert of Luxemburg.
A true advocate of the French art of living, Prince Robert has designed the dining rooms to feel warm and welcoming but also lived in. Vibrant paper adorns the walls, while paintings, antique furniture, vases and busts give every corner its own unique character.
[See also: Yannick Alleno Brings Pavyllon to Monte Carlo's Hotel Hermitage]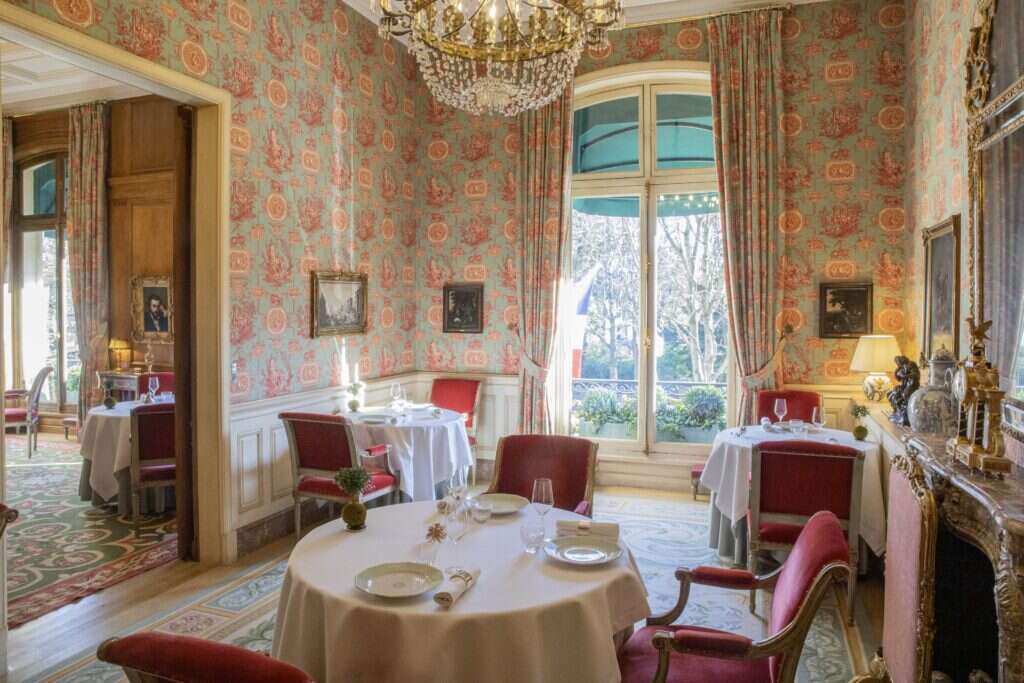 There are three small dining rooms (Pontac, Lestonnac and Talleyrand), each only large enough for three to four small tables so dining feels intimate and personal. Each has its own totally unique feel ensuring a different experience. Talleyrand has a large window with views into the interior courtyard and the kitchen which lies opposite.
A main reception room can be found on the second floor, above the restaurant. Its thick carpet, warming fire and large windows that provide views of the Grand Palais make it the ideal place to lounge pre or post meal.
Le Clarence 31 Av. Franklin Delano Roosevelt, 75008 Paris, France, Le Clarence.com