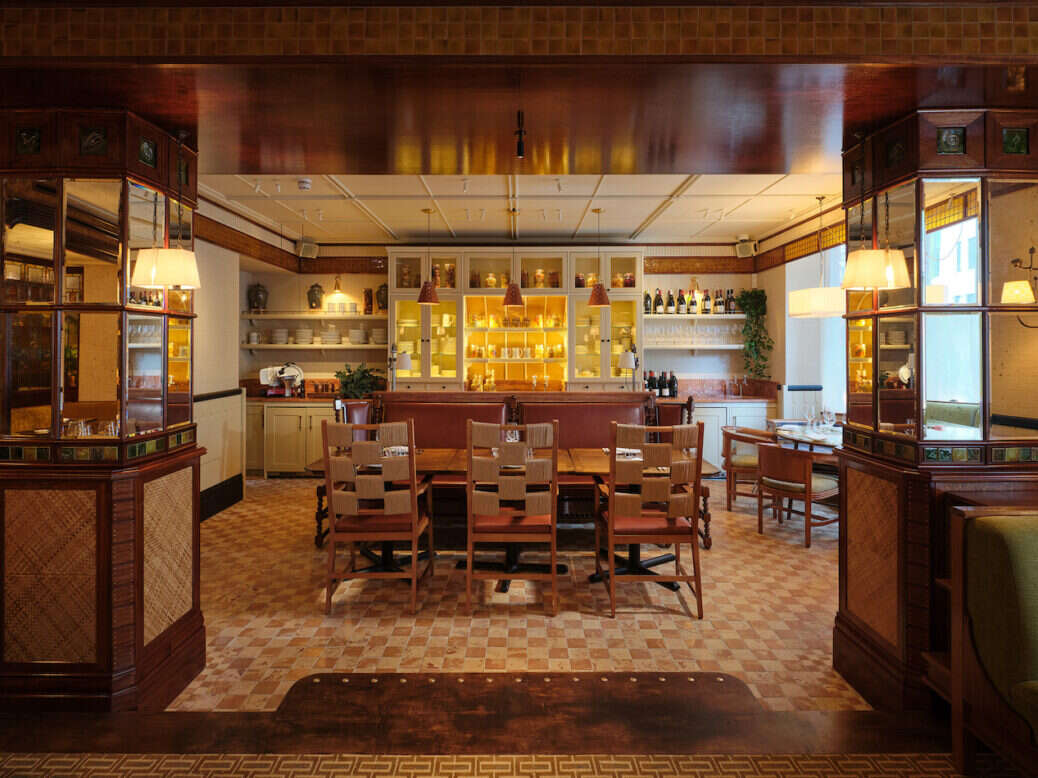 Anyone who is familiar with the Berkeley Square area of London will know the type of restaurants that it attracts; this is where the Sexy Fishes, the Bacchanalias and the Amazonicos of the world find their home. Bucking that trend, however, is 20 Berkeley – an understated yet confidently stylish new opening from the team behind Endo at The Rotunda and Humo.
Having only opened its doors on May 17, 20 Berkeley counts itself among the very newest of London restaurants – and yet it already feels right at home. Unlike many of its neighbors, the restaurant is unfussy, with a menu of internationally inspired dishes made using only British ingredients, the producers of which are proudly listed on the menu.
Said menu is an unusually formatted one, an origami-style affair, adorned with watercolor flowers. "It's based on a Victorian love letter," we're told. If love-struck Victorians were writing to their beau, 20 Berkeley is penning to the bounty of the British Isles.
[See also: Joia: Introducing Battersea Power Station's Culinary Jewel]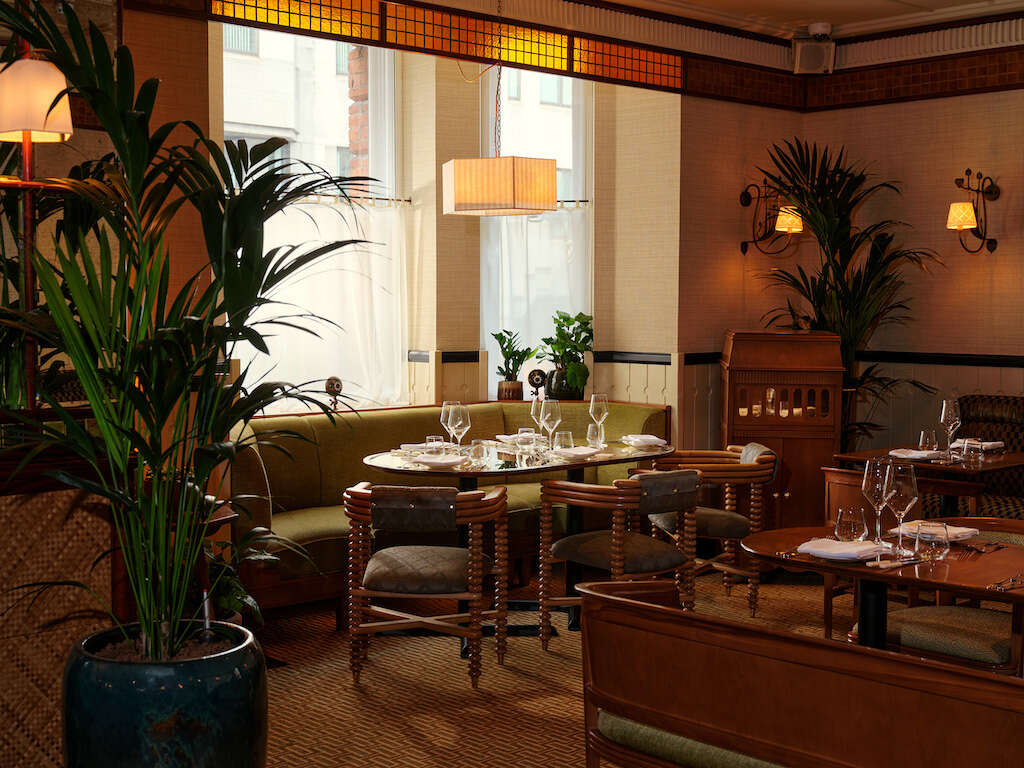 This focus on locality isn't a novel concept but it's nice to see it done with such commitment (as far as food is concerned anyway – you'd be hard-pressed to convince the good people of Mayfair to give up their French wines). 20 Berkeley might be in its infancy, but it seems like it's on to a winner.
Chef
Twenty years of culinary experience have delivered 20 Berkeley's executive chef Ben Orpwood here. Among his professional accolades is an extended stint at Zuma, which saw him not only take up a senior role in the London outpost, but also head up openings across the world.
[See also: Michelin Star Guide 2023: Best Restaurants in the UK Announced]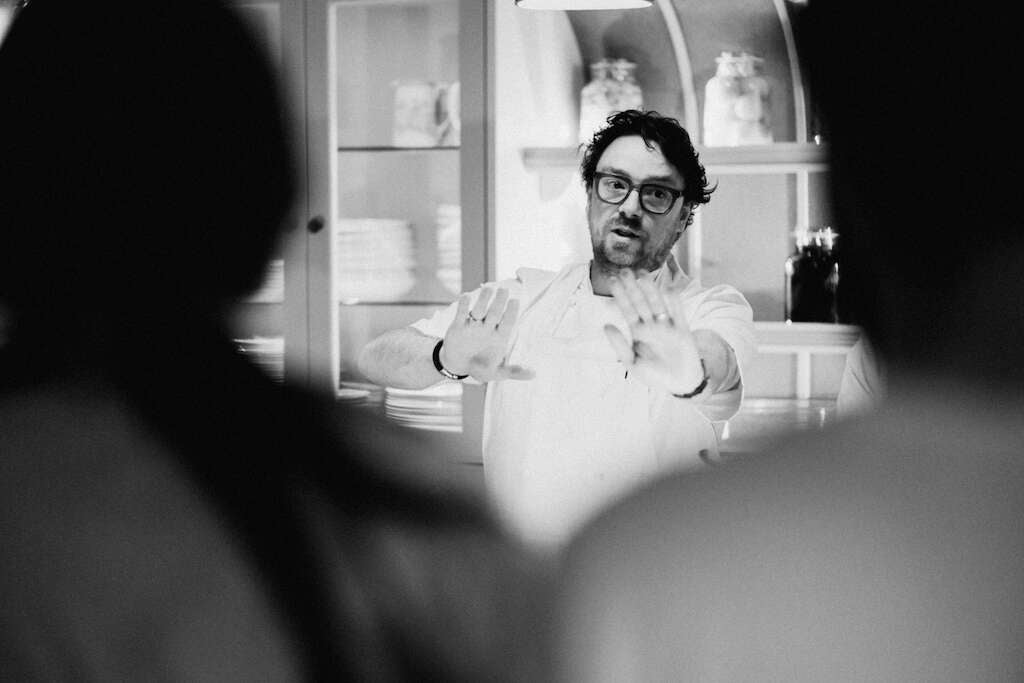 Returning to the UK, Orpwood also worked across the formidable Gordon Ramsay Restaurants group and, most recently, at Maison Estelle. Harnessing the invaluable contacts he has made with the country's most progressive suppliers throughout the years, Orpwood's cuisine is not just a celebration of British produce but also the craft and the skill it takes to supply it.
"Coming back to the UK in 2015 led me on a journey to fall back in love with the variation of seasonality and British produce," the chef commented ahead of opening. 
"Here in the UK, we have the best asparagus, the best lobster and the best scallops in the world. 20 Berkeley will be an ode to the farmers and suppliers who have made this project possible."
[See also: The Ninth: Food Retakes the Spotlight as Fire Memories Fade]
Menu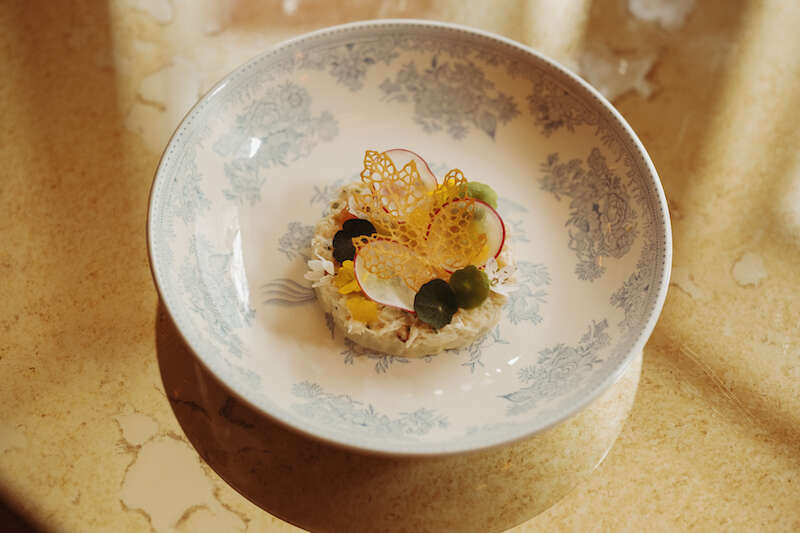 Ignoring the current demand for tasting menu and sharing plates-only concepts, 20 Berkeley is traditional in its offering. Kick things off with a portion (or two) of London honey-glazed dinner rolls. Tucked up in a quaint beeswax bag by Peckham Cloth, the batch of six tearing cobs are everything a dinner roll should be: Fluffy, sweet and milky, with a thick slather of honey pared back by the accompanying whipped marmite butter (worth a try even if, like me, you are in the Hate It camp).
The Pantry Counter section offers dishes prepared in the open pantry, adjacent to the main dining room. These raw plates are punchy – from Orkney scallops with fennel seed yoghurt to a Portland crab with sea herbs.
As with any spring menu worth its salt, asparagus is a key player here. 20 Berkeley gets its from Cambridgeshire, grills it ever-so-gently so it still has bite, and serves it on a bed of stringy, gooey Stracciatella cheese and topped with dainty soft-boiled quail eggs and a drizzle of sweet pea oil. It's light, fresh and moreish.
To accompany it is a warming (the UK needs dishes like this until at least June) bowl of bone marrow risotto, enlivened to a vibrant shade of ochre yellow with Essex-grown saffron, from the town of Saffron Walden no less. British saffron fell out of favor for a time, but it's firmly back on the table now.
[See also: Le Manoir aux Quat'Saisons Continues to Dazzle]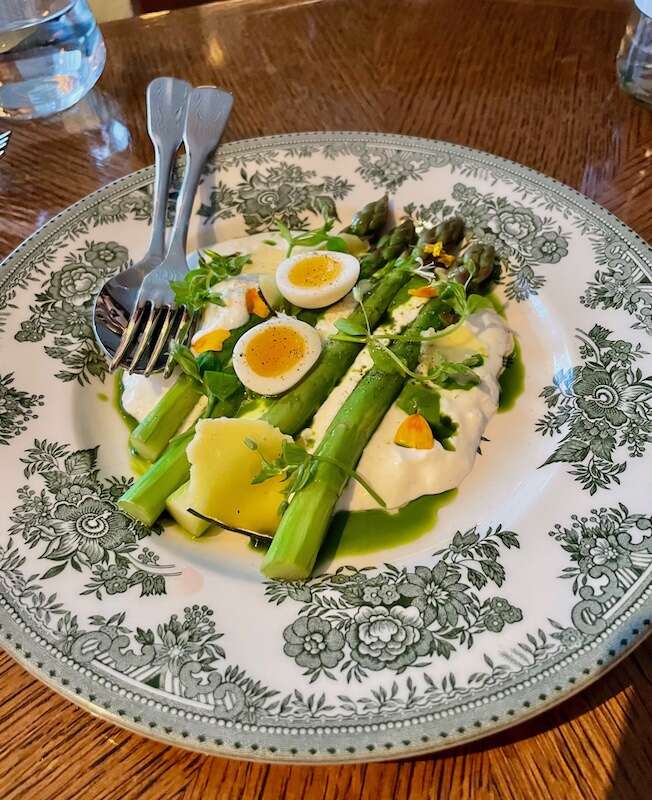 Mains are meat and fish heavy (I'd hesitate to recommend this restaurant to a vegetarian), with, you guessed it, all-British suppliers. For cod, 20 Berkeley smartly looked to the fruitful shores of Cornwall. A meaty fillet is carefully seared just to the point of caramelization and served with mussels, sweet pea sauce and another spear of that lovely asparagus. A delicate leaf-shaped potato crisp is a welcome little show-off from the kitchen team.
There are also some serious-sounding steaks on offer (including a sharing porterhouse and a special chateaubriand) but on recommendation, we take the Shropshire Iberico pork. It's fatty in all the right ways, with a generous portion of butterhead lettuce helping you to convince yourself it's a lot healthier than it probably is.
Desserts are indulgent takes on the classics. There's a decadent milk chocolate tart with malt ice cream, but don't miss the sharing apple tarte tatin. Easily big enough for four, perfectly crisp pastry is drowned in chunky caramelized apples, with an extra serving of caramel sauce for good measure – just be sure to ask for a double portion of that creamy Jersey milk ice cream.
[See also: A Guide to All Three-Michelin-Star Restaurants in the UK]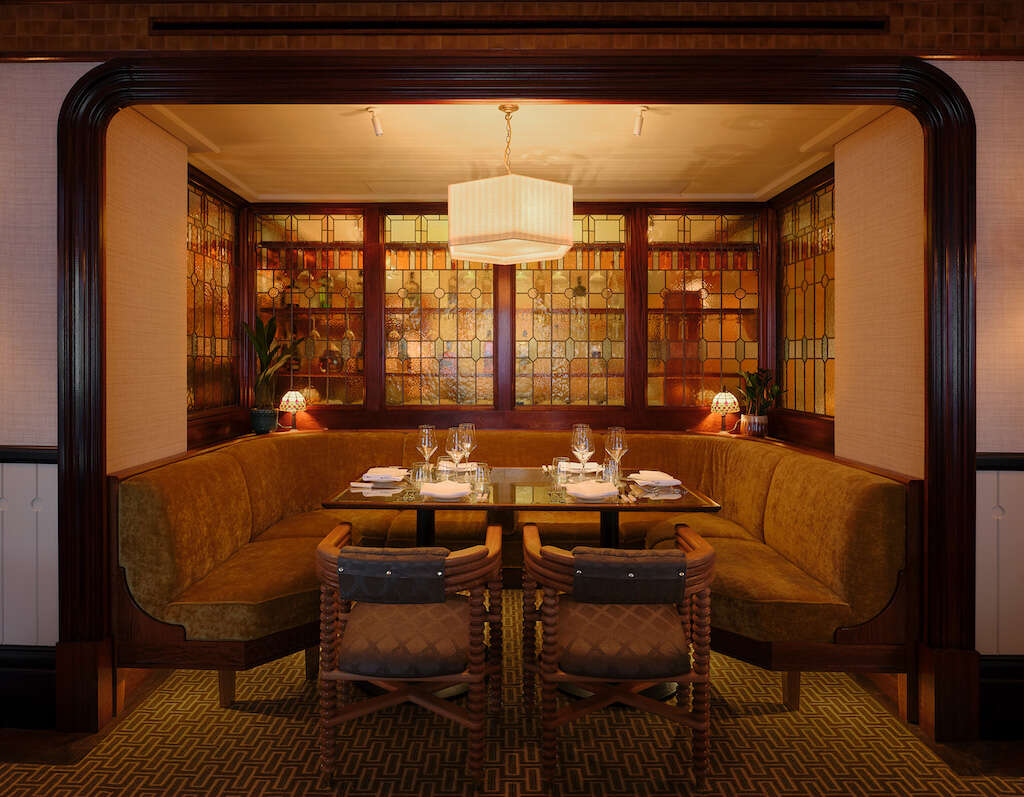 Interiors
Despite its 120-cover capacity, 20 Berkeley feels intimate and welcoming – a result that was no doubt completely deliberate. Created by the renowned team at design firm Pirajean Lees, the restaurant spans two floors, giving it more of a manor house feel than a hospitality space.
On the lower level is first the intimate private dining room – with space for 14 guests seated as well as a small lounge area – and The Nipperkin bar, a small but perfectly formed space for a pre- or post-dinner cocktail. Instead of the usual high-top bar, The Nipperkin's mixologists mix drinks at a drop-height counter which only adds to that informal, home-style atmosphere.
Back upstairs, guests can choose from two dining rooms: the Drawing Room and the Orangery. While the Orangery is all wicker seats and greenery, the Drawing Room across the hall is a mid-century vision. Warm orange and browns sit alongside artfully clashing green tones, with intriguing pieces of furniture and vibrant stained-glass windows creating an eclectic finish. 
The vintage style trickles down to the smallest of details – from the retro floral crockery to the faux bone handle cutlery. It is all very thoughtful, and all very lovely. 
20 Berkeley Street, London, UK, W1J 9EE, 20berkeley.com