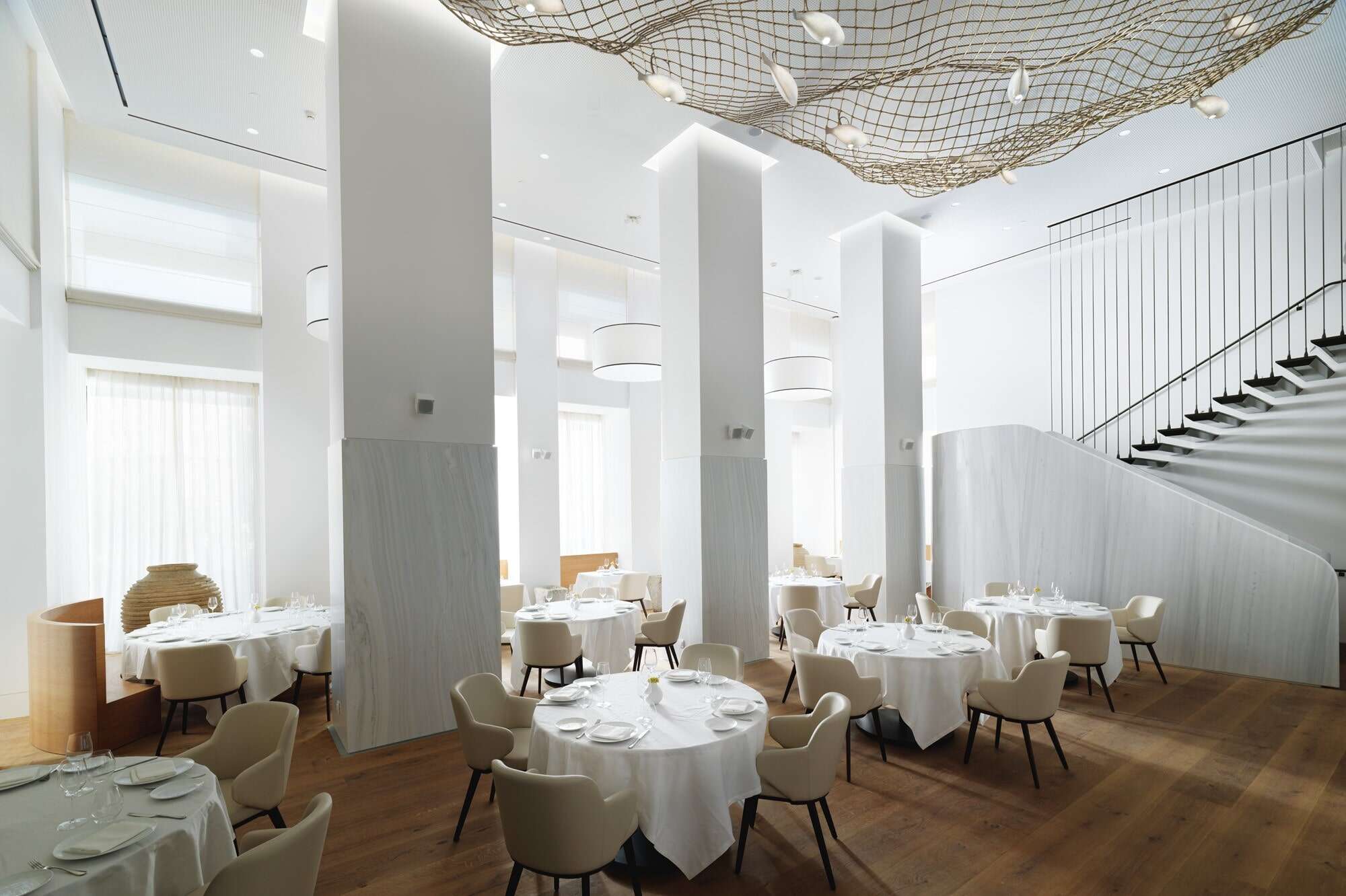 With destinations around the world – from London and Los Cabos to New York and Montreal – Greek chef Costas Spiliadis is nothing short of a restaurant mastermind. But now, with the opening of estiatorio Milos in Athens, the Greek chef is on a homecoming mission.
Marking a new chapter for his celebrated brand, Spiliadis's latest opening is found within the heart of the first Milos hotel. Combining world-class gastronomy with five-star hotel facilities and accommodations, xenodocheio Milos is rooted in the traditional Greek art of philoxenia, whereby strangers are greeted with warmth, love and generous hospitality.
Found in downtown Athens within two meticulously restored heritage-listed buildings, xenodocheio Milos has just 43 rooms and suites, creating an invitingly intimate atmosphere. Each room is elegantly appointed with considerate design details and generous amenities, but for the most opulent experience, a reservation in the Signature Milos Suite is a must – don't miss the amazing in-room dining options.
However, welcoming as the accommodations at xenodocheio Milos are, it is naturally the hotel's gastronomic offering that will have guests from far and wide clamoring for a reservation.
[See also: The Quietest Greek Islands to Visit This Year]
Chef
Although he was born and raised in Patras, a coastal city in the west of Greece, it was in NYC that Costas Spiliadis first found his culinary calling. In 1979, following several years of moving around both the US and Canada, Spiliadis opened the very first Milos, with the aim of showcasing the diverse and flavorsome cuisine of his home country.
Since then, his signature brand has gone from strength to strength, with two more locations in Manhattan, as well as restaurants in London, Montreal, Los Cabos, Las Vegas and Miami. The success of his empire has led to Spiliadis being deservedly hailed as one of the most influential Greek cooks of his era.
And, despite opening his first restaurant over 40 years ago, Spiliadis remains the life and soul of the Milos group. It is his focus on simply prepared, ingredient-led dishes that continue to lure loyal guests back time after time.
[See also: The Most Anticipated Restaurant Openings of 2022]
Menu
Like its sister restaurants in Europe and the states, estiatorio Milos Athens will be a celebration of Mediterranean cuisine. Unlike many leading fine dining destinations, experimentation isn't the aim of the game here. Instead, Spiliadis and his team call upon classic flavors and fresh ingredients and elevate them to new heights with minimal intervention or fuss.
The menu will change regularly changing on seasonal availability, but guests can expect to enjoy bountiful seafood dishes, rich with vibrant flavors. For example, silky oysters served on ice might be followed by melt-in-the-mouth ceviche and juicy red shrimp, with priority always given to local fishermen.
Desserts are equally as mouthwatering, with traditional Greek sweets including karidopita (a syrupy walnut cake) and crowd-pleasing baklava taking center stage.
[See also: Quique Dacosta on Why Culinary Traditions Matter]
Special attention has also been given to the wine list, which has been curated by Costas Spiliadis's son, George. In celebration of his heritage, George is shining a light on Greek wines in the new restaurant, with a select few wineries having been chosen for their commitment to excellence. While this means guests might be presented with a few unfamiliar labels, the restaurant's sommelier team will be on hand to make expert recommendations.
Interiors
While the food at estiatorio Milos prioritizes simplicity, the interiors are impressively grand. Imagined by Nikolas Travasaros of Divercity Architects, the restaurant boasts a double-height ceiling, allowing for imposing columns and a suspended staircase to loom gracefully above diners. Punctuating this airy space are sculptural artworks by artist Dimitris Fortsas, who nods to Greek fishing culture in his net-like pieces.
A cool white color scheme is accented by natural wood tones, with flashes of black and gold creating a sophisticated edge. Like the other Milos restaurants, the dining set up remains formal (but always welcoming) with crisp white table tablecloths adorning each of the tables. Diners will also get a front-row seat to the cooking action via a window into the kitchen.