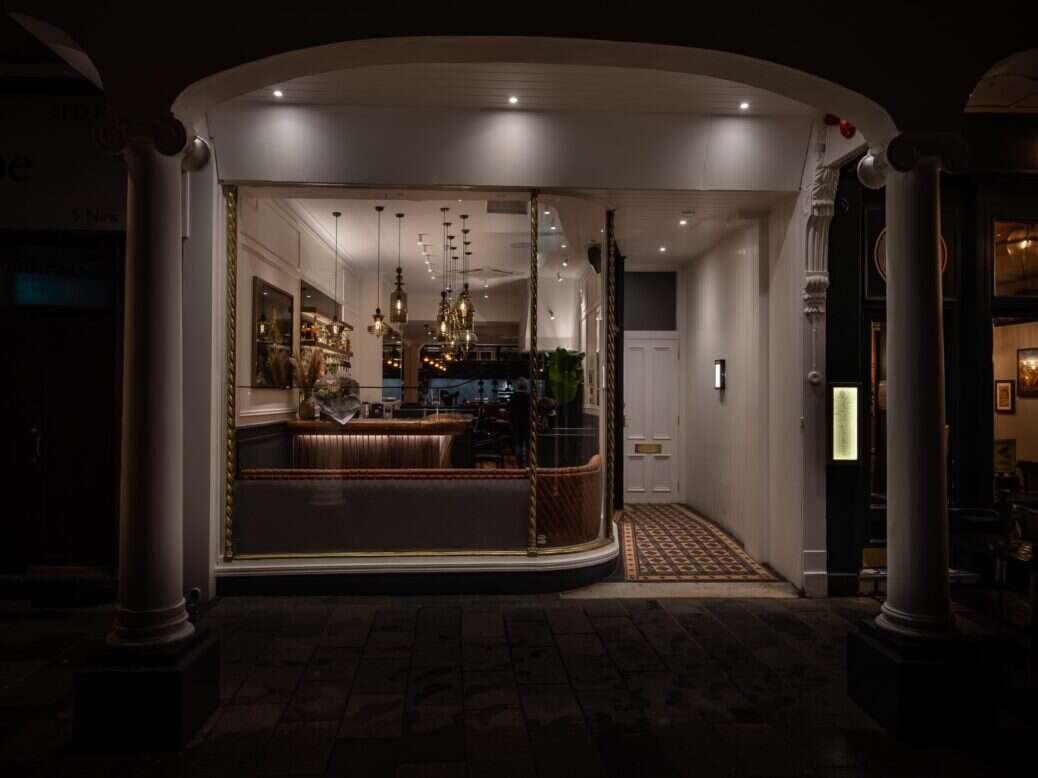 Think of classic British seaside food and the likes of salty fish and chips, bags of piping hot donuts and even pots of cockles come to mind. Brighton's restaurant scene, however, is proving there's much more than meets the eye.
The vibrant little city has plenty of great eateries, and even its own set of highly respected restaurant awards, but bar a few established favorites, it has tended to shy away from more high-end fine dining. The arrival of Furna late last year, however, has shaken this up.
Sitting in the heart of the city, on the lively New Road just a few moments from the iconic Brighton Pavilion, Furna is the first restaurant from chef Dave Mothersill. Proving that fine dining can be elegant and thoughtful while simultaneously informal and welcoming, Furna offers a tasting-menu-only experience in an intimate space with each dish delivered with an infectious rate of enthusiasm.
"I could not be more proud to see my very own vision and concept come to life," Mothersill said ahead of the opening. "It's my project, it's come from the heart, and it's been quite a journey to get here."
[See also: Coworth Park Introduces Woven by Adam Smith]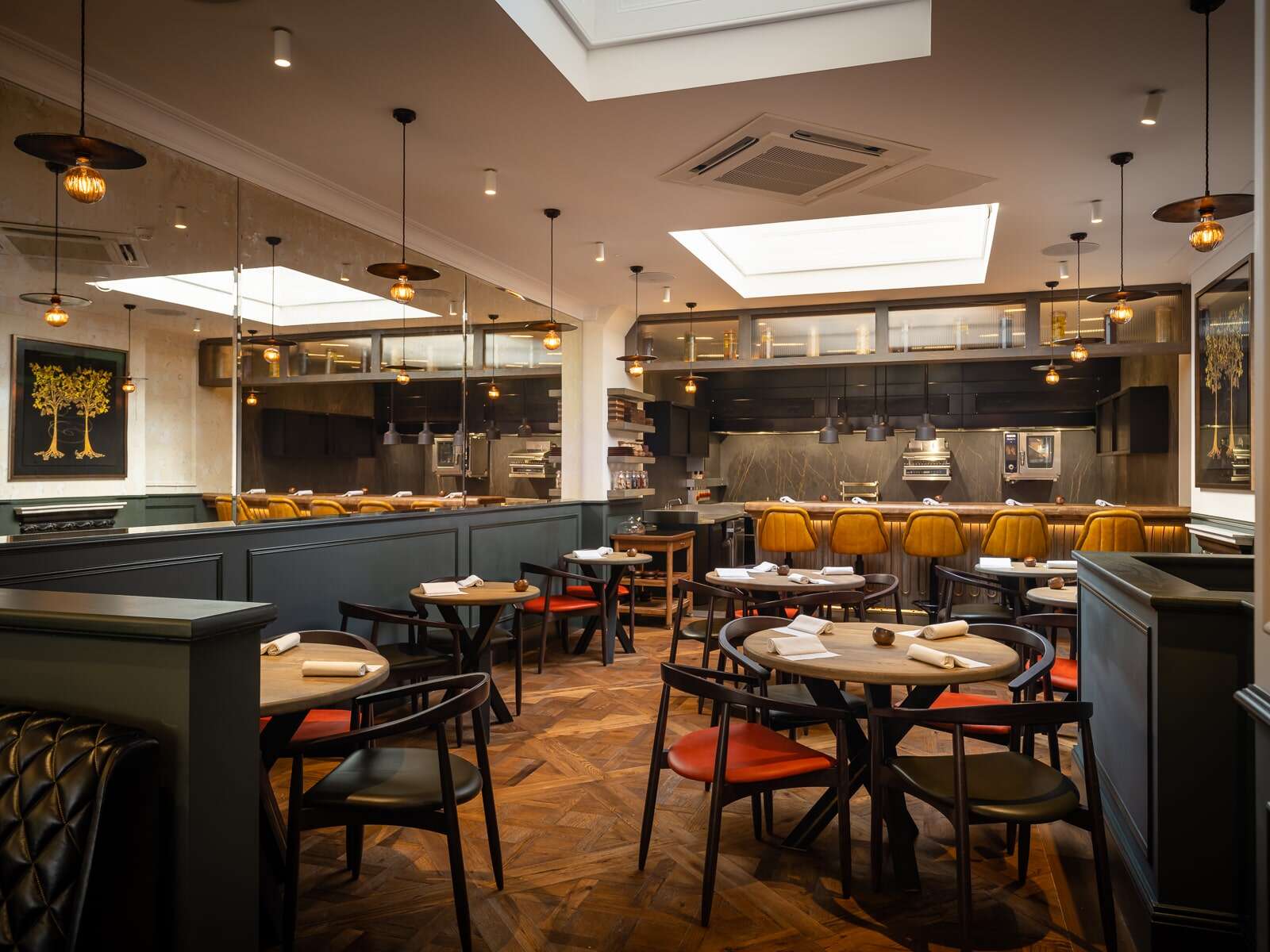 Chef
The Brighton restaurant scene is a tight-knit one, with a refreshing sense of comradery. Both front- and back-of-house teams are known to move around, and Furna chef-owner Dave Mothersill is no exception.
Although originally hailing from the opposite end of England in Yorkshire, Mothersill has called Brighton home for the past 20 years. It was here that he honed in on what is now his signature style, working at some of the city's finest restaurants including The Gingerman, Terre à Terre and The Salt Room.
The menus at Furna are each deeply personal to the chef, pulling flavors and ingredients from his upbringing and elevating them to lofty new heights. His care for the food he serves is evident not only in the menu itself but in the way he dutifully makes the rounds to explain a dish or two. If Furna and indeed Mothersill are a product of the Brighton food scene, we can be sure to expect good things to come.
[See also: The Most Anticipated Restaurant Openings of 2023]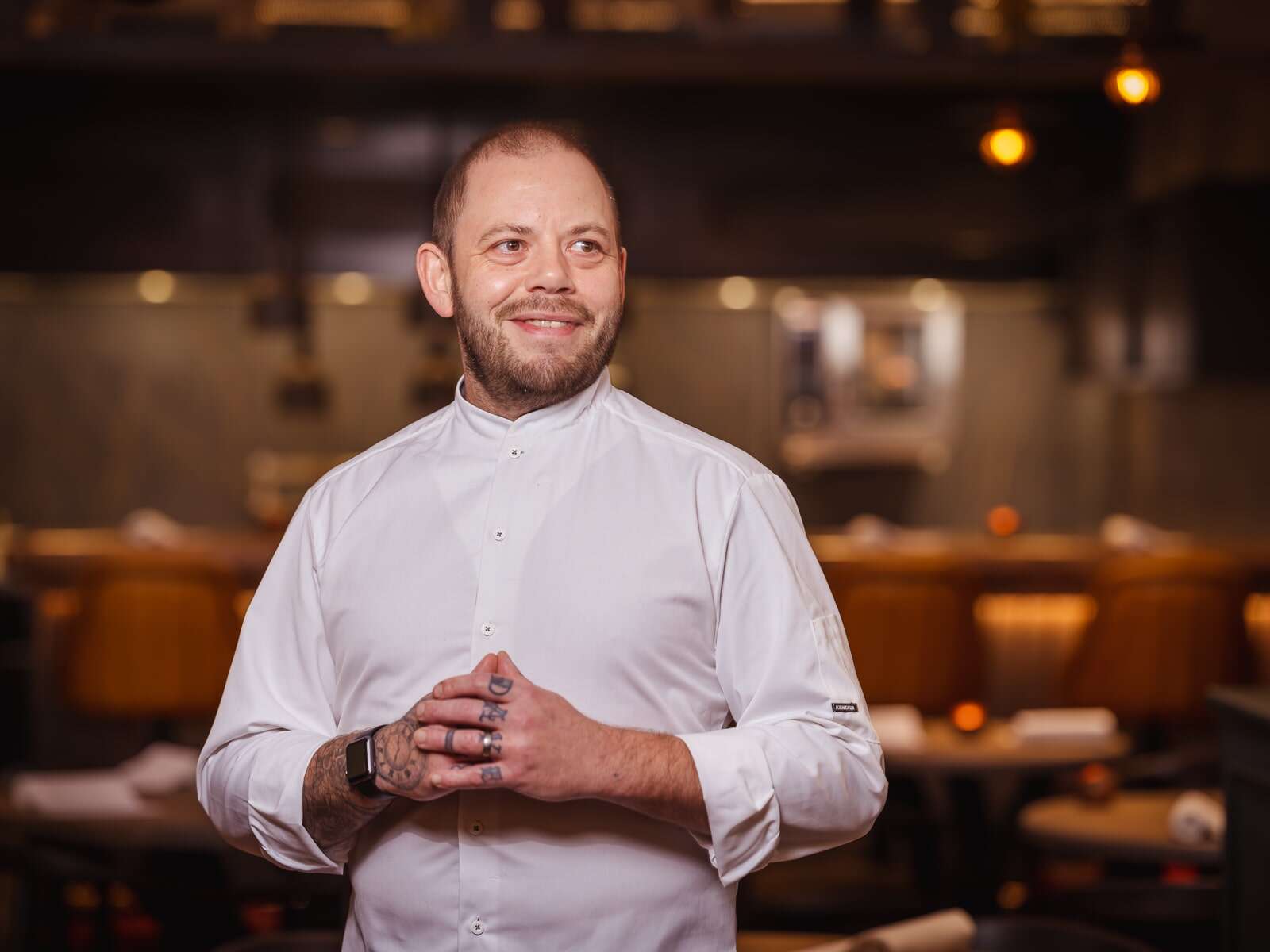 Menu
While high-end restaurants can often take the opportunity to play with expensive ingredients, resulting in menus that could alienate your average diner, Furna has its feet firmly on the ground. Mothersill hand-selects ingredients that are simple and familiar – but always seasonal and primarily British – and serves them in creative yet accessible ways.
Even better than the firm moral compass that Mothersill uses to source his ingredients though, is how devilishly unhealthy it all feels. The eight-course tasting menu kicks off with a trio of snacks, the best of which was a deep-fried heritage potato dolloped high with sticky confit onion, walnut ketchup and copious amounts of parmesan.
The bread course (the name 'Furna' is derived from the classic English surname Furner, which traditionally meant 'one who sets bread') is equally indulgent. Individually baked and milky-soft Parker House loaves are doused in lashings of thick, sticky honey and served with squares of homemade butter rolled in roasted yeast.
[See also: What to Expect from Yannick Alléno's First London Restaurant]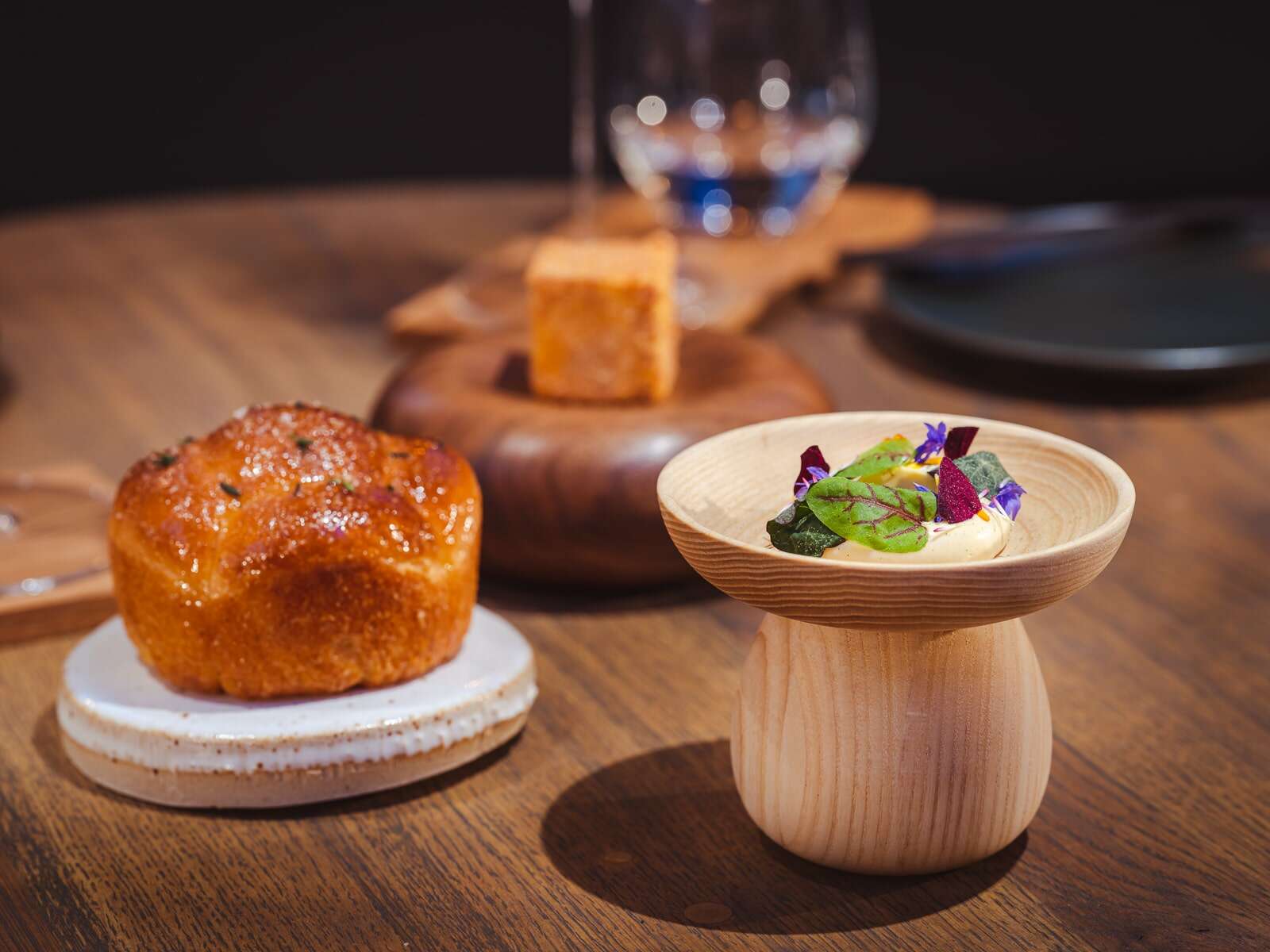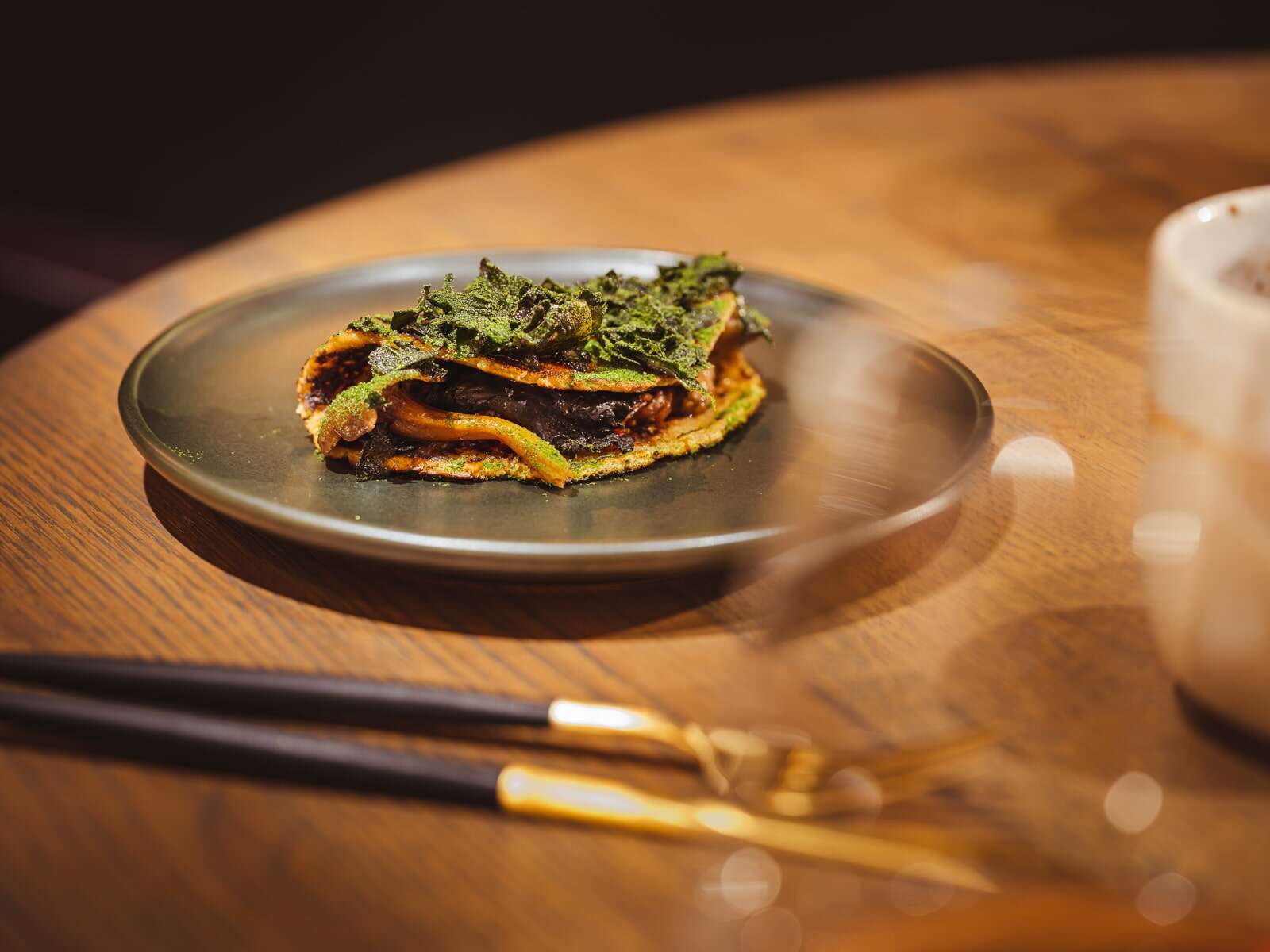 My favorite dish of sweetbread tortellini swimming in roast chicken sauce and finished with a lavish dousing of truffle was more like a savory version of a hot chocolate than any pasta course I've had before. This is rich, indulgent and completely delicious food that laughs in the face of those calorie-disclaimer regulations that bigger restaurants are subject to. Thank goodness for that.
Don't worry though, it's not all heavy. Lighter dishes come in the form of Cornish cod with celeriac, an airy apple foam and cutting smoked eel, and an off-menu version of everyone's favorite Chinese take-out order, the duck pancake.
The drinks menu is just as considerately created, and just as delicious. The wine pairing changes day to day, with sommeliers Ross Trueman and Lucy Lewis working closely with Mothersill to select the perfect accompaniments. You can expect some interesting bottles, with the team looking for labels that offer different takes on popular favorites. A highlight for us was the Sugrue South Downs Ex-Machina – a creamy yet brilliantly fresh English sparkling rosé.
Interiors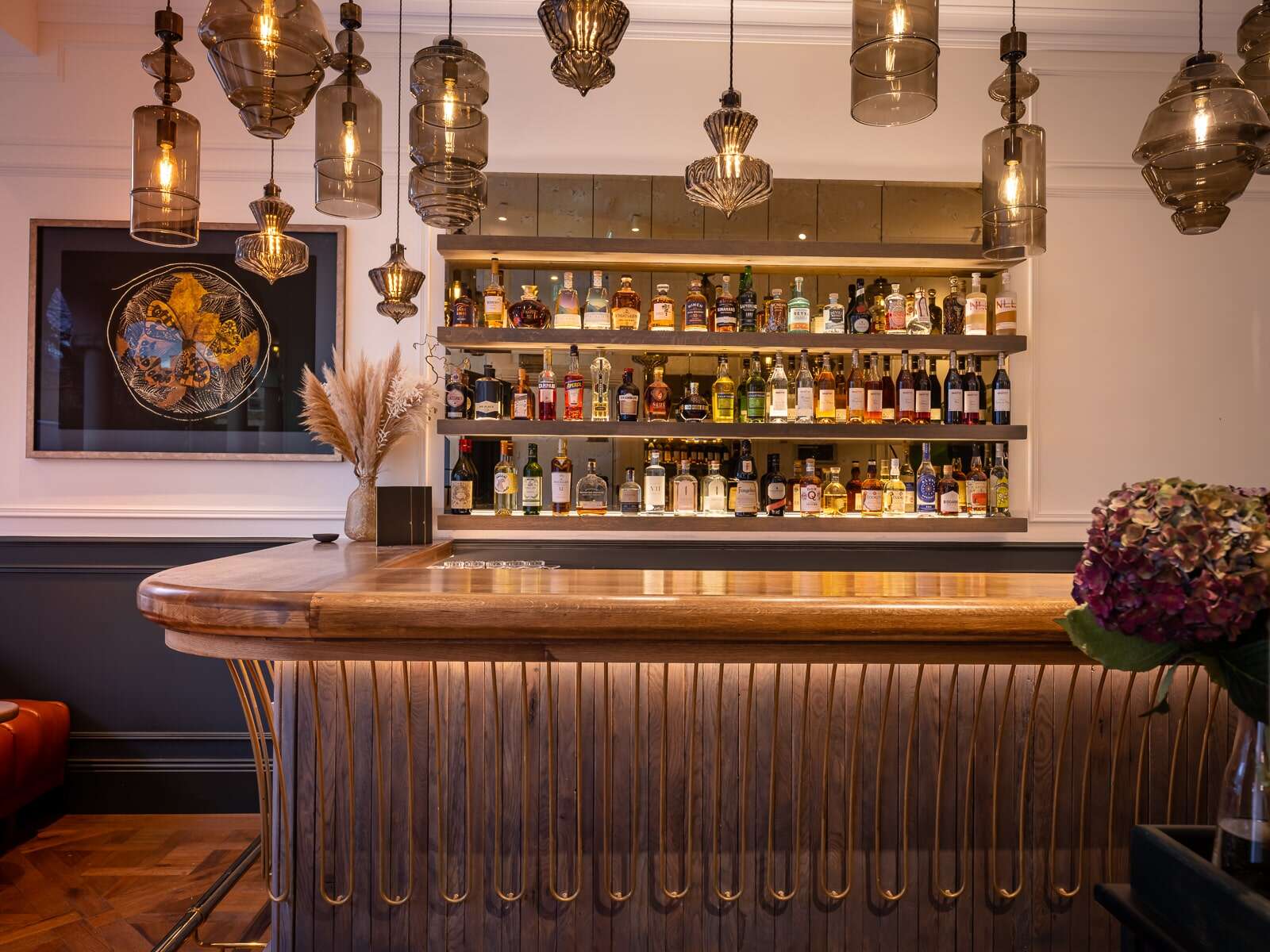 Furna is a small restaurant, which makes it all the more lovely. A bar stacked high with premium labels first welcomes diners (arrive a touch earlier for one of the signature cocktails) before heading into the main dining area. 
There is countertop seating for an intimate watch over Mothershill and his team at work, but truthfully, every table has a great view of the kitchen, so you don't feel like you're missing out if you miss nabbing one of these seats.
Paying homage to its Regency home, the restaurant has a grand interior design, with a heavy green color scheme accented with polished gold details. Tables are constructed from repurposed Sussex timber, with the wood-themed artwork of Sarah Arnett adding to the effect. The smart use of a fully mirrored wall gives the appearance of abundant space.
As well as the main dining room, Furna also has a separate private dining space offering space for eight. Tucked away from the main restaurant within its own private kitchen and with a view out to the well-stocked wine cellar, this might just be the most exclusive dinner setting in Brighton.
Furna, 6 New Rd, Brighton, UK, BN1 1UF
[See also: How the Prestigious Michelin Star System Really Works]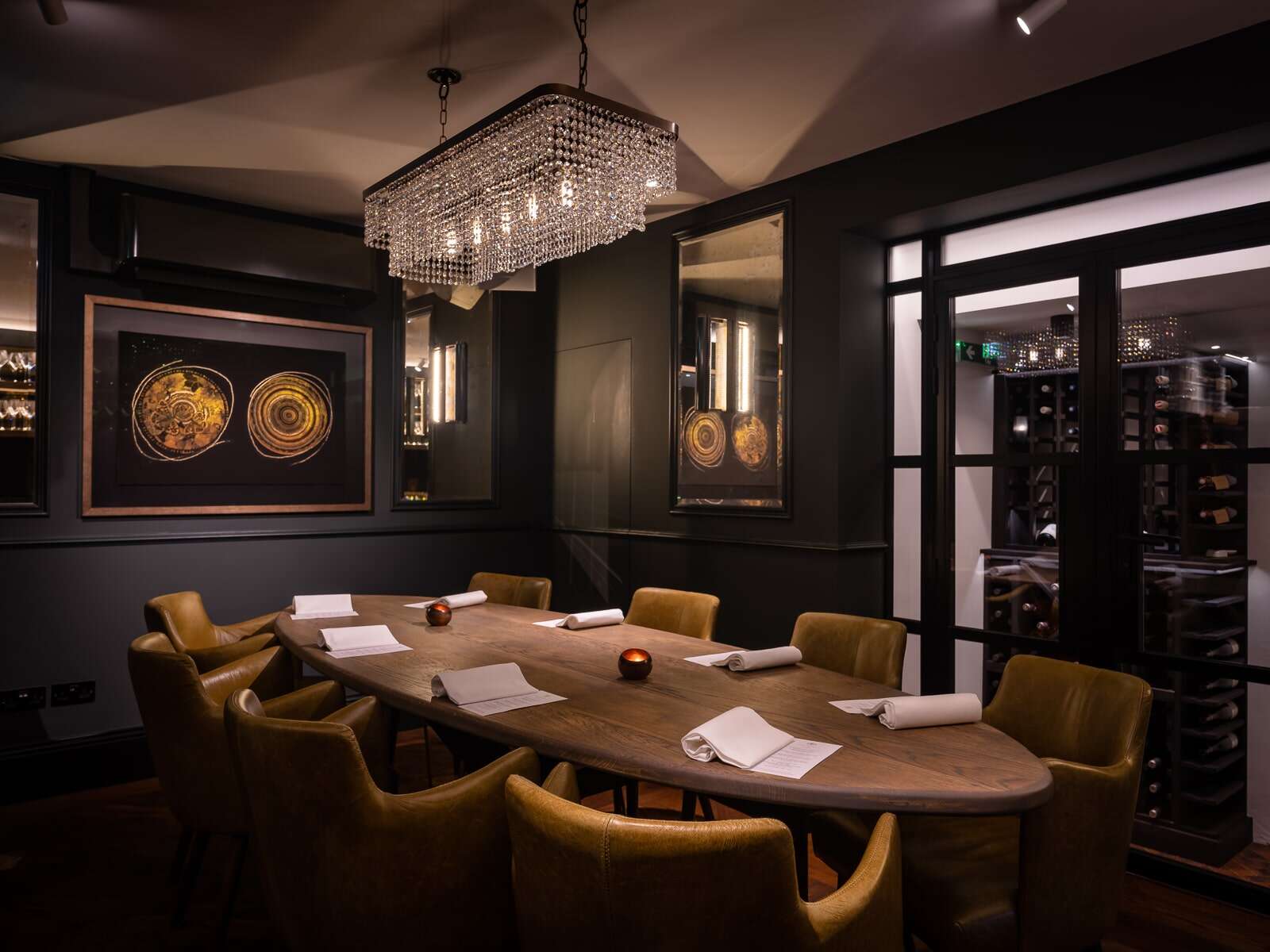 The private dining room seats eight / ©Paul Winch