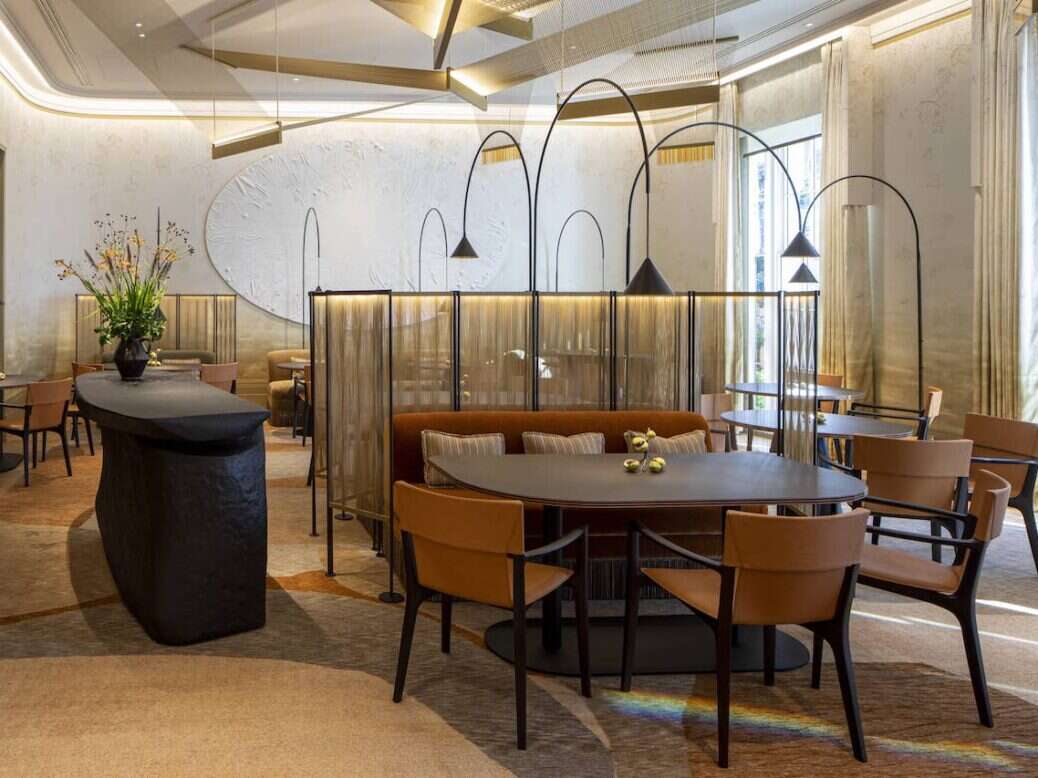 A weekend at Coworth Park, an outrageously luxurious country hotel that forms part of the Dorchester Collection, would always be a treat. Following the opening of its new restaurant, Woven by Adam Smith, it's a culinary adventure, too. 
Although it is billed as a new restaurant, this isn't strictly true. Before it came the Michelin-starred Restaurant Coworth Park which sat in the same space and was run by the same chef. Last September, however, the hotel revealed the result of a top-to-bottom refit: There were all-new interiors, a fresh menu and, crucially, a new name.
As expected, the levels of luxury are high – they have to be to fit in at Coworth Park. The hotel sits in one of the UK's most affluent areas and regularly draws Londoners to its lavish rooms and serene spa for some city respite.
[See also: The Most Anticipated Hotel Openings of 2023]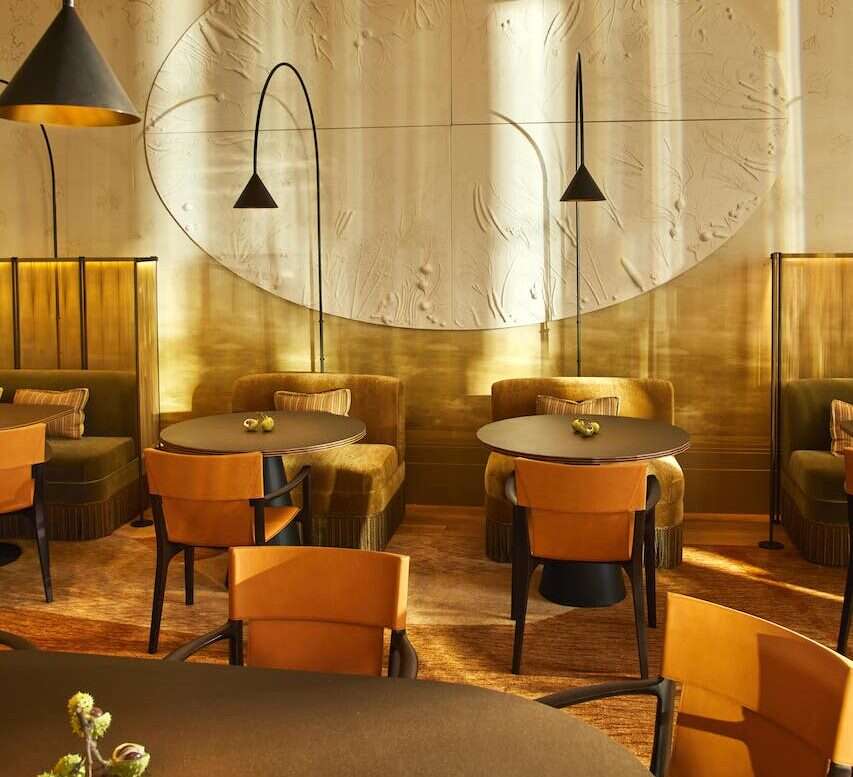 But, refreshingly, while Woven is undoubtedly a fine dining destination, and has all the extra touches to prove it, a meal here doesn't feel stuffy or pretentious. The young restaurant team is friendly and chatty, and the dining room has a relaxed buzz about it. Coworth Park's new dining destination is doing it right.
Chef
Although Woven is a new concept, Adam Smith has helmed the kitchens as Coworth Park's executive chef since 2016. Just one year after his takeover, what was then Restaurant Coworth Park earned its first Michelin star, a coveted accolade that it has retained ever since.
Smith started his journey to Coworth Park at London's famed The Ritz, where he joined as a teen and proved his skill as he climbed the ranks to eventually become executive sous chef. Next on his resume was a stint at The Devonshire Arms Hotel in Yorkshire as head chef. It was here, in a county so known for its bucolic landscape and long farming traditions, that Smith really got to grips with the caliber of British produce.
[See also: The Chefs With The Most Michelin Starred Restaurants]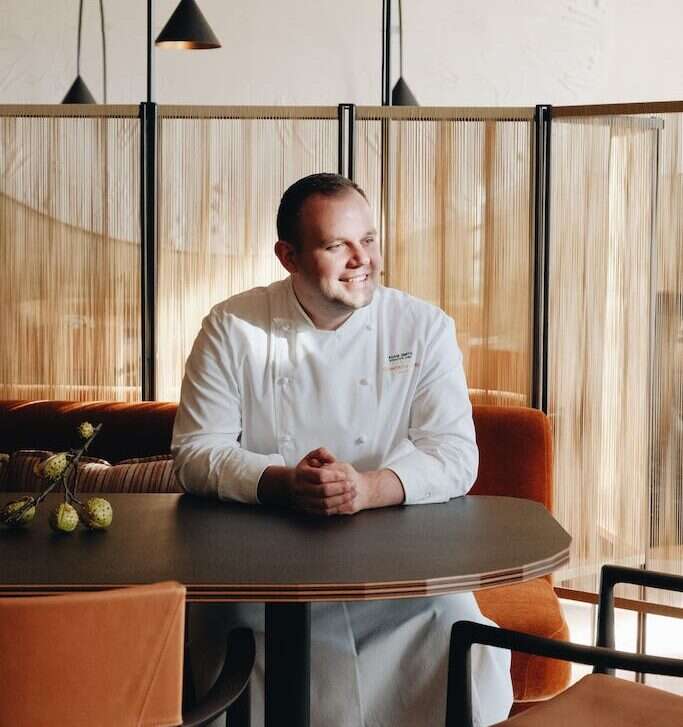 Woven stands out as Smith's most ambitious project to date – completely transforming Coworth Park's beloved (not to mention successful) restaurant is no mean feat. Less than six months in, however, and the risk is paying. The local regulars seem to be happy with the updates and the big news of a fresh menu and all-new interiors have driven a surge in guests visiting the hotel for the restaurant alone.
Far from hiding away in the kitchen during a busy service, Smith is clearly pleased to be the face of his new Coworth Park restaurant – a visit to Woven on a Friday evening saw him head into the dining room and serve each table at least one course.
[See also: The Most Anticipated Restaurant Openings of 2023]
Menu
'I find there's a rare pleasure in being able to bring together the finest ingredients on a plate,' reads the page in front of me. Each menu presents a different story of the British Isles and the bounty of ingredients it provides; mine was on the traditions of Cornwall's fishing harbors.
It's a lovely introduction to the experience to come and sets the tone for Smith's culinary style, which is dedicated to championing the finest ingredients from across all four corners of Britain.
[See also: Maru Makes Its Mark on Mayfair]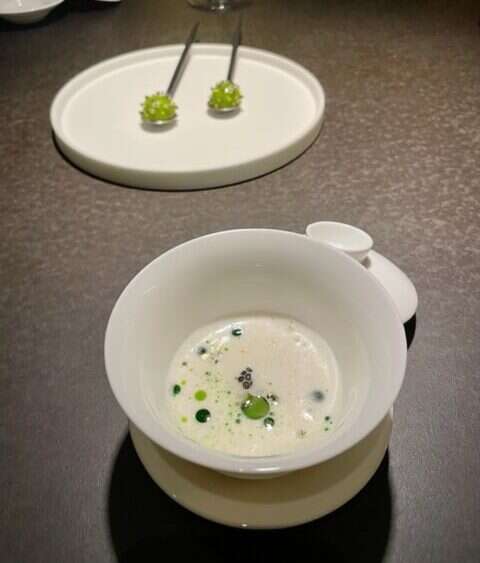 Unlike most tasting-menu-only restaurants, guests at Woven are afforded some say, with a choice in three of the five(ish) courses. One place where you don't get a choice, however, is in the snacks: These come out in a rapid flurry of bite-sized portions, each a fun take on a classic.
There's a chunk of tender lamb and mint sauce wrapped up in a crunchy lettuce leaf that acts as a dressed-up version of a kebab, while a delicate piece of skewered chicken is an upgrade on everyone's favorite retro sandwich filling, Coronation Chicken. Even the love-it-or-hate-it east London classic, the jellied eel, gets a makeover: Smith serves it as a rich, fishy chowder to be sipped out of delicate porcelain bowls.
The generous bread course, too, deserves special mention. There are five types, including a milky loaf slathered in estate-grown honey. The real star, though, is the cheesy, buttery croissant – a pastry on a bread board is new to me, and I won't be looking back.
The rest of the menu continues the same generous, fun theme: the star of the 'Larder' section was the disk of goaty Dorstone cheese, smoked in truffle and served with apple, but the seared scallop topped with liquid nitrogen-ified XO sauce boldly showcased Smith's creative flair.
[See also: What to Expect from Yanick Alléno's First London Restaurant]
We made our choice of mains but were told we'd inadvertently skipped Smith's signature Cornish turbot, but not to worry – here's a portion anyway. Its popularity is justified: silky turbot sits in a champagne bisque, topped with a lobster medallion, a dollop of caviar and tiny flowers. It's the kind of lavish, OTT and completely delicious dish that would only be served somewhere like this.
The cheese course is supplementary, but if you only take one piece of advice from us, let it be this: Do not miss the cheese. Ordering comes with an invite to the dedicated cheese room, where the resident fromage expert will talk you through the day's selection. Each one is British, with the line-up including a melting Brie-style baron bigot and a Cornish gouda. 
The wine list is extensive too but go for the wine pairing and expect some interesting labels courtesy of sommelier Jonathan Ellson. Our evening started with a bubbly made in West Brompton (an area of London most famously known as the home of Chelsea football club), with other highlights including a Danbury Ridge Chardonnay and a Klein Constantia Vin De Constance to finish.
[See also: Flore: A Sustainable Fine Dining Success in Amsterdam]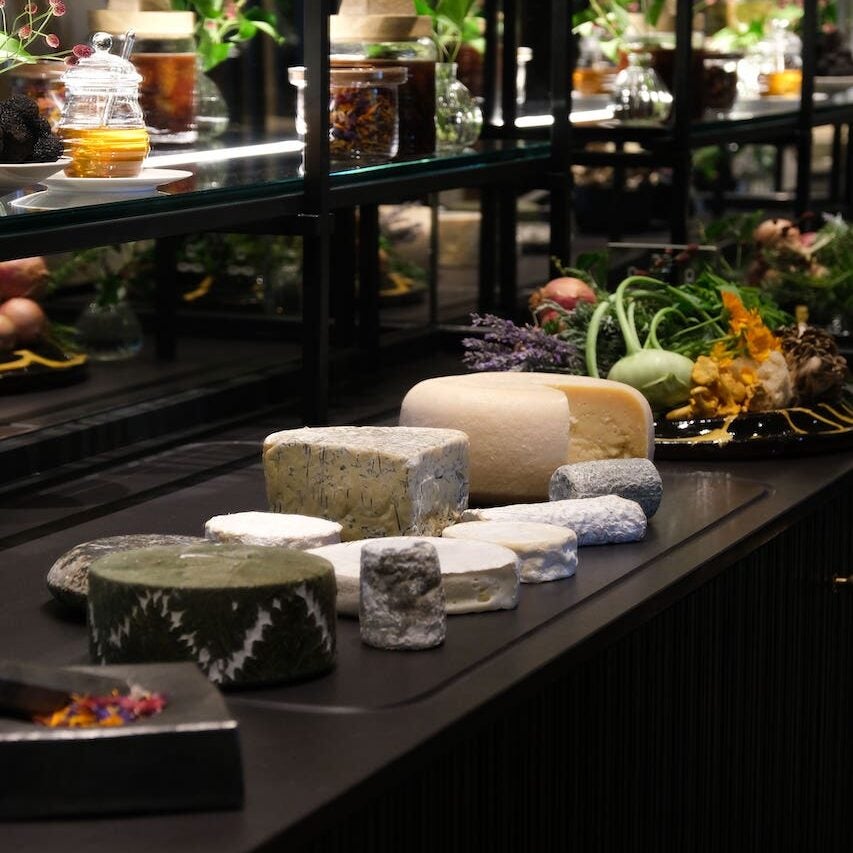 Interiors
Woven is separated from the rest of the hotel (which oozes more of an English-countryside glamor) by its sharp contemporary design. Fancy carpets and leafy wallpaper reminds us that, yes, we are still at Coworth Park, but other than that is all clean lines, earthy colors and modern accents.
Entry to the restaurant is through the pantry, which is flanked by two glass-front wine rooms, laden up to the rafters with bottles. In the central island, one of the chefs is likely to be found preparing one of the evening's snacks.
The restaurant's facelift came courtesy of London-based firm, Martin Hulbert Design, whose previous clients include the likes of Chewton Glen, The Dorchester Spa and Nobu Marrakech, as well a variety of presumedly very beautiful private homes.
The result is a slick space where every table feels like the best in the house; some sit in front of the huge windows, others by the wall with huge armchair-style seats. The room is small, but smart use of discrete dividing screens gives a sense of intimacy. Every element has clearly been planned to the most minute detail. 
As well as the 44-cover main dining area, there's a separate room which, with copious amounts of greenery and floor-to-ceiling windows, feels more like a Victorian glasshouse than a restaurant. This beautiful little spot can be booked privately for special events or exclusive dinners.
Woven by Adam Smith, Coworth Park, Ascot, UK, SL5 7SE
[See also: The Emerald Isle Welcomes Terre at Castlemartyr Resort]