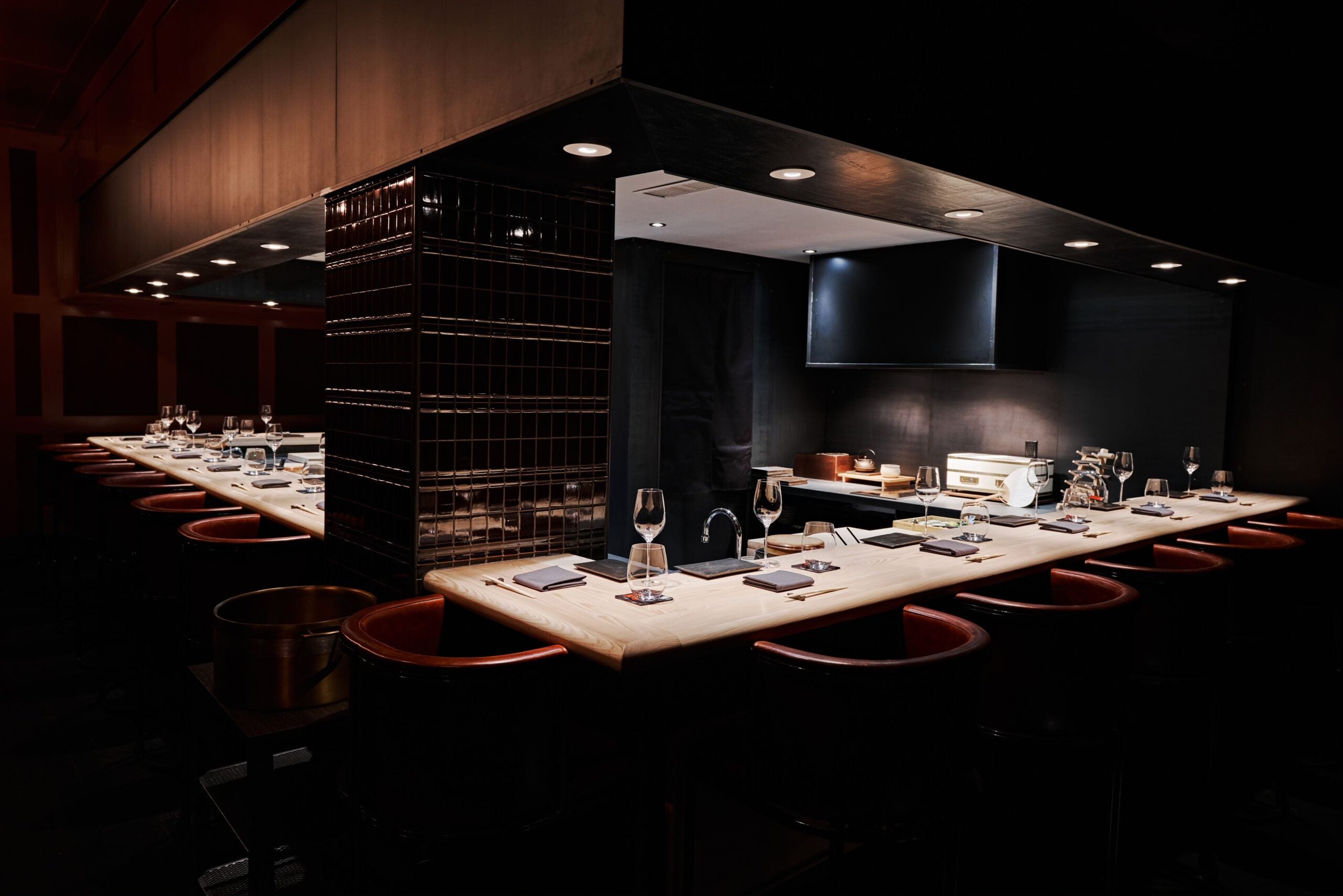 Like virtually every restaurant that has opened its doors in the past year or two, Mujo has been through its fair share of trials and tribulations. The concept was originally born as a response to the pandemic, with the team deftly setting up a high-end, at-home sushi experience. But finally, earlier this year, Mujo found a permanent home on Atlanta's 14th Street.
Helmed by executive chef J. Trent Harris and operated by Atlanta-based restaurant group Castellucci Hospitality Group, Mujo is on a mission to redefine Atlanta's sushi scene, offering an elevated, experiential omakase experience, rooted in intimacy, fresh ingredients and thoughtful cooking.
The goal here isn't to replicate the traditional sushiya (sushi restaurants) of Japan, but rather show respect to them through a modern lens. There are just four sittings of 15 guests a day promising an intimate evening of culinary performance.
[See also: The Most Exciting Foodie Cities to Visit in the US]
Chef
Although J. Trent Harris is originally from Kentucky it was, as you might have guessed, elsewhere that he developed his now-signature cuisine. His love of food took him to New York, where he worked at legendary Japanese restaurants, Shuko and Sushi Ginza Onodera, before heading to Tokyo to hone his craft at the city's own Sushi Ginza Onodera.
Having dined at Shuko, the president of Castellucci Hospitality Group Federico Castellucci, wanted to replicate this style of dining experience in Atlanta, and enlisted Harris to make his mission a reality. The pair first worked together on the pop-up concept, before eventually transitioning into the new brick-and-mortar restaurant.
Harris' cooking style holds true to the traditions of Japanese cuisine, with quality of ingredients and elevated technique held in the highest regard. His food is simple yet bold with creative touches making themselves known in every dish.
[See also: A Guide to All Three-Michelin-Star Restaurants in the USA]
Menu
Each evening, Mujo will reveal a new, specially created tasting menu, served omakase-style to the entire restaurant. The experience will begin with a delicate sakizuke (a similar concept to an amuse-bouche), before moving on to a series of small plates (Zensai), showcasing a variety of cooking techniques and Harris' high-precision style of cuisine.
This menu will vary but expect traditional Japanese delights such as Chawanmushi (a steamed egg custard) with black truffle, and Buta no kakuni, which features Ibérico pork with kabocha squash and Japanese curry.
Next up will be a procession of seasonal nigiri sushi, which might include kenmedai or tuna belly. The sushi served here is edomae style, which originated in Tokyo and is centered around marinating or curing the fish to reveal an even more complex flavor profile. On top of the standard set menu, there's also the option to add on special dishes from the evening, such as temaki sushi.
To round off the culinary experience will be an intriguing sweet served with a green tea. Like the rest of the menu, the dessert will change day to day, but the flavors will remain true to Japanese cuisine, with recent highlights including a Roasted sesame seed ice cream with miso caramel.
While some ingredients are, out of necessity, flown in from international suppliers, Trent prioritizes the bounty of produce from the surrounding area wherever possible. "I'm continually amazed at the doorstep ingredient dropoff from our farmers in Atlanta," he says. "The local produce and deep relationships are unique to this city and really allow us the opportunity to filter signature edomae through our own experience."
[See also: The Most Iconic Restaurants of the Elite Traveler Era]
After dinner, head to Mujo's cozy cocktail bar for a nightcap. The six-seater bar serves an impressive selection of sakes – order by the glass or choose a full menu pairing. There's also a menu of expertly crafted cocktails to choose from, too.
Design
Mujo has been artfully imagined by Elizabeth Ingram – an award-winning, Atlanta-based design studio specializing in sleek restaurants and residential spaces. The restaurant forgoes the traditional table-style seating in favor of countertop dining, with guests overlooking the kitchen action and served directly by chefs.
Upholstered walls, gold accents and rich furnishings create a super luxe feel, which is juxtaposed by natural southern Cypress counters. As per the signature Elizabeth Ingram style, the cozy atmosphere at Mujo is not only achieved through the limited seating, but also through clever use of lighting.
While much of the main dining room is shrouded in shadows, the counter-top tables that overlook the petite kitchen are brightly light, in the same way a spotlight hits a stage. The feeling of a theatrical performance is only exacerbated by the plush velvet curtains connecting the cocktail bar and the dining area.
Mujo, 691 14th Street, Suite C, Atlanta, GA, 30318
[See also: The Most Anticipated Restaurant Openings of 2022]