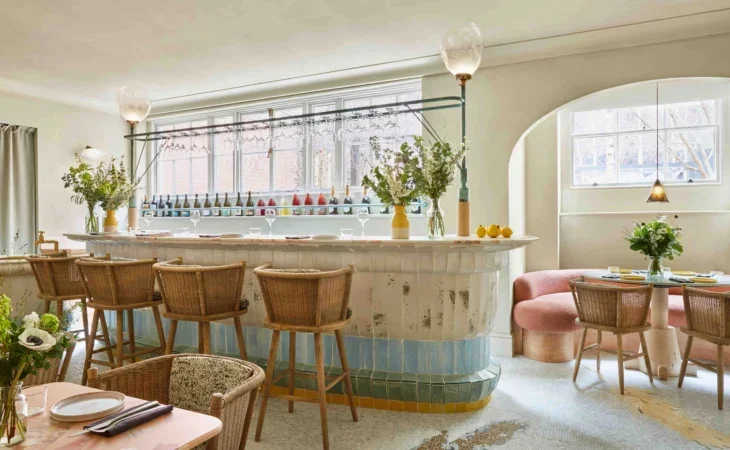 London is by no means short of zero-waste, eco-conscious restaurants, but, while being undeniably worthy, such virtuousness can sometimes leave guests feeling a little guilty when thinking about their normal, not-so-considerate eating habits. Native at Browns, however, is a little different. Yes, the planet still comes first, but nothing else is sacrificed; this is fun, accessible and, most importantly, delicious dining, with a moral compass to boot.
The restaurant's location inside a luxury department store feels like an odd match to begin with, but Native has lived many a life before settling in what now seems to be its forever home. The concept, imagined by college friends chef-owner Ivan Tisdall-Downes and restaurant director Imogen Davis, first came to fruition as a series of pop-ups, before its first brick-and-mortar destination opened in Covent Garden in 2016.
In 2018 it moved to London Bridge, followed by a residency on an island off the coast of Essex in 2020. Finally, in 2021, Native opened the doors to what is now Native at Browns, tucked away inside one of London's most iconic shopping destinations.
The main focus here is on wild ingredients but naturally, as an inner-city restaurant, relying solely on foraged goods poses some logistical issues. To get around this, Native has carefully selected an exclusive few farmers and producers to partner with, all of which share Tisdall-Downes and Davis's steadfast commitment to sustainability.
[See also: The Most Anticipated Restaurant Openings of 2022]
Chef
Unlike most of the chefs that dominate London's restaurant scene, Tisdall-Downes is almost entirely self-trained. He can't claim a childhood of home cooking with the family either. In fact, his first real exposure to proper ingredients was when his parents relocated out of London during his time at college, and he spent a summer in the countryside.
The natural affinity for wild ingredients actually came courtesy of Davis, who grew up foraging for edible treats in the English countryside. While neither initially had any solid hospitality experience before they came up with the concept for Native, Tisdall-Downes clearly foresaw the monumental task the pair were embarking on and secured stints at both the UK's beloved River Cottage and Dan Barber's iconic Blue Hill at Stone Barns in New York state.
It's clear that this experience, along with the many trials and tribulations of relocating and redesigning did the world of good, with both Tisdall-Downes and Davis routinely named as some of the most exciting names in London's culinary world. Now, the restaurant feels as slick as any led by an industry veteran.
[See also: The Chefs Fighting to Make Fine Dining Sustainable]
Menu
Fair warning: Native's menu is only accessed via a QR code. We tell you that from the get-go as the pandemic leftover can irk some diners. The digital menu is where the annoyance ends, however; Native's menu is a delight from there onwards.
The offering is split into loosely rounded sections. There are no rules really, but the top part of the menu can be described as snacks, then there are cold plates and appetizers, followed by a compact selection of entrées. Most dishes are intended to share (with one or two exceptions) and thank God – there would be some serious meal envy otherwise.
Ingredients being (mostly) foraged naturally means that the menu varies depending on both seasonal availability and Tisdall-Downe's latest culinary inspiration. Our visit in early summer kicked off with Native's take on the fast-food Fish Filet, complete with seaweed tartare and a perfect square of brown crab rarebit, sandwiched between a sweet brioche bun. The crispy Fish-trim toast with apple hoisin sauce (a posh version of everyone's favorite takeout dish, prawn toast) was another snacky highlight.
Cold plates of bite-sized Marketmore cucumber balls swimming in a fiery scallop hot sauce, and a salad of Nutbourne tomatoes with yesterday's bread and English feta-style cheese (Native's take on a Panzanella) acted as a refreshing bridge between snacks and appetizers. Next came the flagship dish: a gorgeously meaty skewer of wood pigeon, cooked rare and served with pickled cabbage and earthy beetroot hummus, all of which sits atop a pillowy flatbread.
[See also: Chantelle Nicholson on Getting Sustainable Fine Dining Right]
While the perfectly cooked Sirloin of Hereford beef drowned in an impossibly good scallop butter was melt-in-your-mouth delicious, the real surprise of Native's main course offering is the carrots. Served whole, coated with aromatic hogseed vadouvan, topped with its own tempura-fried tops and drizzled with hay ash honey, you'll struggle to think of the humble carrot as a mere side dish ever again.
As zero-waste restaurants go, the menu is pretty big at Native and overordering is a real risk. Make sure to save room for pudding though; the smoky-sweet Caramelized honey truffle coated in burnt Italian meringue is a must-order, as is the Oat milk sorbet wrapped up in lip-smackingly sour sea buckthorn. If you really are too full, though, finish your meal with one of the killer cocktails, many of which are made using Native's homemade tinctures and cordials.
Interiors
The layout of Native at Browns leads you straight out to its lush courtyard terrace, complete with cherry blossom, silver birch trees and herbs for the kitchen. While London weather allows for precious few days of alfresco dining, when the opportunity does arise, it's a real treat.
Back inside, the restaurant's bright interiors come courtesy of London-based architecture firm, Red Deer, which is known for its earthy, light style. Embodying Native's commitment to sustainability, the team at Red Deer sought to champion repurposed waste materials in the restaurant's design, as well as seek out the very best British craftspeople.
The striking central bar was handcrafted by ceramicist Emma Louise Payne, as was the egg-shaped sink that sits alongside it. For the soft furnishings, The Yarn Collective was enlisted to add some warmth and coziness to a bright space. Even the restaurant's floor is a work of art, with impossibly intricate mosaic tiling (complete with a mushroom, a squirrel and a handbag) telling the story of Native and Browns' collaboration.
The result is a space that feels perfectly at home in one of London's most high-end shopping boutiques, yet still retains Native's signature down-to-earth identity.
Native at Browns, 39 Brook Street, London, W1K 4JE
[See also: Trivet Restaurant, London: A Post-pandemic Success Story]