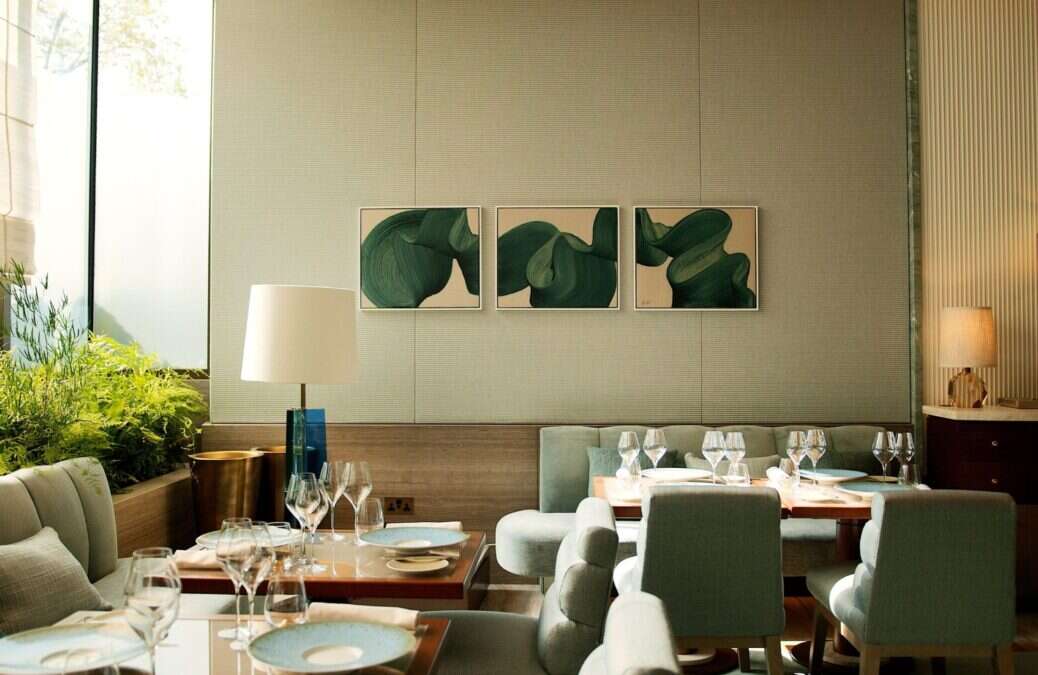 Sometimes a chef's reputation is so great, you face the inevitable fear that given the chance to sample their food, you will only ever be disappointed. This was the dilemma I faced when visiting Yannick Alléno's new restaurant, Pavyllon London, at Four Seasons Park Lane. With 15 Michelin stars to his name (the second most Michelin-awarded chef on the planet, preceded only by Alain Ducasse), I couldn't help but feel a little skeptical: Can his food really be that good?
The answer is a resounding yes. Alléno is known for his signature French dishes – eight of his stars are tied to his restaurants dotted across Paris, Saint Emilion and Courchevel – but the revered chef seems just as much at home in the UK's capital.
It came as little surprise when he chose the prestigious Mayfair hotel as the setting for his latest venture; Alléno's debut in London is, after all, a significant milestone in his career. To get to the restaurant you can either enter through a discreet door at the side of the hotel on Hamilton Place or walk straight through Four Seasons' hushed marble lobby.
We opted for the latter which made stepping into the restaurant all the more dramatic. Pavyllon London is centered around an open kitchen; chefs in crisp white hats chop, whisk and fry in perfect unison, while well-heeled customers look on from behind the wrap-around wooden counter.
The new restaurant has the kind of intimate, buzzy atmosphere that belies its recent opening date: it feels as though we've stumbled upon the type of establishment that could quite easily have been here for years. It's clear Alléno is ready to make his mark on London's fine dining scene.
[See also: Yannick Alleno Brings Pavyllon to Monte Carlo's Hotel Hermitage]
Chef
Alléno needs little introduction but for those that haven't come across the French chef before, we'll give you a whistle-stop tour of his career so far. Born in Puteaux just outside Paris, he grew up in a family of cooks; his parents ran a small bistro and his grandmother taught him to cook as a boy. By 15 he had entered his first professional kitchen.
From here, he leapfrogged between some of the best restaurants in the city, cutting his teeth at Le Royal Monceau under the guidance of Gabriel Biscay. But it was at Drouant – a legendary brasserie in the heart of Paris – that he really honed his skills, working closely with Louis Grondard.
By 1999 he secured his first head chef position at Scribe, scooping two Michelin stars within three years of taking over the kitchen. He joined Le Meurice in 2003, winning the coveted three-star accolade in just four years.
Having cemented his reputation, he opened his first eponymous restaurant, Alléno Paris, at the Pavillon Ledoyen to overwhelmingly positive reviews; it took him just seven months to gain three Michelin stars.
Fast forward to today and Alléno has amassed 15 stars across his burgeoning portfolio of restaurants, including the three-star Le 1947 at Cheval Blanc and the one-star Pavyllon Monte Carlo at Hotel Hermitage which welcomed its first guests in 2022.
The talented chef is known for his bold, complex sauces made using his signature extraction technique, and healthy desserts that swap refined sugar for birch sap and other natural alternatives.
Menu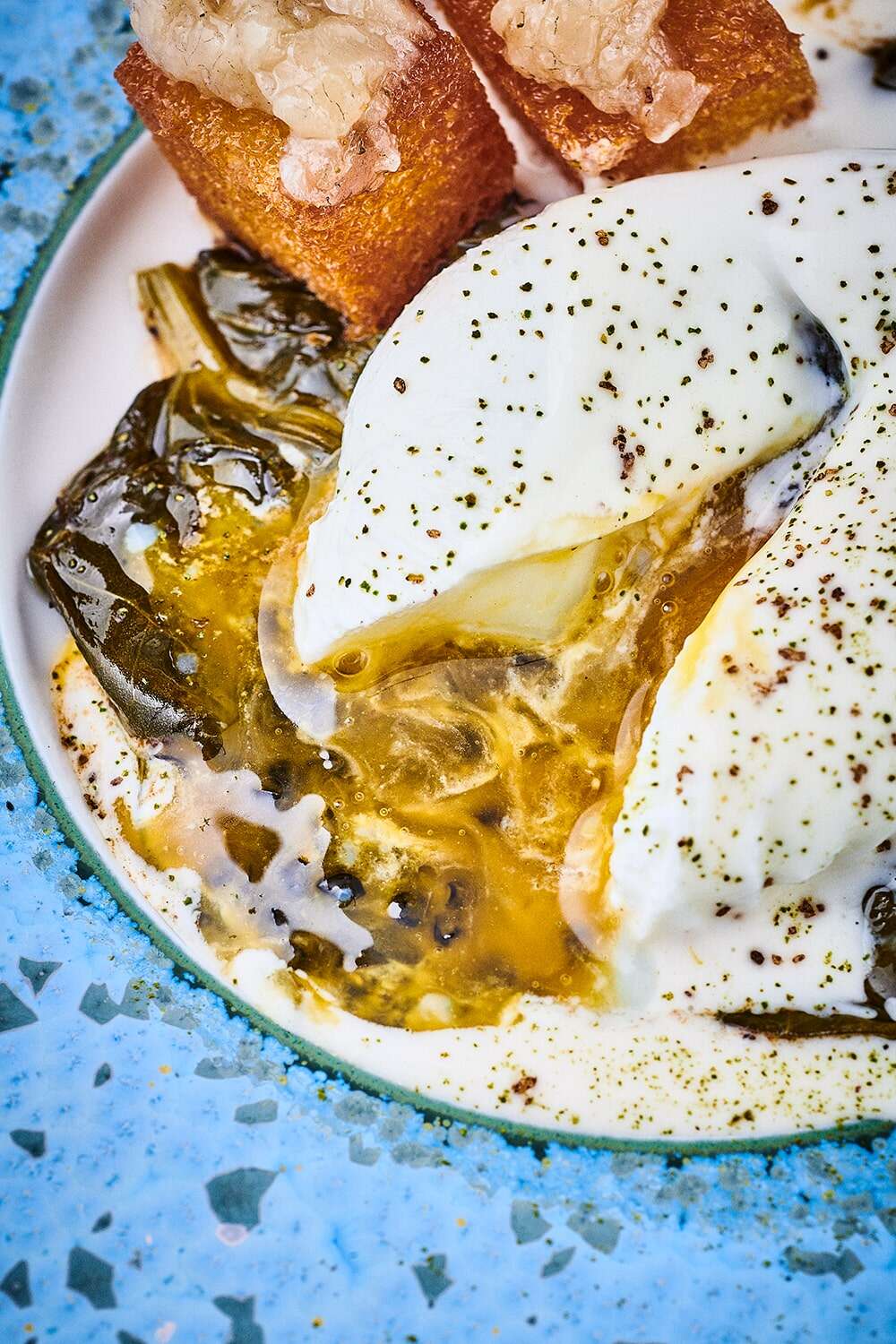 We kicked things off next door to the restaurant with a cocktail in Bar Antoine. Of course, these aren't your standard cocktails; the drinks list has been carefully crafted around the culinary techniques pioneered by chef Alléno (expect plenty of extractions and foams). If this sounds out of your comfort zone, don't worry – they still taste delicious. We opted for the Pear Sidecar: a heady mix of Hennessy, Cointreau, lemon and the magic ingredient: the restaurant's 'pear extraction'.
Next, we were whisked through to the restaurant where we chose to sit at the counter to watch the chefs in action. It's well worth sharing a portion of pasta to start (we had the linguine smothered in a vibrant green basil sauce and topped with langoustine).
The menu at Pavyllon London features an assortment of hot and cold starters (plant-based diners will be pleased to hear there's an entire section dedicated to veggies). If you want to try something with a wow factor, the star of the show has to be Alléno's signature 'badaboum' – cut into the perfectly poached organic egg and oscietra caviar oozes out.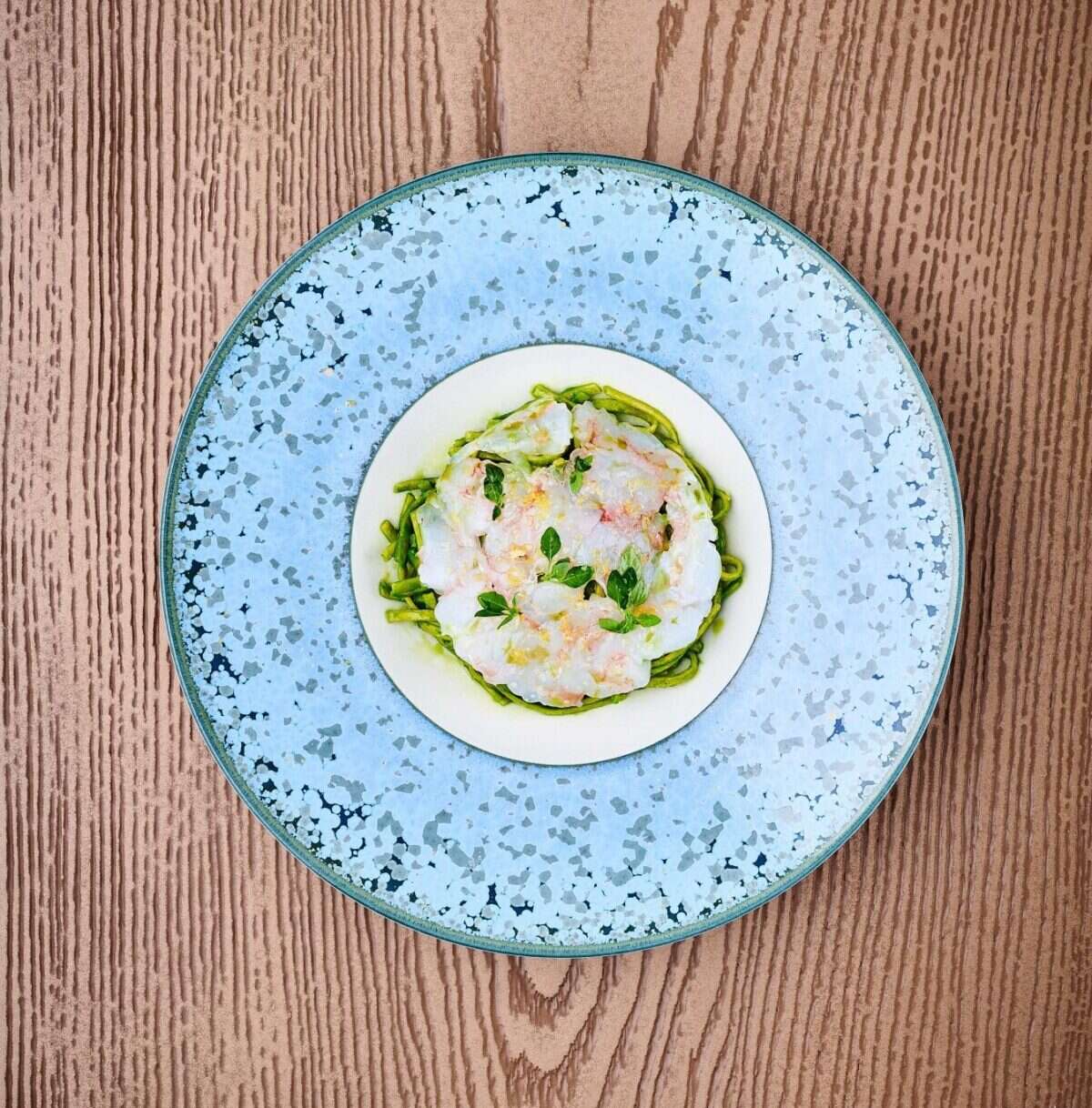 Mains are equally as decadent. The delicate charcoal-grilled blue lobster tail paired with rich mushroom duxelles was excellent, as was the thin langoustine tart topped with a silky beurre blanc sauce and, you guessed it, more caviar. For carnivores, there's also an impressive selection of meaty dishes spanning everything from beef fillet stroganoff to roasted crown of pigeon with foie gras toast.
If you can squeeze in dessert, you'll be glad you left room. Puddings offer a light respite from the heavier mains; the vanilla napoleon is served with refreshing sugar-free orange confit, or you can opt for something more traditional like Alléno's inventive take on Crêpes Suzette.
Interiors
We loved sitting up at the counter and watching the chefs, but if you're looking for something a bit quieter there are also plenty of tables in the main dining room.
Alléno brought in long-time collaborator Chahan Minassian to craft the elegant interiors at Pavyllon London (the Parisian designer also worked on Pavyllon Paris and Pavyllon Monte Carlo). Decorated in calming shades of pale blue and cream, with a curtain of shimmering golden beads separating the counter from the dining room, it's a lovely setting to while away an evening.
If you're only stopping for a drink, Bar Antoine next door is just as elegant: think wood-paneled walls, plush marine-blue sofas, and warmly glowing lamps. Come August, the restaurant is opening a sunny outdoor terrace, too.
[See also: Michelin Star Chef Tom Aikens on Risk-taking and Regrets]