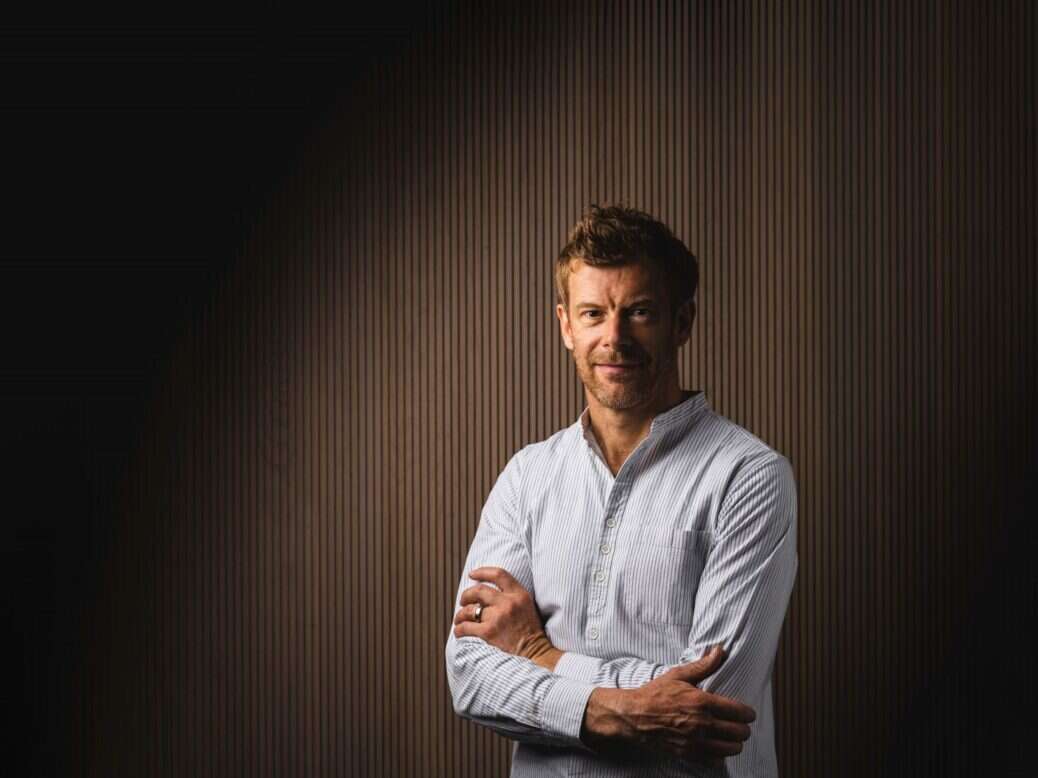 On my way to meet Tom Aikens at his Michelin-starred restaurant, I can't help but feel apprehensive. The chef has had his fair share of negative press over the years and is described as 'fiery' in more interviews than I can count. It's been over two decades since he allegedly lost his temper and branded a junior chef with a hot palette knife, and 19 years since the notorious missing spoon incident where he accused a well-heeled customer of stealing his silverware.
But the Aikens I meet at Muse seems to have mellowed. "If I could wind back the clock, I would tell my younger self to calm the fuck down," he says, in a voice so quiet it's almost imperceptible. "At the end of the day, there's no point in getting stressed about a plate of food. When I was younger, though, I just couldn't tolerate it. So, yes, I would lose my marbles quite regularly."
Behind him in the open kitchen, his team is slicing aubergines and prepping langoustine tails ahead of the evening service. Set within a converted Georgian mews house in London's leafy Belgravia district, the eatery has just 23 covers and is so intimate it feels almost as if you're at a dinner party.
[See also: Clare Smyth on Making her Mark in the World of Fine Dining]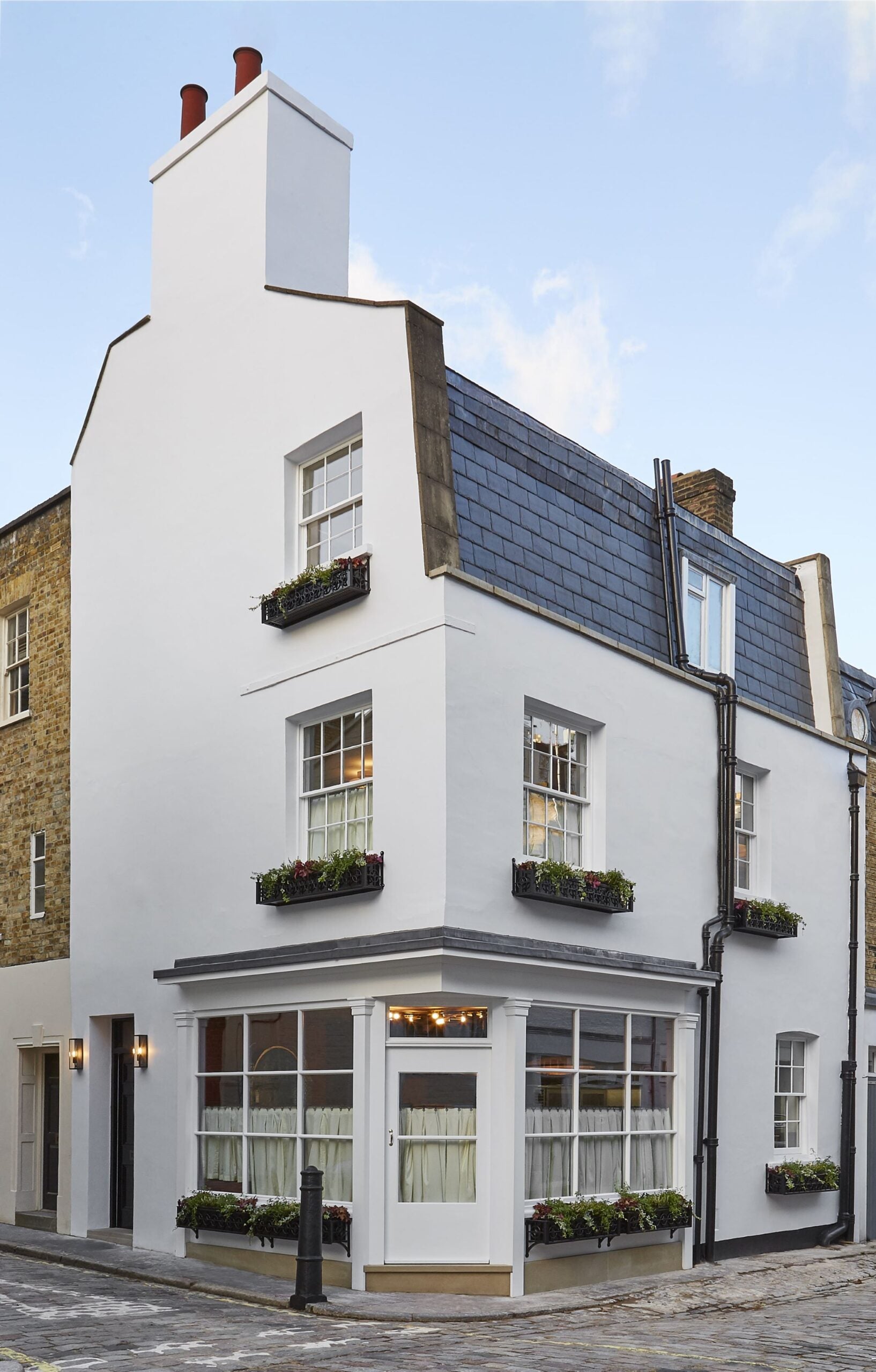 It's clear Aikens is in his element here. After becoming the youngest British chef to ever be awarded two Michelin stars – he earned the coveted accolade during his time at Pied à Terre when he was just 26 – the chef opened a slew of restaurants dotted across the globe.
He welcomed diners to Muse in 2020, quickly garnering a Michelin star. And, after years of graft, he finally seems to have relaxed enough to be able to enjoy it. "I don't put myself under so much pressure like I did before, probably because I don't feel I have as much to prove," he tells me. "I adore this place so much because, in a way, I now have the freedom to do what I really want."
For Aikens, a career in food was always on the cards. Growing up in Norfolk, his childhood was a happy one; some of his earliest memories are of cooking with his mother and growing vegetables in the garden with his twin brother, Robert. Summers were spent taking family vacations to the south of France (his father was in the wine business) and visiting vineyards, food markets and local bistros.
By the time he was 11, Aikens had decided he wanted to be a chef and called the local catering college to enquire about entry requirements. He was assured he wouldn't need any qualifications.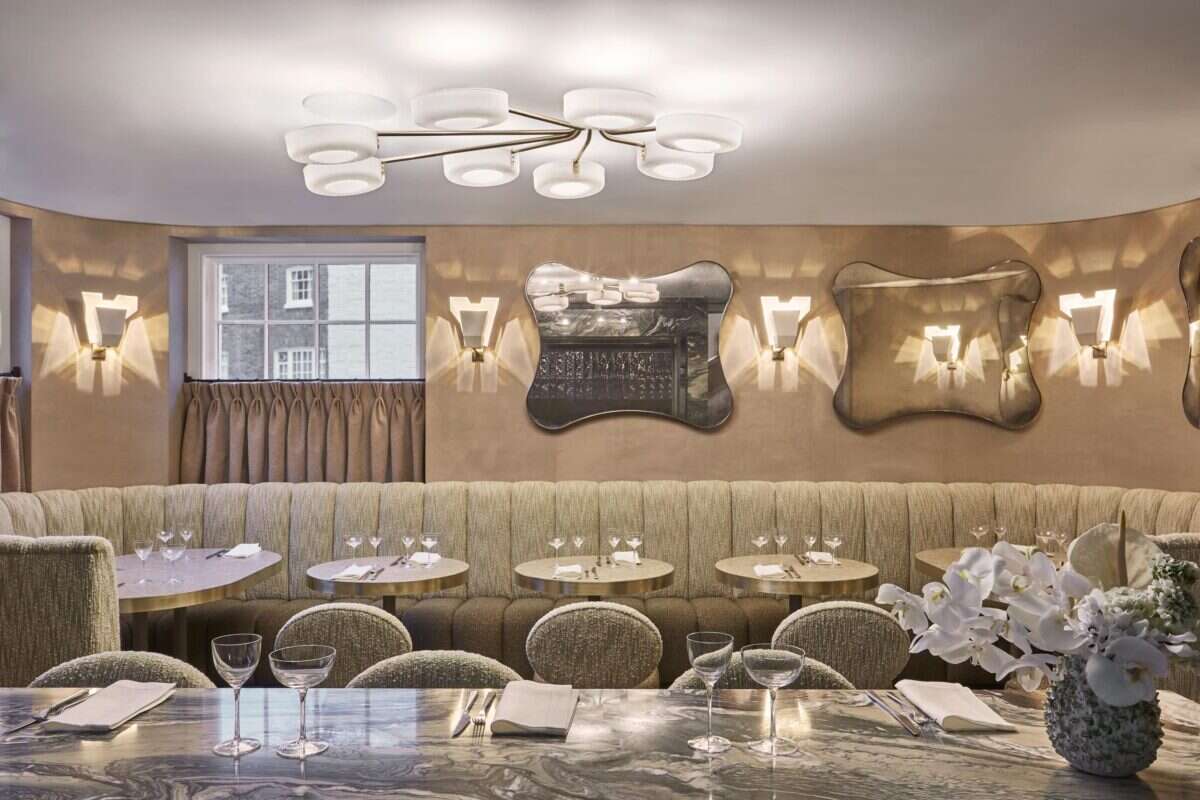 "I put my parents through four years of hell, just getting progressively worse and worse," he says, with a wry smile. "Teachers kept telling them 'Your son's a dreamer… a waster… he shouldn't even be here'. I promised I would revise for my last set of exams and, obviously, I didn't. My father went absolutely mental. At that point I had to fess up – I told him I had known all along I wanted to be a chef."
It was a quick turnaround. Aikens and his twin brother started catering college and rapidly went from the bottom of the class to the top. At 18, they moved to London and rented a flat together in Balham (he groans when he recalls their apartment) to pursue their careers as chefs.
Getting a job, however, proved more difficult than Aikens had anticipated. He was eager to work at one of the capital's top restaurants, but faced countless rejections as he didn't have any kitchen experience. Finally, he decided to offer his services for free in the hopes of securing a trial.
David Cavalier's Michelin star restaurant in Battersea was the first to reply. Following six months of unpaid work, Aikens was given his first job as a commis chef: "The doors had been opened".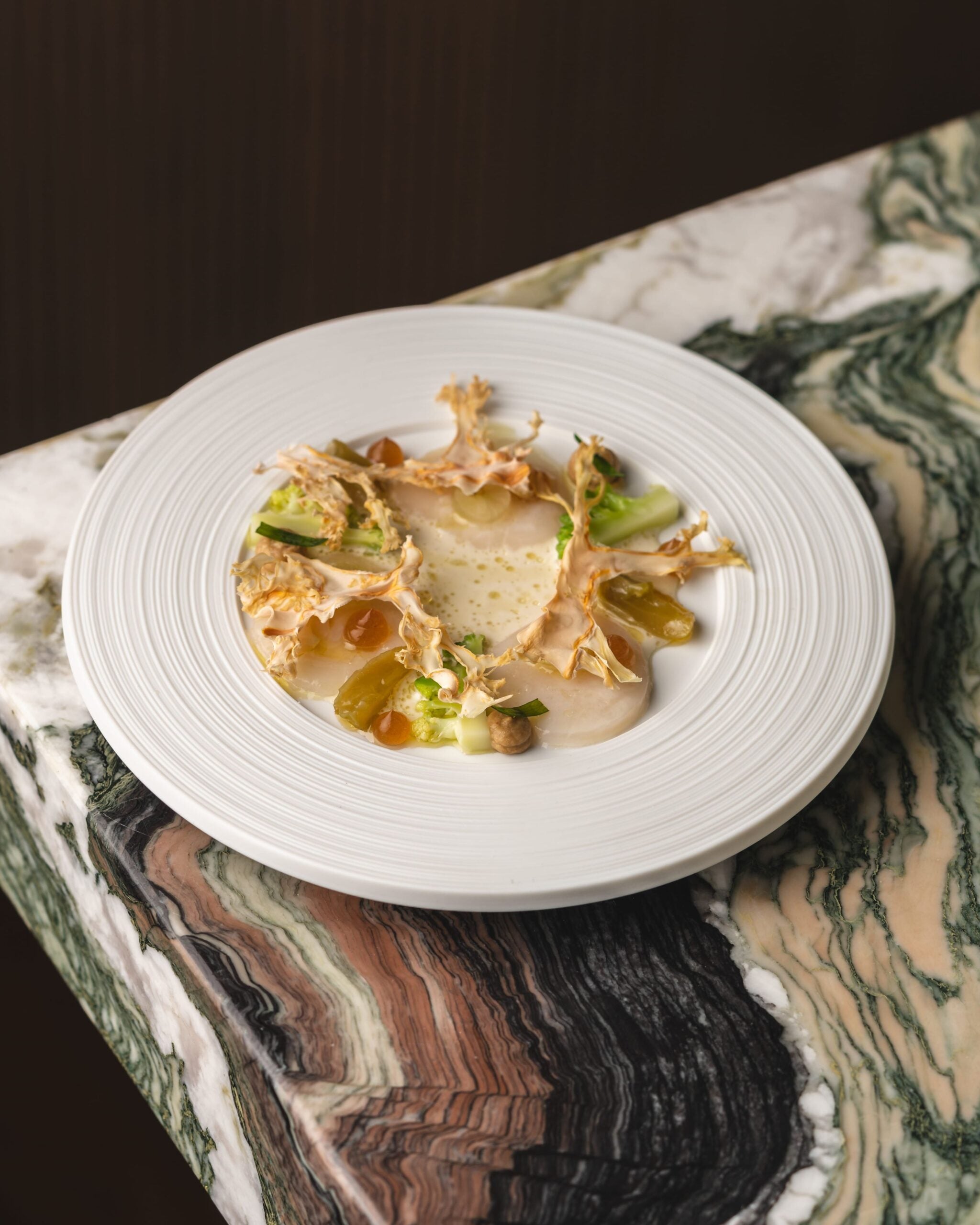 From here, Aikens leapfrogged between some of the best restaurants in London and Paris, honing his skills under the tutelage of Pierre Koffmann and Joël Robuchon. The pressure, as you would expect, was enormous.
"Koffman was very vocal, he was always shouting at you," he recalls. "Whereas Robuchon was like the dark destroyer: he wouldn't say a word and then suddenly he'd erupt. Lose his shit. Because he liked the kitchen to be in total silence."
"He would read out a check and call it and you weren't allowed to ask him to repeat it – you weren't even allowed to look at the dockets on the pass ever. You either had to remember it or write it down. If you messed up, you were out the door."
To say this period of his life was challenging is an understatement; during his time working for Robuchon, Aikens regularly worked 19-hour days for five or six days in a row. Somehow, he withstood the pressure.
"It's incredible to see how the body can cope when it's put under that kind of extreme," he says. "But every Thursday, like clockwork, I would have the headache from hell from sleep deprivation – nothing I took could stop the pounding."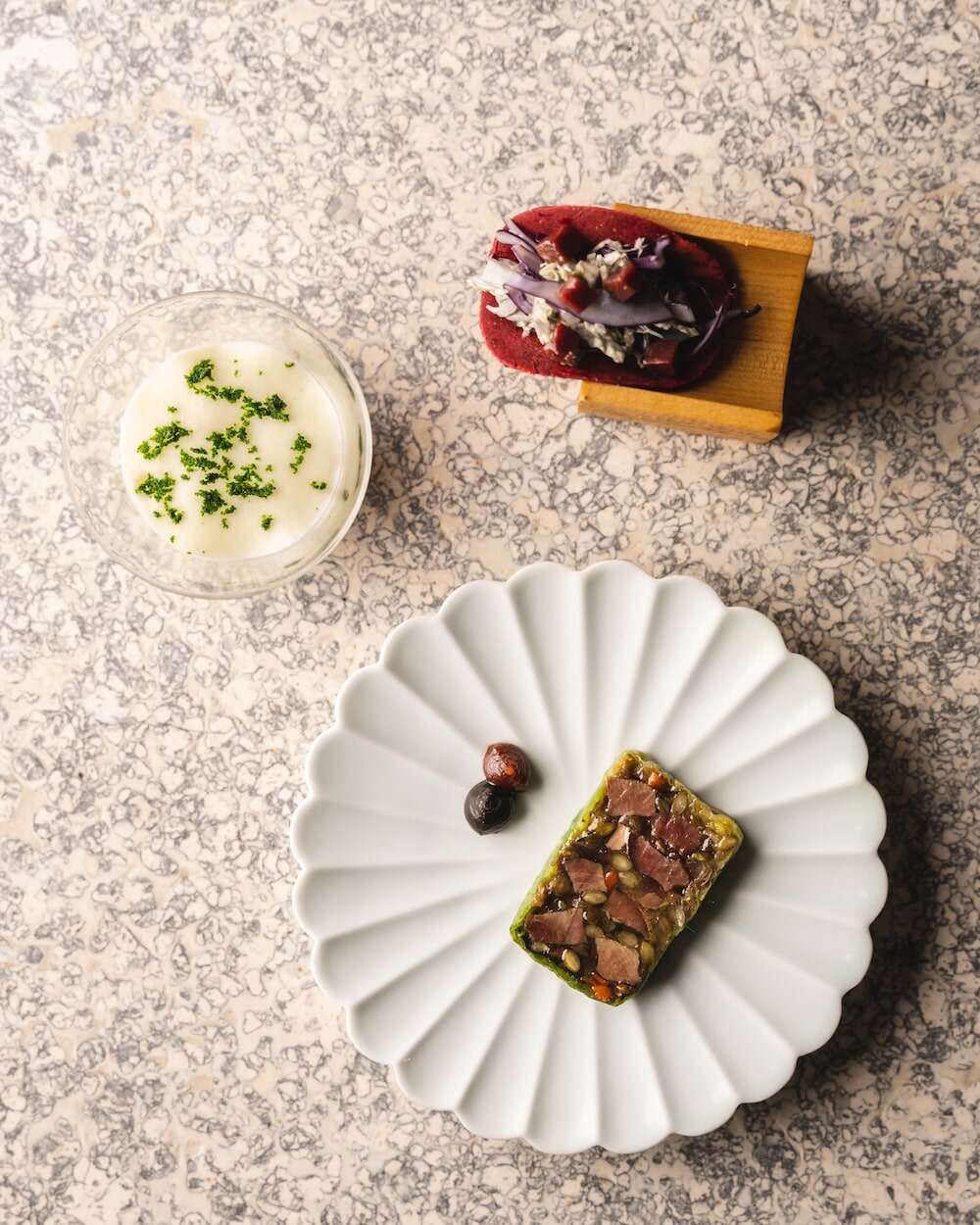 When I ask how this compares to his kitchen today, he tells me his chefs only work 55 hours, split across three-and-a-half days. Catching my raised eyebrow (this still sounds like a pretty grueling work schedule to me), he quips: "It's funny how you say 'Wow'… I'm like, 'It's a fucking holiday camp'".
That's not to say he didn't welcome change in the industry. Working under such huge pressure, he reflects, was no good for chefs or service, for that matter. These days at Muse, he tells me, he is much calmer. "If I was my 25 to 30… even 35-year-old self, I probably wouldn't have any staff left," he admits.
Muse was an opportunity for Aikens to focus on the type of cooking he loves, creating an ever-changing eight-course tasting menu centered around local and sustainable produce. Of course, it is no ordinary restaurant; guests are treated to an 'experience-led' journey inspired by 'pivotal moments' from his lifetime.
What does this actually mean? Essentially, explains Aikens, there is a story behind every plate of food. His signature dish – named 'Conquering the Beech Tree' – is a grilled langoustine tail drizzled in a rich pig trotter jus and topped with finely sliced cured pork fat. It's finished with a langoustine sauce made with pickled apple, a burnt apple purée and a dash of vanilla and jasmine-infused olive oil.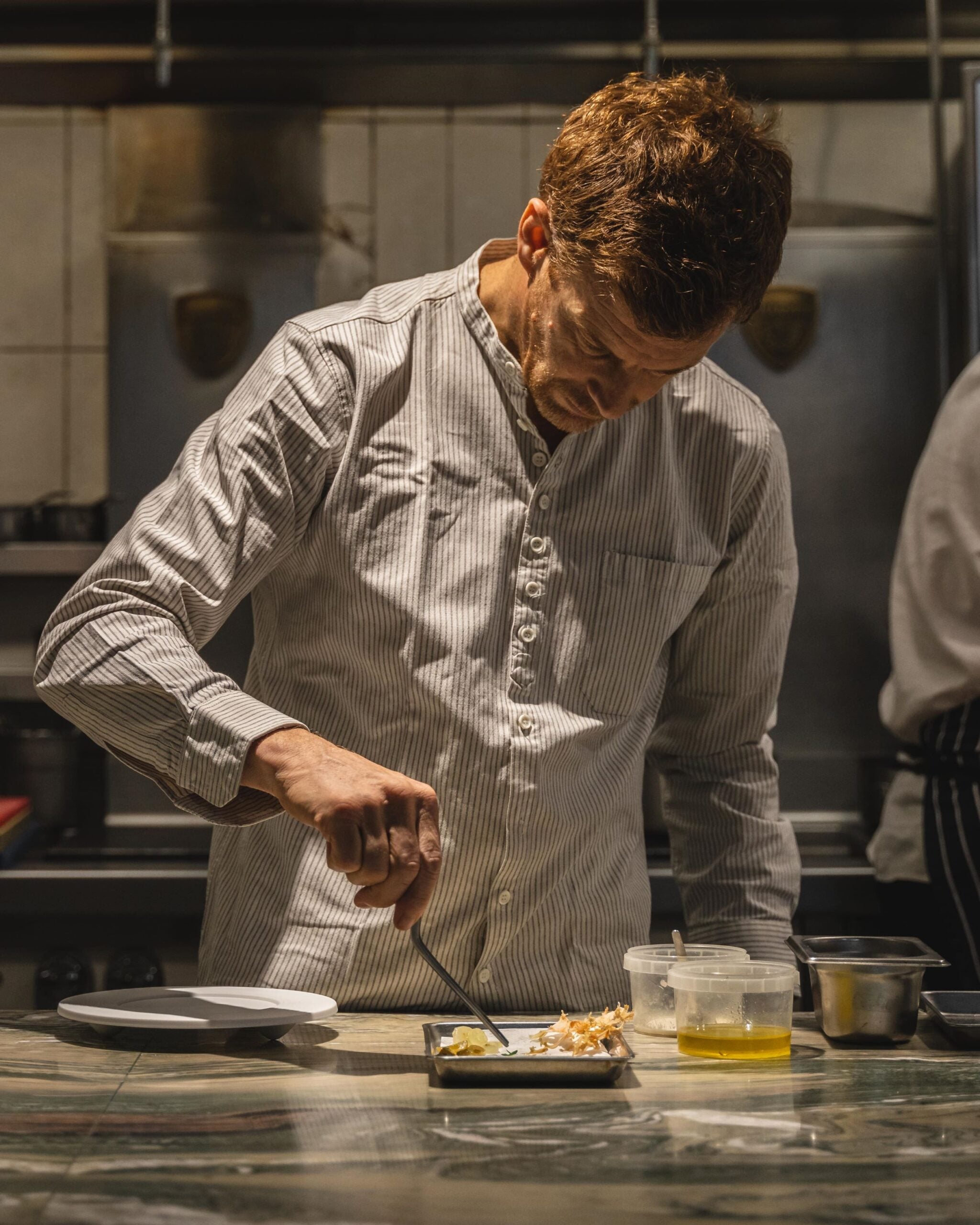 "We used to have this copper beech tree at the bottom of our garden that was pretty bloody big," he tells me. "And, of course, as a little boy, I used to like climbing trees. Scaling the copper beech tree is a bit like creating a new dish: it's a little bit of apprehension, adrenaline, and fear. And then, when you get to the top, and someone's eating the dish and they're happy, you feel elated for having conquered that fear."
I ask how it feels, having poured his heart and soul into crafting these dishes, for some sections of the British press to give him a particularly hard time (one newspaper memorably questioned if the menu at Muse was the most pretentious ever created).
"I really don't care," he says, a beat too quickly for me to fully believe him. "They just don't get it. Quite frankly the nature of the beast is that you're never going to be able to satisfy everybody." Besides, he continues, "I've developed a thick skin – you learn to mute it out."
Perhaps Aikens got the last laugh, anyway. Muse scooped a Michelin star within a year of opening and received overwhelmingly positive feedback from critics.
Despite his calmer demeanor in the kitchen, he is showing no signs of slowing down. Today, Aikens splits his time between Muse and his restaurants in Tokyo, Abu Dhabi, and Jakarta. "My wife definitely says I still work too much," he says with a smile. "But I love my work – I really do."