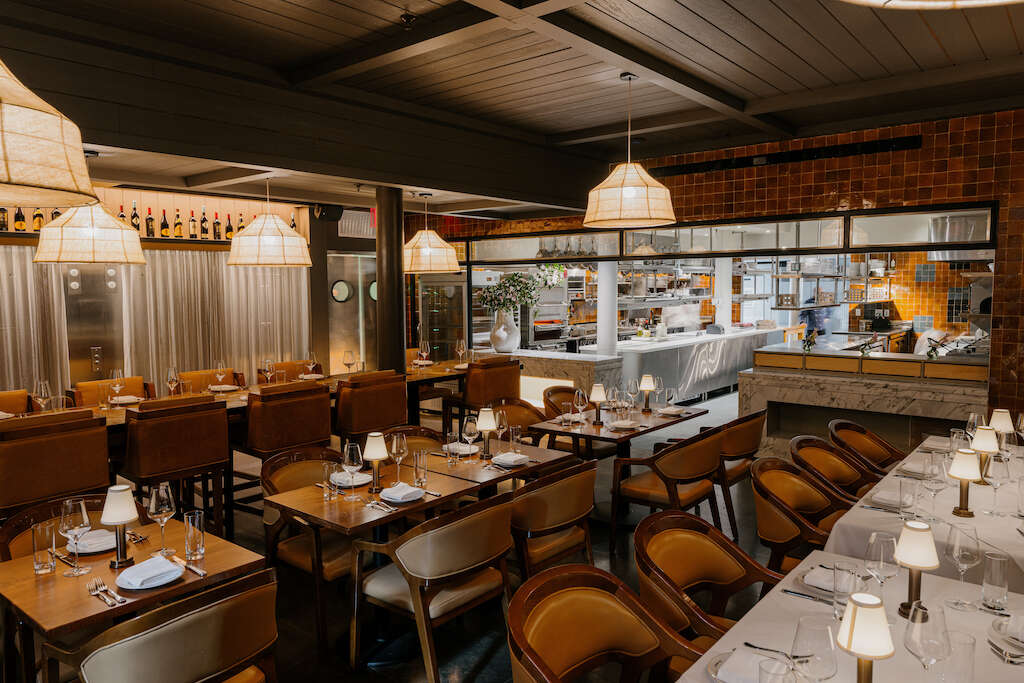 Even if you don't know Scott Sartiano's name, the chances are you've visited at least one of his NYC establishments – the hospitality veteran founded the company behind the likes of Rose Lane, Zero Bond and Darling, Bond Hospitality.
Now though, he is putting that name front and center with the launch of Sartiano's, his eponymous restaurant which opened under the Mercer Hotel on June 15. Pulling inspiration from Sartiano's Italian background, the restaurant is aiming to put an elevated twist on European classics, and with a lighter touch than that which you'd usually expect of a nation so in bed with carbs – there is more to Italy than pizza and pasta, you know.
"For years I've envisioned opening a restaurant that captures the essence of my family's journey across Italy and the United States; and when the Mercer Kitchen space became available, it seemed like fate," says Sartiano.
"This iconic hotel and legendary SoHo corner have held special places in my heart. Mercer is the center of gravity for downtown NYC, and I've marked countless moments and milestones here throughout the years. I am thrilled to occupy this historic New York City space and share my family's culinary story with all who step through our doors."
[See also: The Best Restaurants in New York City]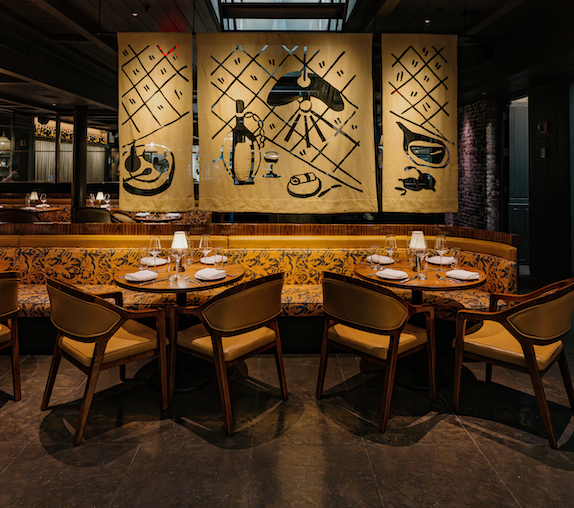 Chef
Sartiano's name might be above the door, but the food that leaves the kitchen comes courtesy of culinary director Alfred Portale and his right-hand man, executive chef Chris Lewnes. 
Three-time James Beard award-winning Portale arrived at Sartiano's with a 30-year tenure at NYC's legendary Michelin-starred Gotham, from which he departed in 2019 to open his own eponymous restaurant in Chelsea.
Under him, Brooklyn-born chef Lewnes is set on sharing the Italian-American cuisine of his upbringing on a grand scale. On his CV are stints at Bâtard, Augustine Restaurant in the Beacon Hotel and as chef de cuisine at American Brass.
[See also: The Best Private Dining Room in NYC]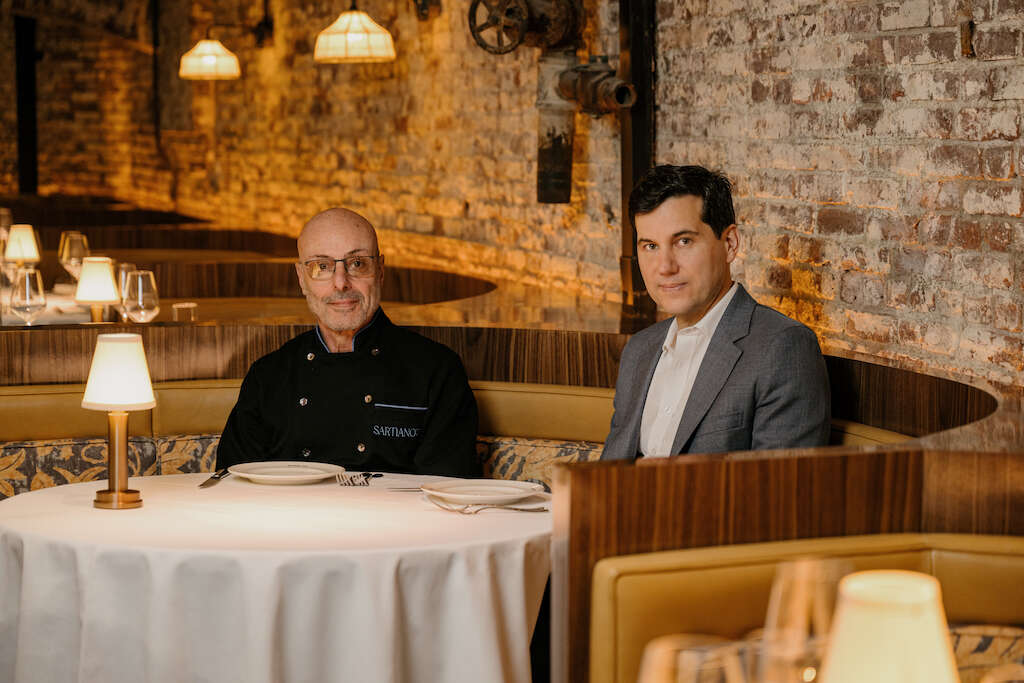 Menu
"Our aim was to craft a menu that presents Italian cuisine through a contemporary lens, while maintaining a sense of familiarity," Portale explains. "Through the meticulous selection of fresh, high-quality ingredients, we have curated a culinary experience that ignites nostalgic emotions, all while offering elevated and innovative flavors."
That menu leads with a caviar service – served either with the traditional accompaniments or in a miniature cannoli with whipped mascarpone – before moving into a selection of light crudo and insalata dishes. 
[See also: The Best Rooftop Bars in NYC]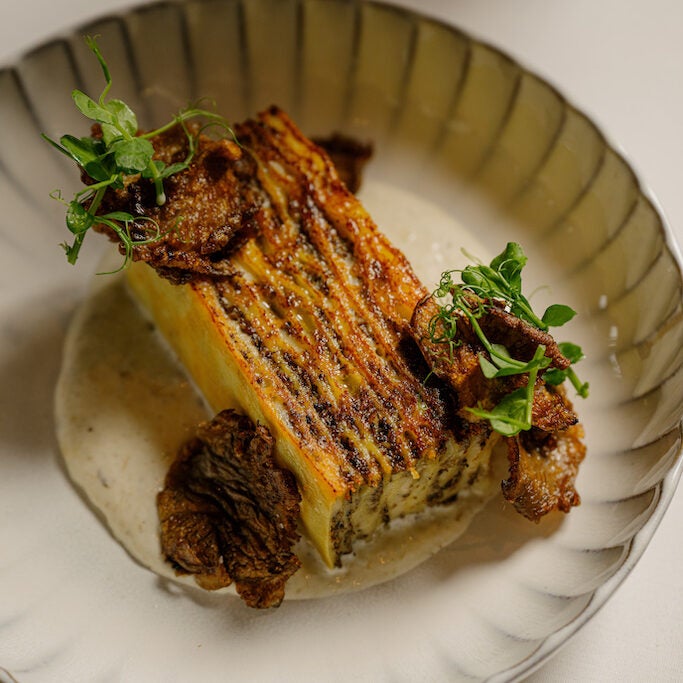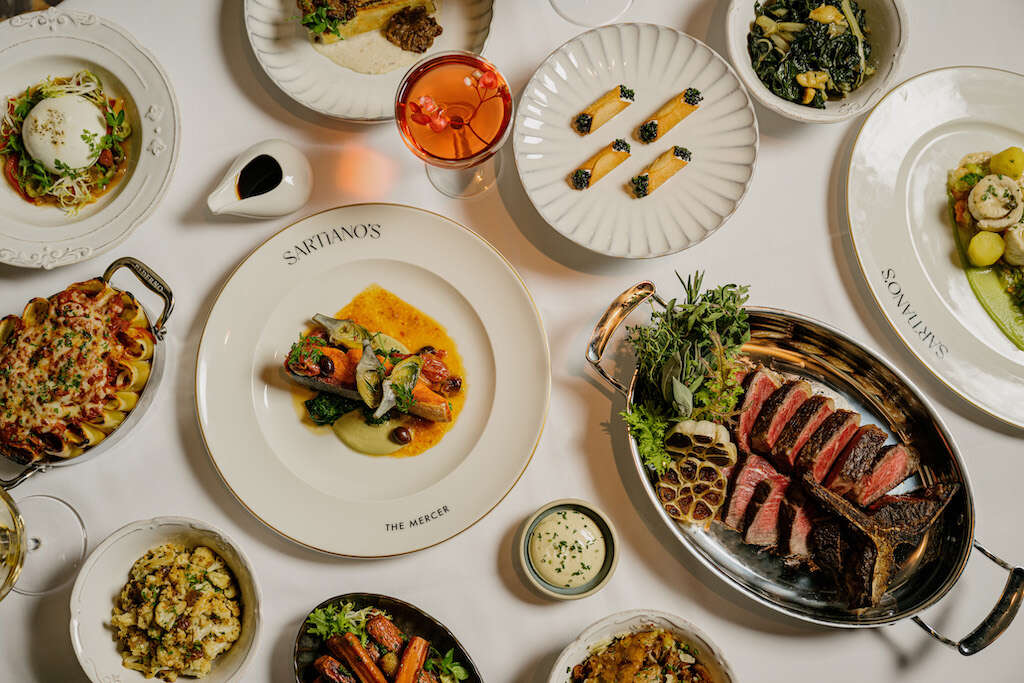 Delivered in the proper Italian way, the antipasti course (don't miss the frito misto or the baked clams) is followed by a selection of pastas for primi. Highlights include sausage and broccoli orecchiette, lobster bucatini and a wedge of vegetarian mushroom and truffle lasagne.
Again in true Italian style, secondi proffers a selection of heartier meat- and fish-based dishes, including chicken parmigiana, branzino with fennel and red pesto, and Iberian pork chops.
Alongside, the beverage program draws from both Italian and New York cocktail cultures, with a drinks menu that is both imaginative and timeless. Expect a number of creative martinis, a selection of spritzes and several seasonal serves.
Interiors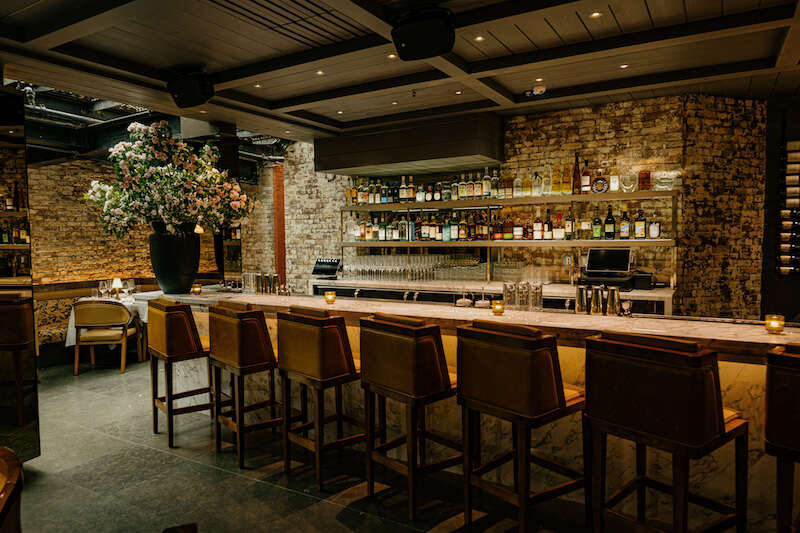 As with the rest of the properties in the Bond Hospitality portfolio, Sartiano's is a proudly design-led venture. Imagined by renowned firm Studio Sofield, the restaurant's interior is intended to capture the essence of Italian dining rooms while simultaneously injecting some NYC cool.
At the restaurant's heart is an open kitchen overlooking diners who sit either at comfy banquettes or booths, or a raised-height communal table, all granted a welcoming atmosphere by the warm lighting and orange-brown color scheme. Adjacent is an impressive 20-ft Italian marble bar, perfect for pre- or post-dinner drinks.
For occasions that call for a little more intimacy, Sartiano's also has a discrete private dining room.
Sartiano's, 99 Prince St., New York, NY 10012, sartianos.com
[See also: Twenty Three Grand Opens Ready for an NYC Summer]