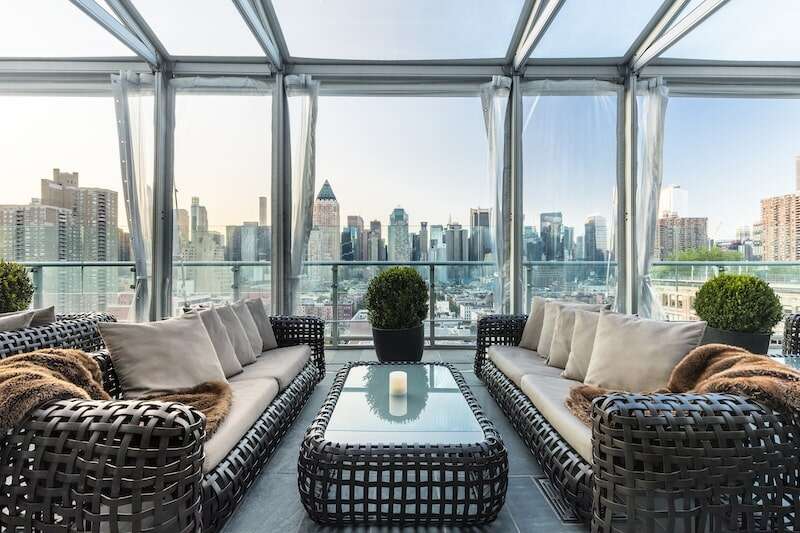 As the mercury rises, so do New Yorkers. When summer finally rolls around and the heat descends on NYC, there are few places better to be than a bustling rooftop bar – after all, those soaring skyscrapers were all but built for reflecting a brilliant sunset.
While some of the city's best rooftops might be more party destination than quiet drink spot, New York has plenty of elegant sun-downer bars too – from swanky Brooklyn hotels with views across Manhattan's best landmarks to pretty Parisian-inspired garden terraces.
So, pack your sunscreen, pocket your shades and press the elevator button – these are the best rooftop bars in NYC for 2023.
[See also: The Best Restaurants in NYC]
1 Hotel Brooklyn Bridge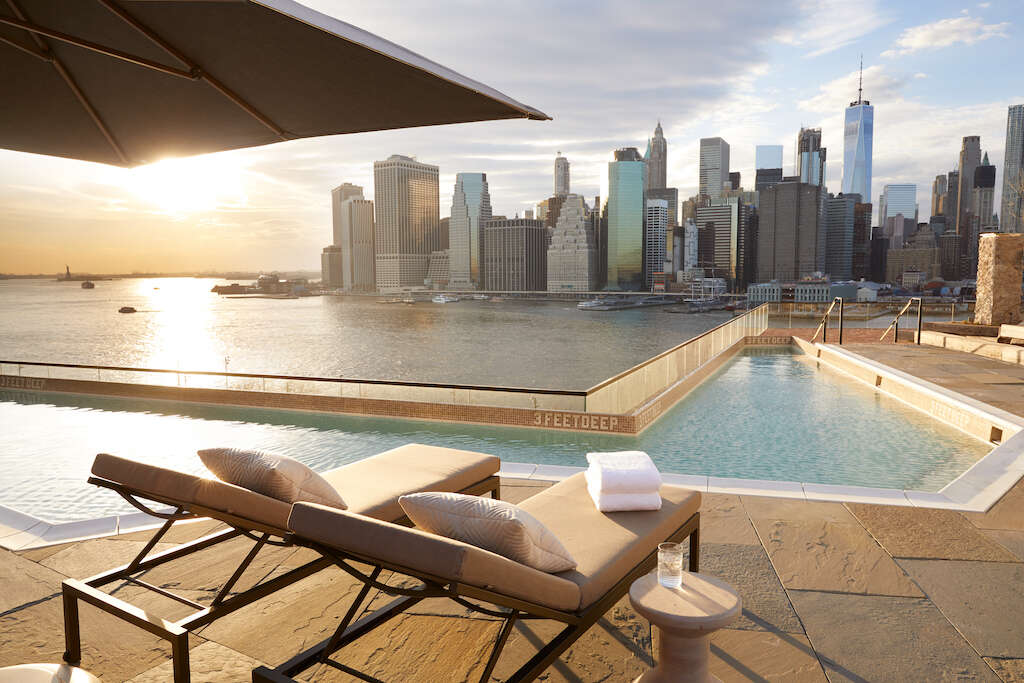 To get the best view of that Manhattan skyline, you naturally have to leave Manhattan. Hop over the river to Brooklyn, where you will find 1 Hotel Brooklyn Bridge AKA the home of one of the best rooftop bars in NYC. 
Overlooking the water and with eyes on the city's most impressive skyscrapers, Harriet's Rooftop is smart yet undeniably relaxed (don't let the hotel's posh reputation fool you), with a cool earthy décor mimicking that of the rest of 1 Hotel. 
Come weekends, a DJ takes to the decks to provide a sunset soundtrack, while signature cocktails and tasty small bites are served all day long. And, while the bar is open daily to all, there's also a rooftop pool available exclusively to hotel guests. The whole space is available for private parties too.
[See also: The Best Private Dining Rooms in NYC]
Le Bain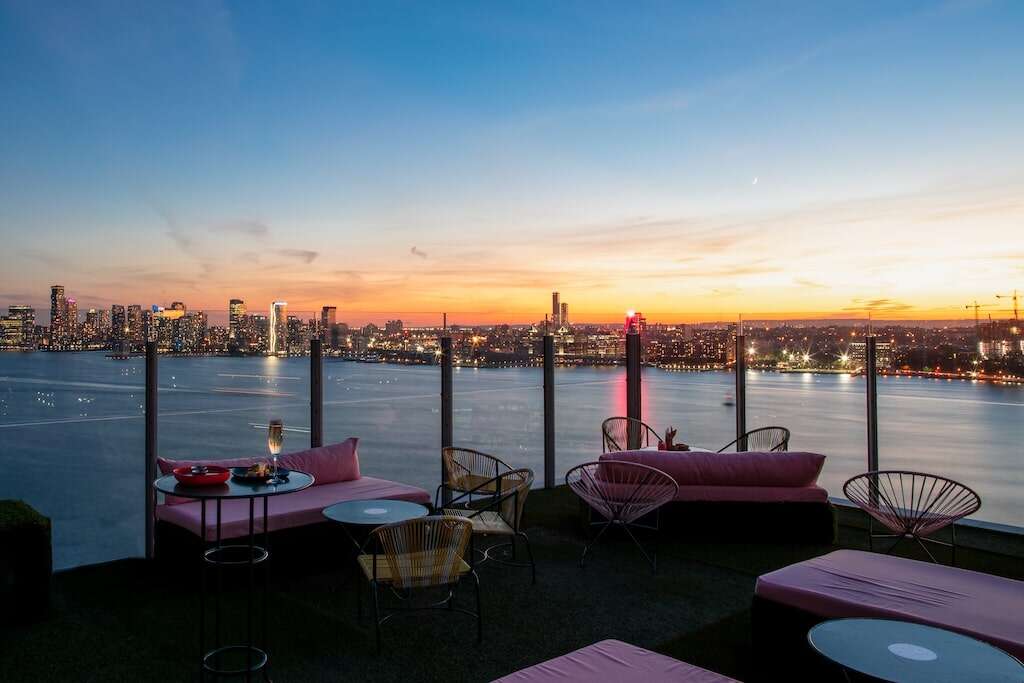 Le Bain is, admittedly, more of a party rooftop bar than the others on this list. In other words, don't come for a quiet drink; do come for a good time. Found way up on the top floor of The Standard, High Line, Le Bain is one of the biggest rooftops in the city and regularly attracts a large crowd to fill it.
As NYC rooftops go, this one is on the sillier end of the spectrum – the outdoor area is fitted in Astroturf, while the indoor portion is home to a Jacuzzi (yes really). An ever-changing line up of world-class DJs provide the entertainment, while that 4am closing time promises a full-on night out.
To eat and drink? There's a small but varied array of plates 'For the Table', as well as a full menu of crepes, all to be washed down with a cocktail or three.
The Press Lounge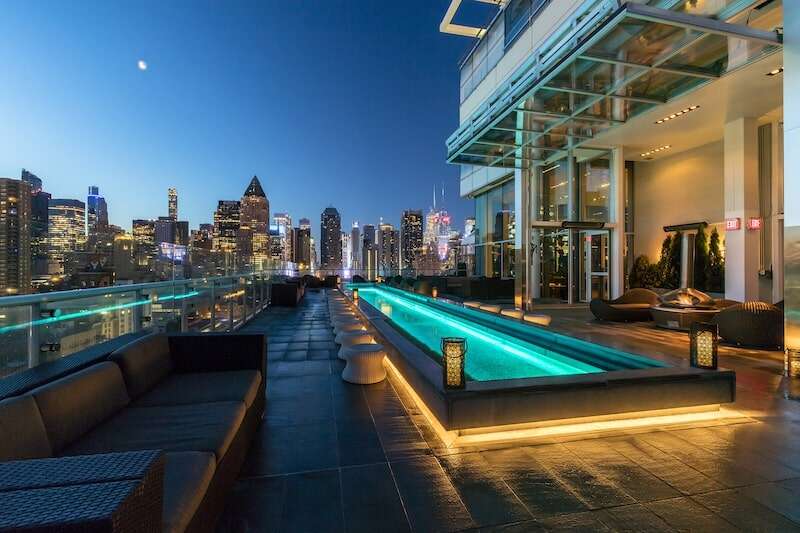 With outrageously good 360 views across the Manhattan skyline and the Hudson River, The Press Lounge is consistently ranked among the best rooftop bars in NYC – and for good reason. As one of the swankier spots on this list with an elegant casual dress code and more refined crowd, this is the bar for when you need to impress.
Sitting atop the Ink 48 Hotel in Hell's Kitchen, The Press Lounge is brought to you by the team behind PRINT restaurant, so expect the carefully selected list of light bites to be top-notch and the accompanying seasonally inspired cocktails to be mouthwatering. 
The outdoor terrace is plenty roomy, but there's an equally nice glass-walled indoor lounge, which gets invitingly cozy once the sun sets. The bar is open until 2am at weekends – expect to let your hair down a little as the evening goes on.
[See also: The Billionaire's Row Cocktail by Park Lane New York]
Loopy Doopy, Conrad New York Downtown
Up on the 16th floor of the Conrad New York Downtown is Loopy Doopy – an interestingly named but undeniably great rooftop bar. From its prime spot right on the river, the bar looks way out over the Hudson and back at the buildings of Manhattan.
Unusually for a rooftop bar in NYC, most of which know they are hot property and don't mind letting you know, Loopy Doopy doesn't take reservations. While this does make getting a table here far more relaxed, be warned that it is an intimate (read: small) space, so be prepared to show up early.
When it comes to refreshments, don't miss Loopy Doopy's Poptails – choose your sparkling base and then select your fruity, vodka-based iced popsicle to top it off with. When the brain freeze gets too much to bear, move over to the short-but-sweet wine and beer selection.
[See also: Twenty Three Grand Opens Ready for a NYC Summer]
Aman Garden Terrace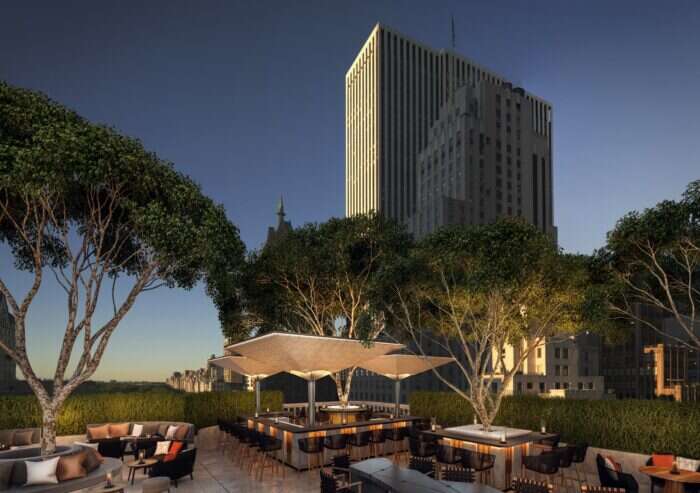 When it finally opened its doors last year, Aman New York quickly became one of the city's most exciting new hotels in years. As well as its bounty of lavish suites and exclusive residences, the Midtown hotel also brought some great new additions to New York's dining and drinking scene.
Among them is its swanky Garden Terrace (no, it's not strictly a rooftop, but stick with us), which wraps around the building and overlooks 57th Street and Fifth Avenue. In true Aman style, the Garden Terrace is as stylish as they come, with a retractable glass roof, convivial seating arrangements and fire pits. 
Not ready to end the night? Head down to The Jazz Club – a speakeasy-style bar with nightly live music, creative cocktails and, of course, an infectiously fun atmosphere.
Hotel Barrière Fouquet's New York: Le Vaux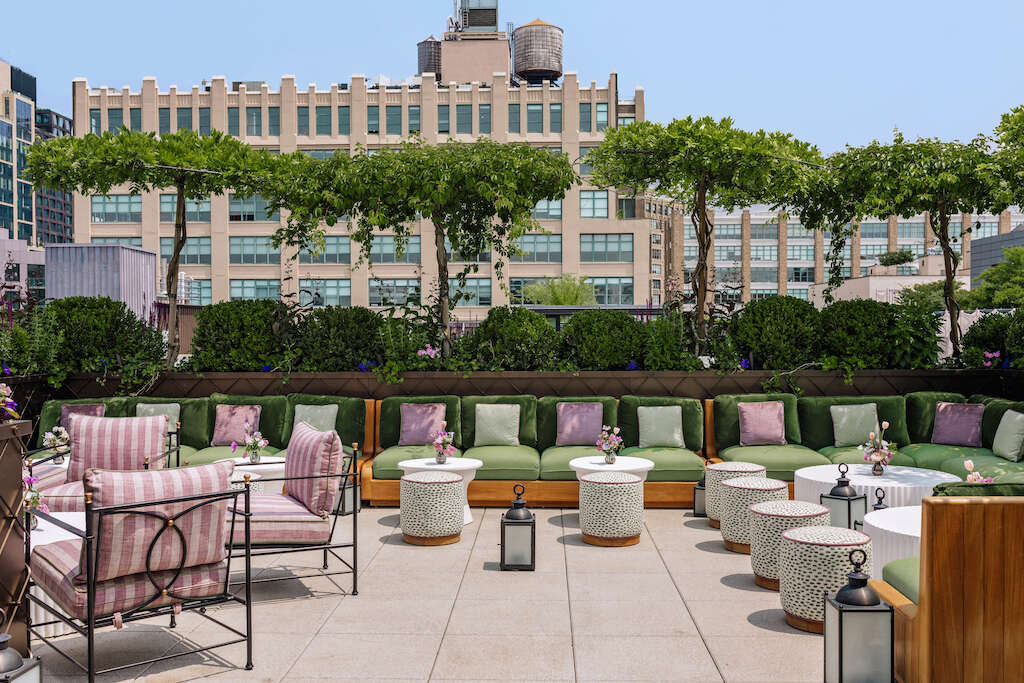 And finally, there is the newly opened Le Vaux which, in our eyes, takes the title of NYC's prettiest rooftop bar. Sitting at the top of Hotel Barrière Fouquet's New York in TriBeCa, the 46-seat space offers a sophisticated take on the classic New York rooftop, with cute Parisian elegance perfectly juxtaposed against the hotel's signature Art Deco style.
To eat, there is a concise menu of light dishes including caviar service, crudo, and meat and fish skewers. On the drinks menu, there is a selection of creative signature cocktails.
What is the catch, I hear you ask? Well – Le Vaux is only open to hotel guests and members. But that level of exclusivity only adds to the appeal, in our opinion.
[See also: Principe Brings the Italian Coast to New York City]