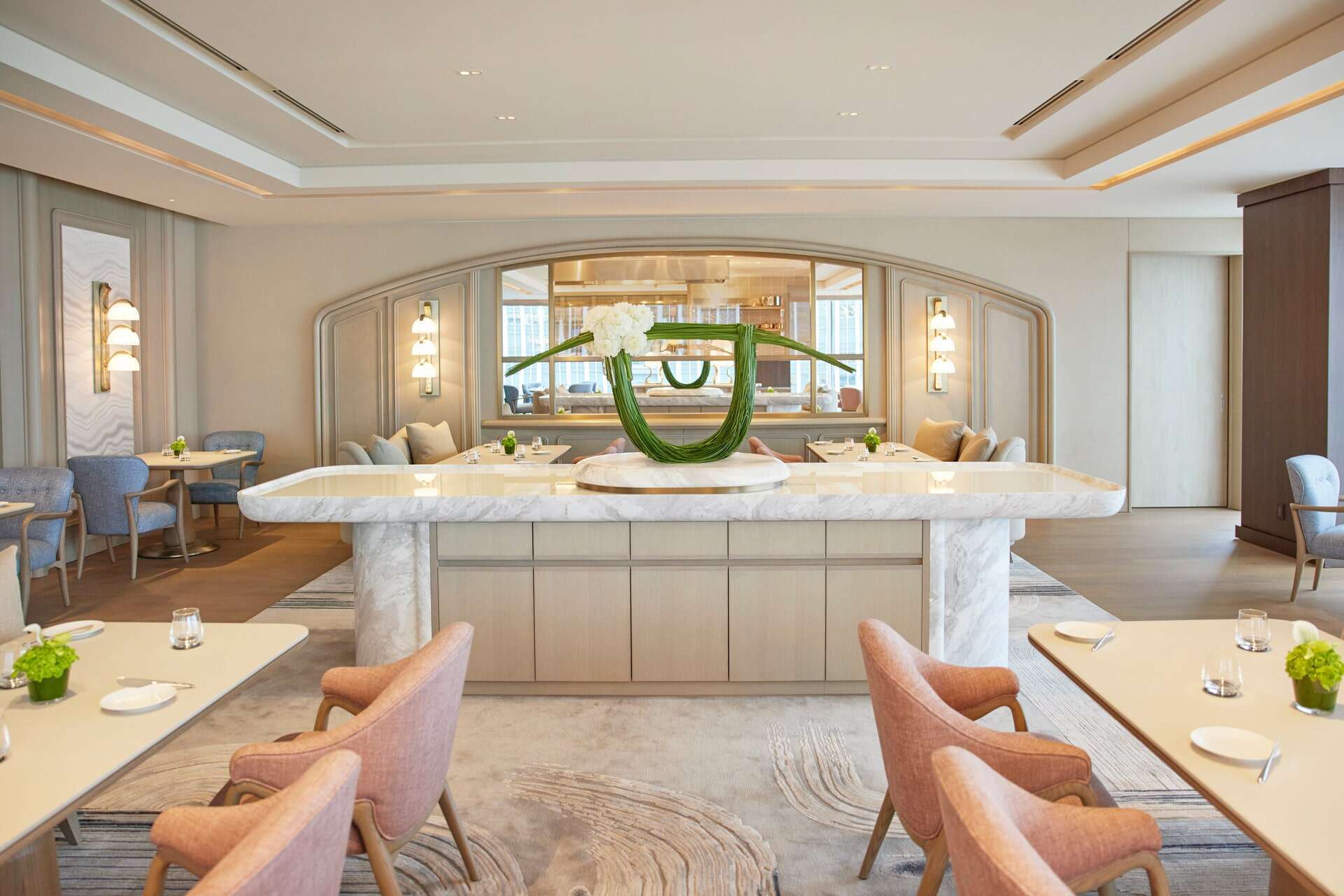 Having opened less than 12 months ago inside the illustrious Four Seasons Tokyo, Daniel Calvert's Sézanne restaurant has had a first year that many chefs could only dream of.
Within six months, the restaurant was awarded a Michelin star in the Tokyo iteration of the prestigious guide. And now, less than another six months on, Sézanne has achieved another milestone having snagged 17th place on the annual Asia's 50 Best Restaurants list.
With a few awards under its belt and a reputation to be reckoned with, Sézanne is coming up to its second year as one of the must-visit destinations on Tokyo's formidable dining scene.
[See also: The 19 Best Restaurants in Tokyo]
Chef
Originally hailing from the south of England, chef Calvert's culinary experience includes stretches at some of the best restaurants in the world. In London, he did stints at the now-shuttered L'Autre Pied and the revered Pied à Terre, before moving stateside to work as sous chef under Thomas Keller at New York's incomparable Per Se.
Back in Europe, he headed to the culinary capital of Paris, where he did a placement at Epicure at Le Bristol. Before taking the helm at Four Seasons Tokyo's signature restaurant, Calvert also headed the kitchen at Hong Kong's Belon, which he elevated to hit fourth place on the Asia's 50 Best Restaurants list.
Calling on the skills he garnered in some of the best kitchens in the world, Calvert's cuisine commandeers innovative culinary techniques and regional flavors to add a modern spin on traditional French recipes. While he may only be in his first year in the city, Calvert's influence is clearly already making waves on the Tokyo fine dining scene.
"We are thrilled and honored to be chosen as one of Asia's 50 Best Restaurants," he said. "This recognition is a result of the team-oriented culture of Sézanne, starting in the kitchen and mirrored in the dining experience created by Simone Macri. It means a great deal to us to have gathered such support in a new city. We look forward to working even harder for Tokyo."
[See also: The Most Anticipated Restaurant Openings of 2022]
Menu
Named after a quaint town in Champagne, Sézanne's menu is naturally rooted in French classics, but Calvert has deftly absorbed the signature flavors of Japan, as well as celebrated the county's diverse bounty of ingredients.
Championing Japanese ingredients means the offering changes regularly according to the seasons, but signature dishes have included a delicate White asparagus soup with Shiro Ebi (white shrimp) and Piedmont hazelnuts; Hokkaido corn sourdough, which is made with a homemade yeast cultivated by Calvert several years ago; and Botan Ebi shrimp and yellow celery topped with Tsar Imperial Ossetra caviar.
The Sézanne experience is delivered in the traditional Japanese omakase-style of dining, whereby guests' individual tastes and preferences are used to carve out a personalized culinary menu, promising nothing short of an epicurean adventure.
[See also: The Chefs with the Most Michelin Starred Restaurants]
Interiors
Sézanne's distinct interiors were created by revered designer and architect André Fu, who was also responsible for creating sumptuous suites at London's The Berkley hotel, the Akira Back restaurant at Four Seasons Seoul and The Waldorf Astoria Bangkok.
Complementing Calvert's fresh menu, Fu's design is modern and clean, with French detailing accented by artistic Japanese touches. The color palette is bright, with off-white walls and sandy carpets sitting alongside flashes of pastel pinks, blues and greens; this is understated luxury design at its finest.
Each table is carefully spaced to create an unrivaled sense of intimacy for each party, but for the most immersive experience, book the chef's table. Positioned right beside the kitchen action, this is the perfect place to witness Calvert and his team as they create culinary magic.
Sézanne, Four Seasons Tokyo, 1 Chome-11-1 Marunouchi, Chiyoda City, Tokyo 100-6277, Japan