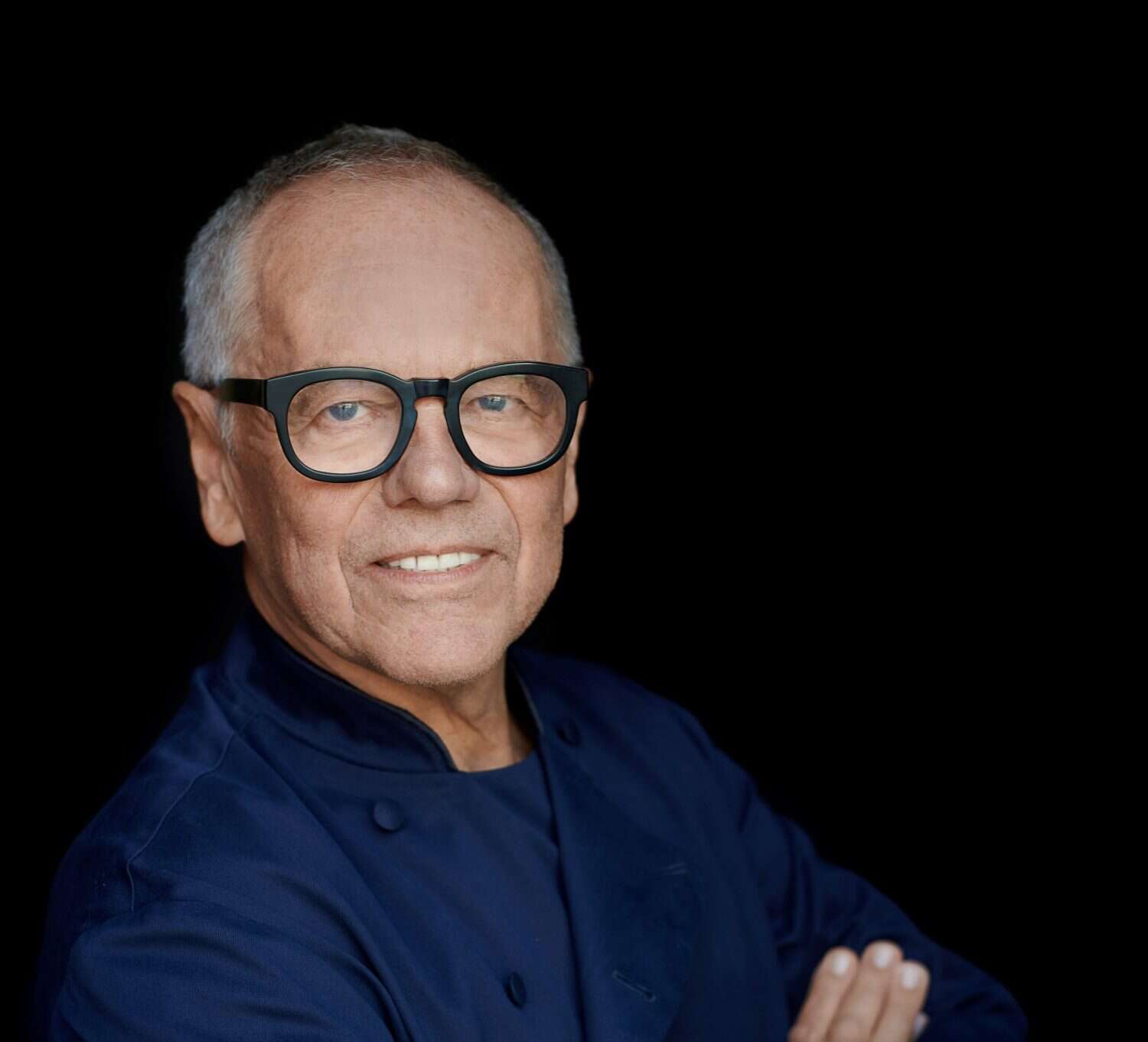 You know you've achieved cult status as a chef if The Simpsons come knocking. And in 2017, Wolfgang Puck, the Austrian chef whose eateries have attained Michelin stars as well as armies of adoring fans, made his Springfield debut. This is just one of the moments (albeit a less culinary-focused one) in Puck's glittering career, that has cemented his place in popular culture. 
Perhaps the opportunity to be immortalized in yellow cartoon form isn't something that all of the world's most acclaimed chefs would jump at, but Wolfgang Puck isn't one to abide by the status quo. The chef, who is considered a pioneer of fusion cuisine, is as much a celebrity as the A-list diners who flock to his legendary Spago eatery in Beverly Hills. 
[See also: Eleven Madison Park is Going Vegan]
With dining establishments from Maui to Shanghai, Puck has built himself an empire that spans everything from casual and fine-dining eateries to cookware and his own coffee and wine brands. Not to mention his illustrious catering company, which has fed Hollywood's elite at the Academy Award's Governor's Ball since 1995.
He is now a household name in his adopted US and he even has his own star on the Hollywood walk of fame. But how did the Austrian-born son of a pastry chef get to become an American Sweetheart? And which of Puck's restaurants actually have Michelin stars? Elite Traveler takes a closer look. 
The Rise of Wolfgang Puck 
Puck honed his craft in some of France's best restaurants in the early 70s, just as Nouvelle Cuisine was making its delicately-plated rise. With stints at Maxim's in Paris, the Hotel de Paris in Monaco, and the three-Michelin-starred L'Oustau de Baumanière in Provence, Puck left France for the US in 1973 at the age of 24. 
With high ambitions, he soon began to make a name for himself as the chef at iconic West Hollywood hotspot, Ma Maison, which was owned by French restaurateur Patrick Terrail. Ma Maison became a magnet for the rich and famous, drawn in by Puck's gravitas as well as his avant-garde culinary style. Indeed Puck and Terrail are credited with transforming the Los Angeles dining scene, with the chef lauded as one of the founding pioneers of California Cuisine. Using farm-to-table, locally sourced Californian ingredients of the finest quality, Puck created fresh, beautifully-plated dishes influenced by his French training, firmly cementing California Cuisine's place on the map, where it remains today. 
[See also: The Best Restaurants in Los Cabos]
Of course, Puck's career didn't end at Ma Maison, and his stint at the eatery — which called Marlon Brando, Fred Astaire and Stevie Wonder amongst its patrons— only served as a launchpad. 
The 80s was transformative for Puck and saw him open his first restaurant, the famed Spago by Wolfgang Puck on Hollywood's Sunset Strip. It was an instant success amongst the glitterati and saw the chef carry on his reign as one of California Cuisine's founding fathers, pushing the boundaries of the 80s food scene with dishes such as haute cuisine pizzas topped with smoked salmon and caviar and his own take on tuna sashimi, unheard of outside of Japanese restaurants. 
Not content with the success of Spago, Puck opened fine-dining establishment Chinois on Main in Santa Monica in 1983. Influenced by southern Californian's Southeast Asian dining scene, Chinois on Main saw Puck fuse Asian flavors with French technique and Californian ingredients, introducing the world to Asian fusion cuisine.
[See also: Pendry West Hollywood Makes Its Sunset Strip Debut]
From there Puck's fine dining group skyrocketed in size. Spago Las Vegas opened at the Caesars Palace (now located at The Bellagio) heralding a new type of modern fine-dining eatery on the city's famous Strip. Today, Puck has five restaurants in Las Vegas alone including the acclaimed CUT by Wolfgang Puck. 
There are now five Spago restaurants worldwide with Puck bringing his brand of  California Cuisine to Istanbul, Maui and Singapore. Spago on the Sunset Strip moved down the road to Beverly Hills in 1997 and rose to attain two Michelin stars in 2008 and 2009 but these were subsequently lost (much to the shock of food critics) after the Michelin Guide made a return to Los Angeles after a decade-long hiatus. However, this hasn't stopped Puck's loyal celebrity fanbase from keeping it as a regular haunt. 
Like Spago, CUT began life in Los Angeles, with Puck's highly-elevated take on a steakhouse opening its doors in the Beverly Wilshire, a Four Seasons Hotel in 2006. A roaring culinary success story, Puck has taken CUT global and now has branches across three continents: four in the US, two in the Middle East, one in London and one in Singapore. Out of all of the chef's eateries, it is CUT that has gone on to achieve and maintain Michelin-star status, with CUT in Beverly Hills and Singapore each awarded a coveted Michelin star. So what can diners expect?
CUT, Beverly Hills
A sleek interior and welcoming hospitality greet you at the original CUT. A contemporary and refined affair, this is not your typical steakhouse, however, the atmosphere is relaxed and pre-pandemic the restaurant had a real buzz about it which is sure to return as lockdown eases. 
The menu includes exquisite cuts of the finest beef from the US and Japan as well as the highest quality shellfish and seafood and a well-stocked wine list. Diners can expect to sample Puck's signature fusion flare with versatile dishes gracing the menu including Maine diver scallops served with a yuzu aioli, brioche toast and Kaluga caviar, or the delectable grilled Sonoma lamb chops served with a date and cucumber raita.
But of course, CUT's main attraction is the steak. The Michelin Guide recommends heading straight for the Japanese Wagyu from the Miyazaki prefecture. Expect melt in the mouth flavors and textures. And, Puck stays true to his farm-to-table ethos, serving top-of-the-range local produce to accompany his cuts. 
CUT, Singapore
CUT Singapore is located in the illustrious Marina Bay Sands Hotel (which also hosts eateries by Gordon Ramsay, Justin Quek, Daniel Bould and Tetsuya Wakuda) and is every inch as good as its Beverly Hills counterpart. 
Achieving Michelin-star status in 2016, the modern eatery is adorned with mod industrial lighting, bold celebrity portraits and glass-walled wine cabinets showing off an impressive collection. Upscale but not stuffy, CUT attracts a well-heeled crowd of locals and tourists alike therefore a reservation is usually essential. 
Like its American counterpart, the meat is the main attraction here and the menu features an extensive list of the highest quality cuts from Australia, Japan and the US. Not one to mess with success, many of the same dishes found in Beverly Hills are dished up here, with Michelin giving praise to the steak as well as the bone marrow flan with mushroom marmalade. You will also find one or two Asian-influenced appetizers on the menu not found in LA, such as the exquisitely executed Hokkaido scallop 'Carpaccio' with shaved myoga and wasabi-kosho ponzu.