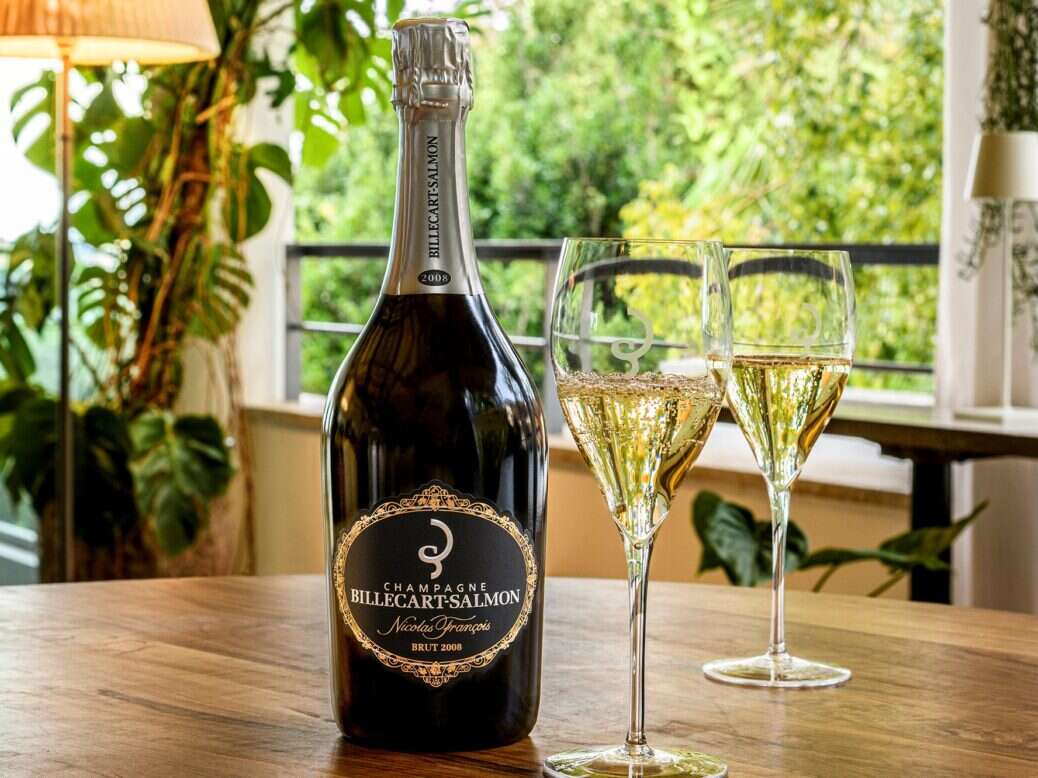 Sipping a glass of champagne while lounging on the French Riviera will be some people's idea of heaven. To those people, I say, why not think a little bigger? You could be sipping a glass of vintage cuvée, perched atop a cliff in Menton (Monaco's underrated and, dare I say, superior neighbor). In fact, you could be sipping on a glass of Nicolas François 2008, sitting on the sunny clifftop terrace of legendary Argentine chef Mauro Colagreco's three-star Michelin restaurant, Mirazur. With your feet firmly on the ground, it might be as close to the promised land as you can get.
Regarded as somewhat of a champagne lover's champagne, Billecart-Salmon has been in the business of fine sparkling wine since 1818, the year Nicolas François Billecart and Elisabeth Salmon tied the knot. Today, over 200 years later, the business remains family-owned. A rare thing in the champagne world, as large multi-national conglomerates wade through the vined fields of Northern France, gobbling up smaller houses and bringing centuries of family tradition to an end.
Currently, Billecart-Salmon is on its seventh generation, with CEO Mathieu Roland-Billecart at the helm. While older members of the family, like fifth generation Jean Roland-Billecart, remain key stalwarts and crucial links to the past as members of the tasting committee.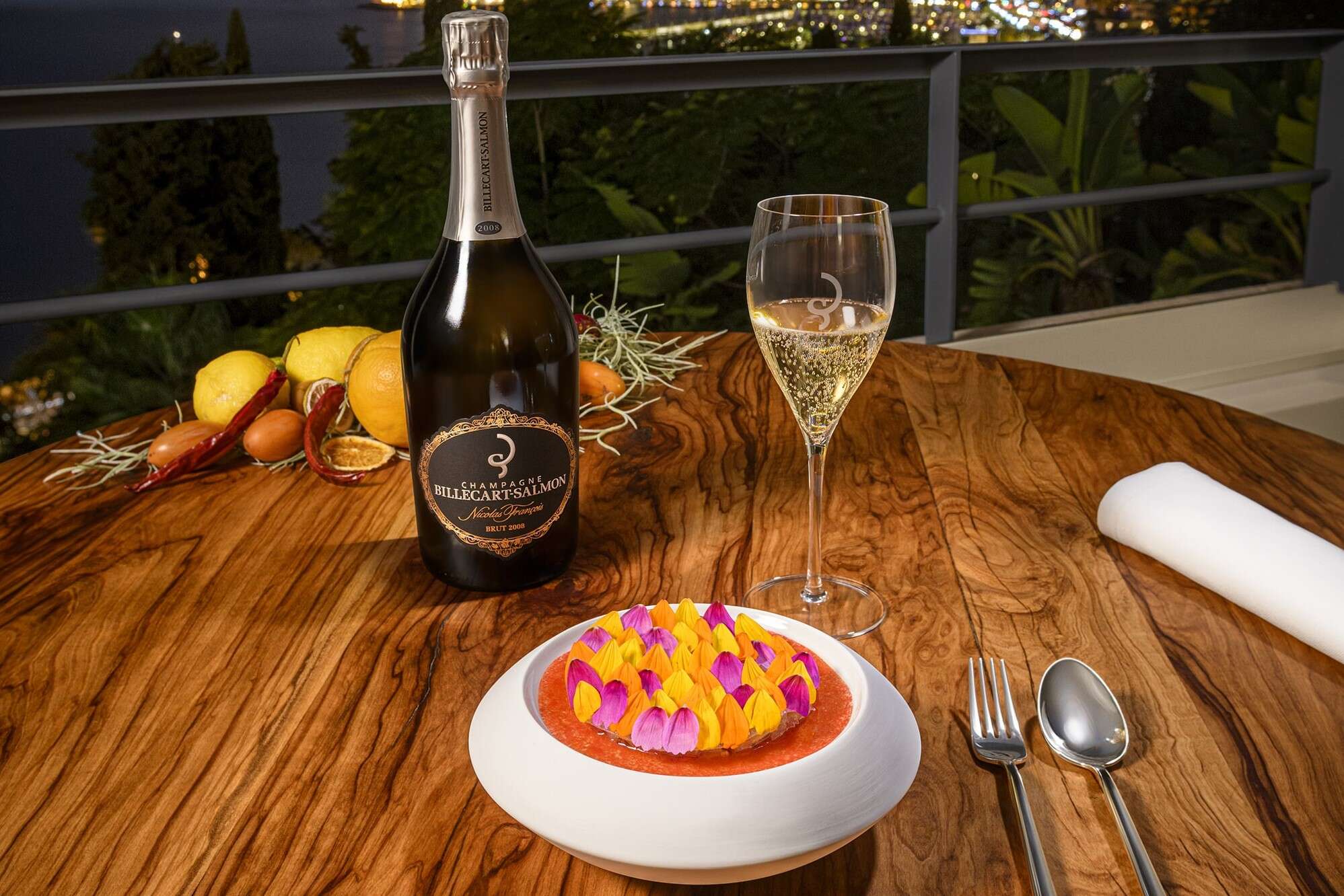 Nicolas François is Champagne Billecart-Salmon's prestige cuvée. The beginning of almost 60 years of tradition, the first Nicolas François was created in 1964 and since then, has been regarded as one of the finest bottles produced from this revered region.
It was for Billecart-Salmon's latest hurrah, the release of the 2008 vintage of Nicolas François that we had gathered in this little patch of heaven. Sunlight beaming, azure waves crashing, the wafting scent of the luscious gardens where Colagreco grows and sources the majority of his produce. With iconic maestros of both the food and drink world on hand, Billecart-Salmon with the help of Colagreco had curated a delight for the senses.
[See also: The Most Iconic Restaurants of the Elite Traveler Era]
Nicolas François 2008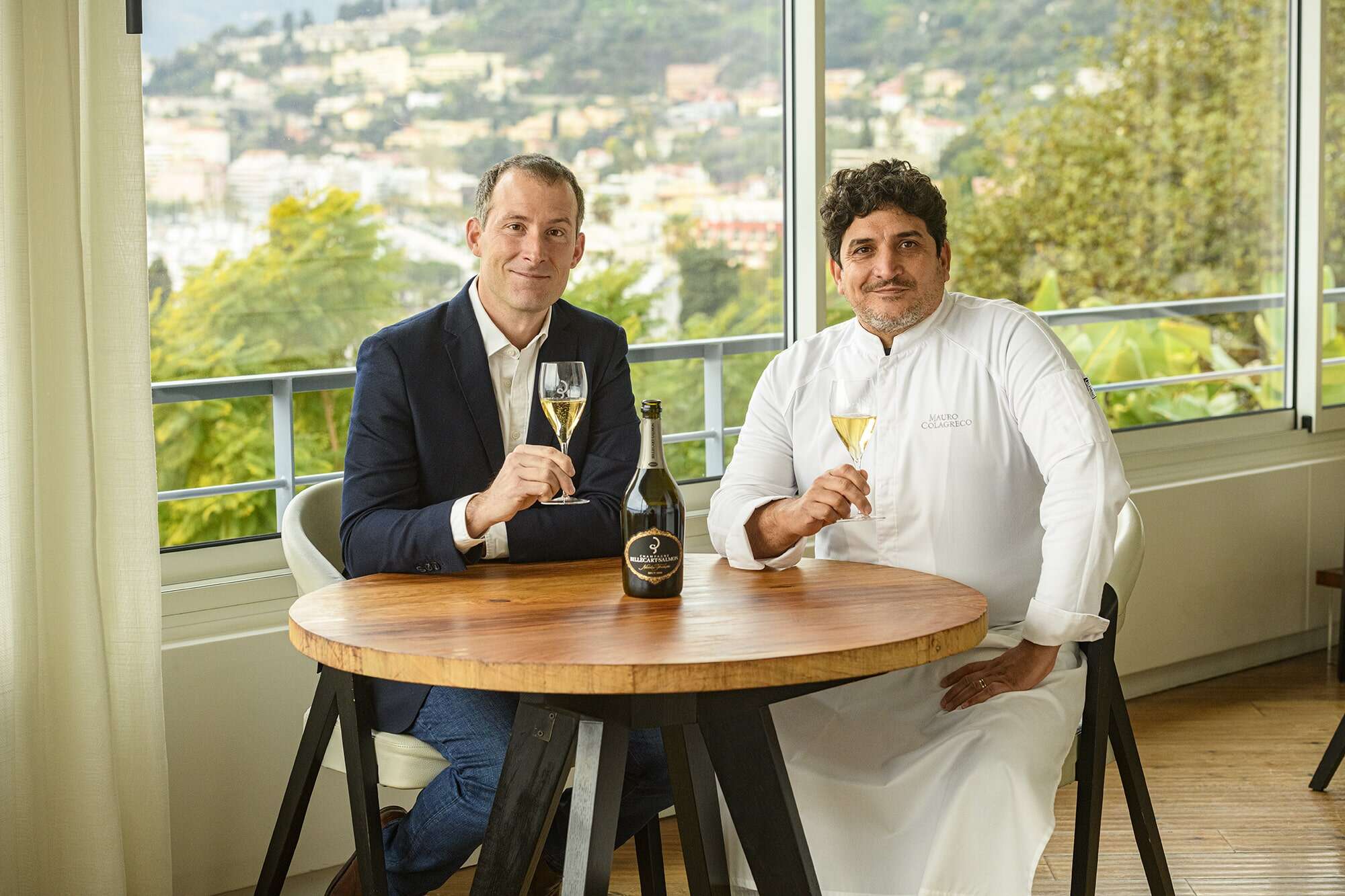 When it comes to its prestige cuvées, Billecart-Salmon pays homage to its founders, namely Nicolas François, Elisabeth Salmon — to whom the cuvée rose is dedicated — and Louis Salmon — whose name graces the Blanc de Blanc.
To pay true respect to these individuals, no step of the process is rushed. For this reason, Nicolas François is given the time it deserves and is aged on lees for 150 months (over 12 years). A key point in the process in which the wine is aged on top of spent yeast, adding a pleasant toasty aroma to the bottle.
As the demand for champagne continues to expand, some producers have begun to rush this vital stage, bringing an influx of lower-quality champagnes to market. This only furthers the esteem of the prestige cuvées offered by the grand marques. These see a delayed release and as such avoid such hastiness.
Nicolas François 2008, like all previous renditions, is comprised of 60% Pinot Noir and 40% Chardonnay. Similarly, to the respect given to aging, 83% of these grapes are sourced from highly revered Grand Cru villages and the rest from Premier Crus. Sourcing grapes from these classified vineyards ensures the champagne develops a unique personality.
[See also: The Most Anticipated Hotel Openings of 2023]
The harvest of 2008 was a particularly exceptional one for champagne. Initially, conditions appeared to be quite poor with a cold winter, chilly spring and wet summer. However, towards the end conditions transformed with a bright and sunny August and September. The Grand Cru villages of Ambonnay, Bouzy and Aÿ — all utilized for Nicolas François 2008, with Aÿ being the home of Billecart-Salmon — saw particularly good conditions. While the majority of France's wine regions had a good year, for Champagne, 2008 is held in legend and has the potential to rival some of the finest vintages.
[See also: The Ninth: Food Retakes the Spotlight as Fire Memories Fade]
A match made in heaven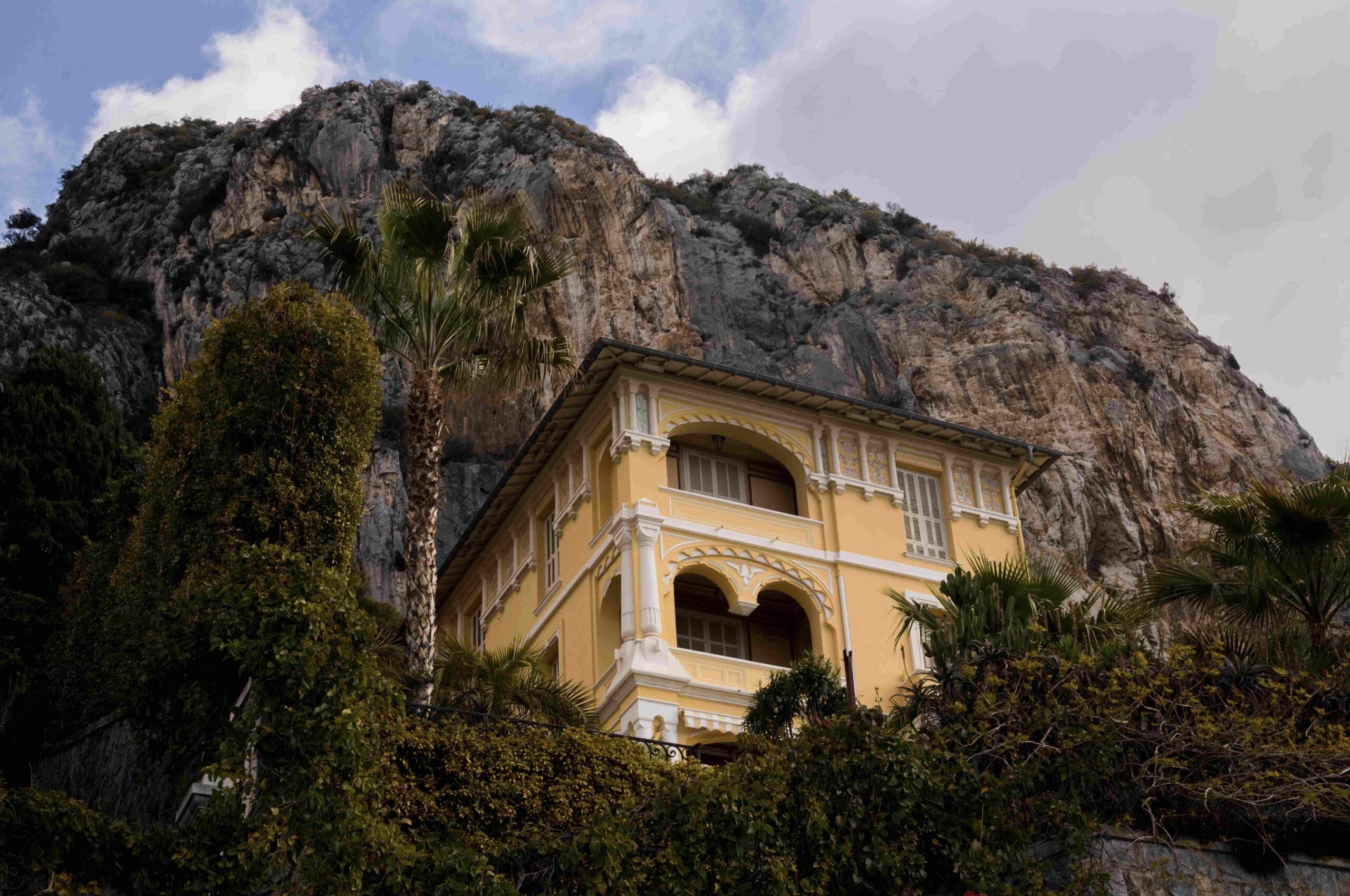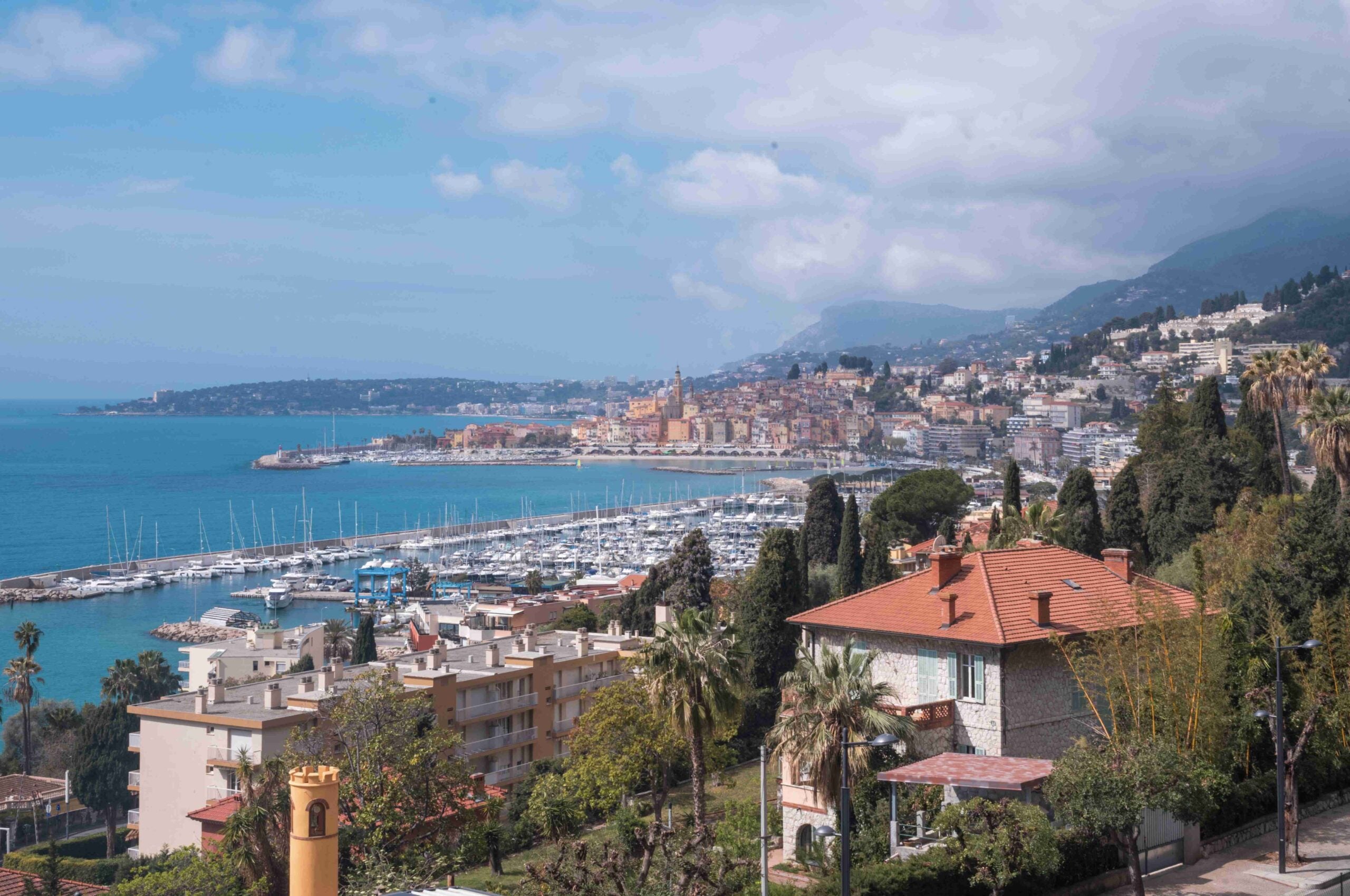 The collaboration of Billecart-Salmon and Colagreco was an inspired choice. In 2019, his Menton restaurant, Mirazur, came top of the World's 50 Best Restaurants, so he knows a thing or two about creating an exceptional experience.
Colagreco and Champagne Billecart-Salmon — particularly chief winemaker Florent Nys — both strive for freshness. For Billecart-Salmon and Nicolas François 2008, it's vibrancy and freshness. For Colagreco, the freshness is held in his ingredients, the majority of which come from his own personal gardens or local suppliers.
Chef and champagne both hold a clear respect for the natural order of things. Billecart-Salmon's philosophy is clear: respect the terroir in order to produce great wines.
So perhaps, on that sunny clifftop terrace above Menton, Billecart-Salmon and Colagreco brought their only little patch of paradise to the coast of the French Riviera.
Billecart-Salmon Nicolas François 2008 Tasting Notes
Nose: Nicolas François 2008 is aromatic, complex and refreshing. Expect notes of orchard fruits that combine with the characteristics of flaked almonds, all of which is rounded off by floral notes.
Palate: The wine is full with fresh flavors of raspberry and lemon. There is exceptional texture and a good minerality which combines well with the low dosage.
Finish: There is a rare and complex with hints of bergamot and those ever so important toasted notes.
Nicolas François 2008 is available from selected wine retailers in both the bottle ($190) and magnum ($500) format.