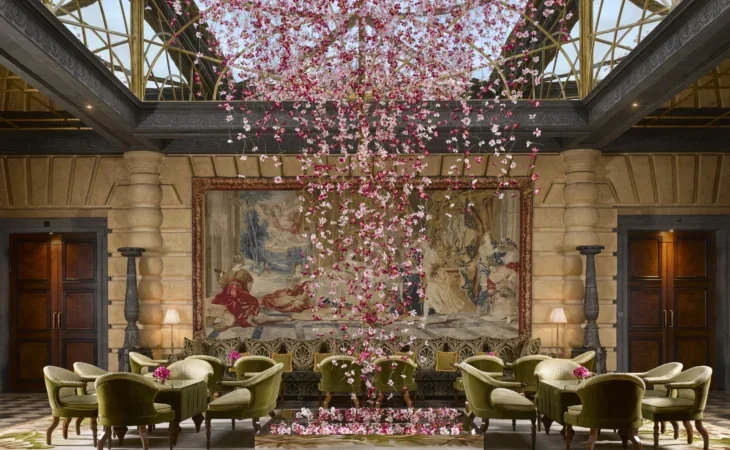 Built in 1886, the Hotel Metropole in Monte-Carlo reflects Monaco's last 130 years, the most illustrious period in its history. The 1880s represented a time of glitz and glamour in Europe, referred to as the "Belle Époque", or "Beautiful time," and the Hotel Metropole is a true representation of this era.
Set a stone's throw from the Casino de Monte-Carlo, it is partly this unrivaled location that has led the Metropole to become one of Monaco's most iconic hotels. Before the casino, Monaco found itself on the brink of financial catastrophe, 10 years after its construction the principality stopped collecting income tax entirely. Born during this financial renaissance, as Europe's wealthiest individuals flocked to Monte-Carlo, the Metropole continues to encapsulate this aeon of opulence.
Following major restorations during the 1980s, early-2000s and most recently 2020-21, the Metropole continues its legacy as one of the Mediterranean's most luxurious institutions. As time passes, tastes change. The most recent renovation saw a modernization of the hotel's communal locations, transforming the hotel lobby into one of the principalities most popular meeting points. Currently, the Metropole has a new focus as it strives to become more sustainable.
Prince Albert II's Monaco Foundation was created as a driving force to combat climate change in 2006. Since then, the principality has banned single use plastic bags, straws, plates, cups and cutlery. Monaco's monarch has committed to halving emissions by 2030 and reach total carbon neutrality by 2050. The Metropole itself has proved its commitment to sustainability by achieving Green Key certification through meeting a set of high standard environmental requirements.
Sustainability by the sea
Hotel guests are steadily becoming more environmentally conscious, in order to maintain relevance many of the world's greatest hotels are beginning to implement a clear sustainability plan. The Hotel Metropole Monte-Carlo set its intentions early forming a clear sustainability initiative back in 2007.
At Metropole, this is known as "Green Attitude" and it comprises all of the different actions the hotel is taking to reduce its impact. The hotel initially implemented simple actions such as good resource management — electricity and water — and an eco-responsible purchasing policy to ensure food and products are purchased from local and ethical suppliers.
Green Attitude can be spotted in almost every part of the hotel. In 2018, it became the first hotel in the principality to ban plastic straws from its catering outlets.
The Metropole also joined the Prince Albert II Foundation initiative against deforestation. In doing so it aimed to rapidly reduce its paper usage, with a goal of 10% each year on average.
This change is easily witnessed: paper drink mats have been replaced with a reusable solution; throughout the hotel's suites, instead of a paper hotel guide, all hotel information can be found on a modern and beautifully displayed digital tablet, which at first glance resembles a book.
This innovative and forest-friendly solution can also be seen in the hotel's restaurants where the same tablets are handed out, greatly reducing the use of paper menus in the hotel each day.
While relaxing in the exquisitely refurbished lobby bar, you could be tempted to try Metropole's new signature cocktail "Sea You at M". Concocted by the hotel's head barman, this vibrant cyan tipple is a nod to the local Museum of Oceanography, the Metropole and Monaco itself. Part of the funds from the cocktail's purchase goes to the Museum of Oceanography to support its "Sponsor a Fish" program, which aims to improve the world's oceans.
A pool that's fit for Odysseus
In the principality — the world's second smallest sovereign state — space is everything. With a square foot of real estate reaching $5,200 in 2022, every inch of Monaco is precious. In a land where each square foot carries colossal value, swimming pools are few and far between. The Hotel Metropole Monte-Carlo bucks this trend.
Designed by the late great Karl Largerfeld in 2012, the Metropole Monte Carlo's pool area is a rare sanctuary in bustling, maximalist Monaco. Taking inspiration from the legendary Greek epic poem of the same name, Odyssey features an exquisite fresco-styled glass installation that charts Odysseus's journey throughout the story, while delicately framing the pool.
The pool itself is filled with treated seawater — revitalizing for your skin, while reducing environmental impact.
Situated within the beautiful confines of Odyssey, you will also discover one of the hotel's three restaurants. Positioned as a relaxed spot for breakfast and lunch, Odyssey offers an al fresco dining experience that is beautifully complemented by the Côte d'Azur climate.
Chef Christophe Cussac — former student of the beloved Joël Robuchon — has curated the menu with the Mediterranean in mind. Featuring fresh, delicate seasonal produce from both land and sea.
Spa – Givenchy
Tucked beneath the Odyssey pool area is its final secret, the serene Spa Metropole by Givenchy. Designed by architect Didier Gomez to encapsulate the Metropole's philosophy while paying homage to the chic and glamourous stylings of the House of Givenchy.
Throughout the spa, black, white and gold detailing pay homage to the luxury French fashion and perfume house — known for styling film stars like Audrey Hepburn and Grace Kelly who would become Princess Grace of Monaco.
In the 10 tranquil treatment rooms, guests will feel their stress melt away. The range of treatments feature Givenchy skincare products like Le Soin Noir, L'Intemporel and Hydra Sparkling, all of which have been developed utilizing the latest scientific methods.
A double and a single suite feature a private bath and hammam, allowing you to unwind in perfect solitude. A "Heat Experience" package provides access to the spa's sauna, hammam, caldarium, ice fountain and sensory showers.
Those looking to maintain their fitness regime while they are away will thrive in Metropole's state of the art fitness studio. Filled with the latest high-quality equipment, it's the ideal spot to do some exercise before a trip to the sauna or pool.
Yoshi
There are several options for gastronomic excellence at the Hotel Metropole Monte-Carlo. Sushi lovers rejoice, Yoshi is the only Michelin star sushi restaurant on the Côte d'Azur, a standard it has maintained since 2010.
Led by chef Takeo Yamazaki, Yoshi produces exceptionally healthy, modern cuisine that is bursting with flavor. The classical Japanese techniques are adhered to and well respected, while flavors have been rebalanced to suit a Western palate.
Yoshi translates to "goodness," something that is achieved through the harmony of delicate flavors, beautiful décor and a deep drinks list that takes as much inspiration from the Land of the Rising Sun as the food. Picture a handpicked selection of the best Japanese Sake, whisky and green teas.
Interiors were again handled by Gomez, who ensured the setting in which diners find themselves is as elevated as the food. While a Japanese garden was developed by landscape architect Jacques Messin, creating a subtle and relaxed dichotomy between inside and out.
Rooms from $480 per night. Contact reservations: +377 93 15 15 35 – reservations@metropole.com