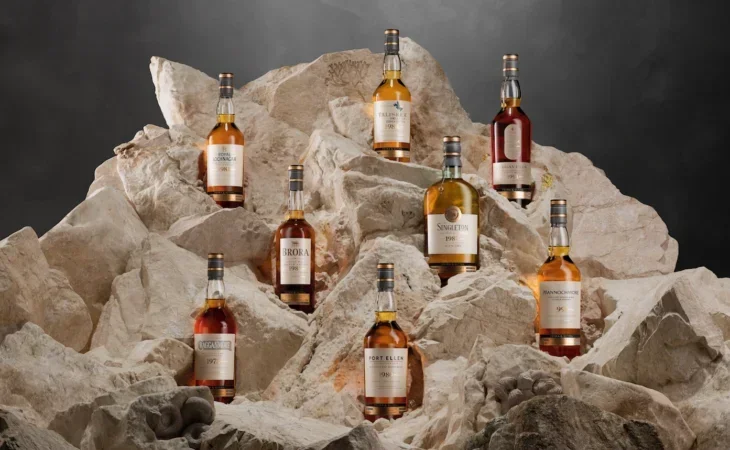 Diageo has revealed the third release of its coveted Prima & Ultima series, a set of treasured rarities and oddities from the company's impressive Scotch whisky portfolio. The collection includes eight whiskies from some of Scotland's illustrious distilleries, crowned by headline acts Port Ellen and Brora.
The company's master blender Craig Wilson was charged with the task of curating the collection's third iteration, following on from Jim Beverage in 2020 and Maureen Robinson in 2021. Each whisky is set apart for being either the first or last of its kind (this year, one whisky sits across both categories), which has given its curators license to search deep into distillery stocks to find something truly unique.
Both Beverage and Robinson also based their selection on personal experience and this year is no exception. Wilson has looked back at his career and chosen distilleries that sit close to his heart. Due to his work with the reopenings of both Port Ellen and Brora, the two fabled ghost distilleries were a natural choice.
The Brora he has selected is a 40 Year Old distilled in 1981, two years before it closed. This year was known for producing more fragrant whiskies as Brora used less peat than usual, thus allowing its natural character to shine. The two casks used to produce this extraordinary whisky (tasting notes below) were the last from 1981 and will thus never be repeated.
[See also: Sotheby's Auctions Rare Brora and Port Ellen Whisky Casks]
The Port Ellen whisky, a 41 Year Old from 1980, is the oldest ever to come out of the distillery and is also derived from the final two casks from that year. It's also the same year Queen Elizabeth II visited the Port Ellen malting floor. Spending its entire life aging on Islay, this is a pure Port Ellen malt with salt, sweetness and smoke in perfect balance.
Wilson said: "In the year we celebrate the Queen's Platinum Jubilee, I have selected the last ever Port Ellen 1980 cask, filled in the year Her Majesty visited the distillery's maltings. The Brora bottling is equally as precious, taken from our last ever 1981 cask, making it one of our rarest Brora whiskies of all time."
The Singleton of Glen Ord is also remarkable for its vintage. This expression is the first from 1987 and the only one ever to be released, from the last casks that remain.
[See also: Gordon & MacPhail 70 YO Whisky Marks Platinum Jubilee]
[See also: The Most Expensive Whisky Ever Sold at Auction]
There is a debut inclusion for Royal Lochnagar, a 40 Year Old derived from a pioneering experiment to gain the angels' share. When the experiment ended, the remaining liquid was set aside to age for four decades.
Another oddity comes from Mannonchmore, a 31 Year Old liquid that spent the majority of its life in unusual virgin European Oak casks. Some virgin oak casks can have a heavy influence on a whisky in a matter of months, but this one held its own for almost three decades and has transformed into something rather remarkable.
Diageo Prima & Ultima Third Release Tasting Notes and Ratings
We've been sent all eight of the whiskies to try, but in the interest of doing each one justice, we've decided to take our time and update this piece with the full notes and ratings as they come in.
Mannochmore 1990
31-Year-Old | 45.1% ABV
Bottled: 06.12.21 | Refill cask, untreated virgin European Oak
Number Bottled: 317 | Glenlossie, Speyside
Tasting notes: The rarest of all eight in the series, we couldn't resist starting with an elusive distillery that is rarely found in single malt form. Spending almost three decades in an untreated virgin cask, we were expecting this to be heavy on the oak spice, but it has retained plenty of vibrancy. The most domineering note is orange zest, which stays with you from the first taste all the way through to an evolving finish. It is perfectly balanced with oak spice taking over towards the end but it is never drying. This is perfect at cask strength, although a touch of water brings out even more citrus and tones down the bitterness.
Rating: 9.5/10
Brora 1981
40-Year-Old | 44.1% ABV
Bottled: 09.12.21 | 1 refill American Oak Hogshead, 1 European Oak Sherry Butt
Number Bottled: 354 | Brora, Highlands
Tasting notes: An extremely good whisky. Even in the context of other Broras, this is outstanding. Floral notes are dominant on the nose with just a whisp of smoke and salt coming through right at the end. Time in the glass allows sweeter notes like honey and beeswax to emerge. On the palate, Brora's trademark oiliness gives it a pleasant feel. The sweetness dances with an ashy smoke, similar to a morning-after bonfire.
Rating: 9/10
Lagavulin 1993
28-Year-Old | 50.1% ABV
Bottled: 08.12.21 | 1 Pedro Ximenez/Oloroso seasoned butt, 1 refill American Oak Hogsheads
Number Bottled: 642 | Port Ellen, Isle of Islay
Tasting notes: This will divide opinion. In one way, it's a complex array of flavors with the best of Islay, sherry and ex-bourbon all having a say on the palate. While it is very interesting, there is only a touch of the distinctive Lagavulin character (iodine, in particular) left. Always one to champion experimentation, we think this is a wonderful dram, but perhaps only identifiable as a Lagavulin to the experienced palate.
Rating: 8.5/10
Port Ellen 1980
41-Year-Old | 59.6% ABV
Bottled: 07.12.21 | 1 refill American Oak Hogshead, 1 ex-Sherry European Oak Butt
Number Bottled: 555 | Port Ellen, Isle of Islay
Tasting notes: An impressive ABV for such an old whisky and as such this needs a healthy dose of water to bring out the complexity. Bring this one down to around 50% and you'll find all the usual Port Ellen notes, including brine and seaweed. There is quite a drying texture on the palate, which works with the salt and smoke that gently arrives after some time in the glass.
Rating: 8/10
Cragganmore 1973
48-Year-Old | 44.8% ABV
Bottled: 06.12.21 | 3 refill American Oak Hogsheads
Number Bottled: 351 | Ballindalloch, Speyside
Tasting notes: A really complex whisky, which starts off with a strong oak taste but begins to evolve rather drastically to something far sweeter. A touch of water brings out tropical notes like mango and barbecued pineapple.
Rating: 7.5/10
Royal Lochnagar 1981
40-Year-Old | 52.5% ABV
Bottled: 06.12.21 | Refill casks, refill American Oak Hogsheads
Number Bottled: 1,047 | Balmoral, Royal Deeside
The Singleton of Glen Ord 1987
34-Year-Old | 49.4% ABV
Bottled: 10.12.21 | 5 refill American Oak Hogsheads
Number Bottled: 1,047 | Glen Ord, Highlands
Talisker 1984
37-Year-Old | 51.9% ABV
Bottled: 07.12.21 | 3 refill American Oak Hogsheads, 1 ex-Sherry European Oak Butt
Number Bottled: 968 | Carbost, Isle of Skye
Although all bottles will be available individually, there are just 317 full sets available. Priced at £36,500 ($44,700), interested parties must register here before June 30 in order to get their hands on one.