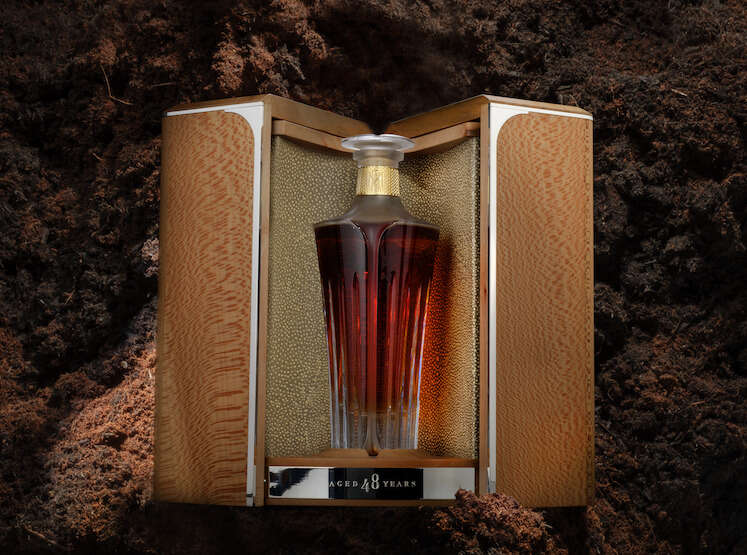 There is something rather humbling about being one of the first to try a new whiskey, even more so when the person responsible for creating it is watching you take the first sip. This week, Midleton Very Rare, often touted as the pinnacle of Irish whiskey, brought their new Silent Distillery release – a 48 Year Old – to London for a world exclusive tasting, with master distiller Kevin O'Gorman keen for immediate feedback.
But just as this whiskey took 48 years to reach its peak, it also takes time to process what you're tasting. After all, it is the sum of so much work. O'Gorman, who became the master distiller in 2020, inherited the two casks used in this whiskey from his predecessor who, in turn, inherited them from his. In fact, the whiskey has been overseen by four master distillers, each one concurring that something special was going on.
The 48 Year Old, which quietly becomes the oldest Irish whiskey ever released, is Chapter 4 in the ultra-premium Silent Distillery Collection. The collection started with a 45 Year Old in 2020 and will culminate with a 50 Year Old in 2025 to coincide with the distillery's 200-year anniversary. The whiskeys are so old that the distillery that created them no longer exists. The Old Midleton Distillery closed down in 1975 and these whiskeys represent the very last drops before the stills fell silent.
[See also: The Most Exclusive Scotch Whisky Experiences]
Each chapter has been different with the whiskeys going through very different maturation journeys. Chapter 1 was a peated whiskey; Chapter 2 went through bourbon, sherry and port casks; and Chapter 3 was a mix of sherry and bourbon. Chapter 4 is perhaps the truest reflection of Midleton Very Rare. It's a blend of grain and pot still whiskey aged exclusively in two ex-bourbon casks.
Pot still whiskey tends to offer vanilla, tropical fruits and spice while grain whiskey tends to be more herbal and floral. Together, they offer the best of both worlds. The ex-bourbon barrels have less of an effect on the whiskey compared to a sherry cask, so much of the original distillery character remains intact.
The two whiskeys aged side by side for 48 years before being married together for, coincidentally, 48 days in the grain cask. O'Gorman speaks of the anxiety when the day finally came to transfer the contents of one cask to the other. Not a single drop could be wasted. Once the date of the transfer was set, his entire team tried to book a personal day.
But not a single drop was lost and they had enough to fill 119 Waterford crystal decanters – as well as a handful of generous 50ml samples for the lucky few in attendance inside HIDE's private dining room. The copper-hued whiskey was bottled at a cask strength of 53.9%, indicating a gentle influence from the ex-bourbon casks.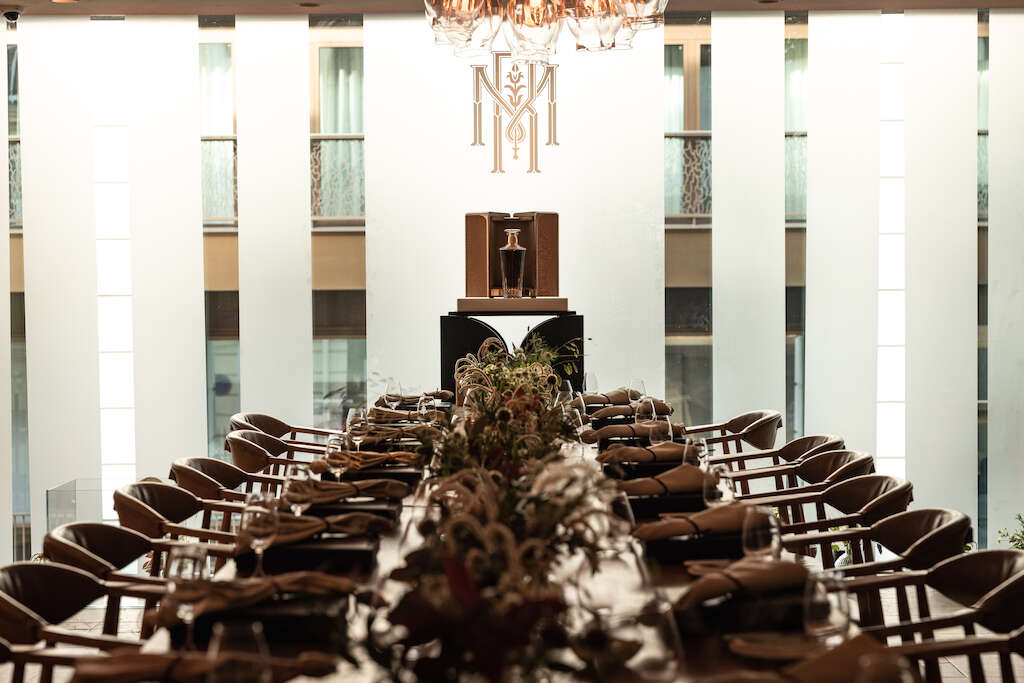 Those beautiful crystal decanters are presented in a box to match. The hand-crafted cabinets have been carved from rare lacewood, known for its striking red and brown appearance. This is supposed to be reminiscent of Cork's barley fields. The cabinets are dressed in shagreen leather and detailed with sterling silver and oak reclaimed from old whiskey vats.
Altogether, it makes for an ultra-premium product priced at $50,000. It's one of the most expensive Irish whiskeys ever as well as the oldest. So what does it taste like? Let's break it down.
Midleton Very Rare Silent Distillery Chapter 4 tasting notes
Nose: Give this whiskey time in the glass before taking that initial whiff. It has been locked away for almost half a century and needs to breathe. Initially, you're hit with sweet pears and apple skins, and then more luxurious notes of vanilla custard and quince jelly. There's a subtle earthiness to the whiskey that mixes in with waves of cigarbox sandalwood.
Taste: A silky texture and a full-bodied hit of spice. A drop of water brings forward fresh stone fruits, a really strong reminder of peach slices in syrup, with a touch of cream. The oak influence is always there but never takes hold. The sweetness of the grain whiskey offers waves of floral perfume, balancing out those rich pot-still spices.
Finish: Stone fruits remain while the oak tannins continue to tingle.
Conclusion: I get the sense that this is a master distiller's whiskey. It is rare to see whiskey of this age make it to the bottle without touching a sherry cask, which tends to smooth out the wood influence. As a result, the whiskey retains so much of its original character and is remarkably fresh and vibrant. It is one for the traditionalists, for those that love whiskey in its truest form. It is the best of the Silent Distillery Collection thus far.
Midleton Very Rare Silent Distillery Collection Chapter 4 is available in the US for an SRP of $50,000. For more information, visit midletonveryrare.com