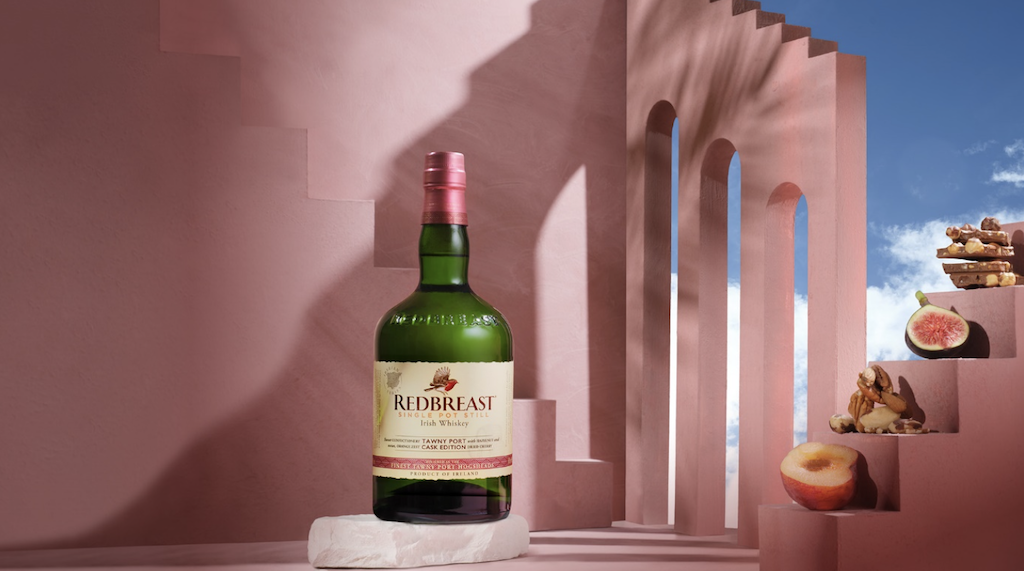 Following the success of its Pedro Ximénez Edition, Redbreast Irish Whiskey is taking drinkers back to the Iberian Peninsula with the release of the all-new Tawny Port Edition.
The third addition to the brand's Iberian series, the single pot still whiskey is a masterclass in careful blending by master blender Billy Leighton and blender Dave McCabe. Produced at the Midleton Distillery in Cork, the liquid was first aged in a combination of ex-bourbon and oloroso sherry casks, with a portion then re-casked into tawny port casks, where they matured for several more years.
[See also: The Difference Between Scotch and Irish Whiskey Explained]
Following this initial ageing, all of the whiskeys met again in a final blending before concluding their maturation process with 14-25 months in freshly seasoned tawny port hogsheads, sourced directly from Portugal's Douro Valley.
The release is 12 years in the making and originated during Leighton's visit to partner winemakers and cooperages in the region. "Being in the valley, we began to imagine how Tawny Port's intricate flavor profile could affect our whiskies," he said. "Curiosity took hold, and we decided to make this daydream a reality."
The result is a testament to Redbreast's strive to create extraordinary whiskies and celebrates the heritage craftsmanship in Portugal's port industry. The liquid itself is rich and layered: Redbreast proudly nods to the marrying of flavors that comes when you age a liquid in four varieties of cask.
[See also: The Best Luxury Hotels in Ireland]
"Redbreast Tawny Port Edition's flavor profile is well within our flock's DNA, yet it provides an exciting twist from another part of the Iberian Peninsula," McCabe said. "Each subsequent expression in the series will represent a new discovery from this rich region which to date has greatly influenced the Redbreast style over the course of its history."
The Tawny Port Edition joins the Pedro Ximénez Edition from 2021 and the series anchor Redbreast Lustau Edition in the Redbreast Iberian series, with future releases already on the cards.
[See also: Midleton Very Rare Reveals Silent Distillery Chapter 4]