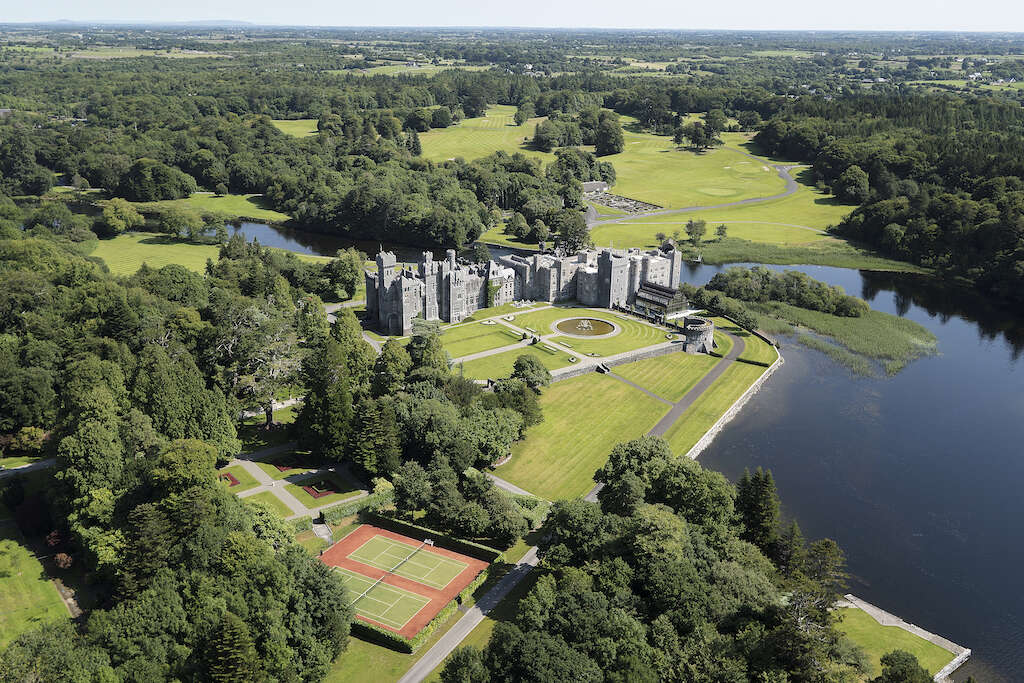 The grand, historical country of Ireland is known around the world for its warm, genuine hospitality and while its quaint B&Bs and guest houses have their own appeal, Ireland's bountiful selection of luxury hotels offer charm in abundance.
The country is also known for its lush, rolling countryside, so green it has to be seen to be believed – that Emerald Isle nickname didn't come from nowhere, after all. Many of these luxury hotels make the absolute most of that landcape with vast estates offering a variety of outdoor pursuits. 
Where the best luxury hotels in Ireland truly shine, however, is in their celebration of the country's history. Many of the properties on this list date back hundreds of years, with formidable architecture and grand tales to prove it. A stay at any of them is less just a place to rest your head but rather an immersion into the sights, sounds and legacy of Ireland itself. 
[See also: Bittescombe Lodge: Far East Inspiration Meets Country Living]
Ballyfin, County Laois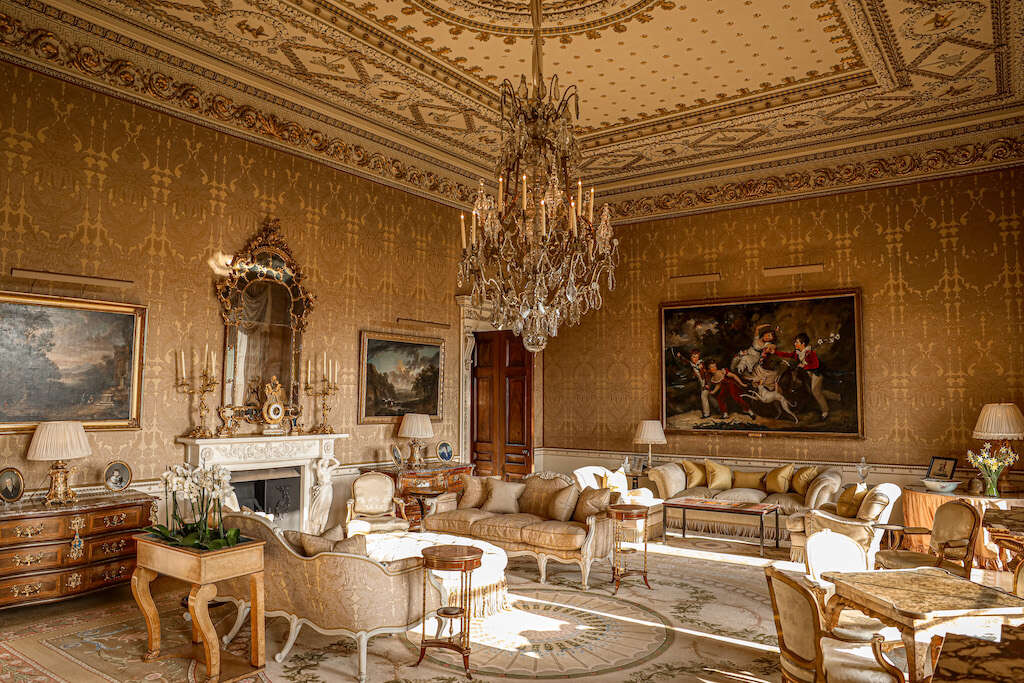 Bridgerton eat your heart out: Ballyfin is Regency glamour at its finest. Set in the heart of Ireland, at the foot of the Slieve Bloom Mountains, the property was originally built in the 1820s for a wealthy family, before being utilized as a school for much of the 1900s. In the early 21st century however, it underwent a significant restoration and emerged as what is now known as one of Irelands best luxury hotels in 2011.
Despite its grand size, the Relais & Chateaux hotel has just 21 bedrooms, each of which is individually designed. Even the most 'basic' – though they are the furthest thing from – are dripping in lavishness. If the beds aren't four poster they are artfully draped with an ornate canopy, the loudest wallpapers you've ever seen scream from every room, and walls are adorned with original artworks. Minimalism is not a word that exists in the Ballyfin world.
Guests can make use of Ballyfin's impressive 614-acre estate, encompassing everything from ancient woodland, a lake and fruit and veg gardens, to a falconry school and a horse-riding paddock. Back in the main building, there are six grandiose reception rooms including an 80-foot library, as well as a sophisticated formal dining room.
Ashford Castle, County Mayo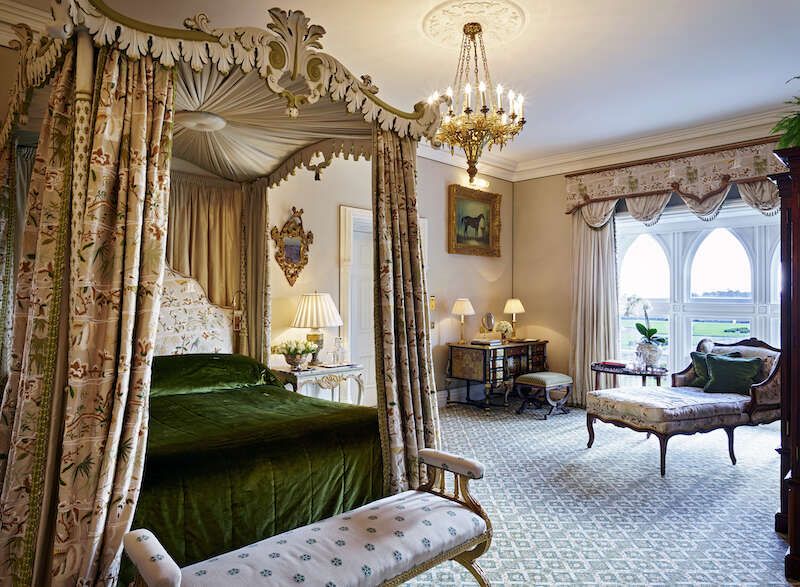 With a history that dates nearly 800 years – a period when the Aztecs were among the primary civilizations in the Americas and the Magna Carta had just been issued in England – Ashford Castle is among the oldest luxury hotels in Ireland. Found in the west of the country, some 26 miles north of Galway on the banks of Lough Corrib, the hotel is picture-perfect Ireland. Ashford Castle makes the absolute most of the surrounding landscapes with a host of outdoor pursuits, from falconry and hiking to golf and boat trips.
A total of 83 and suites are spread across the property (including a private boathouse cottage), with each individually designed to celebrate both the hotel's long history and the modern amenities it now offers. Expect unique artworks, vintage furnishings and huge grand beds. Once home to the famous Guinness family (yes, that Guiness), the hotel has welcomed kings, presidents and dignitaries to these fabled rooms throughout the years.
Operated under the Red Carnation umbrella, Ashford Castle prides itself on the warm, hospitable service that has become synonymous with the family-run hotel group. Guests can enjoy 24-hour room service, nightly turndown with personal touches and the help of dedicated activities coordinators. 
[See also: The Best Luxury Literary Hotels Across the World]
Dromoland Castle Hotel, County Clare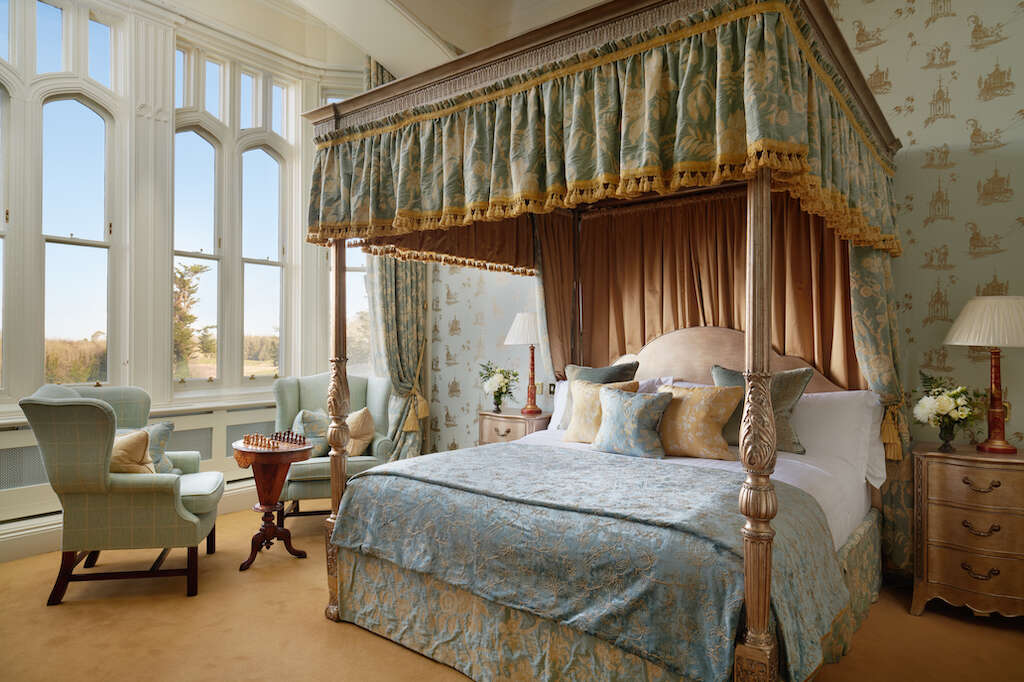 Don't be fooled by the imposing baronial façade – Dromoland Castle is a bastion of warm Irish hospitality. The property has existed in some form since the 1000s, but only in a hotel capacity since in the 1960s, when it was first transformed from an ancestral home. 
Now, it offers 97 guestrooms, each of which overflows with thoughtful touches and classic style. For a real taste of Irish luxury at its best, book the Brian Boru suite. Named after an ancient king, the suite is absolutely fit for royalty, with a grand four-poster bed, an elegant duck-egg blue and gold color scheme, and enormous windows with views across the lake.
Like many of the best hotels in Ireland, golf is a big deal at Dromoland. Guests can tee off at the resort's 18-hole, Ron Kirby and JB Carr- designed championship course, which navigates gentle hills, woodland and watery obstacles. The course is suitable for all abilities, but there's a state-of-the-art academy for anyone hoping to fine-tune their game.
Adare Manor, County Limerick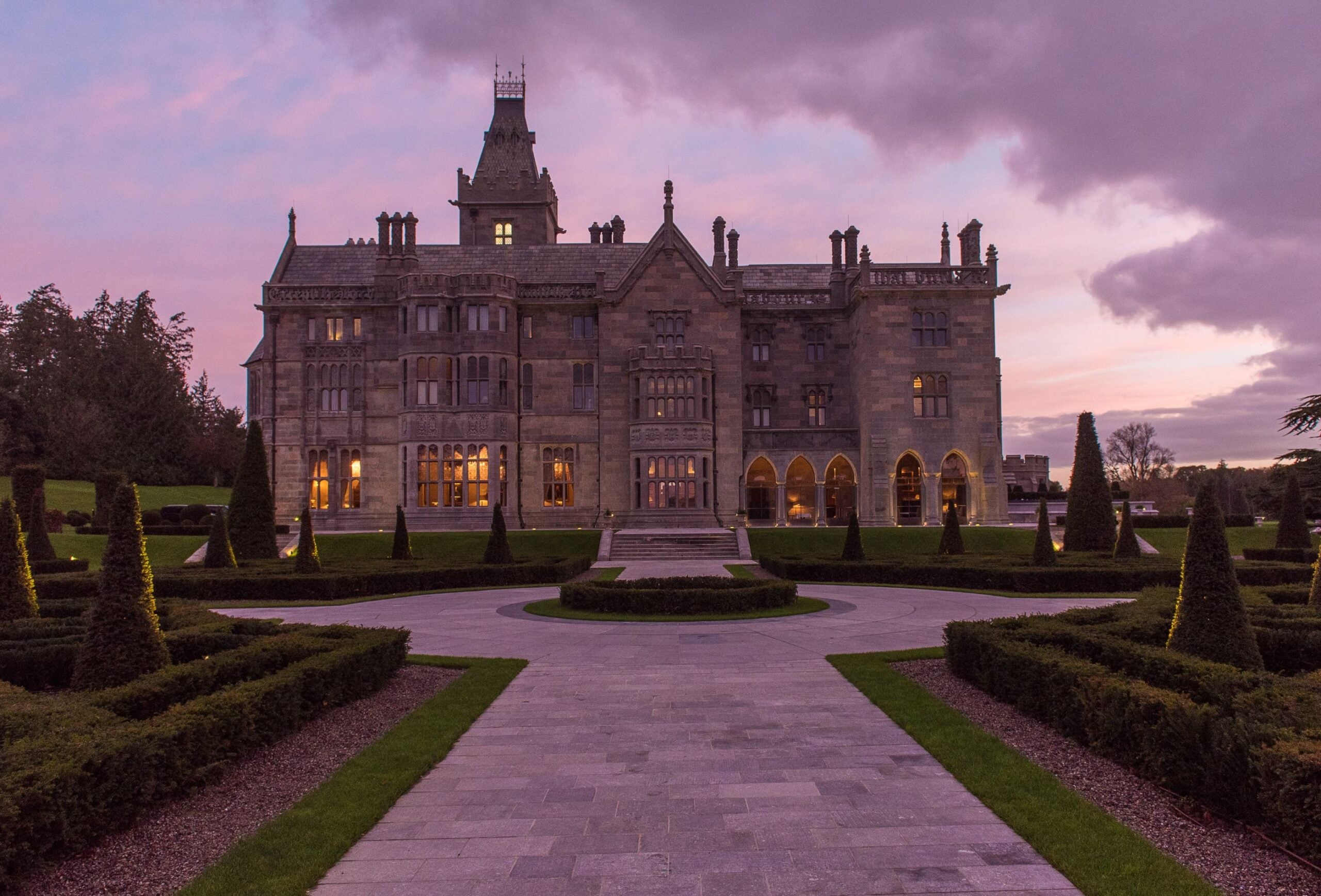 Routinely listed as one of the country's best hotels, no tour of Ireland would be complete without a stay at Adare Manor. Perfectly positioned just a stone's throw from the pretty Shannon Estuary, the hotel has become a mainstay both for those traversing the Wild Atlantic Way route, and for travelers hankering after a slice of Irish luxury. 
The manor house (explicitly not a castle, despite its grandeur) sits on a sprawling 842-acre estate. It might be a little newer than some on this list (the property as it exists now was built in the mid 19th century), but Adare Manor is as grand as they come, with its imposing Gothic architecture standing proud against the lush green surrounds.
The hotel has 104 rooms, each of which are uniquely designed, but go for one of the signature suites. Traditionally outfitted but never tired, and equipped with king-size bed, complimentary mini bar and dedicated butler service, these rooms are the best in the house. In the rest of the hotel, guests can savor Michelin-starred fare at The Oak Room restaurant, relax at the swanky spa or tee off at the championship golf course. All in a day's work.
[See also: The Best Restaurants in Dublin]
The Shelbourne, Dublin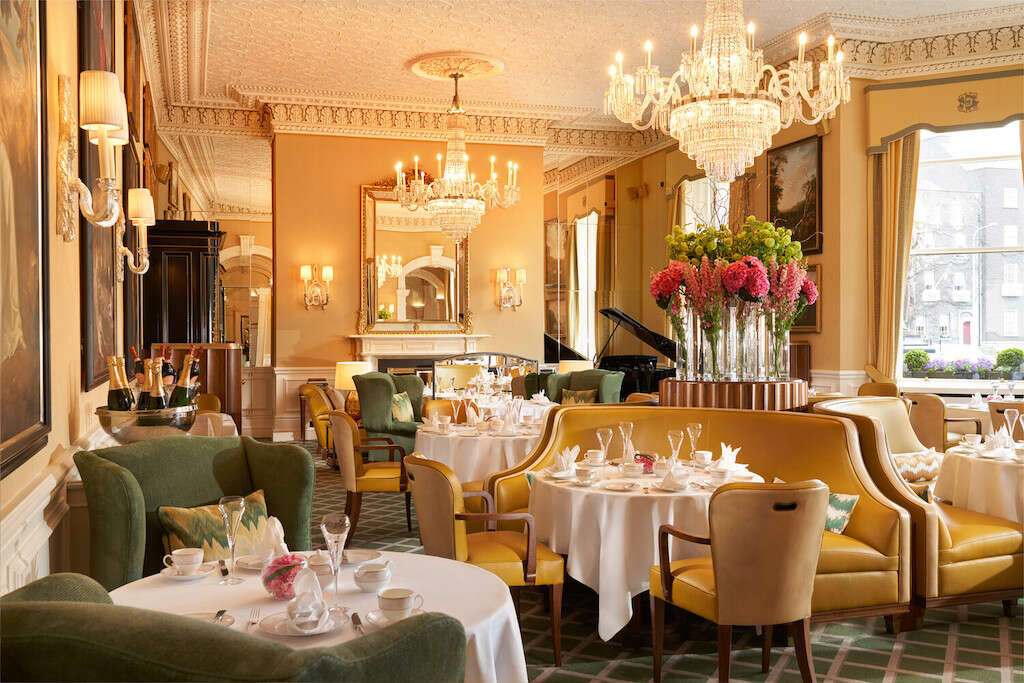 Ireland's countryside might be among some of the finest in Europe, but who could forget the nation's beloved capital city? For a Dublin break, look no further than The Shelbourne. Far from just a luxurious city-center hotel, the property is embedded into Irish history and proudly claims to be the property in which the Irish Constitution was penned.
In recent years, The Shelbourne underwent a drastic renovation, emerging as a modern icon. Each of its 265 rooms are glamorous and charming, with plenty of thoughtful touches. Our top pick is the Princess Grace Suite – a two-bedroom abode designed in honor of Grace Kelly herself, who is said to have once been a guest at this historic Dublin hotel.
The hotel is also home to a number of famed bars and restaurants. For timeless fine dining, head to The Saddle Room; 1824 Bar is for a cozy nightcap; and The Lord Mayor's Lounge is where you'll find the beloved Afternoon Tea service.
Castlemartyr Resort, County Cork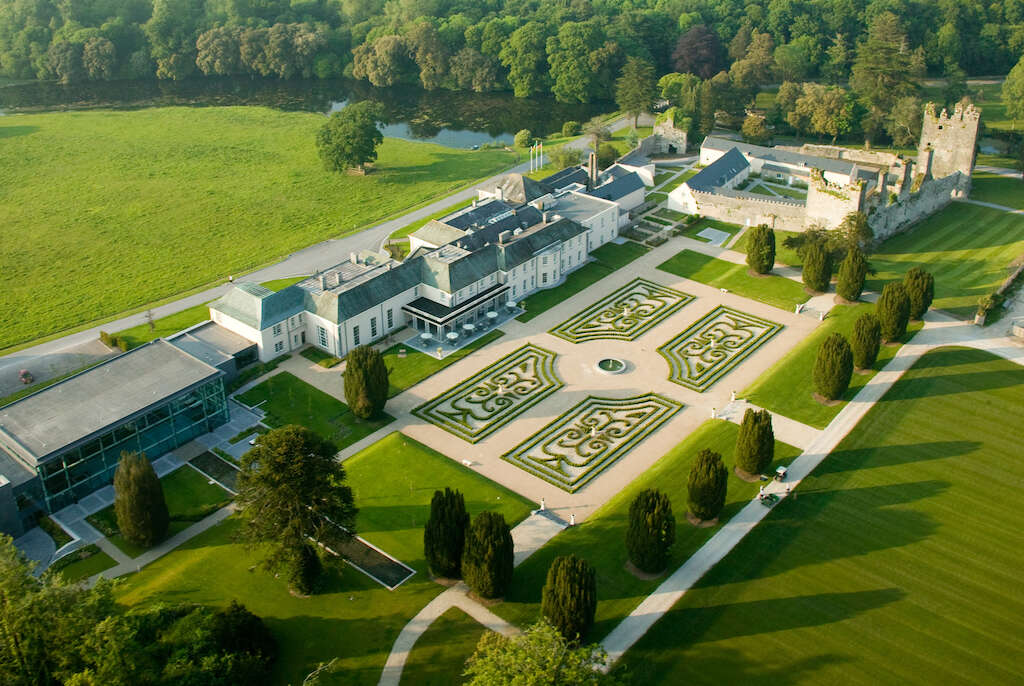 Down in the very south of country, just a few miles outside of Cork, is Castlemartyr – a luxe but firmly Irish resort-style hotel set across at 220-acre estate that encompasses a lake, an 18-hole golf course, walled gardens and the ruins of an ancient castle. 
The hotel itself is housed in a grand manor house, decked out in a traditionally elegant style: think creamy soft furnishings, dark wood furniture and rich crimson drapes. Rooms are a nice mix of styles: some in the main house follow the traditional look, but others are a touch more modern (but still plenty elegant) with earthy tones and contemporary fittings. 
While the hotel has always been regarded for its destination dining, the arrival of Terre in 2022, and its subsequent Michelin star earlier this year, cemented this status. Chef Vincent Crepel's first solo venture outside France, Terre is a celebration of Irish ingredients, viewed through a lens of Asian flavors and techniques. 
[See also: The Best Hotels for Grand Get-Togethers]