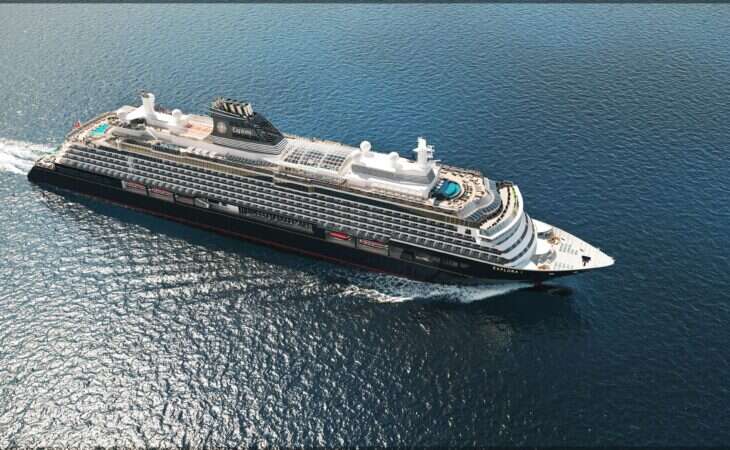 Having been brought up in the mountains of Austria, it seems odd that Michael Ungerer should say that the ocean is in his DNA. However, as the CEO of the newly launched luxury cruise line with a difference, Explora Journeys, the claim does seem to have some merit.
Personally appointed by the Aponte Vago family – which has some 300 years of maritime history behind it and operates the largest commercial shipping company in the world, Mediterranean Shipping Company (MSC) – Ungerer is an undeniable industry veteran, having worked with luxury cruise companies around the globe for almost his whole career.
Set to launch its first journey in 2023 with plenty more already announced, Explora Journeys was what Ungerer describes as a white piece of paper when he came on board, despite the towering influence of its parent company.
"This was an opportunity to start something completely new: a blank piece of paper in the luxury hospitality space, by a family-owned company. It ticked all my boxes," he says. "The vision is a new style of transformative ocean journeys that inspire exploration and are delivered with a sense of being cosmopolitan but also refined and relaxed."
[See also: The Best Cruise Suites to Sail the Seas in Luxury]
The customer runs at the heart of the new cruise line, with the initial planning processes including inviting some 20,000 guests from the luxury cruise industry to complete a questionnaire on how they want the world of travel to shape up.
"We asked them: 'what did you always want to do, what isn't out there today, what do you like, what don't you like?'" Ungerer explains. "A few themes emerged that were really common worldwide, so [we] put that all together and that is how we built the product."
According to the responses, one of the biggest luxuries among ultra-high-net-worth travelers is time and private space. And so, in response, Explora Journeys offers space in abundance. Despite having a comparatively small length of 813 ft, the maiden EXPLORA I vessel is awash with space, with 461 Ocean Suites (including one Owner's Suite), all of which have their own private terrace and walk-in closets.
Aside from guest accommodation, the ship will also have ten bars and lounges, nine distinct dining experiences, a casino, an art gallery, four swimming pools (three outdoor, one indoor) and 64 private cabanas. Guests asked for space, and Explora Journeys is preparing to give it to them.
[See also: A Day in the Life of Expedition Leader Florence Kuyper]
"Our guests also have a craving or longing for authenticity and for learning something new," Ungerer adds. And so, each trip has been carefully curated to provide unrivaled experiences, both in far-flung corners of the world and more familiar destinations.
The recently announced Alaska voyage, for example, starts in Vancouver before weaving its way north along the dramatic Alaskan coastline, stopping to witness staggering glaciers, epic wildlife and rugged mountain ranges. Explora Journeys has crafted its itineraries – and indeed its ships – to ensure guests get the most out of each destination.
"With smaller ships like ours, you can go longer and you can go deeper, and you can avoid going to those key ports where everyone else is," Ungerer explains. "And that way you avoid the crowds and you are also able to give back more and go to smaller communities, in smaller groups."
[See also: The Best New Cruise Ship Journeys for 2022]
A lot of the journeys that Explora Journeys has planned so far will be open-tour, meaning they start at one destination and conclude in another, which will allow guests to book-end their trips. With half of the guests who have already booked making the most of this option, it's clear that Explora Journeys has tapped into what its customers want. "Eventually, guests will be able to travel all the way around the world with us, non-stop," Ungerer claims.
So incomparable are these planned journeys that Ungerer is starting to move away from the idea of being a cruise line altogether: "We're not in the business of selling cruises, we take the discerning traveler on a journey."
Of course, as a new cruise line (if we are to call it that) taking up yet more ocean real estate, Explora Journeys has a moral responsibility to act in a way that puts the planet first.
While many organizations might cite being part of a wider, and much bigger parent company as reasoning for not living up to sustainability standards, in Explora Journey's case, this is playing to its favor. "[The Aponte Vago] family don't think quarter to quarter, they don't have to think about shareholders, they just think about generational things," Ungerer explains.
[See also: The Best Cruises in Remote Locations]
"It all goes back to Mr. Aponte, who keeps saying that we have to leave the oceans and the world in a better place than what we found them for the next generation, that's his mantra and he carries that across all his businesses. It's in the [family's] foundations – sustainability is core to them," Ungerer says.
As well as a longstanding desire from the business to act responsibly, Ungerer is convinced it's what the consumer wants to see, too. "There is a sense of personal legacy and mindful decision making," he says. "People are bothered about who they give their money to and what they are going to do with it and whether they can trust them."
In this vein, Explora Journeys has primed its fleet to adapt to new, green power solutions as and when they are available. Earlier this month, the brand claimed an industry first when it announced that two of its six initial vessels will be hydrogen-powered, as well as changing the design of two more ships, EXPLORA III and EXPLORA IV, to accommodate clean-burning LNG (Liquefied Natural Gas) fuel.
As is often the case with worthy endeavors, the process wasn't easy, with Explora Journeys having to halt and rethink construction on EXPLORA III and EXPLORA IV to make space for the new technology.  "It's been a long process," Ungerer says. "It's very uncommon to order the ships, start construction and then after, take a step back and relook at it."
As a result of this re-assessment, both EXPLORA III and EXPLORA IV will now be 62 ft longer, with an additional cost of €120m (approx. $123m) each and postponed launch dates of 2026 and 2028.
This environmental responsibility finds its way into the guest experience, too. There will be no single-use plastic onboard any Explora Journeys ship, and each vessel will have representatives from MSC's charitable arm – the MSC Foundation – on board who will share details on its vital emergency relief, community support and conservation projects. "In the luxury space, there is demand for not just having a sustainability agenda but also to really have proof within the holiday itself," Ungerer explains.
Given that Explora Journeys is yet to launch its first journey, it is impossible for us to conclude that it has changed the face of cruising quite yet. But, if everything it has planned comes to fruition over the course of the next few years, it might just be on its way.
[See also: Luxury Cruise Industry Back and Stronger Than Ever]