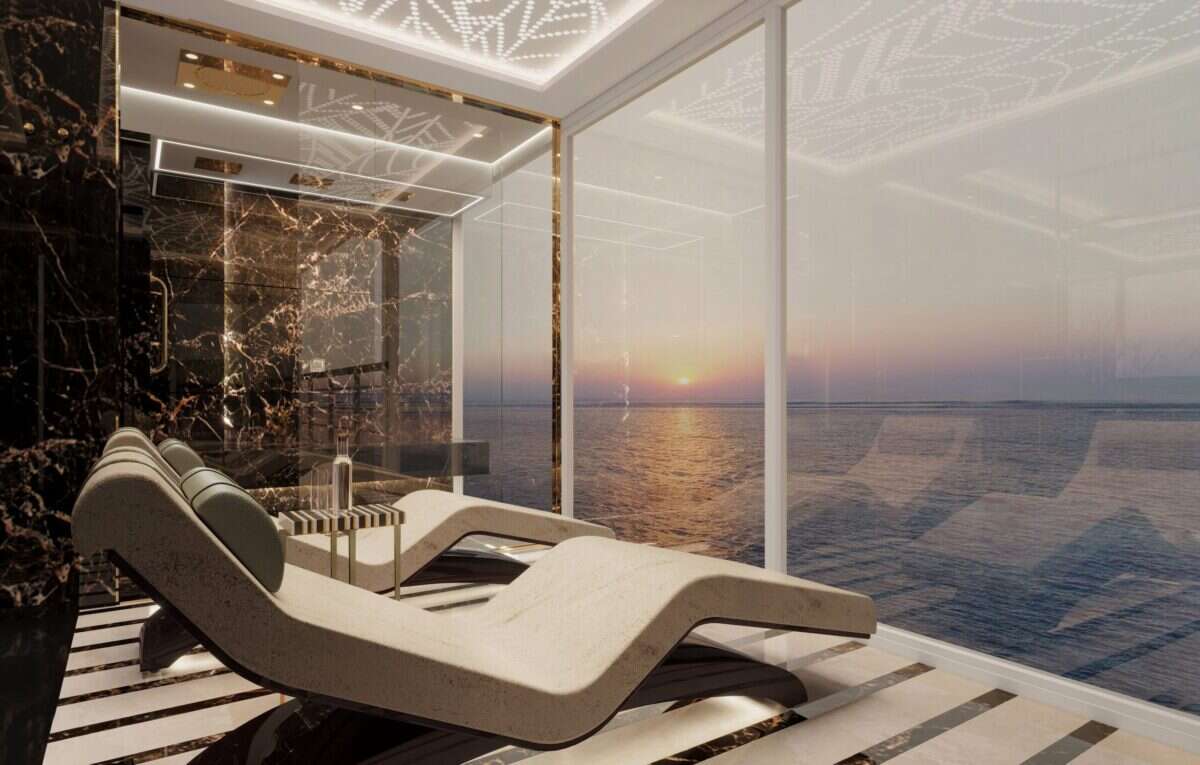 Some people say that the room doesn't matter. You'll spend most of your time out and about, so why pay more for where you sleep? But we know better. Your suite becomes your sanctum — especially when sailing along a river or voyaging across the sea on a cruise.
Rest those sea legs in style when you opt for the most lavish and exclusive stateroom on board your chosen cruise.
While top-of-the-line suites vary from vessel to vessel and company to cruise line, they consistently bestow capaciousness and glamorous interiors, some form of superior butler or concierge service, better placement on the ship, and complimentary perks like priority embarkation and extra meals.
Many also offer VIP spaces — think a hotel within a hotel — for top-level suite holders only. Ready to set sail? These suites are sure to seal the deal.
[See also: A Day in the Life of Expedition Leader Florence Kuyper]
Regent Seven Seas Cruises
Regent Suite, Seven Seas Splendor
Claustrophobic travelers, this one's for you. The commodious Regent Suite, the largest guest room ever constructed on a luxury cruise ship, sleekly occupies 4,443 sq ft on the exquisitely appointed Seven Seas Splendor. Not just for lovers of large expanses, this abode will satisfy wellness buffs too, thanks to its complete, en-suite, individual spa — a personal health retreat with sauna, steam room and treatment area, with unlimited spa treatments included in the price of the suite.
The chamber further wows with unobstructed, 270-degree views over the ship's bow. A sitting area, composed as a glass-enclosed solarium, lies atop the bridge and provides a 'captain's viewpoint' throughout the cruise. Restful sleep is inevitable thanks to an indulgent, handcrafted Swedish Hästens Vividus bed.
[See also: The 5 Best Cruises in Remote Locations]
Other perks include first-class air accommodations and a dedicated guide in every port. Explore some of Europe's most beautiful coastlines on the 18-day Barcelona to Monte Carlo trip, a jaunt that includes Croatia, Greece, Malta and more.
From $86,000 for two. Contact John Norman, consumer sales manager, jnorman@rssc.com, +1 402 962 0263, rssc.com
Uniworld Boutique River Cruises
Grand Suite, SS La Venezia
Formerly known as the River Countess, Uniworld's SS La Venezia re-emerged in 2021 as an homage to quixotic 1930s Venice. In fact, it took its first float along the Venetian Lagoon. With romantic dark woods, sumptuous fabrics inspired by textile designer Fortuny and flourishes of Murano glass, the vessel sets a bygone mood.
Pretend to be a character in an Agatha Christie mystery when you book the 302-sq-ft, art-filled Grand Suite, designed to reflect various aspects of the European destinations where Uniworld sails. Combine train travel with sailing on the 18-day Cruise & Rail: Milan, Venice & Istanbul itinerary, a comprehensive west-meets-east journey that starts in Italy on July 22 and passes through the Balkan Peninsula.
From $17,799 per person. Contact reservations, info@uniworld.com, +1 800 257 2407, uniworld.com
Atlas Ocean Voyages
Navigator Suite, World Navigator
Some cruisers have done it all. Those hankering for something novel will be gobsmacked by Atlas Ocean Voyages, the first new luxurious cruise line to debut in Florida in two decades. The inventive brand first set sail in 2021. In the news for sponsoring a McEnroe brothers' tennis extravaganza on a February cruise in Antarctica (the first professional tennis match ever executed on that continent), the imaginative cruise line has taken great care to weave sports, history, nature and adventure into each itinerary.
An upcoming golfers' voyage, for example, features opportunities to play some of the world's most enticing links on a 13-day trip, departing June 17 (among other dates) to the British Isles, with stops in Northern Ireland and Scotland's Greenock and Loch Ness. Aboard the first of many ships to come, guests on Atlas's World Navigator (described as more yacht style than cruise vessel) will have the chance to pursue smaller ports, off-the-beaten-path destinations, narrow channels and shallow waters.
Nestle into the Navigator Suite, a one-bedroom, 465-sq-ft personal harbor complete with soaking tub and veranda. Perks include complimentary air travel and shore excursions. Go from Málaga to Rome on a 13-day voyage, which departs May 1.
From $19,799 for two. Contact +1 844 442 8527, atlasoceanvoyages.com
Quasar Expeditions
Grace Kelly Suite, M/Y Grace
As elegant as the actress who chose it as the vessel for her honeymoon when she married Prince Rainier, the assiduously refurbished M/Y Grace, reconditioned specifically to navigate through the Galápagos, holds just 16 lucky guests. The most discriminating of them will choose the Grace Kelly Suite, which was completely refurbished in 2017.
As a haven a deux, it features contemporary decor by celebrated designer Adriana Hoyos that reflects vintage Hollywood swank. The 183-sq-ft regal hideaway is truly one of a kind, with classic wooden furniture and nearly 360-degree views of the Galápagos' trove through panoramic windows.
A safari-style adventure cruise company with exemplary guides, Quasar Expeditions boasts a fleet of ships with large decks, ideal for whale watching and wildlife spotting. Consider the eight-day Following in Darwin's Trail cruise, which nips around the islands following in his footsteps, offering snorkeling, nature hikes, kayaking and more.
From $10,400 per person. Contact reservations, sales@quasarex.com, +1 888 502 9503, quasarex.com
Windstar Cruises
Owner's Suites and Officer's Suite; Star Legend, Star Breeze and Star Pride and Wind Surf
There's no shortage of room here. Bring the family on any of Windstar's three all-suite ships (Star Legend, Star Breeze and Star Pride), where already huge Owner's Suites can be enlarged by adding adjoining rooms to create Grand Owner's Suites. When the living space is expanded to an eye-widening 1,374 sq ft replete with three bedrooms, three-and-a-half bathrooms, and balconies aplenty, these brood-sized accommodations have personal space in spades.
For cruisers seeking more characteristic rooms, the nautically themed Officer's Suite on board Wind Surf, a five-masted schooner and Windstar's flagship vessel, can't be beat. Conceived for true aficionados, it lies among the officer's quarters, behind the bridge, in an area labeled 'crew only.'
[See also: The Best New Cruise Ship Journeys for 2022]
Thought to be the only suite of its kind at sea, the 242-sq-ft oasis is kitted out with sailworthy decor such as a sextant, a model ship and binoculars, and puts guests in the relished company of the captain and his sea-minded purview. On Star Breeze, consider the 11-day Alaskan Splendors (Vancouver to Anchorage), or the 8-day Spanish Symphony (Lisbon to Barcelona) on Wind Surf for the Officer's Suite experience. It's available four dates in 2022.
Alaskan Splendors from $5,499; Spanish Symphony from $3,799 per person. Contact Brooke Fox, reservations supervisor, brooke.fox@windstarcruises.com, +1 206 733 2818, windstarcruises.com
Viking River Cruises
Owner's Suite; Viking Octantis and Viking Polaris
Best-known for culturally intoned river sails and spirited ocean itineraries, the ever-sophisticated Viking Cruises has responded to the world's fascination for adventurous quests with the 2022 launch of two expedition vessels.
With plans to venture to remote ports and delve into 'best-at-sea' enrichment, programs have been created to allow guests to work side by side in laboratories with onboard scientists doing real-life destination studies. Guests staying on one of the smaller-sized ships (less than 400 passengers) will be treated to many of the same stellar amenities as the rest of Viking's fleet.
Complimentary expedition equipment — kayaks and Zodiacs — will take guests closer to wildlife than imaginable. Enjoy these tutorials in supreme comfort in either ship's 1,223-sq-ft Owner's Suite, a two-roomed refuge that features a living/dining area and bedroom, plus an almost 800-sq-ft private garden with a Norwegian wood-sided hot tub and outdoor dining table.
Depart April 9 on the Viking Octantis to explore the tropical islands of Barbados, St Barths and more on the Caribbean Connections cruise.
From $10,995 per person. Contact reservations, +1 800 304 9616, vikingrivercruises.com
Disney Cruise Line
Wish Tower Suite and Royal Suites, Disney Wish
Taking Disney's renowned storytelling to new heights, the Disney Wish launches in June 2022 with a maiden cruise from Cape Canaveral, Florida to Nassau, Bahamas, including a stop on Disney's private island, Castaway Cay, and a promise to conjure magic on other similar cruises throughout the year. Key to the new ship's buzz is AquaMouse: A Minnie and Mickey Mouse-themed, onboard water attraction that promises screams of delight as undulating slides corkscrew above the decks for lengths totaling 760 ft.
Adjacent to the fun, six swimming pools planted in tiers will offer repose. Make like Disney royalty and retire for quiet time in the novel, penthouse-like Wish Tower Suite. It prevails as Disney Cruise Line's most unique and luxurious accommodation yet. Encompassing nearly 2,000 sq ft of living space with room for eight, Wish Tower has two main bedrooms, a children's space, a library that converts to a bedroom, and four-and-a-half bathrooms. A two-story window wall connects the outdoor views with blue-hued, Oceania-centric interiors focused on Disney's beloved character Moana.
Film-inspired art (think: a statue with its own soundtrack, special lighting and audio effects) and amenities such as VIP access to the concierge lounge and a dedicated personal concierge team to organize bespoke activities will coddle Disney lovers large and small.
From $26,446 for four people for a three-day cruise. Contact reservations, +1 800 951 3532, disneycruise.disney.go.com
Aqua Expeditions
Design Suites, Aqua Nera
Aboard Aqua Nera — an exquisite vessel that ventures deep into the Peruvian Amazon — guests will be spellbound by interior design features that summon a sense of place, such as the bathroom tiles that reference the Shipibo tribe's Amazonian prints.
At the same time, the 20-suite ship pays homage to her sister ships with elements drawn from around the globe: Bangkok-sourced Jim Thompson fabrics in suites and public spaces accompany area rugs made from recycled fishing nets selected at Maison & Objet in Paris.
[See also: Aqua Expeditions CEO on the Evolution of Luxury]
See the Amazon's otherworldly rain forest and leafy expanses through panoramic floor-to-ceiling windows from a Design Suite, eight of which can be combined in sets of two to create double-sized havens via a sliding door. Perfect for families, the merged suites can accommodate up to six guests.
Totaling 640 sq ft, the space can be configured for couples into a living room, master bedroom and two-bath grand hideaway. Aqua Nera offers 3-, 4- and 7-night all-inclusive expeditions.
From $5,288 per person. Contact Michael Grove, expedition consultant, mgrove@aquaexpeditions.com, +1 866 603 3687, aquaexpeditions.com
Oceania Cruises
Ralph Lauren Home Owner's Suites, Marina and Riviera
Both art lovers and gastronomes lap up the aesthetic offerings on board Oceania Cruises' Marina and Riviera. The ships are hung with more than 2,000 works of fine art, collectively (from the likes of Miró and Picasso) — pieces meant to be beheld while guests converse over such norms as six-course Dom Pérignon dinners. With the brand's classy vibe, a guest wouldn't be shocked to see designer Ralph Lauren as a fellow passenger, his all-American cruise wear like a beacon on board.
So it's no surprise that Oceania chose the icon himself to design and impart his old-money, casual-chic perspective to the 2,000-sq-ft Owner's Suites, located on both ships. Furnished exclusively by Ralph Lauren Home, the cruise suites spread across the ships' beams, featuring indoor and outdoor whirlpool spas, an ebony player piano, an extravagant bar, a living room, a bedroom (replete with Oceania's beloved Tranquility Beds) and a grand foyer anchored by a limestone and black cabochon inset floor.
Immense windows dressed with Ralph Lauren Grimaldi-weave sail fabric showcase the surrounding sea, where azure tones complement Lauren's indoor camel, bone and navy motifs. Book the suite for Marina's 12-day Mediterranean Splendors adventure, which sets sail from Istanbul to Lisbon by way of phenomenal highlights, such as Santorini and Seville.
From $16,199 per guest. Contact reservations, +1 855 623 2642, oceaniacruises.com
Seabourn
Grand Wintergarden Suite, Seabourn Venture
With itineraries that survey the land of snowcapped peaks, fjords and polar bears, Seabourn Venture will keep guests cozy and comfortable with amenities such as heated jacket wardrobes to warm parkas for every outing and state-of-the-art Swarovski binoculars, paramount for wildlife gazing. Going afloat in April 2022, Seabourn Venture is a prodigiously luxurious, all-suite expedition craft, boasting advanced maneuvering technology to land you as close to the action as possible.
Head out on small group outings, from scuba diving to kayaking, as well as submersions in either of the two bona fide submarines. Back on board the cruise ship, you can retire to the bi-level, 1,399-sq-ft Grand Wintergarden Suite. An apartment-style enclave with a stunning entry marked by a sculptured staircase, it has a bedroom on each floor, various terraces, a dining table for four, and three bathrooms. Be among the first to embark on Seabourn Venture's 11-day Arctic Svalbard Summer Expedition, departing from Oslo on May 14.
From $48,999 per person. Contact +1 866 755 5619, guestrelations@seabourn.com, seabourn.com
This article appears in the 04 Mar 2022 issue of the New Statesman, Spring 2022