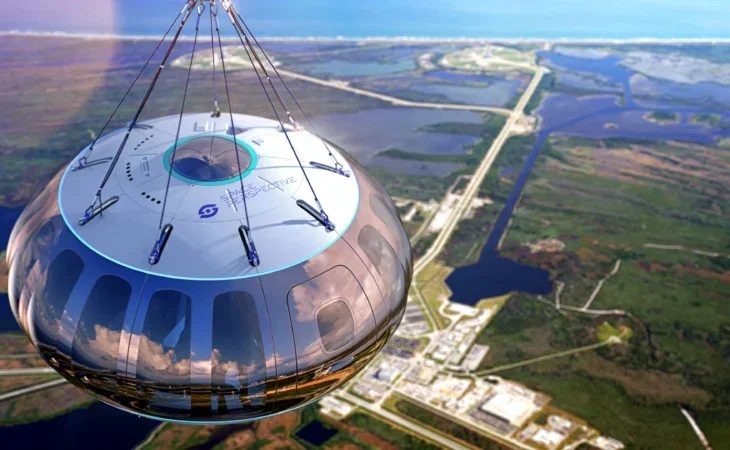 When you think of space travel, what comes to mind? Likely, it's the billionaires' race to space with Elon Musk, Jeff Bezos and Richard Branson all competing to see who will be the first to deliver commercial space flights. But there's another player on the field. Jane Poynter, co-founder and co-CEO of Space Perspective — the world's first luxury spaceflight experience company — is shaking up the industry.
Her mission? To make space flight more accessible, greener and cleaner than ever before — all without compromising on luxury. Poynter found inspiration at an early age: "I was one of those kids that read Isaac Asimov with a flashlight under my blanket at night, so I've been very inspired by the visions of the future that are represented in a lot of sci-fi."
Despite being one of the first and few women in space exploration, Poynter didn't let that deter her from doing some seriously groundbreaking work. "When I first started 30 years ago, I was very often the only woman in the room. It's crazy! Now, thankfully, that is not the case. In the space world, about 25% of the workforce is female, but I am excited to see the increasing diversity. There's still a long way to go, but there has been great improvement which can only be good for the industry."
[See also: Velaa GM Wayne Milgate: 'Luxury Isn't About the Best Room']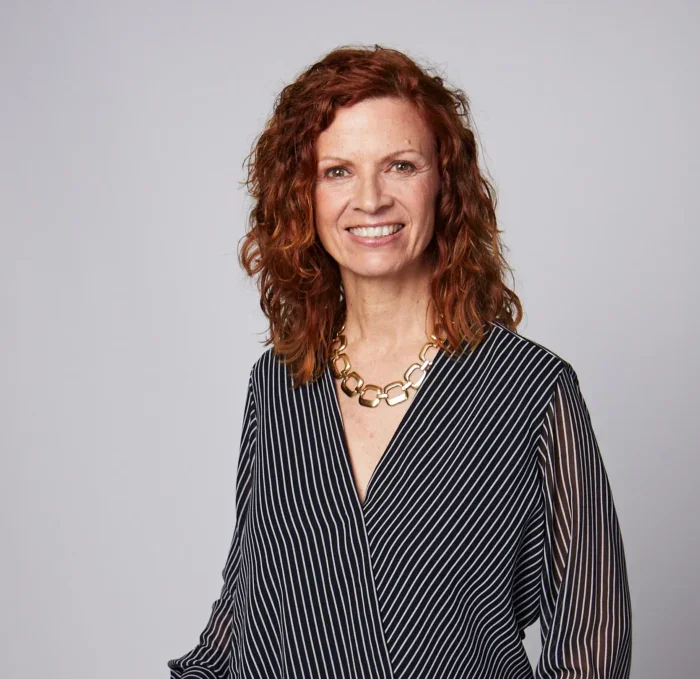 One of her first major projects was Biosphere 2, where she spent two years and 20 minutes (the 20 minutes are very important) in an artificial, enclosed eco-system to test the viability of living in space. "I was lucky enough to get involved very early on in the design team and then as one of the first crew to live inside," she explains. "Its mission was to build a prototype space base, but also to use that facility to understand more about planet Earth's biosphere. And that whole experience really launched me into this really exciting area of human space flight.
"One of the seminal experiences I had there was being part of my biosphere on a very visceral level. I knew on a moment-by-moment basis that the oxygen I was breathing was coming from all the plants around me, and that the CO2 I was breathing out was creating the plants that we were growing in order to make our food. There was this incredible interplay."
[See also: Michel Drappier on Taking Risks and Going Green]
Spurred on by her deepened awareness, Poynter went on to co-found Paragon Space Development Corporation with Taber MacCallum — her husband and longtime business partner whom she met in Biosphere 2. Today their technology development company is a key part of NASA's human exploration mission to both the moon and Mars.
But it was commercial space flight that really excited the pair: "Taber and I have been talking about how we take people to space for decades. But rockets never really seemed to us to be the way that we were going to get you and me — everyday people — up to space. At least not for now. As a kid, Taber had seen his father fly enormous telescopes under these huge balloons to space (his father's an astronomer). So he was like, 'Why aren't we using those?'Well, yeah, why aren't we using those? Of course! And so here we are."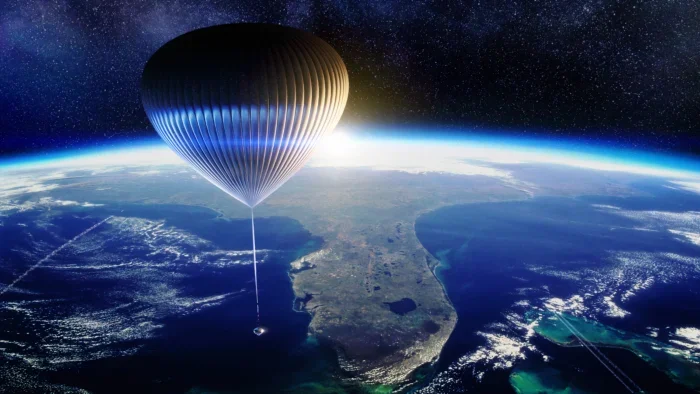 Unlike traditional rockets, the SpaceBalloon uses hydrogen and buoyancy to lift off the ground, making it a very low-energy way of getting to space. And Poynter proudly notes that "the flight itself doesn't actually emit any emissions. [There is] a very tiny amount that turns immediately into water on our way back down, but in essence it's a zero-emissions spacecraft. And then we operate as a carbon-neutral company." (A hugely impressive feat.) But Poynter is keen to mention that it was Biosphere 2 that can be held responsible for so much of her subsequent work.
"Ever since, I've been involved in space, environmental and social causes, and it turns out that when astronauts come back from space they also get far more involved in those causes than before. There's an actual change in behavior. So you could say that once we have taken thousands, eventually millions, of people to space, it will have a gigantic ripple effect across society."
[See also: A Day in the Life of Expedition Leader Florence Kuyper]
When designing the SpaceBalloon, the human experience was considered at every stage: "The design of the spaceship is such that we put seeing that incredible view at the forefront. And then having it be gentle and safe all the way through the flight allows it to be comfortable so people can be relaxed."
And it's not just the views that are important. Poynter wanted to make sure that every comfort you can find on Earth would be equaled in space. "Of course in our capsule you have to have a loo — and a bar. I mean, every self-respecting spaceship should have a bar." Just the essentials.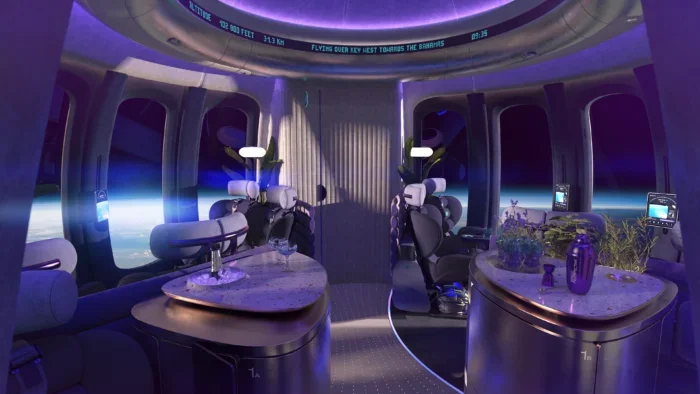 The capsule — Spaceship Neptune — seats eight passengers and a pilot. While you can book individual seats on board, about 40% of tickets have been sold as full pods. "People want to share this extraordinary adventure with their loved ones — both in the capsule and on the ground." And, with WiFi on board, livestreaming with those down on Earth will make for a truly unforgettable call.
When asked how she would like space explorers to feel after a flight, Poynter replies: "Elated. Just with that completely renewed sense of humanity and hope, and inspired to go do something incredible with that experience."
[See also: Chris Leach on a Greener Future for Aviation]
As the industry is still in its infancy, it's difficult to say what the future of space travel looks like. "When airplanes were first put on the market it was just wealthy people and the US government for moving the post around. That was as big as our imagination got. And now we're using them so much. Space tourism is probably the very first wave of what we're going to see."
The experience, which lasts roughly six hours going at 12 miles an hour ("you're going at cycling speed to space"), begins at dawn where 'tourists' will witness the sun shining through the atmosphere, creating that iconic halo. After a few hours and drinks at space's only bar, the life-changing flight will begin its slow descent back down to Earth. Space Perspective plans to take its first flight in 2024, although tickets for that year are already sold out.
Space Perspective experience from $125,000 per person, spaceperspective.com
This article appears in the 06 Jun 2022 issue of the New Statesman, Summer 2022