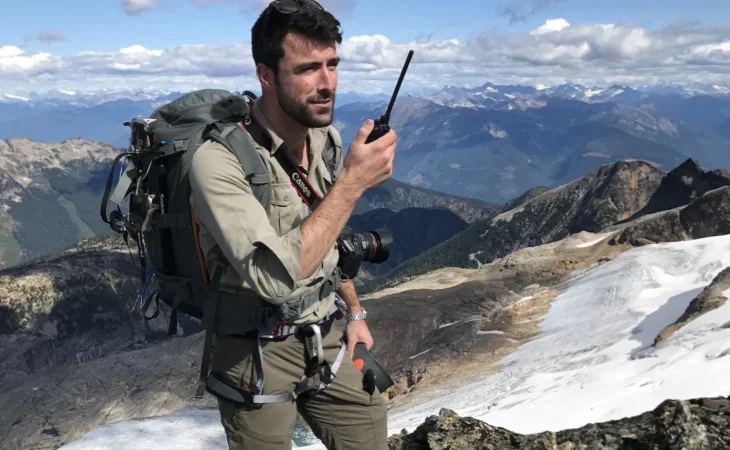 When I speak to Geordie Mackay-Lewis, he has just returned from a yacht expedition in southern Indonesia. This was no typical vacation, though. The co-founder of luxury travel company, Pelorus, was on a recce, designing the latest action-packed adventure itinerary for his clients.
"Last week," he says, "I was cutting my way through the jungle to a hidden waterfall in the middle of Sumba Island. It was epic."
While this might sound like the ultimate dream job, Mackay-Lewis spends a significant chunk of his time back at the London office with co-founder Jimmy Carroll and their burgeoning team, crafting the ever-growing collection of bespoke Pelorus travel experiences.
From chasing the elusive Northern Lights in Norway to trekking through Costa Rica's lush mangrove forests, these are no ordinary package holidays. Rather, the duo set out to create once-in-a-lifetime adventures that could, in Mackay-Lewis's words, literally "take people's breath away."
[See more: The Most Inspiring Trips in the World]
The entrepreneur's thirst for adventure began as a child, growing up in Oman and Dubai. "I've always had this weird affinity for wide open spaces, wilderness and remote places," he says.
After university, Mackay-Lewis served as a captain in a British Army reconnaissance regiment for six years and was deployed twice to Afghanistan before returning home to run a global auto tech company.
But it was after his stint as the managing director for a high-end travel business that Mackay-Lewis decided to strike out on his own. "I thought travel as a whole was super interesting, but I didn't feel that people were really pushing the boundaries that much," he recalls.
"I realized that to access some of the most remote parts of the planet in safety and comfort, and also bring a platform full of toys to enhance the exploration side, yachting was a really exciting sector."
A chance encounter with his future business partner set the wheels in motion. Mackay-Lewis was attending a superyacht forum in Amsterdam when he saw Jimmy Carroll on stage giving a talk for Winch Design.
"I hadn't seen Jimmy in over five years; we met in Afghanistan and last saw each other in the army," he remembers. "I was brimming with ideas about what the yacht sector should be doing. We touched base and swapped notes for ten minutes, realized we were completely aligned in our thinking and started planning Pelorus. That's where it all began."
Five years since setting up their business, the entrepreneurs have cultivated an invaluable network of experts from around the globe that help turn their ambitious travel itineraries into reality.
"The stars of the show," says Mackay-Lewis, "are the yacht experts, anthropologists, marine biologists and all these wonderful people who really bring these trips to life, take people safely into these environments, and help us create things that no one else has been creating before."
When it comes to the more complex trips, Mackay-Lewis comes along to ensure everything goes smoothly, drawing on his extensive experience as a winter mountain leader, advanced diver, skier and paragliding pilot.
[See more: Responsible Luxury Travel Operators of the 21st Century]
Last year, for example, he took an intimate group of guests on an adrenaline-fueled heli-skiing trip to Antarctica onboard a luxury superyacht.
Above all, says Mackay Lewis, it was essential to track down the very best equipment and expert guides to mitigate the risks that come with traveling to such a perilous environment. While only 12 guests came on the trip, the total number of support staff neared 60. This might sound excessive, but once you've totted up the entire yacht and helicopter crews, as well as the ski and mountain guides, it starts to make sense.
"It's about being able to give the group as many different itineraries as possible each day," explains Mackay-Lewis. "Some people will go ski touring, while others go heavy skiing or ice climbing. There are so many moving parts."
Perhaps most important of all, however, is the support Pelorus offers to the scientific community. For the heli-skiing trip, the luxury travel company worked closely with the International Association of Antarctica Tour Operators (IAATO) to figure out where their help was needed the most.
"The Argentinian Antarctic Survey basically said 'we've got this amazing person, Dr. Mercedes Santos, who has dedicated her life to Antarctica and she desperately needs to get to this part of the peninsula," explains Mackay-Lewis.
"So we took Dr. Santos with us to carry on her research, which feeds into a much bigger study. The trip became far more than just a yacht experience."
But what does he say to those who question whether superyachts should be traveling to untouched corners of the planet, like Antarctica, in the first place?
"I think there's a responsibility to go and conduct this research," replies Mackay-Lewis. However, he continues, "you've got to get the entire cruise industry and all the other players who go to Antarctica on board. If you're not giving back and traveling with purpose, then I could agree with the critics."
As tourism to this distant region grows, I ask him whether he has concerns that not all travel companies will operate with the same level of respect for this precious environment.
"It does worry me," he concedes, "but that's why I relish the challenge, to basically set the example, move the needle. If this is what we're doing, then everyone else should be doing the same."
"Almost everyone I speak to who operates in Antarctica falls in love with it and becomes these incredible ambassadors for the region," he continues. "By making sure you're in those inner circles, like IAATO, voicing these concerns, you can make a lot of positive change from within."
To this end, during the pandemic, Mackay-Lewis and his team set up the Pelorus Foundation – an independent organization that strives to protect at-risk wildlife and environments by supporting high-impact sustainable initiatives across the globe.
Prior to this, the luxury travel company was already donating around 5% of its profits to charitable organizations and working with the World Land Trust on a carbon offsetting scheme, but, Mackay Lewis says, "we just felt like this wasn't enough."
Eager to make a greater impact, they hired a team of charitable experts to work with partners on the ground that is on the front line of critical conservation efforts. During the pandemic, for example, the foundation trained over 100 rangers to help tackle the poaching crisis in South Africa's trans frontier region.
"We're literally buying the boots for the rangers and making sure every single penny we spend is being deployed on the ground," says Mackay-Lewis.
Other projects the Pelorus Foundation is working on include carrying out vital marine research in the Red Sea, establishing a healthy coral reef ecosystem in Honduras and helping to put in place practices to protect the endangered Black Rhino in Namibia's Onguma Game Reserve.
In his typically adventurous fashion, Pelorus co-founder Jimmy Carroll kicked off fundraising efforts by rowing 3,000 miles across the Atlantic from La Gomera to Antigua.
Alongside the foundation, Pelorus also launched a Climate Investment Fund financed by a mandatory 'carbon bill' for clients. The money is funneled into a wide range of carbon removal projects and technological solutions to reverse the damaging impact of climate change. "No one complains," says Mackay-Lewis. "There isn't a single person who has pushed back on that. People want to do more."
In the last couple of years, he has witnessed priorities shift with people traveling for longer and with greater purpose. This is something he is only too happy to facilitate.
During their time away, the Pelorus team encourages clients to actively get involved with giving back, whether it be going on an anti-poaching patrol with a field ranger in Africa or spending time with a marine biologist in Antarctica to support crucial research on the region's whale population.
"The clients love it," says Mackay-Lewis. "They get to meet extraordinary people that they would never have met on a normal travel experience. Everyone wants to get fully involved with the conservation projects which I think is a huge silver lining to the pandemic."
Going forward, he hopes to weave this type of purposeful travel into every Pelorus trip. His eyes light up as he launches into a list of experiences he is currently crafting in Papa New Guinea, Patagonia and Brazil and it's clear that for Mackay-Lewis this is far more than just a job – it's his passion.
[See more: Exploring Antarctica with White Desert's Robyn Woodhead]