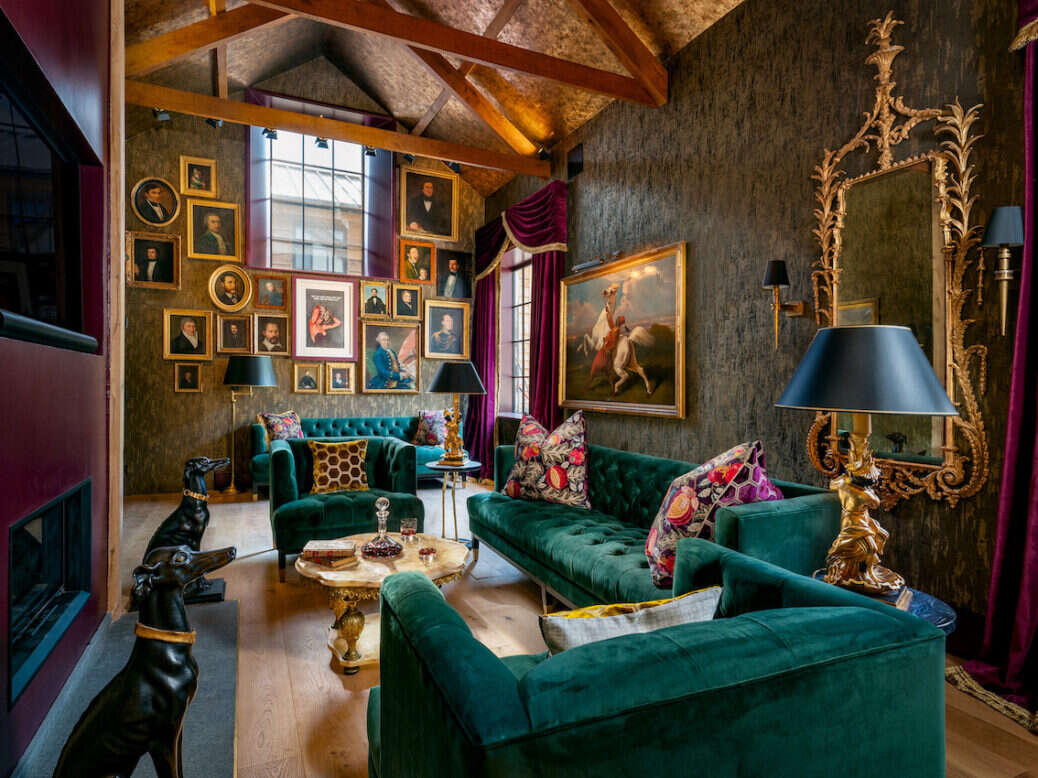 The English countryside is an elusive nirvana, invariably found only in the heads of those old enough to actually remember it, or a Hollywood studio. The urban blob that is London commandeers almost the entire south-eastern corner of the country which it then uses to park its sprawling suburbs.
Whilst there are undoubtedly beautiful hidden corners of the Home Counties (those that encircle the capital), this is all gradual gradations of London-ness. To get close to the real deal of a midsummer's evening with the clink of warm beer glasses and the intermittent thwack of a distant cricket bat echoing gently through the long-lingering daylight of a secluded pub garden; that'll involve moving a good way away from the capital.
There are numerous options, from underrated Shropshire to underexplored Northumbria. Heading west, however, is unlikely to ever disappoint. The "West Country", for centuries resistant to the incursions and invasions on the eastern side of the country, proffers the promise of becoming subsumed into a quintessential Englishness suffused in myth and legend, with the county of Somerset an ideal place to start searching.
Home to Glastonbury, famous for its festival, but whose ancient mystical, ecclesiastical, and Arthurian connotations project a more profound impression than Bon Jovi or Beyoncé ever will, Somerset is rural England at its most endearing. The quickest option from London is by train to the county town of Taunton, where a waiting Range Rover can launch straight into the undulating countryside and through timeless towns and villages, before diving deep into the rural heartland in search of Bittescombe Lodge.
[See also: Perfectly Imperfect: Inside England's Keythorpe Hall]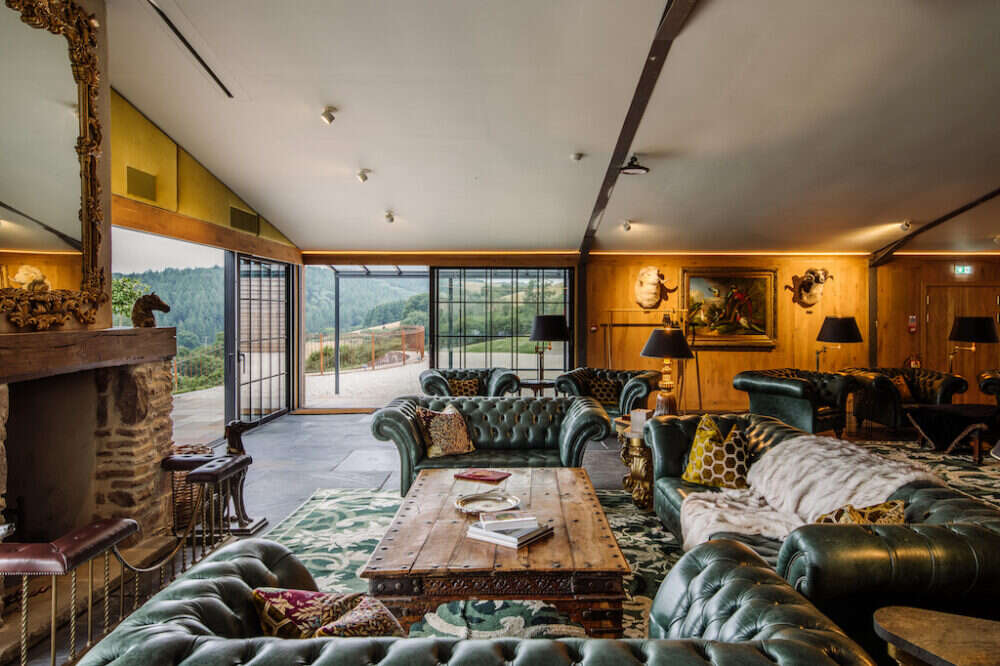 At a little over two hours from the madness of the metropolis, in terms of rural tranquillity attained versus the time taken to reach it, Bittescombe Lodge delivers unbeatable bang for buck. First impressions intimate having been parachuted into a remote rural idyll, and first impressions, as usual, are on the money.
Bittescombe Lodge & Deer Park is among the first properties in the UK from Mandarin Oriental Exclusive Homes. A partnership between Mandarin Oriental, the revered upscale hotel operator with its collective of celebrity "fans", and StayOne, the prestigious private home rental operation purporting to deal in the top 1% of properties, MOXH was launched in 2022.
The portfolio of properties ranges from a cliff-top estate in Bali's Uluwatu to a private island nature reserve off the coast of Ibiza, all embellished with the legendary service standards synonymous with the MO brand.
The property, completed in 2022, is a total transformation of a neglected farmhouse, barn and outbuildings, that was slowly sinking into obscurity. What had been for generations, an unpretentious working family dairy farm, is now a very individually styled and luxuriously appointed structure poised at the pointy end of the hospitality pyramid and primed to meet the demands of the most discerning of clients.
Design
The project was overseen by owners Richard and Samantha Campbell-Breeden and has clearly been very hands-on. The couple, it soon transpires, are sticklers for detail, precision, and for everything to be as it should, irrespective of whatever it takes or costs.
Significantly, their personal profiles are tightly aligned with those of the guests to whom Bittescombe Lodge is targeted. After years based in Hong Kong where Richard was one of Goldman Sachs' top personnel in the Far East, the Campbell-Breeden's relocated back to the UK in 2016. Having traveled extensively throughout the region during this time, their perception of high-end hospitality (not least the clean-lined contemporary East Asian kind) and its interface with the wants and needs of HNW travelers, is acutely attuned.
Samantha's cosmopolitan life began as it intended to go on, with a childhood spent in Portugal and France, where her family owned a hunting lodge in Chantilly that once belonged to the French royal family. She may have drawn from a somewhat eclectic design palette at Bittescombe Lodge, but, not least now as the "chatelaine" of Bittescombe Manor House (the stately pile 10 minutes away, purchased in 2013 for $5.5m), her understanding of life on a country estate is very lived and very real. Many of the artifacts, artworks and heirlooms from Chantilly have been thoughtfully and tastefully woven into the design fabric of Bittescombe Lodge.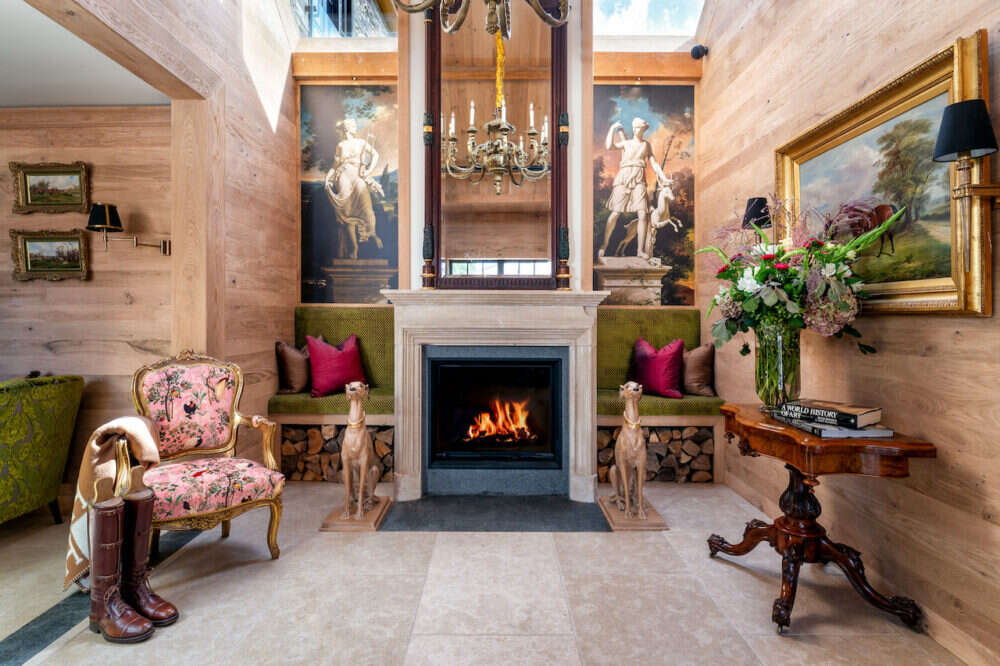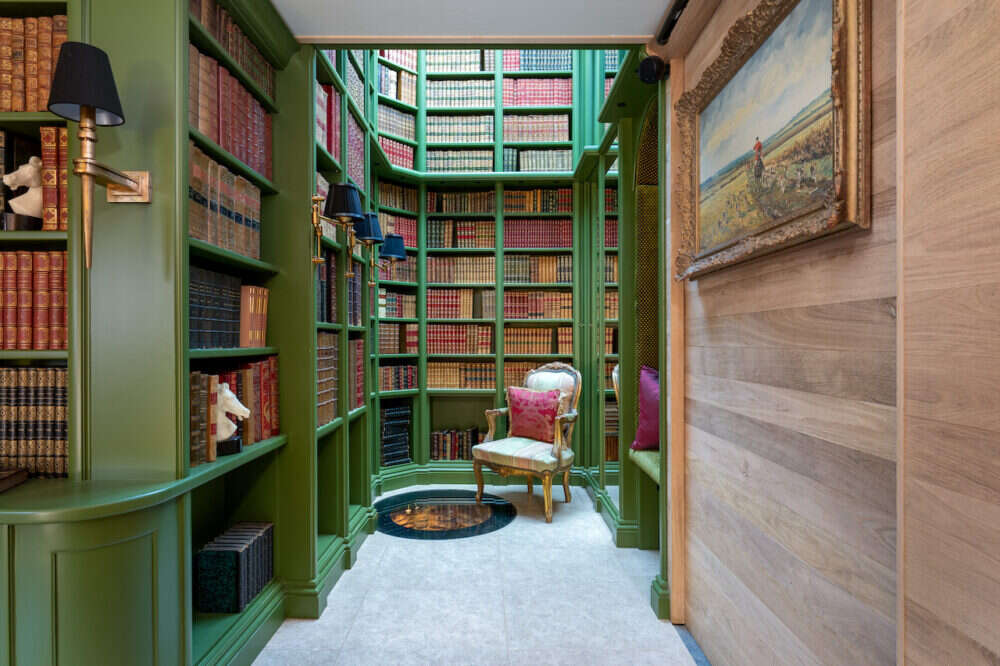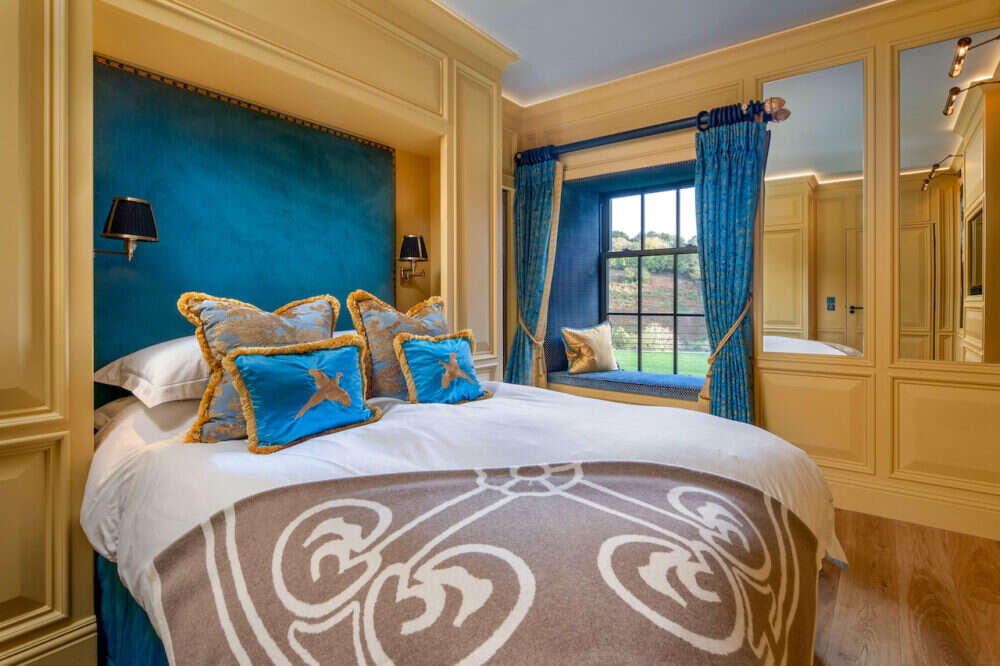 Purists for English country house decor may require a gulp of pure country air before they approach this uniquely stylized property, but an open mind will be amply rewarded. Contemporary is juxtaposed with traditional and embellished with elements ranging from subtly luxurious to colorfully unrestrained.
What was a barn is now a 1,500-sq-ft multi-purpose space, the "Old Cowshed", with floor-to-ceiling windows embracing the verdant valley outside. Former cow stalls have metamorphosed into a seductive 20-seat dining hall, using the dining chairs from Chantilly, a club and a bar area. The former dairy, meanwhile, is now an indoor swimming pool, incorporating a spa.
A secret door, a kind of contemporary configuration of those hidden passageways found in grand old houses, opens into a passageway with exquisite silk-lined walls, leading to 10 beautifully appointed, quirkily crafted, and properly sound-proofed bedrooms. Rigorous attention to detail, from monogrammed hot-water bottles to impeccable quality bedlinen, is as impressive as it is all notably non-corporate. This is effectively an invitation into a world that the Campbell-Breeden's would themselves wish to be invited into.
Dine
The acquisition of what used to be Bittescombe Hill Farm was accompanied by the purchase of further parcels of land and buildings, as the Campbell-Breeden's recreate their modern iteration of the centuries-old Bittescombe Estate, which in the early 18th century extended for 3,500 acres.
With sustainable farming practices front and center, the modern estate, under the expert guidance of affable estate manager, Steve, delivers a plethora of produce, any amount of which can be guided into Bittescombe's kitchen. Notably, venison from the 100-strong herd of red deer now roaming around where the cows once held sway, lamb from a flock of 500 sheep under the watchful supervision of Emma the shepherdess, wild boar, and pork from rare breed pigs.
With their own honey, fruit and vegetables, and ultra-fresh seafood from the coast just 15 miles away, not least Porlock Bay Oysters, also supplied to The Savoy Hotel, Bittescombe Lodge is self-sufficient in a vast array of largely organic produce of exceptional provenance.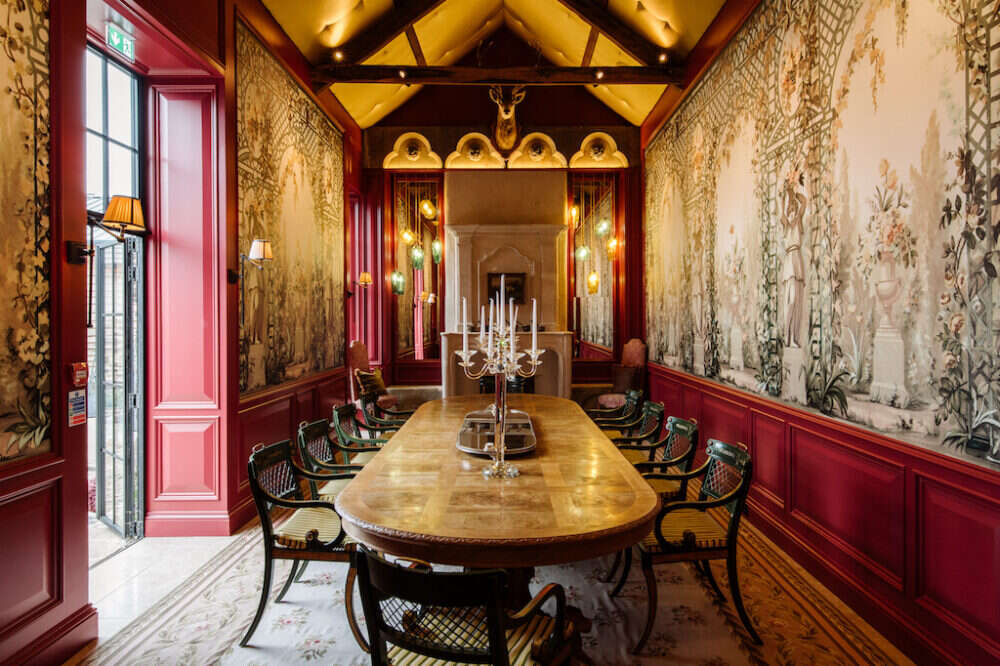 So what do the Campbell-Breedens, hankerers after the best of the best, do with all this prime produce? They go and find a Michelin-starred chef, obviously. Whatever the offer made to Richard Picard-Edwards, lured away from the other end of the country near the Scottish borders, it was clearly one he couldn't refuse, as he's now bought a property in a neighboring village, where he's happily ensconced with his French wife and young son.
His Michelin star had arrived during an earlier executive chef tenure in Gloucestershire. Prior to that, he was sous-chef to the highly regarded Hywel Jones, who, coincidentally, earned his own first star at the Mandarin Oriental Hyde Park. Jones is an acolyte of British gastronomy's mercurial godfather, Marco-Pierre White, the country's first-ever three-starred chef (also awarded at the Hyde Park Hotel, just before MO acquired it). Picard-Edwards' culinary lineage is well defined.
Though it does get better. A Michelin star is one thing, but a Michelin star and a French father-in-law with a Michelin star (at his Bordeaux restaurant), sounds altogether more impressive. Unsurprisingly, Picard-Edwards, who has lived with his wife for a while in France, describes his style as "more English cooking with French roots". Still only in his thirties, this is a young cuisinier of impressive capabilities, and very much a key player in the opulent offering at Bittescombe Lodge.
Explore
Country pursuits? You name them, they've got them. From shooting, to fishing in their own lakes, to polo playing nearby, to deer stalking or playing on the newly constructed padel court. For those in search of splendid isolation, the estate is now so extensive they need never leave its confines.
It's a self-contained fiefdom of rural exclusivity where every whim regardless of however demanding, is met by the genuinely delightful staff. For those wishing to lower the drawbridge and explore the kingdom, the wild breathtaking beauty of Exmoor is virtually next door. Nearly 270 square miles of national park, home to 3,000 red deer who've lived there since prehistoric times, Exmoor, with cliffs that suddenly plunge into the sea, is a sliver of timeless windswept West Country magic.
For the culturally inclined, Wells' 12th-century cathedral, one of the most captivating of all England's cathedrals, is just over an hour away. Eerily atmospheric with its magnificent domineering frontage still fulfilling its function of putting the fear of God into anyone who finds themselves in front of it, Wells cathedral is well worth the detour.
Or you could simply engage in one of England's most deeply embedded social conventions that centuries of war and pestilence haven't made the slightest dent in, and just "go down the pub".
Out deer stalking with the highly informative Steve, and Samantha Campbell-Breeden, somehow wading through the mud in her cherished pair of lace-up vintage mustard-colored Hunter high-heeled wellies, as if she was sauntering down a Paris catwalk, she nonchalantly delivers an update. They've acquired the local pub. Presumably, another restoration project which wasn't yet up and running (or I'd have been in it) but no doubt soon will be. Might that elusive nirvana have just drawn a little nearer?
[See also: South Lodge Review: The Ultimate English Wellness Break]
This article appears in the 12 Sep 2023 issue of the New Statesman, Fall 2023