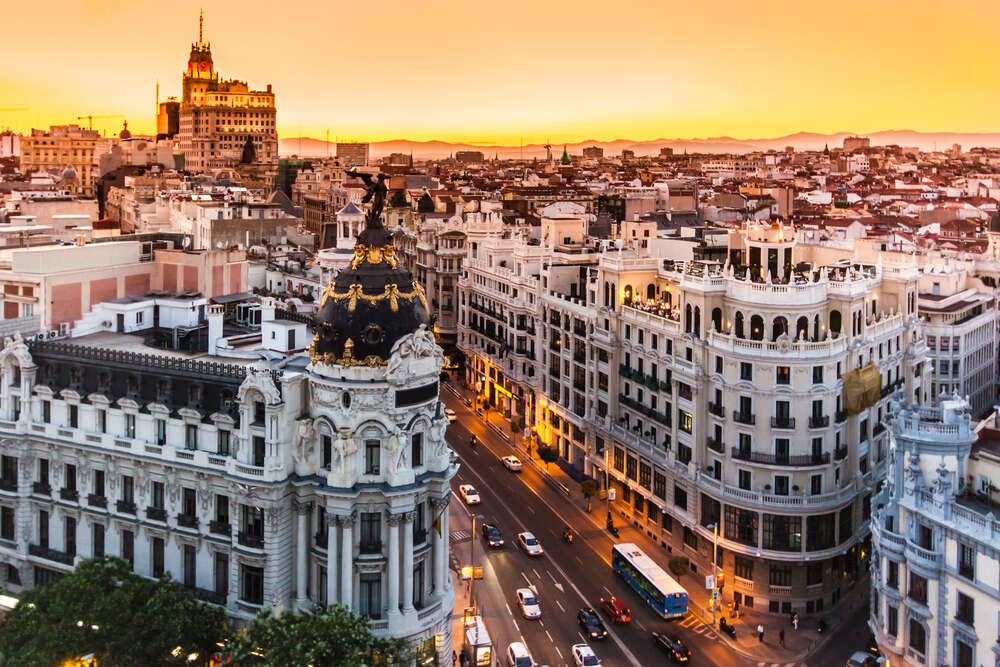 Madrid is known for its jaw-dropping architecture, world-class museums and art galleries, and vibrant nightlife. But Spain's bustling capital has also carved out an enviable reputation for its thriving food scene. In fact, the best restaurants in Madrid are giving the foodie capitals of Barcelona and San Sebastián a run for their money.
Be sure to visit the city's incredible food markets where you'll find an array of fresh seafood, cured meats and artisan cheeses. Madrid is also home to plenty of cozy bars brimming with specialty beers and vermouth.
Of course, when it comes to dining, you're spoilt for choice. From gourmet Michelin-star eateries to low-key tapas bars and everything in between, these are the best restaurants in Madrid.
[See also: The Most Anticipated Restaurants Openings of 2023]
Cebo
'Surprise' and 'emotion' are the two words used by Cebo to explain the motivation behind its culinary venture in Hotel Urban. 
There are three menus to choose from at CEBO: Classic, the seven-course Somos or the nine-course Somos.
Headed up by chefs Javier Sanz and Juan Sahuquillo the menu is centered around ever-changing seasonal ingredients. The interior is striking and favors sharp lines which give the restaurant an almost gritty edge to contrast the refined cuisine that makes it one of the best restaurants in Madrid. 
Ramón Freixa
The Catalan chef Ramón Freixa ventured to the capital to open his showcase restaurant inside the Unico Hotel. 
Having achieved recognition through two Michelin stars and three Repsol suns, the restaurant's ever-changing menu is based around seasonal ingredients. Highlights include pigeon breast and rice paper prawns. To pair, sommelier Gil Rivaro is at your disposal to select from more than 450 fine wines. These are best enjoyed from the glass fronted terrace, perfect for people watching. 
[See also – Madrid: A Luxury Guide to Fashion & Shopping]
Dstage
No one could accuse Diego Guerrero of following the crowd. His ventures have long been known for their quirk and refusal to conform to traditional fine dining expectations.  
Building somewhat of an empire across Madrid, Dspeak, Dstage and creative studio Dspot have garnered cult followings amongst the high flying madrileños. His Calle de Regueros location may be the most informal Michelin-starred restaurant around but that does not diminish the quality of the food on offer at one of the best restaurants in Madrid. 
 The oxtail with mole and the lobster roll have both been highlighted as crowd-pleasers at this must visit location.
DiverXO
DiverXO is Madrid's singular three-Michelin-starred restaurant. Only a wayward strike away from the Santiago Bernabéu, David Muñoz's Chamartin eatery is faring much better than its sporting neighbors. 
The 'Flying Pig' tasting menu is a fusion of Mediterranean and Chinese cuisine. Keep an eye peeled for the numerous pig decorations on display. 
The dining experience has been described as theatre rather than merely a sit-down meal due to the experimental cuisine and interior. Choose from favorites such as lobster with partridge eggs or pork skin on black sesame brioche. 
Paco Roncero Restaurante
A palatial arrival into the restaurant from a 19th-century staircase immediately sets the tone for a magnificent dining experience at the twice Michelin-starred restaurant. Whilst the setting inside the private club Casino de Madrid is sumptuous, the atmosphere is comfortable and relaxed.  
Renowned chef Paco Roncero has been excelling here since it was called La Terraza del Casino and the restaurant was renamed in his honor in 2019. Mammoth 19 and 25 course tasting menus are on offer so be sure to set aside an entire evening to be able to enjoy at your leisure. 
La Biblioteca at Hotel Santo Mauro
One can't ignore the history at their feet when they dine at La Biblioteca in Hotel Santo Mauro, Chamberí. In a previous life, it was the Duke's library and the regal undertones permeate the lavish interior. Cherry wood paneling envelopes diners and oozes palatial comfort.  
Enjoy an aperitif in the stunning Santo Mauro garden terrace underneath the chestnut and eucalyptus trees. The cuisine stays close to home with its Mediterranean focus with monkfish medallions and cockles a particular highlight. 
Viridiana
A round-up of Madrid's best restaurants would not be reflective if the matriarch of the city's eateries were not included. Viridiana, situated in Retiro, has been going strong for over 40 years but chef Abraham Garcia is not resting on his laurels.  
The decor of the small dining area is subtle so as to allow the food to take center stage. Classic Spanish cuisine has been optimized here over the years so try the sauteed swordfish on an aromatic fig leaf, served with green tomatillo sauce or Abraham's gazpacho, served inside a hollowed-out tomato. 
Coque
With two Michelin stars, a Green Michelin star, and two Repsol suns, Coque has been firmly established as one of Madrid's frontrunners. Three generations have run the show for over 40 years, presently manned by the Sandoval brothers, Mario, Rafael and Diego who recently moved the restaurant to Chamberi from its traditional Humanes de Madrid setting.  
The quirk of a nitrogen cocktail, from the Bloom tasting menu complements more familiar options like sushi and chocolate ganache cake. Hues of pink create a plush interior with seating for up to 70 diners. 
[See also: A Guide to All Three-Michelin-Star Restaurants in Spain]
For more information on the world's finest restaurants, visit our Top Restaurants database.