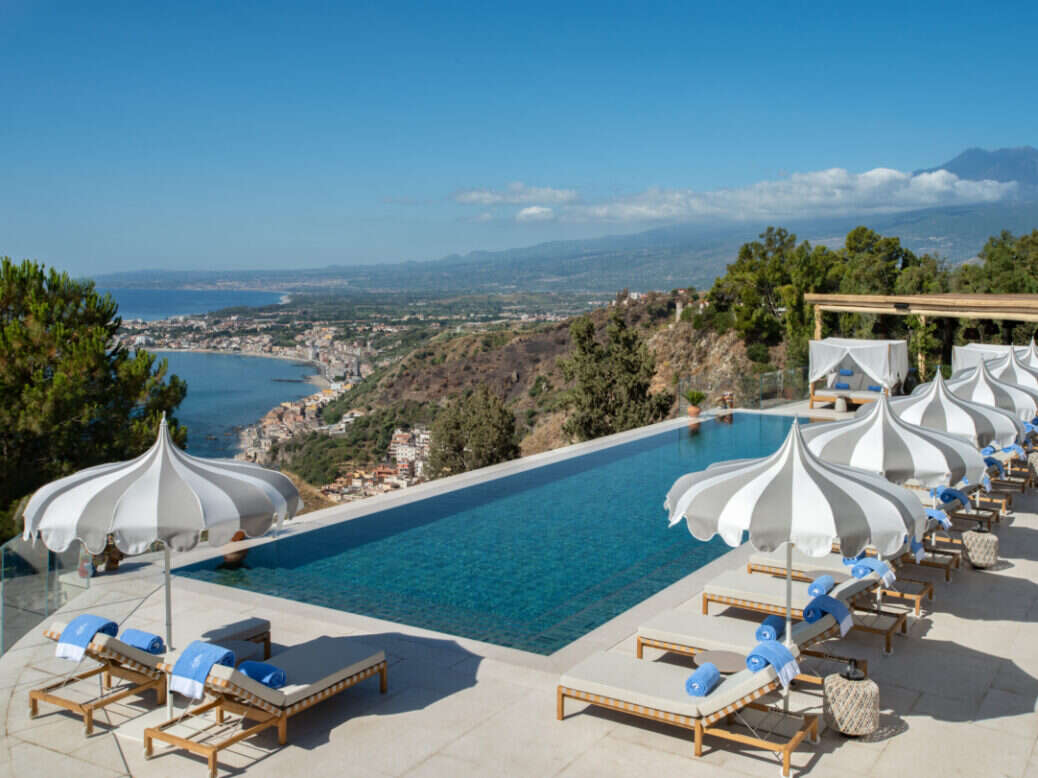 With its rugged mountains, medieval villages, and dazzling coasts, Sicily is one of the most diverse – and beautiful – places in Italy. And, while Amalfi and Lake Como tend to steal the limelight when it comes to luxury hotels, in recent years the top accommodations in Sicily have given even the most exclusive properties on the mainland a run for their money.
Situated off the southern coast of Italy, below the toe of the "boot", Sicily is the biggest island in the Mediterranean. But it's not just boat trips and beaches that make the region stand out – there is so much to discover further inland from ancient ruins to active volcanoes.
To avoid the crowds (and scorching heat) the best time of year to visit this sun-drenched island is April through early June or mid-September through October. You'll also need to decide whether you're after an action-packed city break (Palermo ticks a lot of boxes) or a laid-back rural retreat.
Recently, season two of HBO's The White Lotus helped place Sicily's hotel scene on the map: much of the series was filmed at Four Seasons' San Domenico Palace in the hilltop town of Taormina on the eastern side of the island – the first entry on our pick of the best luxury hotels in Sicily.
If you're looking for something a bit lower key that's fine, too. Our carefully curated list has something for everyone from eco-friendly boutiques to picturesque wineries.
[See also: The Most Tranquil Hotels in Tuscany]
San Domenico Palace, Taormina, A Four Seasons Hotel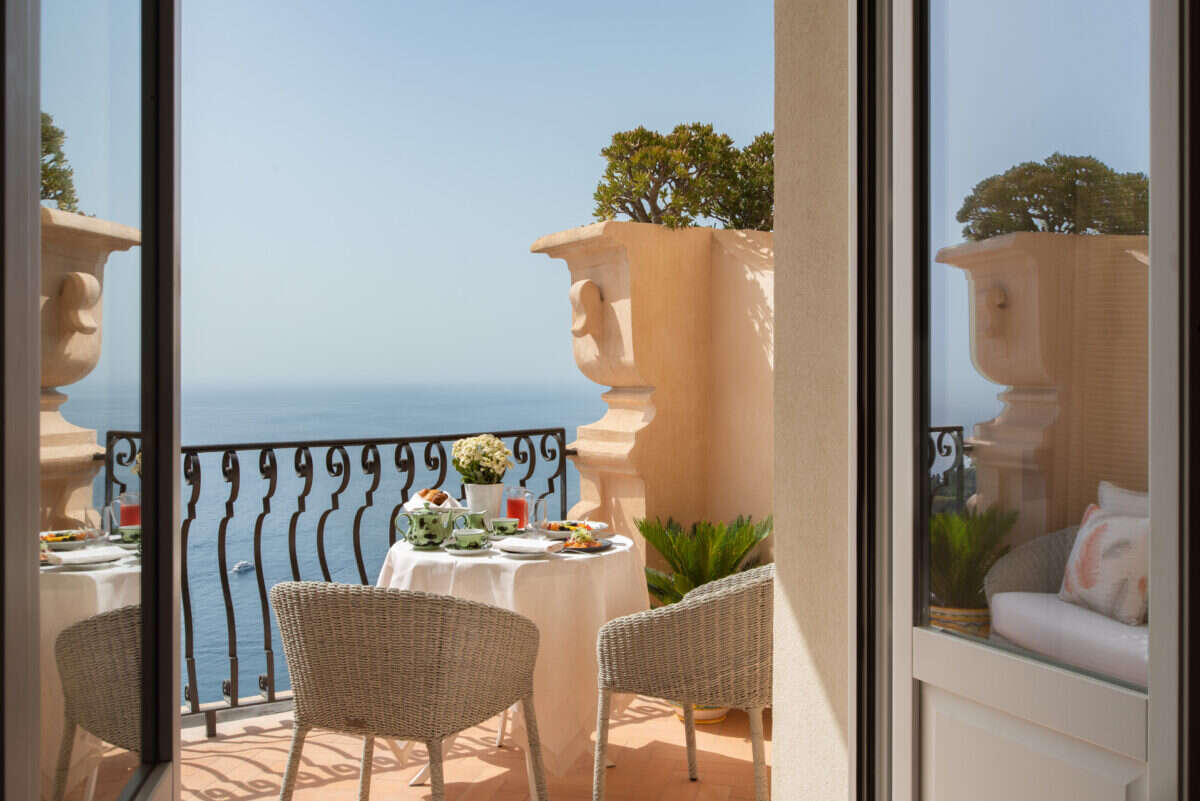 Set within a former 14th-century convent on a rocky outcrop overlooking the Bay of Taormina, this is undoubtedly one of the most glamorous hotels in Sicily. Every effort has been made to protect and enhance the architectural details of the historic building – with an added dose of modern luxury.
For the best views of the Ionian Sea, it's well worth booking the aptly named Royal Suite. Located up on the top floor, the one-bedroom accommodation is ideal for a romantic break. The expansive living room opens out onto a sprawling terrace complete with a plunge pool – the perfect setting to watch the sunset with a cocktail or two.
Elsewhere at San Domenico Palace, you'll find a Michelin-starred restaurant helmed by revered chef Massimo Mantarro, an al fresco seafood eatery, and a stylish bar. Four Seasons has also curated an extensive program of activities for guests, from Sicilian sushi masterclasses to stargazing on the slopes of Mount Etna.
Grand Hotel Timeo, A Belmond Hotel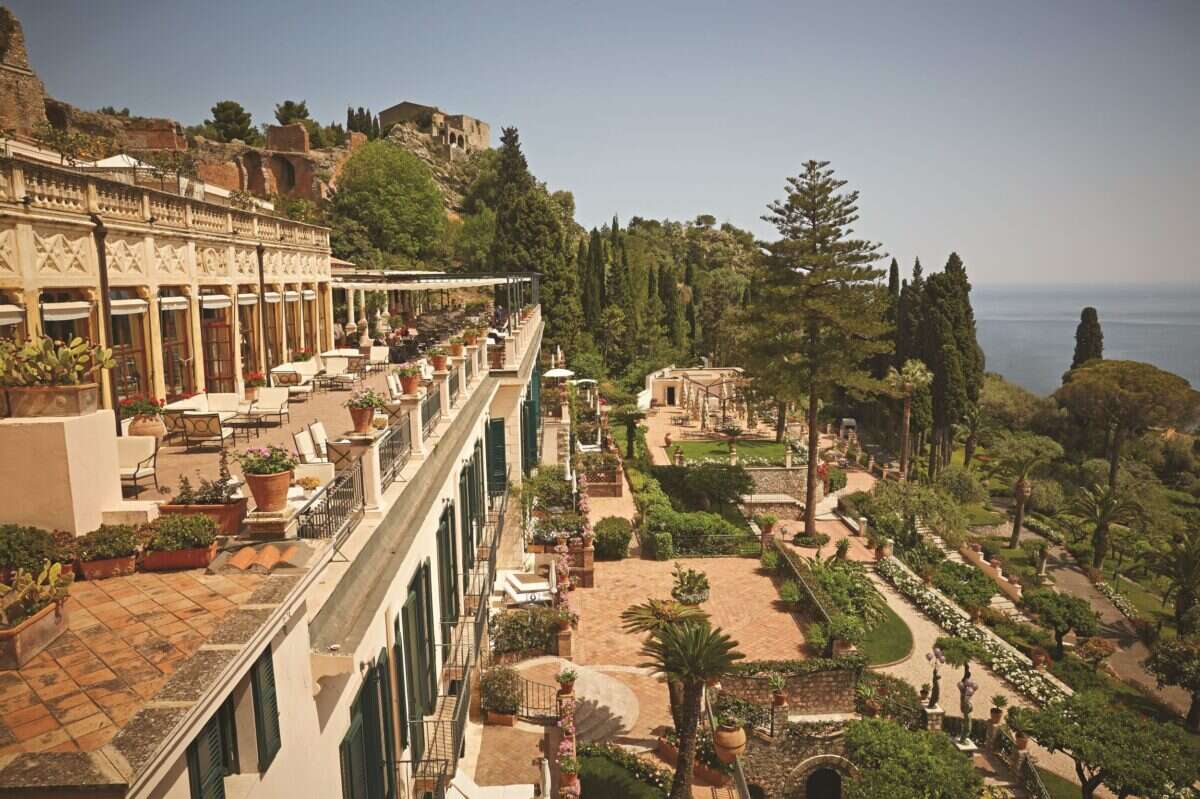 Grand Hotel Timeo is another of Taormina's most exclusive hotels – and the first to be built in the pretty hilltop town. Situated opposite a beautifully preserved ancient Greek amphitheater and around the corner from the 14th-century Palazzo Corvaja, it's ideally situated for those wanting to immerse themselves in the area's rich history.
The property started out as a guesthouse which quickly became a popular spot among artists and writers (D.H. Lawrence is said to have written Lady Chatterley's Lover on the hotel's terrace).
Of the 70 rooms at Grand Hotel Timeo, the Presidential Suite is the most lavish of all. The accommodation features two spacious bedrooms with marble bathrooms and a 3,200 sq ft private terrace complete with a Jacuzzi overlooking the Bay of Taormina.
The culinary offering is outstanding: be sure to book a table at Otto Geleng – an intimate Michelin-starred eatery comprising just eight tables on an elegant terrace. Here, talented head chef Roberto Toro serves four unique tasting menus built around Sicily's bounty of seasonal ingredients.
Villa Sant'Andrea, A Belmond Hotel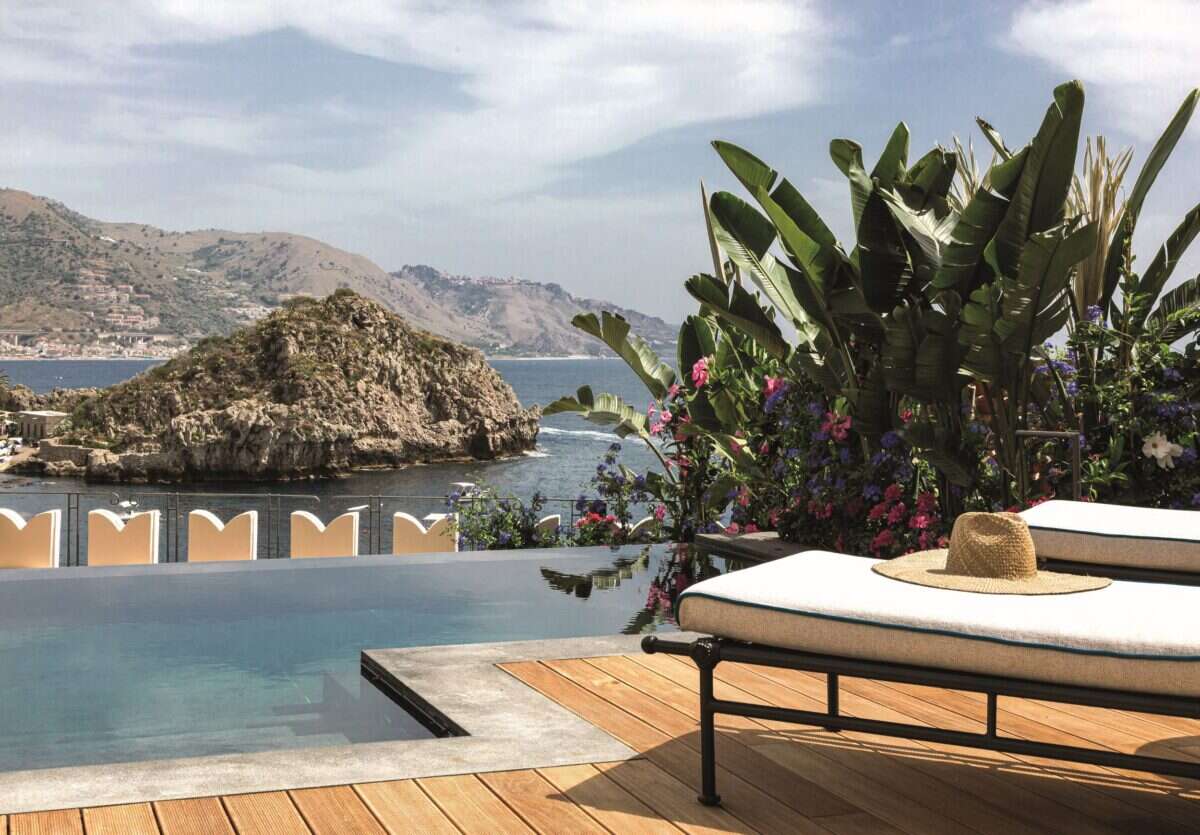 Next, we head to Belmond's second property in Taormina – Villa Sant'Andrea. If it's a beach vacation you're after, the location is difficult to beat. The hotel is right by the sea on one of Sicily's most picturesque private beaches, the Bay of Mazzaro, and a short drive from its sister property (a complimentary shuttle bus takes guests to Grand Hotel Timeo).
Despite having 69 rooms, the property feels more akin to a graceful private residence than a hotel. Many of the rooms have sunny balconies; we love the look of the two-bedroom pool suite which features an outdoor infinity pool and split-level terrace.
When you can bring yourself to leave your suite, relax in a private cabana down at the beach, or indulge in a treatment at the idyllic spa. The hotel also runs free boat excursions to explore the surroundings coves and islands.
Villa Igiea, A Rocco Forte Hotel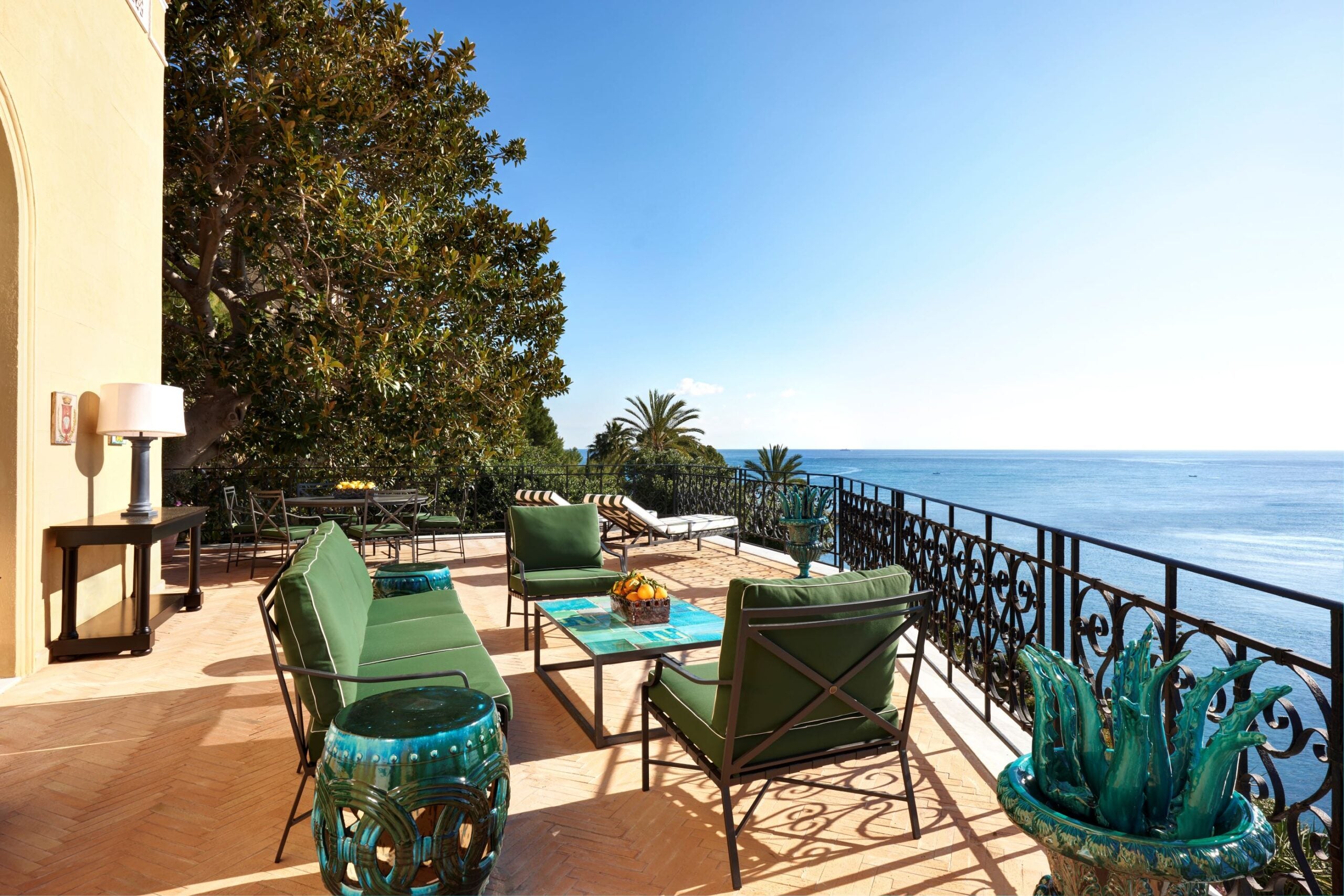 For those seeking a history-packed city break, Villa Igiea is an excellent choice. Located in central Palermo on the edge of the Tyrrhenian Sea, the 19th-century palazzo was transformed into a hotel by the Florio family back in 1900, rapidly carving out a reputation as the place to stay in Sicily's capital.
Rocco Forte Hotels bought the property in 2019, carrying out a meticulous $35m restoration overseen by the brand's design director, Olga Polizzi. The top key is the Donna Franca Suite which features a breezy sea-view terrace dotted with sun loungers, and an enormous marble bathroom.
The wellness facilities are worth a mention; overseen by Sir Rocco Forte's daughter, Irene Forte, the expansive spa is stocked with her sustainable skincare products crafted from ingredients grown in the organic farm at Villa Igiea's sister property, Verdura Resort.
Monaci delle Terre Nere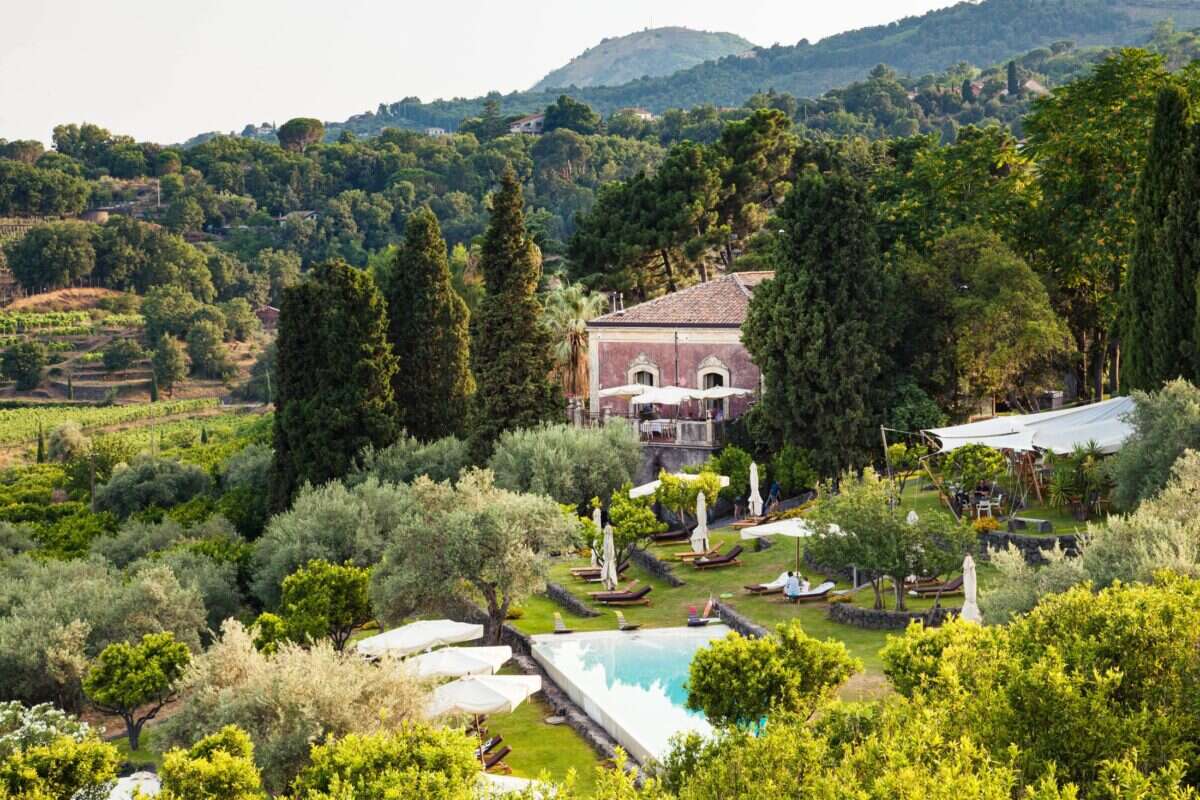 Our list of the best luxury hotels in Sicily would not be complete without mentioning Monaci Delle Terre Nere. Set within a 25-hectare estate on the slopes of Mount Etna, this is the perfect setting for those looking for an idyllic rural retreat.
The hotel has just 24 rooms, suites and villas. Those seeking extra privacy can book a standalone property, like the charming five-bedroom private villa embedded within an old Sicilian lava stone cottage.
The real draw, of course, is the wine. Monaci Delle Terre Nere is home to a beautiful vineyard with in-house sommeliers on hand to host tours and tastings. There's also a wonderful organic restaurant – Locanda Nerello – brimming with ingredients grown at the estate.
Adler Spa Resort Sicilia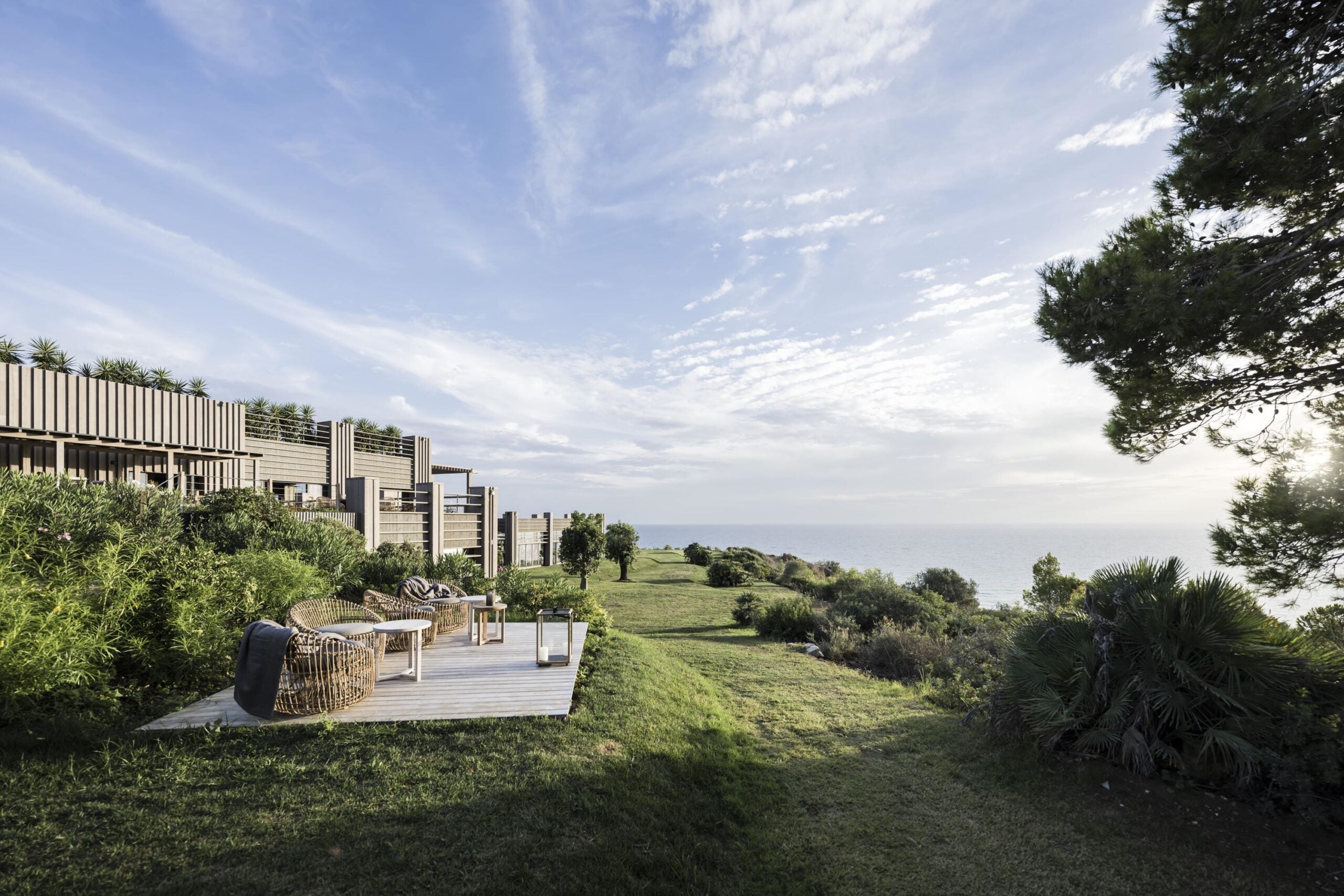 Last but by no means least on our list of the very best luxury hotels in Sicily is Adler Spa Resort. Tucked into a clifftop on the Agrigento coast, if it's R&R you're after you'll be hard-pressed to find better than this eco-friendly retreat.
Built with sustainability in mind, the 90-bedroom resort has been crafted from natural materials including natural unbaked Sicilian clay and locally sourced cedar wood. Adler has made significant efforts to minimize its environmental impact, implementing a rewilding initiative in the Torre Salsa Nature Reserve and cultivating an expansive organic garden to grow fruit and vegetables for its farm-to-table restaurant.
The spa is particularly impressive. Expert therapists carry out an array of treatments rooted in high-quality natural ingredients, from Mediterranean Sea water and algae facials to exfoliating salt massages.
[See also: The Best Luxury Hotels in the South of France]