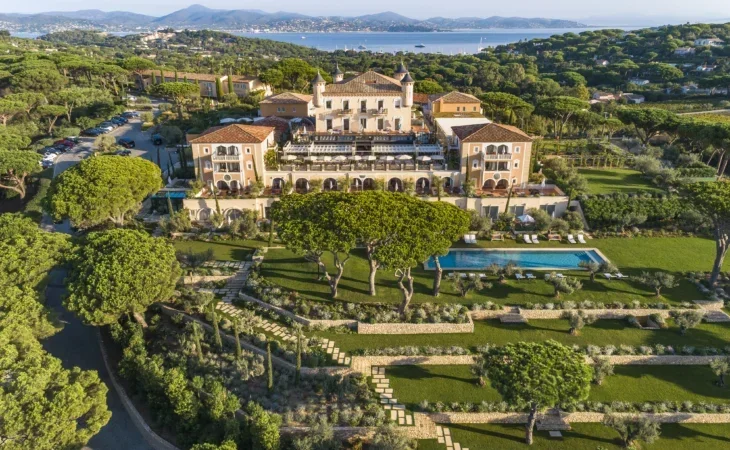 Amidst the buzzing lunchtime bustle of the Jardin Tropezina Beach Club on St Tropez's Pampellone Beach, a wizened veteran of this celebrated stretch of sand, is reminiscing about Gunther Sachs and his nearby villa. Sachs, along with Brigitte Bardot, whom he married in 1966 after a courtship that involved dropping hundreds of roses into her back garden from a helicopter, probably personified the glitzy glamorous myth surrounding this former fishing village more than anyone. In a post-war world of playboys and "sex symbols", nobody played the parts better than B.B. and Sachs, and St Tropez was their playground.
While Bardot has long since disappeared into donkey welfare and far-right politics, and Sachs shot himself in 2011, St Tropez continues to exert an indelible allure over glamorous A-listers and gawping tourists alike. The town's hedonistic credentials, however, were established way before this sixties screenshot of sun, sea and sex.
Jardin Tropezina's owner, the ultra-luxe hotel group, Airelles, also recently acquired Chateau de La Messardière, a short ride by Rolls-Royce shuttle (this IS St Tropez) into the hills behind. Constructed in the late 19th Century, and commanding spectacular 360' views across the town, and onto the yachts bobbing about in the bay, La Messardière was repurposed into a hotel in 1904. Its illustrious guest-list embraced celebrities like Picasso and F.Scott Fitzgerald, whose Great Gatsby inspirations are widely attributed to his time on the French Riviera during "Les Années Folles" – the roaring twenties.
Chateau de La Messardière, the oldest and largest of St Tropez's hotels, is surrounded by 25 acres of cypress and pine-peppered, exquisitely manicured, citrus-scented grounds. It serves as a true sanctuary from one of the busiest ports of call anywhere on Mare Nostrum, between April and October. It's all out there if, as, and when you want it. And if you don't, the vastness of the estate becomes a cosseted enclosure of ultra-refined laid-back luxuriation.
[See more: The Most Iconic Hotels of the 21st Century]
Stay
There are 103 rooms and suites and a three-bedroom villa with a private pool. Aside from the main pool, a further one, more conducive to lap swimming (82' long) was recently embedded into the gorgeous greenery of the gardens. Stéphane Courbit, the owner of LOV, Airelles parent company is a daily swimmer, and finding a separate pool that can actually be seriously swum in, is a welcome revelation. It's also indicative of the innovative attention to detail, evident at Airelles properties, three of which, including La Messardière, are among the thirty-one in France, brandishing the highly coveted "Palace" accreditation.
LOV, representing the initials of Courbit's three children, offers further insight into the company ethos– a strong family orientation. La Messardière doesn't just accept children, it does so with open arms. Airelles properties have exceptional kid's spaces, and this one, the largest, resembles an exclusive private members club for children.
With their own pool, cinema, pirate ship, dedicated staff, and separate dining facilities, this is nearly 6,000 sq ft of adult-free paradise, where the only problem in there so far has been coaxing them out. A neighboring property, delivering up a further 2.5 acres, was acquired to create this children's kingdom which consequently is sited well away from the chateau. Children not seen. Children not heard. And children perfectly happy with all that.
Aside from accessing Jardin Tropezina, the Rolls Royce shuttles (there are also Mini Mokes for a less ostentatious option) operate to downtown St Tropez and Airelles' 12-room property there, Pan Deï Palais. Service, under the experienced tutelage of one-man Milanese charm offensive, General Manager, Mauro Governato, is as friendly as it is faultless.
Dine 
Marco Garfagnini, recently appointed "Culinary Artist", presides over La Messardière's three restaurants. Carrara, bearing the name of Marco's hometown in Tuscany, where, at 29 years old he won the first of several Michelin stars, serves Italian food created by, well…..an Italian culinary artist.
L'Auberge des Maures, St Tropez's oldest restaurant, opened in 1931, is a veritable institution in the town. Having welcomed pretty much anyone who's anyone under its portals, it was acquired by Airelles in 2019 and transposed to Chateau de La Messardière. Local classics like ratatouille and langouste a la Provençale are now accompanied by a generous serving of far-reaching picture-perfect vistas.
An outpost of Matsuhisa occupies arguably the most stunning location, spread out along a stylish terrace, perched over an uninterrupted panorama across the Gulf of St Tropez. Nobu Matsuhisa's own elucidation of how a Matsuhisa restaurant differs from a Nobu one; "they are smaller, more intimate, and more upscale", might require a degree of reappraisal though. Upscale – certainly, intimate – undoubtedly. But smaller – not really, the terrace is quite expansive. A D.J. sliding mellow sounds into the evening warmth and Japanese chefs applying laser-like dexterity to their sushi, all contribute to what is an undoubtedly superlative dining experience.
Design
In 1989, having fallen into considerable disrepair, the chateau was completely restored and enlarged under the auspices of the head of Historical Monuments, Jean-Claude Rochette, who added the swimming pool and two wings facing the sea. With its peach-colored facing and Snow-White turrets, the property paints a very pretty picture, exerting a powerful presence across the surrounding landscape.
As with Le Grand Côntrole, one of Airelles' other Palace properties, situated inside a real palace -Versailles – they turned to acclaimed interiors architect, Christophe Tollemer for the renovations. These are largely limited to public areas, where light, summery and fresh brushstrokes have resulted in a design palette that's stylish and contemporary but which doesn't compromise the historical integrity of the chateau.
All rooms were modernized to a high standard before Airelles acquisition, and only a few have been re-modeled so far. Over the coming winter seasons, however, when the chateau closes and staff relocate to the company's Alpine operations, the rooms in Snow White's palace will be systematically sprinkled with fairy dust. The main building, currently offering 10 rooms, will be reconfigured into perhaps just two, undoubtedly palatial, suites, whilst the overall room count will reduce to 70 or 80, with a design disposition angled decidedly toward family occupancy.
At 11,000 square feet, the newly installed Valmont spa is a massive, sleek and sensual, spectacularly designed space flooded with natural light. It boasts a large sauna and hammam, indoor and outdoor pools, an Iyashi dome (Japanese sauna), a levitation pool, and just about every conceivable accoutrement connected to the pursuit of ultimate relaxation and beautification. You can even take a donkey milk bath, though it's unclear what B.B. would make of that. A sanctuary within a sanctuary, and undoubtedly one of the most covetable spas to be found anywhere.
Explore 
For six months of the year, la Côte D'Azur does what it's become famous the world over for. From St Tropez, with its legendary nightlife, right up to Monaco, through Cannes, Antibes, and Juan Les Pins, the famous names unveil a rollcall of glamorous indolence. A sun-kissed subculture, every bit as seductive today as it was a century ago.
The lavender-scented, garrigue coated villages of the interior, however, represent an opportunity to fall headlong into a gentler-paced Provence. Even in an over-touristed world, and even in the height of summer, gently cruising around the backroads of this eternally idyllic corner of Europe, will never fail to enchant.
St Tropez's small airport, La Mole, lands around 4,000 aircraft annually, though the larger hubs of Nice or Marseille remain quite a way off. For travelers from London or Paris, Eurostar and the French TGVs (high-speed trains), now represent an enticing (and of course, highly sustainable!) means of accessing Provence.
The delightful historically suffused town of Avignon is just six hours from London, and less than three from Paris. As is the equally enchanting Aix En Provence. From there, a magical meandering drive through some truly spectacular scenery, permeated with long languorous lunches, can snake its way slowly up to St Tropez's back door.
With around six million visitors a year, the fabled birthplace of late 20th Century French cool remains more popular than ever – probably a compelling reason (as if one were needed) to absorb it all from the chateau up on the hill, wrapped inside its sumptuous 25-acre security blanket.
Three bedroom apartment with pool from €15,000 ($15,650) per night, reservation.sainttropez@airelles.com, +33 (0)4 94 56 76 00, airelles.com