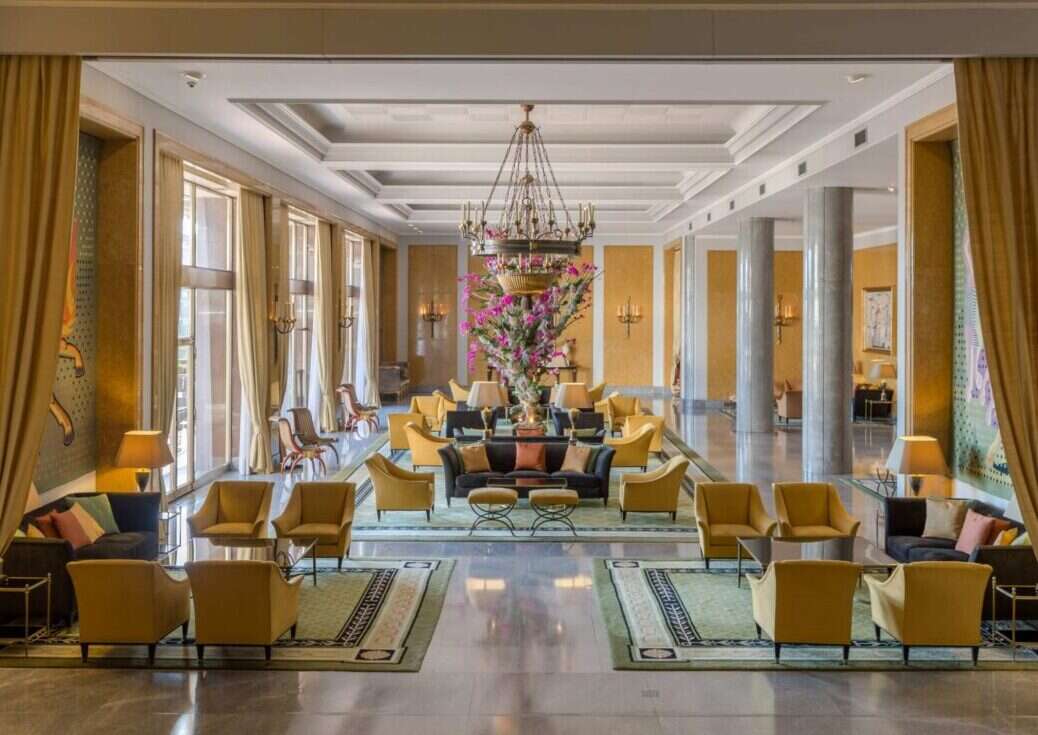 Antonio Salazar, Portugal's dictator between 1932 and 1968, isn't remembered for outpourings of unrestrained joie de vivre. He never married, had no (publicly acknowledged) relationships, and led an ascetic existence rigorously shackled to his mantra of God, country, authority, family, and work.
In the post-war years, encouraged by a group of determined businessmen, he concluded that Portugal lacked a landmark hotel of sufficient stature to emulate those grande dames flaunted in other capital cities. The project eventually emerged in 1959 in the form of a Corbusier-inspired modernist masterpiece clad in 430,000 sq ft of marble and stuffed full of striking Picasso-esque paintings, sculptures and tapestries commissioned from an array of Portuguese artists.
Salazar, inherently suspicious of ostentation, was invited into what he undoubtedly regarded as a giant concrete brick for a private viewing prior to the hotel's inauguration. He left after a short time, through a rear entrance, never to return. That such a closed and unreceptive mind had dismissed the new building so readily, was probably affirmation of just how fabulous it was.
[See also: Inside The Ivens: Lisbon's Stunning New Hotel]
What began as the Ritz Lisbon has remained under the same family ownership for over 60 years, operating as the Four Seasons Hotel Ritz Lisbon, for the last 25 of those. A stunning makeover of most of the rooms and some public parts, the latest of several since its inception, was unveiled in 2022.
Whilst dictatorship has long since surrendered to democracy and there are now enough giant brick hotels in Lisbon to drive the old dictator to distraction, the Ritz, for many, remains Portugal's ultimate statement of refinement and celebrity-strewn opulence.
Stay
The property is an easy stroll from the bustling center. Over 10 floors, the original 330 rooms were overseen by 400 staff who required access to 12 of the 16 elevators. There are currently 282 rooms, with the reduced staff headcount now propelled along by hot and cold running legendary Four Seasons service. Initial impressions are of space, grandeur, and restrained elegance, but ultimately of precisely what it is, a magnificently modern grand hotel.
It conjures up another old favorite, the Nile Hilton in Cairo (now the Nile Ritz-Carlton), the first modern international hotel in the post-war Middle East. Debuting around the same time, in 1958, also at the specific behest of the head of state, Gamal Abdel Nasser, it was immediately propelled to the epicenter of Cairo society for the next 30 years.
[See also: Twenty for 20: The Most Iconic Hotels of the 21st Century]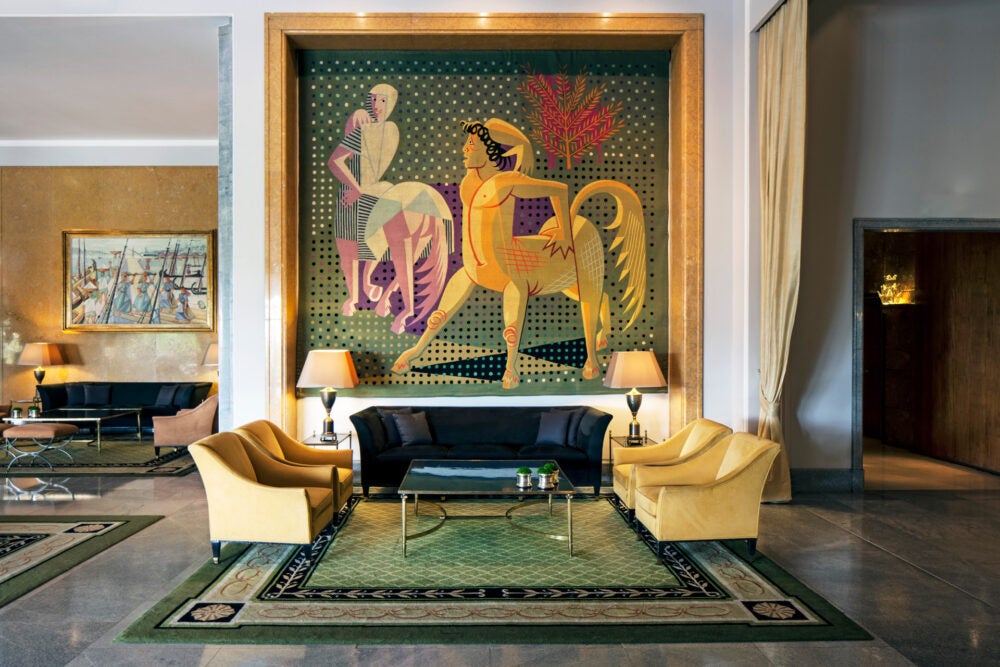 As with the Nile Hilton, the Ritz Lisbon's spacious balconies were a talking point at the time, but still afford the same spectacular views out across the adjacent Edward VII Park and the Lisbon skyline.
Not all of the rooms were included in the recent modernization, notably the 2,700-sq-ft Presidential Suite on the 10th floor. Apparently, some longstanding guests like to find it precisely as they left it, which judging by its style palette they've been doing for some time.
The 5,000-sq-ft Pedro Leitao Ballroom with its rose-colored marble walls, crystal chandeliers and long silk drapes is well worth sneaking a peek at. Named after the artist who produced the lacquered wood mural with mother-of-pearl inlays on display in its entrance hall, the ballroom represents a gorgeous slice of mid-century glamour.
Design
The property at times resembles an art gallery as much as a hotel. There are 60 artworks either on display or embedded into the fabric of the building, constituting one of the most important collections of Portuguese 20th-century art. The original interior designer, Frenchman Henri Samuel, is now widely recognized as one of the greatest of the last century.
Samuel had worked for the Rothschilds, modernizing Chateau Lafitte and notably their home at Chateau de Ferrières and went on to achieve great acclaim in the US. His clients there included media mogul Jerry Perenchio, remodeling his Bel Air mansion (the Beverly Hillbillies house), recently purchased from Perenchio's estate by Lachlan Murdoch for a purported California record of $150m.
He also re-designed Salomon CEO, John Gutfreund's 20-room 5th Ave apartment in 1987, as reported by Women's Wear Daily: "It's the talk of New York, and Susan and John Gutfreund's apartment is the 'most lavish and beautifully opulent' home in the city".
[See also: The Best Restaurants in Lisbon]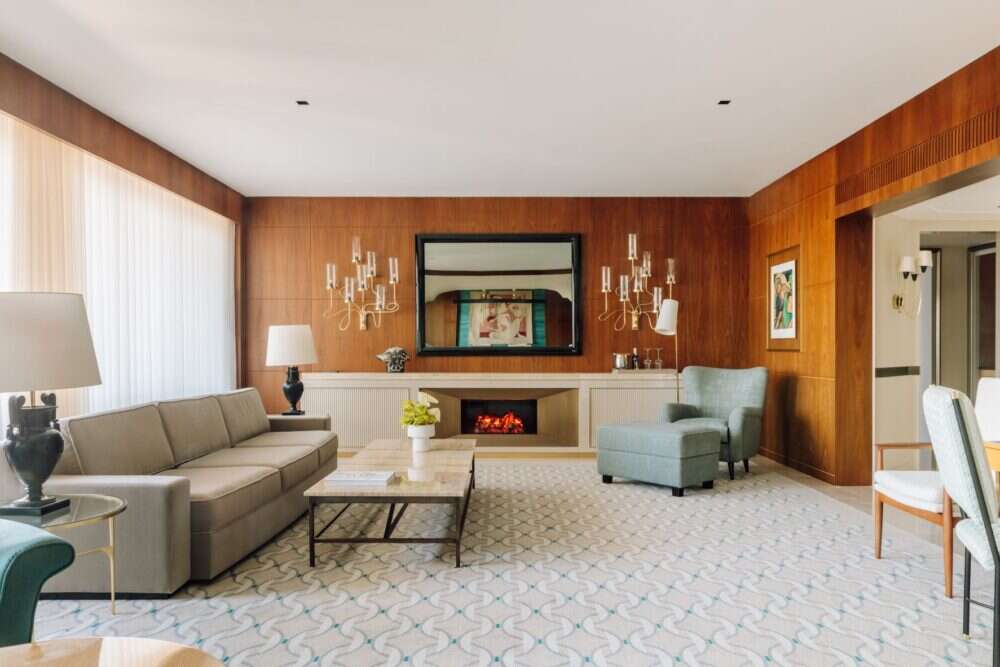 Fast forward to 2019 and Porto-based architectural design company Oitoemponto (run by Artur Miranda and French-born Jacques Bec) is commissioned. The duo, partners for over 30 years, have established themselves as masterful exponents of a luxurious and supremely stylish modernism that's clearly referencing mid-century but is so timeless and tastefully conceived… do they mean the last century or the present one? One thing is clear, Henri Samuel's Lisbon legacy could not have fallen into better hands.
In common with many Portuguese, Artur harbors fond personal memories of the Ritz, and wherever possible, original fabrics, color schemes and design directives are channeled into Oiteomponto's updated styling. The result, to borrow from Women's Wear Daily, is "beautifully opulent" indeed.
Quite why the Presidential Suite and other rooms have not been granted this indulgence is a little curious. The key I'd be seeking is to the 1,900-sq-ft Almada Negreiros Suite and straight into Artur and Jacques' wonderful world of sensuous, sumptuous interiors.
Dine
The dramatic proportions of the main Varanda restaurant are all very Grand Hotel and an experience in itself. With its huge windows, the blinds constantly fighting up and down against the piercing sun, looking out onto the timeless elegance of the terrace or the park, Varanda has been a place to see and be seen for over six decades. The buffet breakfast is superb, whilst these days, afternoons, where deals are done and ladies lunch, are the focus of attention.
Evening action, since the hotel's re-opening, is firmly fixed around Cura, an events space, now reconfigured into an ultra-slick, lavish 28-seat dining space with its principal entrance to the street. Under the tutelage of 32-year-old chef Pedro Pena Bastos, it immediately garnered a Michelin star within a year of opening. Pena Bastos, recently named as one of the three judges of Portuguese MasterChef, is undoubtedly a star in the ascendant.
[See also: The Best Cocktail Bars in Lisbon]
[See also: How the Prestigious Michelin Star System Really Works]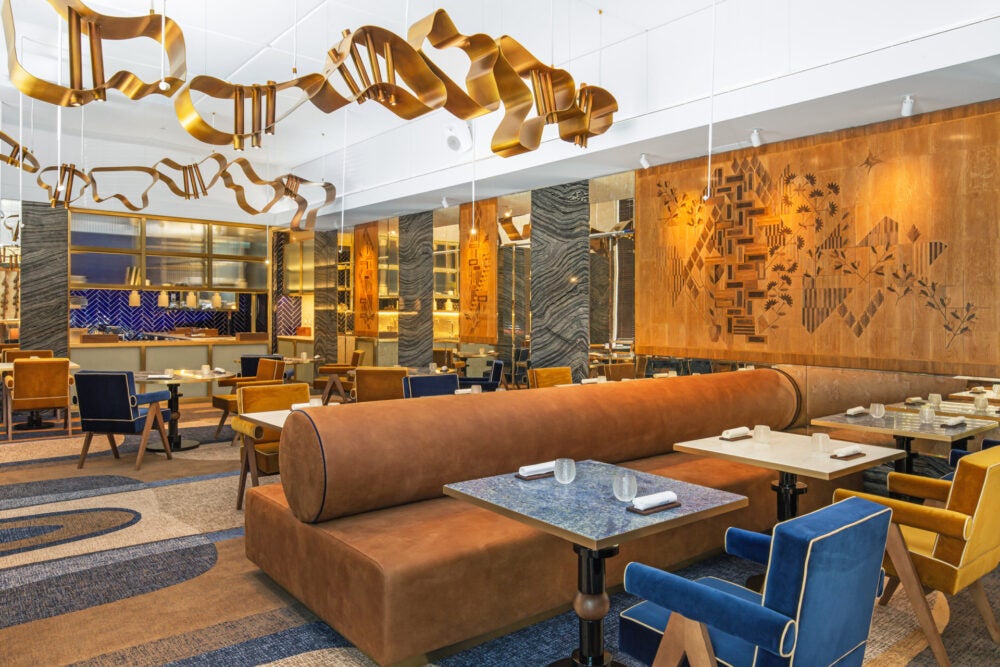 Watching him intently tweaking his tweezers from the table next to his open kitchen, the dedication to his craft is palpable. It's supposed to be a tweezer-free zone, but with exquisitely presented signature dishes such as squid with hazelnut, bergamot, roasted seaweed butter and Ossetra caviar floating their way across the table, he can use a set of forceps for all I care.
A vegetarian (there's a separate plant-based menu), backed up by an equally youthful brigade, his cuisine is contemporary, highly creative, and anchored in a rigorous respect for seasonality and the provenance of ingredients.
With an almost total reliance on Portuguese and often organic producers, sommelier David Lopes is kept very much on his toes creating wine pairings for this eclectic and continually evolving cuisine. Bastos — laid-back, gregarious, and often engaging with his diners — serves up at Cura, a truly memorable and of-the-moment Portuguese gastronomic experience.
Relax
The 7,500 sq ft of marble and oak spa area is a kingdom of calm that constitutes a zen-like escape overlooking the gardens and fountain, embellished with original artworks. It incorporates an expansive indoor pool area based around the 59-ft heated swimming pool, suitable for lap swimming, now complemented, since the re-opening, by a new outdoor pool and bar complex. There are four treatment rooms, a sauna and steam room, and an ice fountain.
The fitness center is located up on the roof, encased in floor-to-ceiling windows, and encircled by a 400-meter running track, affording far-reaching vistas right out over the Tagus River and beyond. It probably represents the most intriguing and covetable location in the entire city within which to keep mind and body in working order. Guests can take a morning jog around the city without setting foot outside the hotel.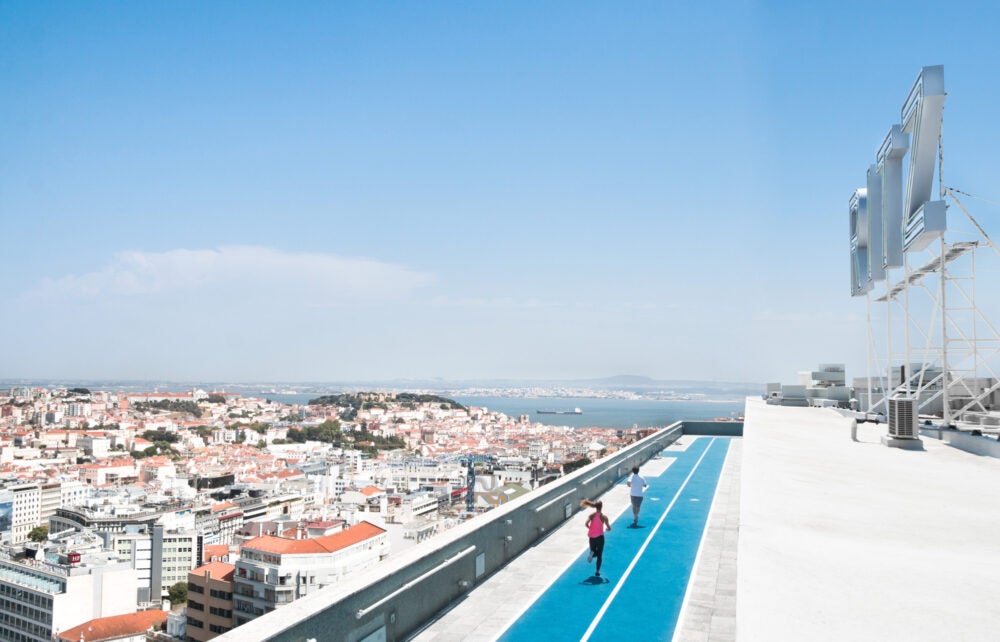 Explore
Ever heard anything negative about Lisbon? Didn't think so. Mainland Europe's sunniest capital city is also one of its friendliest, as endearing as it is beguiling.
From its famous little yellow trams performing seemingly impossible feats of navigation up and down the steep quaint cobbled hillsides, to its atmospheric warren of streetscapes harboring independent designer shops, stylish rooftop bars, and excellent restaurants, Lisbon is irresistible. And, of course, these days, busy. The sedate, slightly removed location of the Four Seasons Hotel Ritz Lisbon, acts as a sanctuary — something to be savored if all of this fomenting frenetic activity suddenly feels like it's about to boil over.
Saunter through the historic district of Mouraria in search of Fado, the doleful traditional music genre that, whilst not as recognizable as flamenco, is every bit as mesmerizing. Or climb to the top of the white-domed 17th century Panteao National in Alfama, the city's oldest district, for the jaw-dropping views. Just make sure to pack your sneakers. In Lisbon, which, like Rome, is known as the city of seven hills, you'll need them.
There's an array of beautiful beaches within an hour's drive, including at Cascais, Lisbon's stylish coastal resort. The Unesco-listed town of Sintra, the centuries-old retreat of Portugal's monarchy, and its panoply of picture-perfect palaces and romantic panoramas are just as accessible, though it can be crowded in summer. Lisbon is a city break on steroids. It ticks a lot of boxes, quite possibly all of them.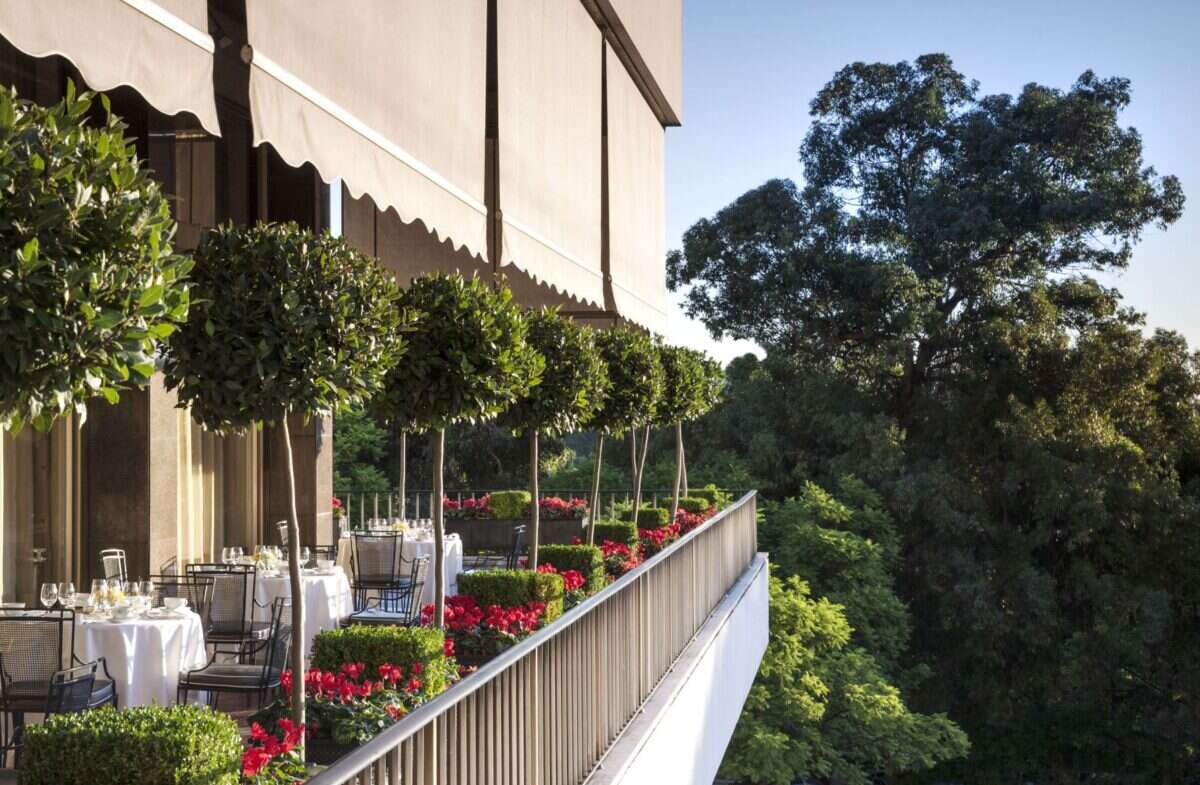 The Almada Negreiros Suite from €16,000 (approx $17,8000) per night. Contact +351 21 381 1400, fourseasons.com/lisbon