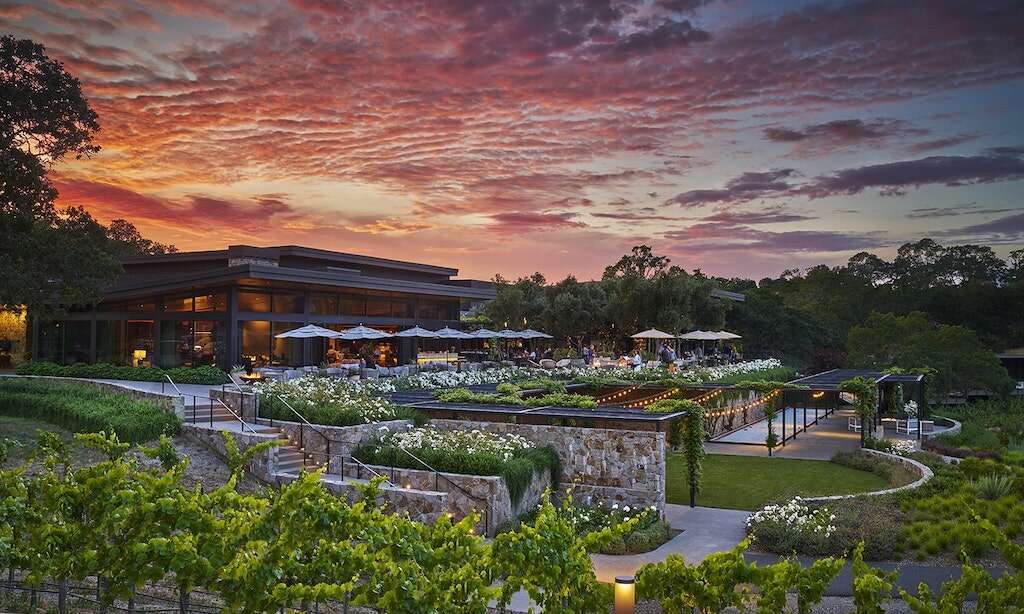 It's been a long time since my arrival at a resort stoked instant euphoria for me—as potent as love at first sight. In the case of Sonoma County's new-ish Montage Healdsburg, the headiness was as powerful as the wine the resort makes from its own vines, a libation I later—gratefully—tippled in the bar.
Woven into classic Sonoma terrain just minutes from the unpretentious NorCal wine town of Healdsburg, Montage spreads across a 250-acre, hilly pastiche of vineyards, rosemary bushes, eucalyptus, wildflowers and scrubby oak trees.
Down a twisty, vertiginous road where resident goats, sheep, donkeys and wild turkeys somehow balance along the slope, the route to the resort imparts a timelessness that whispers old school California wine country, the sort of place where winemakers and growers are more farmers than haute monde.
In an era where we see so much homogeneity, it feels gratifying to drive into something ineffably authentic. By the time I arrive to my forest-facing deluxe king room, one of the retreat's 130 stand-alone bungalows, I'm entranced.
[See also: The Most Luxurious California Staycation Destinations]
I've been greeted with wine upon check-in, but now there's a half bottle of Aperture (one of Russian River Valley's peerless labels, crafted by world-renowned winemaker Jesse Katz) waiting for me. It's something all guests receive, and it's difficult not to rush to the expansive, sun-dappled terrace to sip it amongst the leaves. (There's also an antioxidant-rife amenity that oozes NorCal cool: truffle salami, citrus marinated olives an orange-ginger-turmeric shot, fresh blueberries, chocolate bark and more.)
Instead, I bolt to the outdoor shower, just steps from my deep soaking tub, because standing naked (privately) outdoors seems like the logical next step to immersing in this evocative milieu, a way to wash away travel day stress, a path to becoming part of this homage to nature.
[See also: Elite Traveler Reveals Top 50 Family Hotel Suites]
During my time at Montage Healdsburg, I swim laps in the vineyard-facing infinity pool before sunrise, hike the vineyards, take part in a vineyard-ensconced yoga practice, sip wines made on property, have a superlative spa treatment and (both metaphorically and literally) drink, chew, swallow and digest the bounty of the region.
I leave wanting to stay longer — another stellar sign — but also quite sure that this will be the first place I recommend to anybody with a penchant for gastronomy or with a longing for a romantic weekend away. 
Stay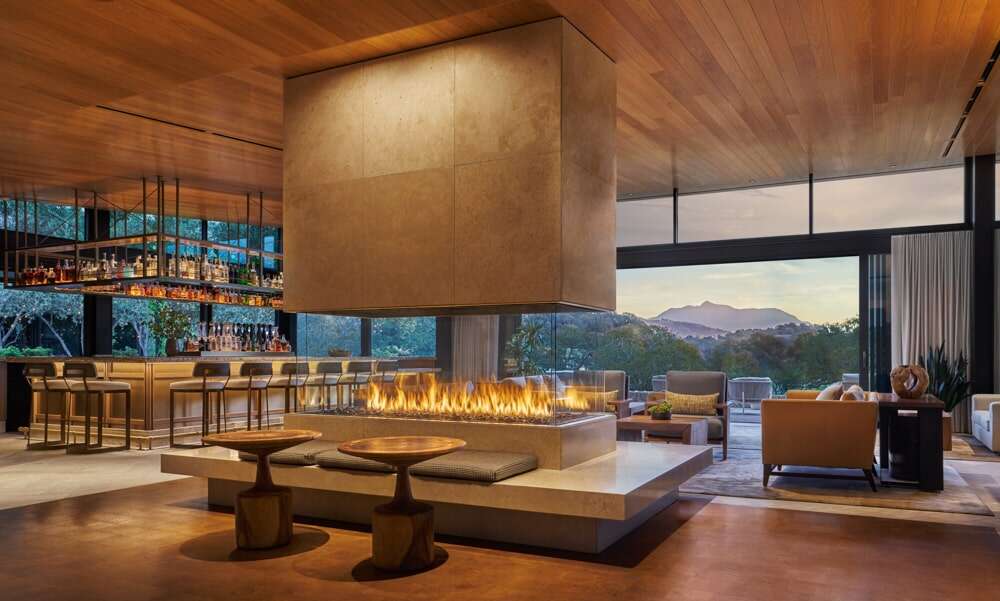 About 15 minutes from Charles M. Schultz Airport in Santa Rosa, a stone's throw from inviting Healdsburg, Montage Healdsburg stands out as an embodiment of wine country that isn't overplayed or stuffy. It's posh but comfortable. Soothing and tranquil, its bucolic layout feels like a lullaby — you begin to decompress upon arrival.
Cars park out of sight, while guest rooms pepper undulating bendy paths, each futuristic-looking bungalow raised from the earth, almost like mini-treehouses.
[See also: Exploring the Unexpected on the Road in Arizona]
All around nature prevails whether from surrounding forest, vineyards, gardens or big sky. Fifteen and a half acres feature vineyards, and wine is crafted from the grapes on the property.
A romantic destination for oenophiles, also attuned to families (they have a family pool and kid programs), prime for couples, this reigns as California wine country's canniest retreat. It's a place for those with curiosity, people with a zest for life and guests who understand that luxury just means quality. 
Dine
Nothing happens by chance at any of Montage Healdsburg's eateries or bars. The entire F&B has been thought out as if it were an aria, a work of art that's an integral part of a larger masterwork — in this case, the hotel.
Hazel Hill, Montage's holy grail from an eatery standpoint is its sexy all day restaurant, anchoring the lobby and bar complex. Vaunting the ubiquitous seasonal flavors, inventive cuisine and local produce, this restaurant, helmed by Sean Koenig, gives cliched locavore notions meaning with its commitment to the regional producers and products, as well as the hotel's ethos and vision.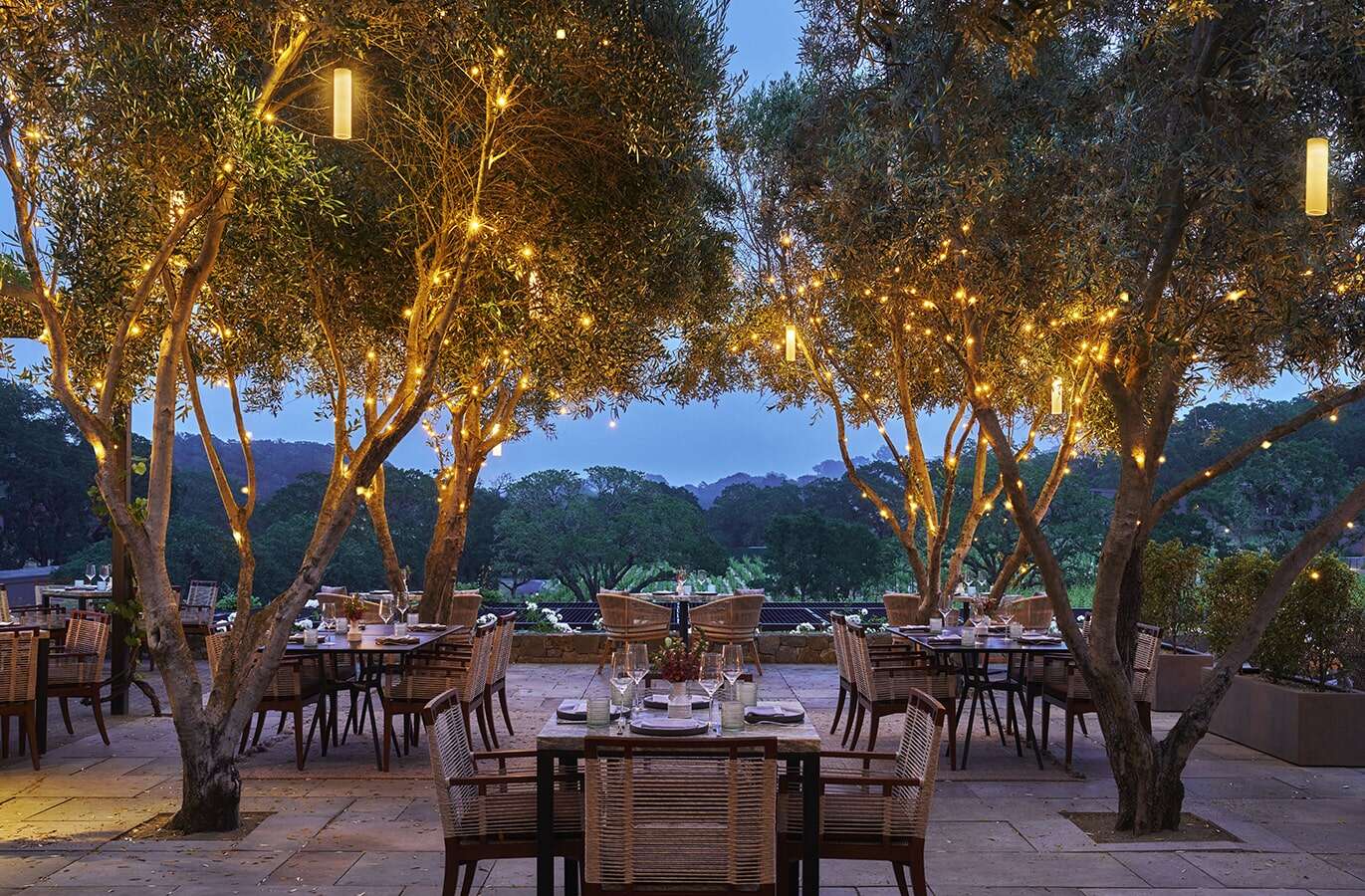 There's an open kitchen indoors but eat outside on a nice evening to watch nature's magic unfold. Everything we ate surpassed expectations including the stone fruit salad, the goguette olive boule  (with duck fat butter, no less), matsutake (with figs), a Wagyu strip loin with foraged mushrooms and a truly perfect green salad with fromage blanc and toasted hazelnuts.
The adjacent watering hole, Scout Field Bar, features oodles of creative cocktails, local wine (including wine made on the property) and craft beer. Big spenders might want to try the $222 Dulce Veinte cocktail with Clase Azul XX Montage 20-year anniversary tequila, PX sherry, xocolatl bitters and flamed orange, but I stuck with Surveyor, Alexander Valley 2021 – the hotel's own crisp sauvignon blanc, crafted from grapes grown on close enough to touch.
By the pool, Hudson Springs Bar & Grill serves up al fresco casual fare from seafood to sandwiches and Healdsburg General Store, near the lobby sells gourmet gifts, snacks and take-away bites. 
Design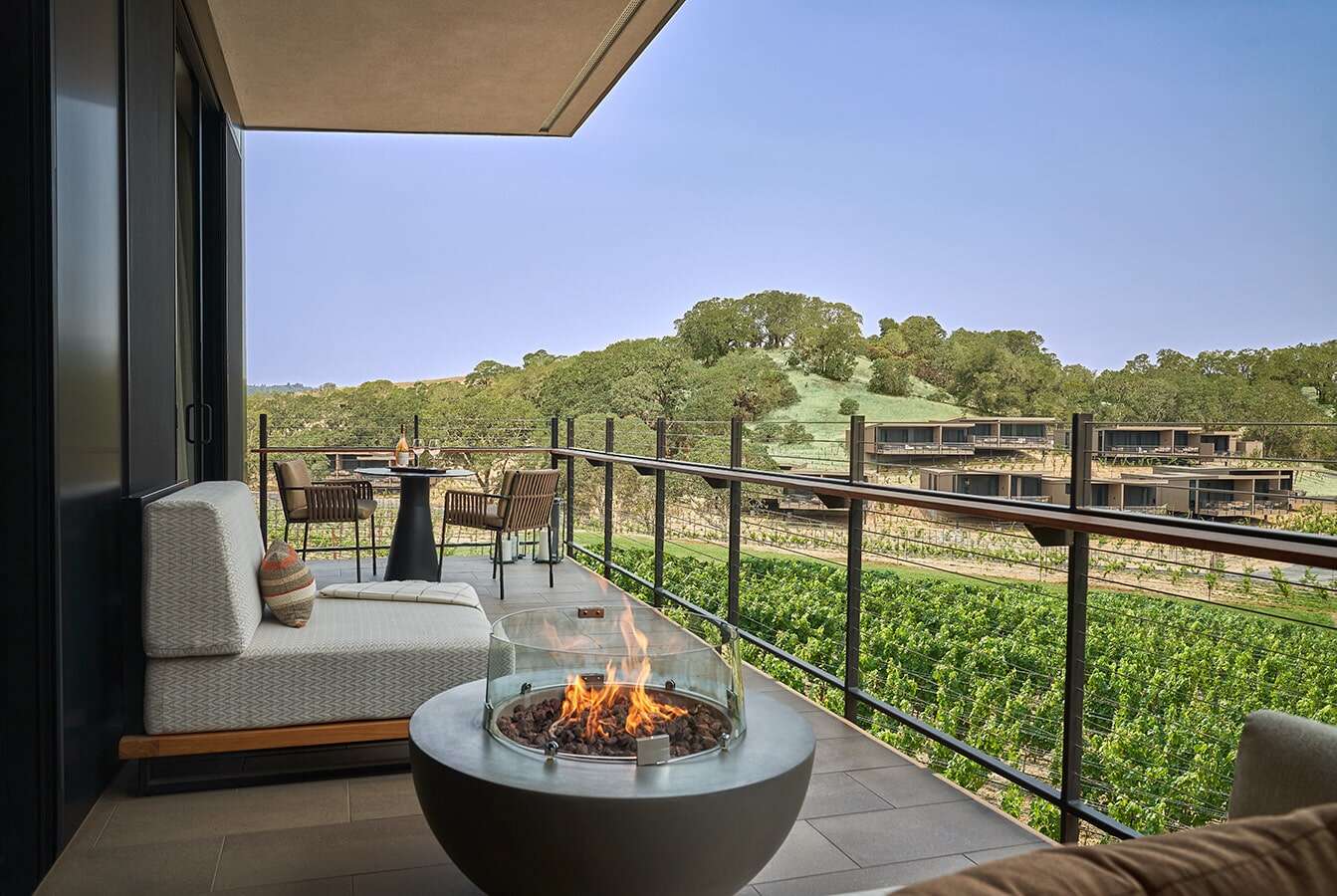 Sporting 130 variously-sized rooms as well as residences, the resort chose a bungalow approach to ensure each structure melded into the landscape. Most bungalows hold two to three separate rooms, all facing mountains, vineyards or forest.
Contemporary with refined eco-conscious elan, the buildings, for instance, have exterior facades painted in hues to match the oak trees and surrounding landscape. All rooms and suites are super spacious—with the larger Residences appealing to families for longer stays.
[See also: Beth Novak Milliken on Inspiring Change in Napa Valley]
Expect imaginative spaces aligned with nature and rooms that connect with the outdoors via fire pits, art, outdoor showers and terraces. Natural elements from local wood and stone to organic fabrics compose the design details within.
From the exteriors, the bungalows look to be a blend between a chic barn and a sci-fi creature who's come alive in wine country — all in a good way.
Relax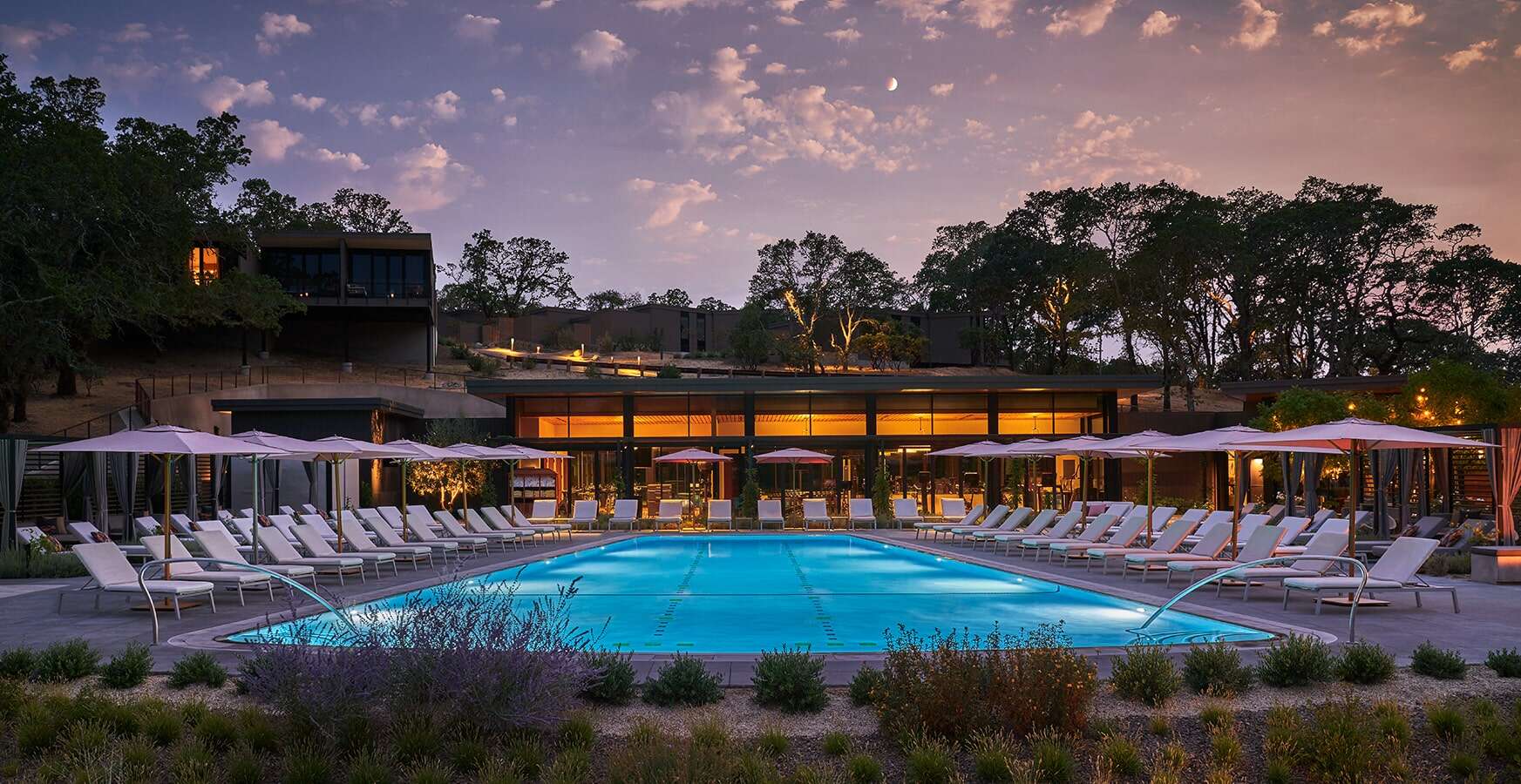 Montage Healdsburg has two pools, an adults-only, long-enough-for-laps, zero-edge pool and a separate family pool. A state-of-the-art gym is open 24 hours. Yoga happens daily in the vineyard—a monumental experience. Guests can hike the resort's myriad trails, as well.
Besides fitness, wine matters in Sonoma. Allow the concierge team to set you up for private tastings from their VIP book that features Sonoma's top wineries. 
Premier Suite
Bring your brood and settle into the Guest House, a three-bedroom penthouse-style suite with gobsmacking views of the Alexander Valley and Mount Saint Helena. Its outdoor hot tub and wraparound balcony seal the deal at $10,000 a night.
Sustainability
Built to be eco-conscious, the resort has won a number of awards, including Environmental Design (LEED) Certified. Solar panels supply a large portion of electricity while efficient HVAC equipment, motion-detector LED lighting, sheep to reduce the wildfire fuels around the hillsides, and bamboo straws combine, among other ways, to reduce energy consumption.
Guest House from $10,000 per night. Contact +1 707-979 9000, montage.com/healdsburg