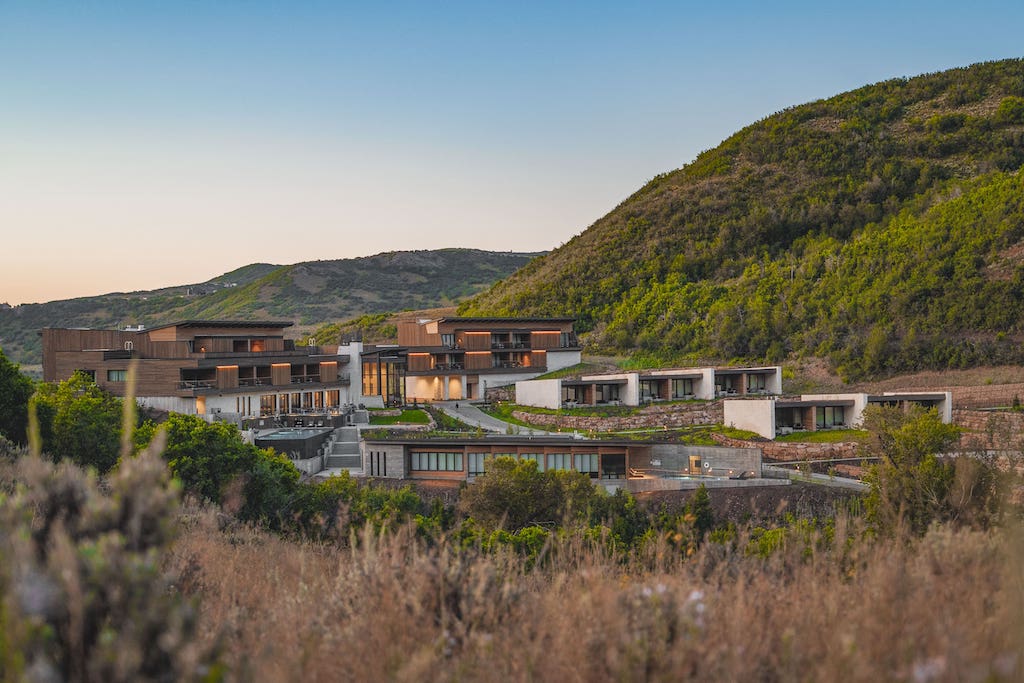 During the pandemic, I spent a couple of months hiding away in a mountainside condo in Park City Utah, illustrious home to the swanky Sundance Festival. Once a boisterous silver mining boom town awash in history, the characteristic thankfully unpretentious ski hamlet (and its environs) has hosted the Winter Olympics and expanded (as Park City Mountain) to be the largest lift-served ski resort in the US.
It proved a fulfilling spot to lie low, hike lonesome trails, ski wide slopes and stay away from the crowds in those anxiety-ridden times. While veritably hibernating from humanity, I considered emerging only when I discovered that just 30 minutes away  The Lodge at Blue Sky,  Auberge Resorts Collection had opened on 3,500 acres of pine-mottled, valley-rife acres of ranch land in the remote Wasatch Mountains.
Sadly for me, at the time, The Lodge at Blue Sky had been inundated by like-minded souls excited to find a secluded resort during a worldwide malaise.
Indeed, The Lodge at Blue Sky was sold out for months. It would take me a couple of years to finally have the chance to visit it — and when I arrived at last, it exceeded expectations.

[See also: Mamula Island: A Fortress Reborn into Luxury]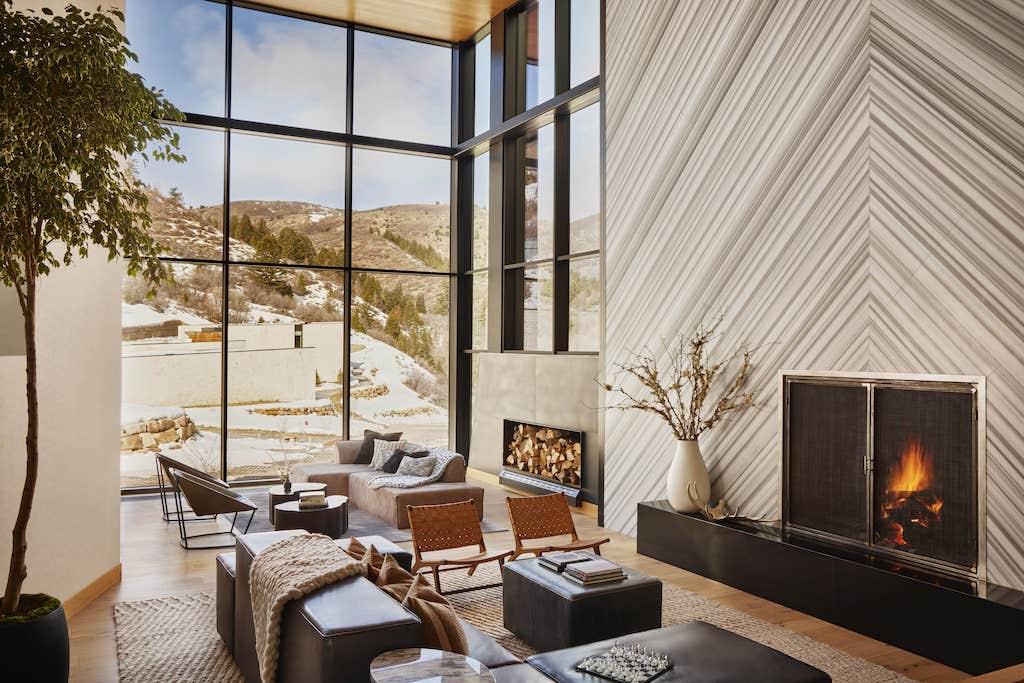 Embodying the land-worshipping ethos of naturalists like Henry David Thoreau and John Muir, the ranch's owners, Barb and Mike Phillips, might be called land whisperers.
Loving and listening to the river-rasped terrain they call home, they formed a spiritual union with the woody expanse. They were determined to not just live on the land but to enhance and fortify it as they built their unique resort.
Bits of earth, after all, give back when respected. The Phillips looped in Auberge Resorts Collection to manage their efforts to create an opulent but sustainable resort that could be shared with other nature-obsessed luxury travelers.
[See also: Maison Proust Paris: A Modern Hotel From the Belle Époque]
A well-being destination that offers a plenitude of activities aimed at connecting guests to the terrain and the locale, The Lodge at Blue Sky pampers guests at the spa, in the restaurant, at the bar and throughout the vastness of its landscape.
Inspirational suites and stellar service form the foundation for the hideaway's seasonal and wellness adventures — each meant to awaken something within, spur transformation or simply delight and instruct.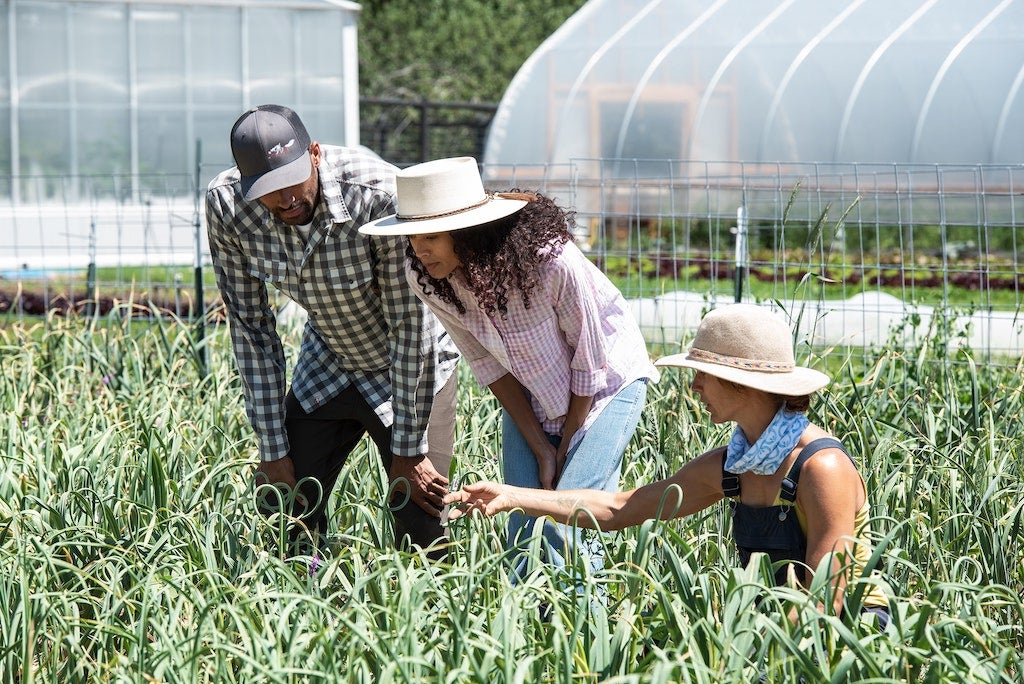 Activities range from snowshoeing, fat tire biking and dog sledding in winter to fly fishing, rock climbing and heli-yoga in the summer. Yet what most encapsulates the magical allure and healing spirit of The Lodge at Blue Sky is the Phillip's Saving Gracie Equine Healing Foundation, part of the neighboring Gracie's Farm.
A home for rescued dogs, chickens, horses, cows, cats and goats, the farm provides a nucleus of love where guests can care for and interact with animals, communing deeply with horses via a variety of equine programs.
Other activities at Gracie's, such as the opportunity to work the garden, beekeeping, harvest ingredients for dinner or just meditate amongst the beasts gives guests the gift of introspection, slow travel and inner harmony.
Stay
Three varieties of sleekly lavish rooms comprise The Lodge at Blue Sky's 46-suite collection. Designed to showcase the outdoors, abundant with windows that frame the big sky, the mountains and the ranch, each suite focuses on a unique parcel of landscape.
The Earth Suites (where I stayed), stretch 715 sq ft, constructed to feel like part of a hill looking to the mountain. My immense terrace had an eternal fire, a cozy place to lounge with a book, glass of wine or espresso.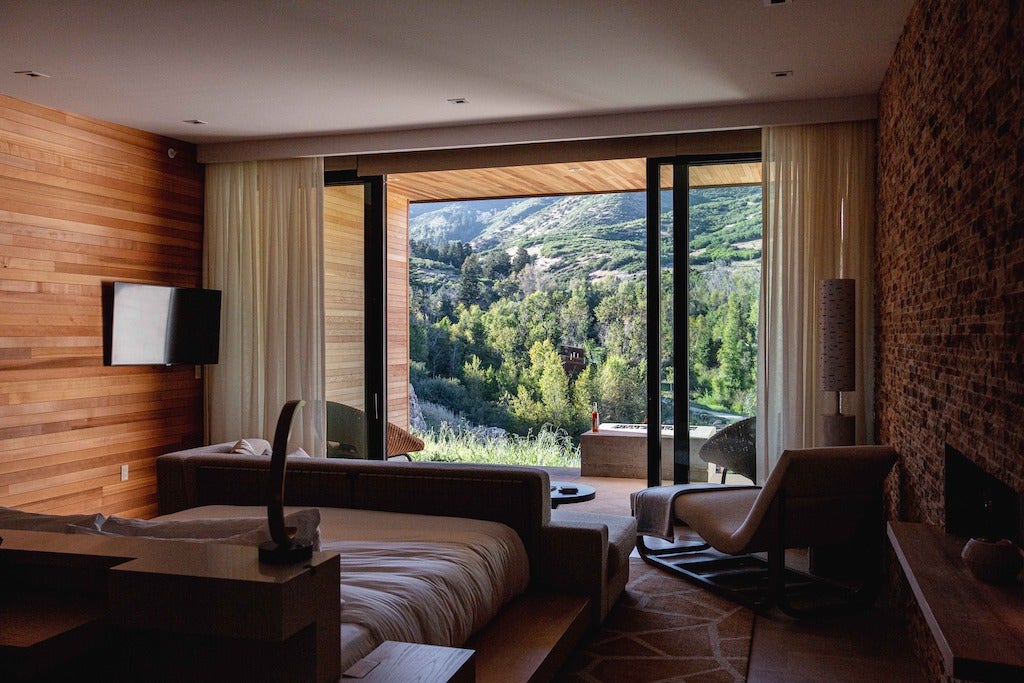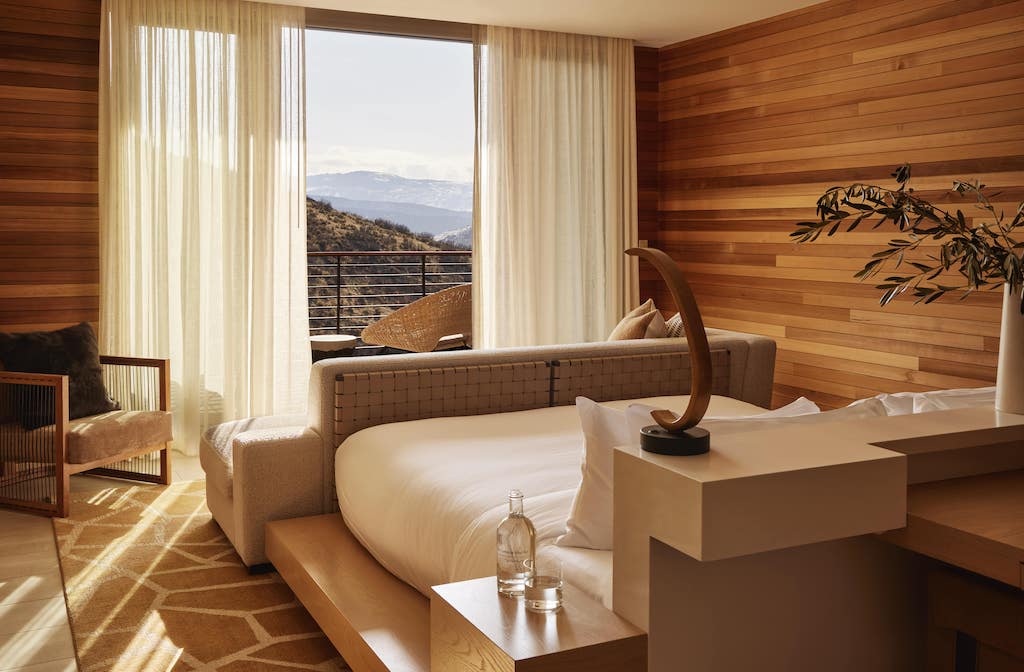 The bathroom was as big as an apartment. A similar size and configuration, the slightly secluded Creek Houses, poised along a rushing river, were designed for adult-only stays (perfect for honeymooners).
Part of Blue Sky's main building, spanning its top floor, the Sky Lodges seem to float between the clouds and the ranch land, each a commodious marvel. A few, big enough for families boast two bedrooms.
In all suites expect house-made amenities (soaps, shampoos, lotions, conditioner), plus free minibars filled with local items and anchored with life-changing beds.
Dine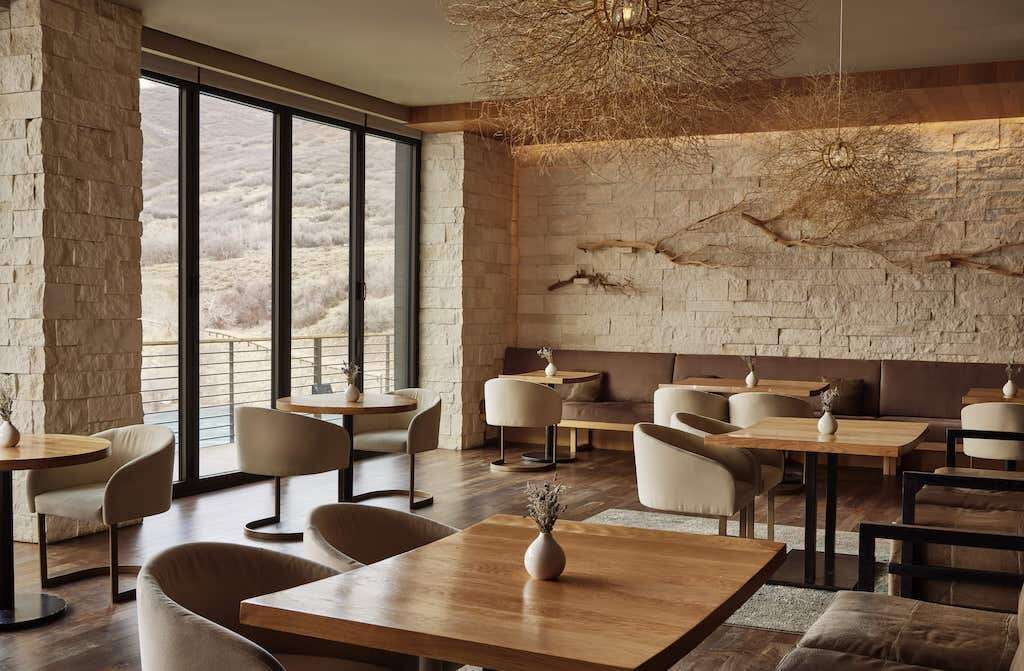 While many hotels claim to be farm-to-fork, Blue Sky's Yuta, the intimate resort's only actual restaurant, draws from produce grown on Gracie's Farm and relationships with local farmers and ranchers to create unique, seasonal, mountain cuisine as chic as the setting. Think: warm carrot soup from the garden and sausage stuffed quail. 
At The Bar, guests can nosh casually on snack-style food, such as black bean miso burgers, pizza or maple buffalo wings. Brand new, Tacocat is a sustainable pop-up stand, serving elevated Mexican street food during the summer months.
Not to be missed, The Lodge at Blue Sky offers guests a host of on-property venues for unforgettable experiential dining, such as a mountain-top yurt or the wine room.
Design
Spellbinding artwork enlivens the suites (and the entire resort), much of its subject matter centers around rescued animals and nature.
Sustainable design by AJC Architects brings sleek Modernist elements to play. Large windows invite the landscape indoors, melding interior with exterior sensations. Natural materials — stone, wood — and mountain motifs underscore sense of place.
There's something even Scandinavian about the suites. I was reminded of The Retreat at the Blue Lagoon, impressed by the way the design harnesses the surrounding nature and how the furniture mimics nature's shapes.
Explore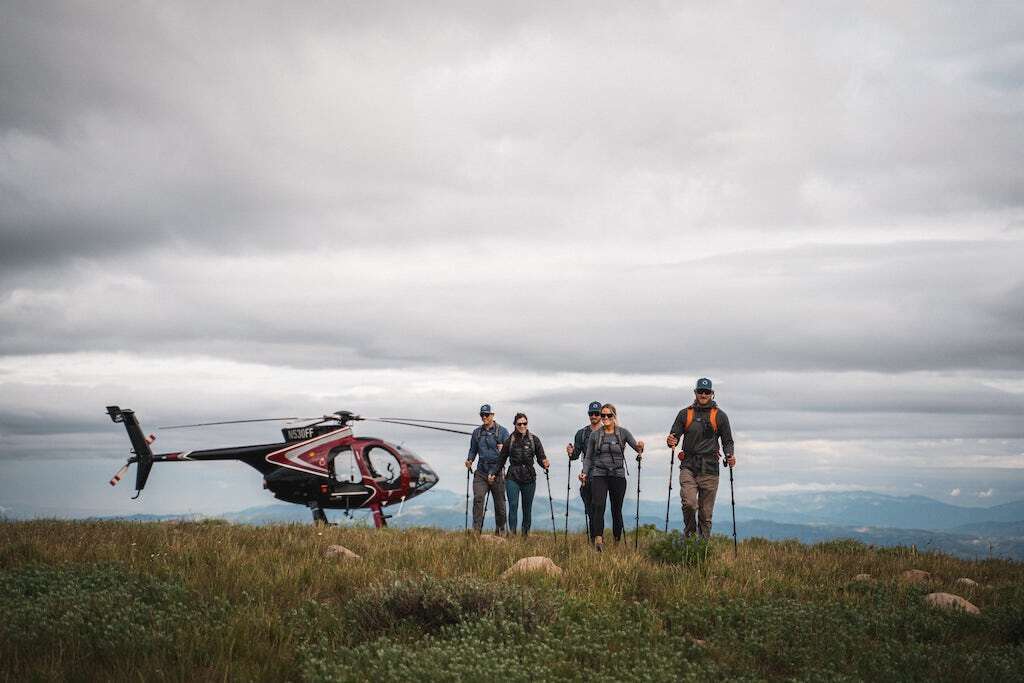 You'll be only 30 minutes from storied Park City, but there's a good chance you'll elect to simply tuck in at the ranch. As mentioned, part of the experience at The Lodge at Blue Sky is the plethora of experiences offered to guests of all ages.
A splendid kid's program "Little Vaqueros Camp" provides complimentary morning activities (and full day camp for a fee) that explore the ranch according to themes: Mountain yogis, Culinary Exploration, animal care at Gracie's Farm, etc.
[See also: Anantara Plaza Nice: A New Pied-à-Terre on the French Riviera]
Adults and teens can venture out on horseback, track wildlife with a biologist, take painting courses, go to farm school, throw axes or shoot arrows and trek on guided hikes. A slew of complimentary activities, including truly stellar yoga, tempt each day.
While the exceptional Edge Spa, designed to be a sanctum, offers a creative, curative menu of treatments. Sign up for an eye-opening intuitive energy reading with local psychic Sugar or simply get a massage, fortified by natural organic products in the creek-side ritual rooms.
One to book? Go for the signature journey, the High West Whiskey Rubdown, which utilizes whiskey made at the on-property distillery.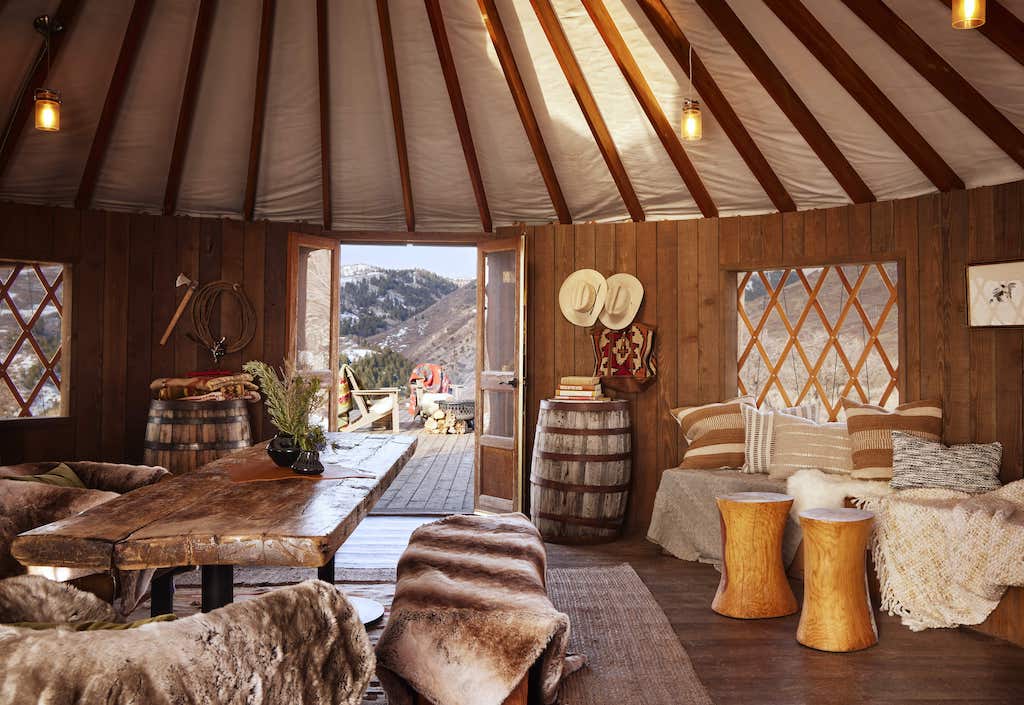 Two-bedroom Sky Rooms start from $1,900 per night. Contact aubergeresorts.com, +1 866 296 8998