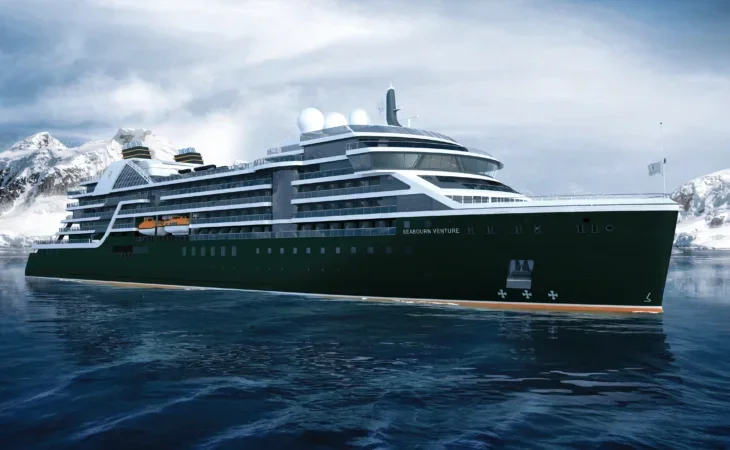 The ultra-luxury cruise line, Seabourn, has taken delivery of its first expedition ship during a handover maritime ceremony at the T. Mariotti shipyard in Genoa. Seabourn Venture is scheduled to launch in 2022 and is expertly designed to withstand diverse environments and weather conditions.
As part of the ultra-luxury experience, Seabourn Venture will offer 132 ocean-facing suites, all of which include a veranda. Amenities in the Owner's Suite, one of Seabourn Venture's best, include expedition gear, a large walk-in closet and a fully stocked bar and refrigerator.
As well as including many of the design features that have ensured Seabourn's success thus far, the ship will also offer two custom-built submarines on board. Travelers will be privy to the mysterious wonders of the ocean's depths, granting them a once in a life time experience. Double kayaks and 24 Zodiacs that can simultaneously accommodate all onboard guests will also be on offer. The latter in particular offers an exclusively cohesive and immersive travel experience.
[See also: Top 10 Explorer Yachts in the World]
In addition to luxurious accommodation and sights, the Seabourn Venture will include gourmet, open-seating dining options where guests can feast endlessly on fine foods. Travelers will also be intellectually, as well as visually enriched as conversation sessions with expert guests in the fields of history, arts and the sciences will be offered. There will also be an academic discovery center full of natural history and cultural programming.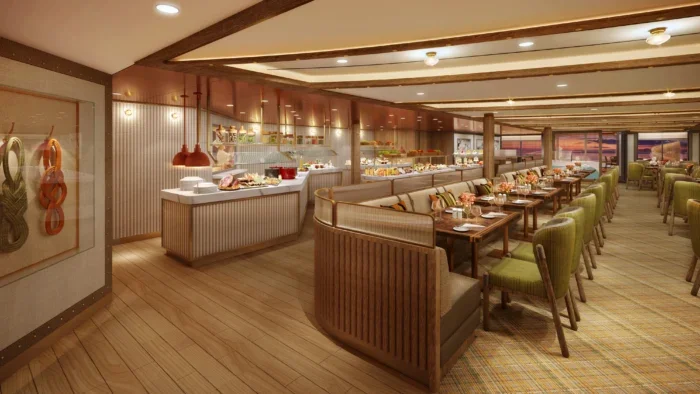 Adjacent to this, the Expedition Lounge sits at the heart of the ship, allowing travelers to converse over complimentary beverages. Within the warm light of the neutrally toned lounge, guests are invited to share tales and photographs of their daily travels. Two large touchscreens will also display navigational and weather charts, maps and photographs to both inform and stimulate conversation.
[See also: EYOS Expeditions Invites Public on Challenger Deep Mission]
[See also: Seabourn to Host Immersive New Wellness Cruises]
[See also: A Day in the Life of Expedition Leader Florence Kuyper]
The Bow and Constellation Lounges will function to reveal the wonders of both sky and sea from the comfort of the cruise ship. Guests can spend time watching marine life from the water-level Bow Lounge or witness stunning 270-degree views of the starry skies at the Constellation Lounge.
Thrilled to have acquired such a spectacular expedition ship, Seabourn's president Josh Leibowitz expressed: "Today is so incredibly special and important as we take ownership of our first ultra-luxury expedition ship and welcome Seabourn Venture to the Seabourn family. The Mariotti team has done a wonderful job in the building of the ship and bringing Adam Tihany's stunning design vision to life. Seabourn Venture will raise the bar in ultra-luxury expedition travel, and we look forward to introducing her to the world as she sets sail to explore remote destinations from the polar regions in the Arctic to the southernmost continent of Antarctica."
Expedition Routes
Travelers can expect to cover a variety of destinations onboard Seabourn Voyage. On July 27, 2022, the ship will depart from Tromso, Norway and sail through the Northern Isles passing Skarsvag and Bjoroya before arriving in Oslo. The ship will continue to sail through Norway before reaching Reykjavik, Iceland where it will loop around the island nation for a 14-day tour.
A variety of short expeditions aboard Seabourn Voyage include a 10-day Autumn Atlantic Migration, 12-day sail from Peru to Chile and seven-day venture from Argentina to Brazil.
Longer journeys include a 28-day expedition from Reykjavik to Canada, 26-days sailing the Panama Canal and the Humboldt Route (Barbados to Chile) and a 24-day exploration of two great continents as the ship travels from Brazil to London and many more.
[See also: Hurtigruten Norway to Launch First Emission-Free Ship]