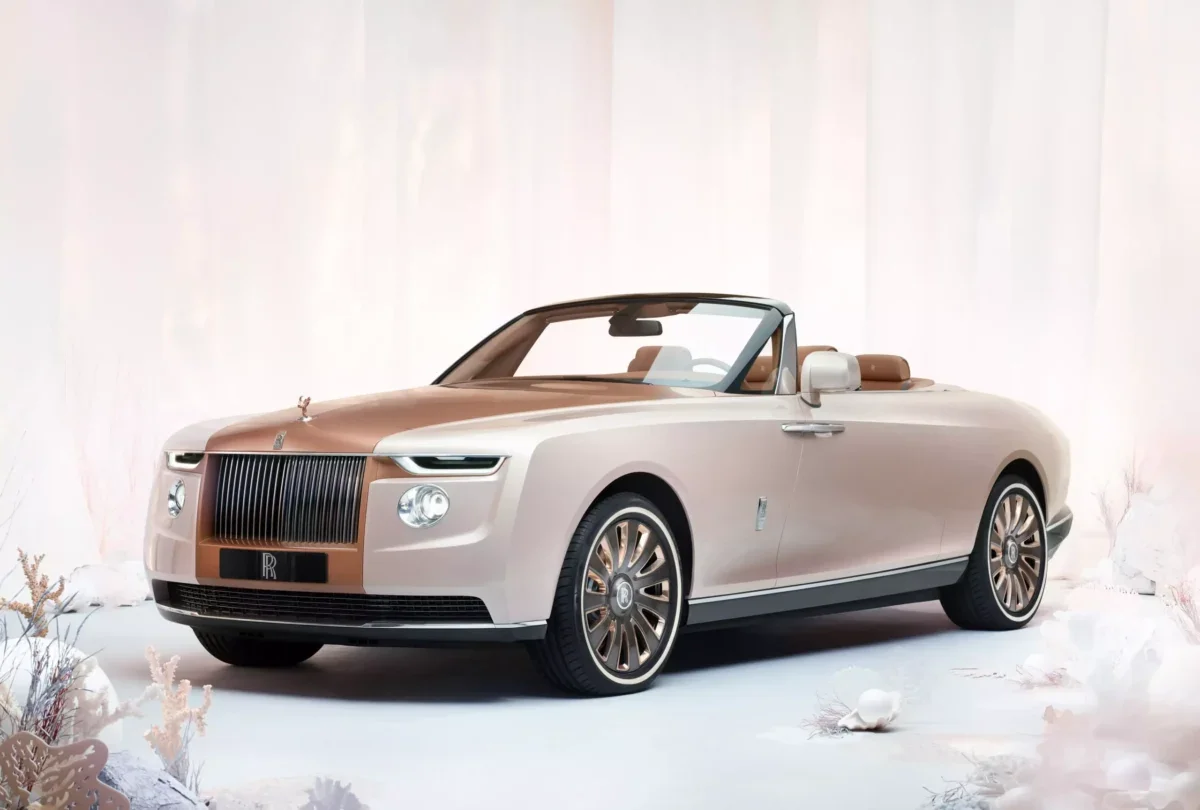 Rolls-Royce Motor Cars has taken its extraordinary coachbuilding skills to new levels of opulence with the unveiling of a Boat Tail inspired by one of nature's most precious materials: mother-of-pearl.
The iconic British car manufacturer has commissioned three Boat Tails, each handbuilt to the exact specifications of their discerning owners. Although they share the same frame, each Boat Tail tells its own story, reflecting the owner's history and tastes. This, the second in the triptych, was commissioned by a man whose family business originates from the pearling industry, and he hasn't held back on nods to that heritage.
[See also: An Icon Reborn: Rolls-Royce Unveils Phantom Series II]
First, there is the exterior color, which was one of the most complex finishes Rolls-Royce Bespoke has ever taken on. The owner presented designers with four pearl shells from his private collection and charged them with the task of recreating their shimmering complexity. The result is a blend of oyster and rose with large white and bronze mica flakes laced throughout to produce a stunning pearlescence that changes under certain light conditions.
The same feat has been achieved with the interior leathers. A refined mixture of cognac and oyster-colored leathers both have a subtle shimmer to them, only visible in a certain light. Pearls are also present on the dashboard with a timepiece made of mother-of-pearl sitting at its center. The material for the clockface was supplied by the owner from his personal collection and also graces the control switch and instrument dials.
Alex Innes, head of Rolls-Royce Coachbuild Design, said: "Every Rolls-Royce Coachbuild commission is, of course, incredibly special; but in this case, there was an additional depth of feeling. Creating a motor car in honor of a revered client's father and family history is an extraordinary privilege; a responsibility that we took very much to heart. The commissioning patron's deep-rooted connection to Boat Tail is an inspiration the result far exceeds a means of conveyance to become, quite literally, a moving work of art."
Its contrasting bonnet has been painted with another one-off paint created with a cognac base and fine bronze and gold aluminum flakes. It was then finished with a layer of crystal and iced matt to add a feeling of warmth and depth. Standing front and center of the Boat Tail, a striking Rolls-Royce Spirit of Ecstasy painted in rose gold, sits proudly.
While its front is certainly notable, it is the rear deck where Boat Tail's uniqueness becomes evident. Its 'butterfly-design' hosting suite opens at the touch of a button, revealing a one-off picnic set and two rapid cooling fridges (capable of cooling a bottle of champagne to drinking temperature in 15 minutes). Also housed in the rear are two carbon-fiber deckchairs and an ingeniously designed parasol that only opens once above the owner's head height.
[See also: Rolls-Royce Reveals its First Fully Electric Car: Spectre]
When closed, the rear deck is a swathe of Royal Walnut veneer, a wonderful nod to the traditional sailing yachts of the early 20th century. As with a historic yacht, the Royal Walnut will gradually change over time as it matures, giving the vehicle the feel of a living being.
While the price and the identity of its owner are strictly under wraps, it is clear money was no object in its creation. And while many of the elements in this Boat Tail will never be repeated, the complexity of the build has driven Rolls-Royce Motor Cars to innovate new production techniques that will benefit future commissions.
[See also: The Cars You Cannot Miss at Top Marques Monaco 2022]
Innes said: "Boat Tail is a step-change in ingenuity and creative liberty. Building a motor car by hand offers a new realm of exploration and possibility: we can accomplish things and resolve challenges that normal industrialized methods would prohibit. This is the tale of two worlds: a modern motor car of contemporary design, made possible by historical techniques and time-honored craft."
The Rolls-Royce Boat Tail will make its debut on May 21 at Concorso d'Eleganza, Villa d'Este, before undertaking a debut summer tour around Italy.